FTTH Europe Conference 2020
01 December 2020
to
03 December 2020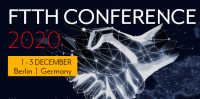 With 3,300+ participants from 100+ countries, the FTTH Conference is one of the largest meeting places for broadband stakeholders.
This year's event, which now takes place from 103 December in Berlin, will provide the opportunity to meet more than 120 exhibitors and partners, showcasing the latest FTTH/other fibre enabled technologies & solutions and introducing latest industry trends.
During the three-day event, some 150 leading speakers will share their experience and know-how about FTTH and other end-to-end fibre enabled technologies & solutions with you! There will also be 11 expert workshops and more than 14 conference sessions to provide a digital knowledge and networking hub. A wide range of FTTH/FTTP/FTTB-related topics will be covered plus 5G, investment opportunities and business models. New exclusive data will be unveiled, such as the state of the fibre optic market in Europe & worldwide… and much more!