Live Webinar - Using compact OTN for Transport-as-a-Service (TaaS) applications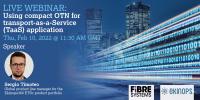 The digital transformation ongoing in both the enterprise and consumer markets requires an optical transport layer that is as flexible as the service layers it supports combined with the deterministic performance, high reliability and service security that can only be provided by more connection-oriented solutions.  

Learn how the new generation of compact OTN systems leverages this field-proven technology to deliver the performance requirements that today's high capacity, high value services demand.
Speaker
Sergio Timoteo
Global Product Line Manager for the Ekinops360 ETSc product portfolio

With more than 15 years of experience in development of optical systems, Sergio has an extensive background in both WDM and OTN technologies. Starting with his previous position as system architect and requirements engineer, Sergio has been involved with the ETSc OTN switching and transport platform since its inception and has continued his work managing optical transport product line at Ekinops since 2019. Now living in France and fluent in three languages, Sergio works with customers worldwide aligning Ekinops solutions to their network requirements.
Moderated by a member of the Fibre Systems editorial team