Communications networks become automatic for the people
New tools and processes do more of the heavy lifting in managing networks to deliver seamless connectivity, but suppliers are still seeking the Holy Grail of full automation, finds Benjamin Skuse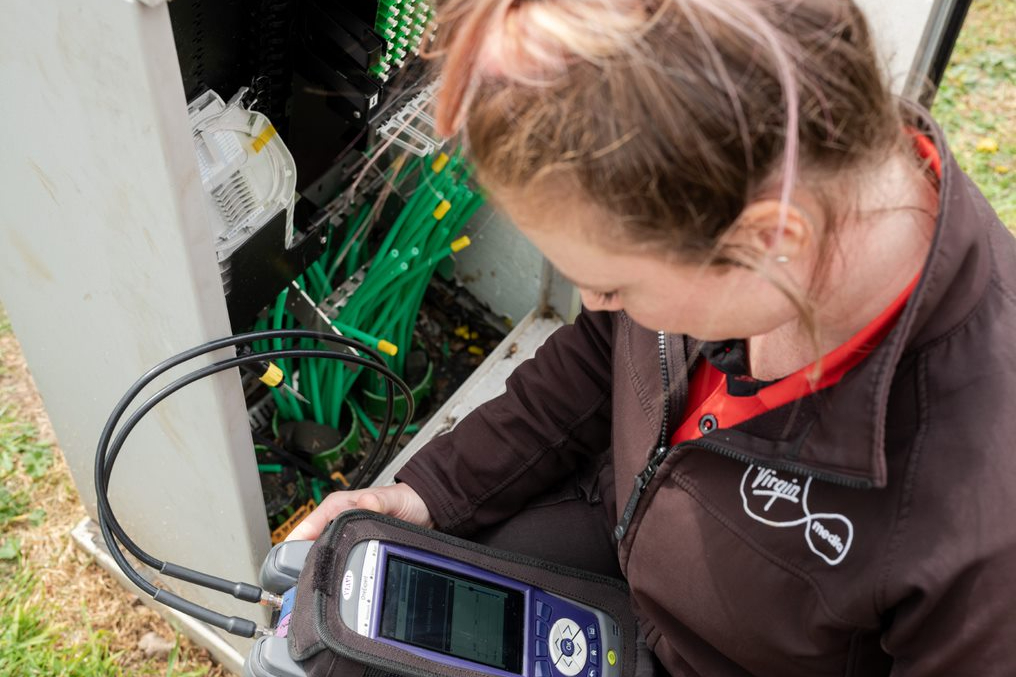 Virgin Media O2 has been laying the groundwork for full network automation in the future (credit: Virgin Media O2)
Being a fibre network operator can be a thankless task. Customers enjoying seamless uninterrupted connection with a multitude of devices don't write thank you letters to their network provider. They only write or call in when there is a problem. At the same time, the job of providing that seamless, uninterrupted connection is getting harder by the day.
Although the pandemic-generated 2020 bump that saw network traffic grow by up to 50% in a year is over, networks are not returning to any kind of pre-pandemic normal. Global bandwidth demand remains on the increase, rising around 30% year-on-year, but this demand is becoming ever more unpredictable. In the face of new working patterns, new applications, new services, new security threats and the industrial IoT, it has become impossible to predict traffic volume, where it comes from, where it will be going and what it consists of, making planning, building or operating a network harder than ever before.
Growing and enhancing fixed networks: Virgin Media O2 case study
Like many other operators in the industry, Virgin Media O2 in the UK has responded to this challenge by growing and enhancing its network, completing an upgrade of its backbone fixed network at the end of 2022, with technology partner Juniper Networks. Virgin has pledged to upgrade its entire network to full fibre to the premises (FTTP) by the end of 2028 and by 2026 to expand its fixed network footprint to at least five million homes and businesses not currently served by its network.
"This migration is helping us increase the agility of our network to ensure we can continue to offer an excellent experience for our customers as they use more of our services now and in the future," says Bill Ironside, Virgin Media O2 Director of Network Planning. Key to upgrading and future-proofing Virgin Media O2's network is ensuring visibility and programmability so that they can incrementally automate aspects of their network in order to make it more reliable, agile and secure. The ultimate goal for Virgin Media O2 – and indeed, the entire industry – is to create self-healing autonomous fibre networks that require no human intervention at all.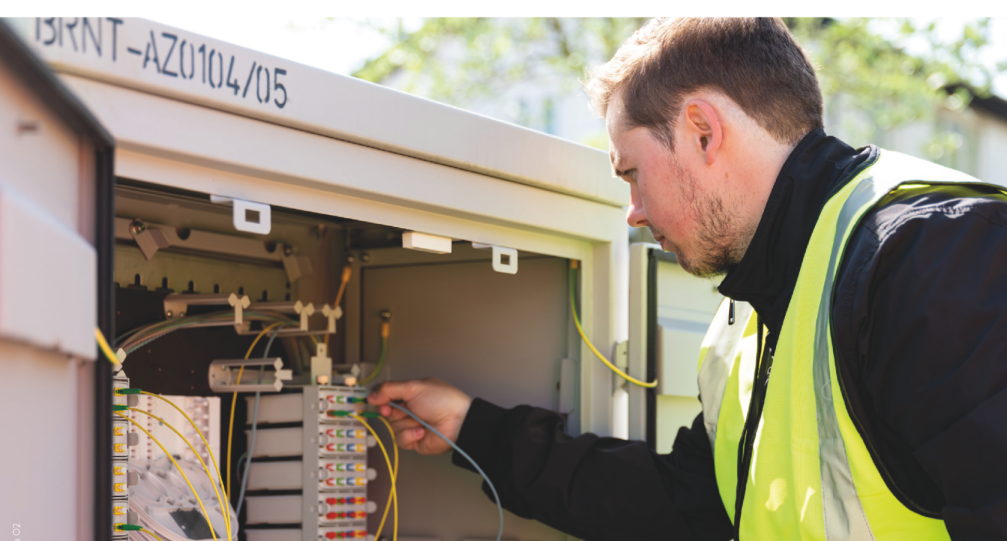 Virgin Media O2 aims to create self-healing autonomous fibre networks that require no human intervention (Credit: Virgin Media O2)
"We are using modern network orchestration and assurance capabilities to build and run our optical network and also standardised protocols and information models to modernise our estate and move towards more programmability," says Ironside. This has already allowed the operator to introduce automation in the system in order to learn trends, identify anomalies and predict faults that ultimately improve decision-making. But it has also made the network ready for more advanced automation solutions in the future, as Ironside explains: "We are building a framework of technologies and patterns that will allow us to build self-healing capabilities, and are driving an 'automation first' approach in the business."
Laying foundations for network automation
Filip de Greve, Product Marketing Manager at networking technology provider Nokia, has noticed many operators enhancing their networks. But relatively few have approached upgrading and expanding their networks in the way Virgin Media O2 has with respect to laying the groundwork for full network automation in the future. "For our customer base, I would say maybe 10 or 20% of the operators are moving into that space," says de Greve.
"There are a number of steps that we see that the industry is taking," he adds. "But most operators are now stuck on the first step – scripted automation using a command line interface to execute their commands and do the configuration and provisioning." The problems with scripted automation are manifold: it's labour-intensive, prone to human errors and hard to validate. "You fire the script and basically hope it goes well. And if it doesn't, you try it again," adds de Greve. "It's more like a black box, a closed system; there is no API [application programme interface] to expose all of the network's parameters."
The next step up is model-driven automation, which moves away from suppliers' proprietary management systems to properly configure the network. This type of networking is open and based on standardised data models and configuration protocols. Used by Virgin Media O2 in its backbone network upgrade, the IETF's Network Configuration Protocol (NETCONF) and the Yet Another Next Generation (YANG) data modelling language provide this standardised structure, interoperability and control so that operators can access and program everything. But this makes configuring the network even harder.
Therefore, the third step is intent-based automation, which provides a layer of abstraction that only exposes the parameters required for a particular tool or task and leaves the other parameters to be automatically defined by the network.
This is the basis for Nokia's Altiplano Access Controller. Altiplano is a cloud-native network management application delivering powerful tools and flexible service programming via open interfaces. To customise Altiplano, operators can choose specific network support, insights and analytics, and automation apps from Nokia or third-party developers through the Altiplano Application Marketplace, or build their own via the Altiplano Developer Portal.
Image credit: Nokia
Machine learning for communication network automation
Nokia's most advanced apps for Altiplano use machine learning (ML) to provide deep analysis. For instance, Network Trend Analyzer became available in January. The app makes it easier to detect network events falling outside normal, healthy behaviour, such as abnormal system temperature, optical attenuation, traffic spikes, or unusual CPU/memory/resource usage.
Traditionally, trend analysis has been achieved by using rule-based analytics such as TCA (Threshold Crossing Alerts) where the system can raise notifications when KPI values, such as attenuation, receive signals, etc, cross a set threshold. Operators manually program these thresholds in the network, using their experience to continually fine-tune them based on a host of factors. However, they are constantly trying to find a sweet spot between overly conservative or overly aggressive thresholds, which lead to false negatives (missed detections) or false positives (wrong detections), respectively.
Network Trend Analyzer instead uses ML techniques to derive the trend of a monitored KPI using its historical characteristics, including fundamental trend, random variance, seasonal, weekday and time of day behaviour. The app trains the trend continuously, capturing nuances and continuously improving prediction accuracy. 
Another app still in trials uses ML to predict the chance that a given consumer is able to hit their peak speed. "We trained machine learning models to calculate that success to hit the peak rate, modelling traffic and estimating the chance that you would hit it, and from that we can adjust dynamically on the fly the quality of service parameters to make sure that every user in the network has the same chance of hitting that rate," de Greve explains. "So that is an example of something that is working real-time in a closed loop without human intervention to automatically make sure that the network is behaving in a fair way."
These examples show the promise of automation in improving and optimising networks. "You try to use the data that's in the network to automatically optimise the network with a minimum of human interaction," says de Greve. "But just to be clear, that final step, it's the end goal – we're not yet there."
Other network suppliers are also aiming for the Holy Grail of building fully automated networks. Ciena is one of the world's most prominent networking equipment and software services suppliers. "Our customers are looking at finding ways that they can reduce operational expenses as well as improve network operation efficiency, drive overall business agility and continue to be competitive in the market," outlines Ciena's Paulina Gomez, Advisor, Portfolio Marketing.
Ciena provides operators software-defined network control for all technology layers in the network via its Manage, Control and Plan (MCP) domain controller and associated applications. MCP's advanced applications offer workers in a given network operation centre insights and additional visibility to manage the network, and automates some network operational tasks, such as loading access controllers and provisioning routers.
A prime example is automated provisioning of customer services and associated traffic engineering. This is accomplished with a sophisticated path computation engine that enables operators to engineer active and back-up paths based on network policies, constraints and network state, so they can turn up services more quickly, optimising traffic and relieving congestion.
Another, showcased recently at the 2023 Optical Fiber Conference (OFC), is called SNR [signal-to-noise ratio] Optimizer. "It's built on existing apps and leverages information that's coming in in real time from the network, but we're applying advanced algorithms – secret sauce, if you will – to be able to provide operators with essentially a recipe for how they could tweak some optical knobs related, for example, to the amplifiers in the system to get more SNR margin," says Gomez. "The beauty behind all of this is that you're not deploying new hardware, you're just able to analyse what's happening in the network and provide a tweak to these knobs to get that additional system margin that can then be used to upshift the modems that you already have deployed and get more capacity and ultimately support more client services across those wavelengths."
A new area in which Ciena is offering customers automation is optimising spectrum usage, a task that already relies heavily on automation and proprietary algorithms, but still involves time-intensive manual steps to execute. "We call it Spectrum Defragmentation and we offer this as a service today," says Gomez. "Now, we are taking that a step further and offering a spectrum defragmentation app to identify congested routes and links, and provide the information that's required so that operators can free up continuous spectrum."
Network automation is not all about software
Of course, current and future network automation software capabilities rest on the quality and volume of data being fed to the controller from the network's physical hardware, as well as how programmable and reconfigurable that hardware is. A prime example of such next-gen hardware is Ciena's WaveLogic 5 Extreme (WL5e) coherent modem, which has been widely deployed in network transformation projects around the world for more than two years by the likes of Deutsche Telekom, Southern Cross, Telstra, Vodafone New Zealand and many more.
Supporting up to 800Gb/s speeds and 400GE client connectivity across any distance, WL5e shows how next-gen hardware is not only becoming more powerful and energy-efficient, but also more programmable. "Before, you just had one or two settings that you could set that modem to," says Gomez. "With WL5e, you can tune that modem anywhere between 200Gb/s and 800Gb/s of capacity in 50 Gb/s increments, so that really allows customers to maximise the capacity that they're getting out of the fibre they have deployed."
Only recently, Ciena announced its next iteration, WaveLogic 6, which from 2024 will "support up to 1.6Tb/s single-carrier wavelengths for metro ROADM [reconfigurable optical add-drop multiplexer] deployments, 800Gb/s over the longest links, and energy-efficient 800 Gb/s pluggables across 1,000km distances," according to a company announcement. WaveLogic 6 Extreme (WL6e) will deliver double the capacity within the same footprint, 50% power per bit reduction and 15% increase in spectral efficiency compared with the WL5e.
No doubt, WL6e and its competitor offerings from the likes of Nokia (PSE-6s), Fujitsu (1FINITY Ultra Optical System), Infinera (ICE7) and others will offer even greater programmability and therefore network flexibility. And with many more elements of the network, such as the photonic line system, becoming ever more programmable it will allow network operators to slowly introduce more and more automation towards that final goal of fully autonomous self-healing networks.