Keely Portway takes a look at the latest developments when it comes to FTTH deployment in Europe and what needs to be done to overcome the hurdles in the path of acceleration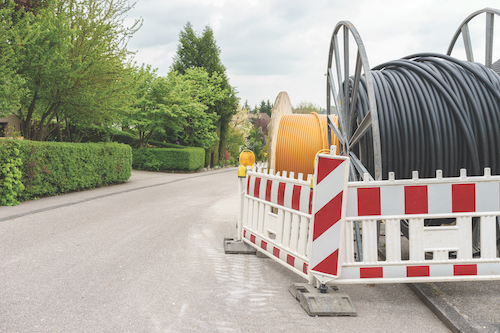 Image credit: ThomBal/Shutterstock.com
Fibre deployment is progressing globally at a rapid speed. In Europe, according to the FTTH Council Europe's most recent Market Panorama figures, it is anticipated that some 302 million homes will be passed with FTTH/B by 2026 for EU39 countries, of which the EU27+UK members will account for 197 million. This represents a 67 per cent increase compared to 2021 numbers, and the figures demonstrated that Germany, the UK, the Netherlands and Italy are set to experience the highest growth.
In terms of subscriber numbers, the report predicts they will reach 135 million in 2026 for EU27+UK from 60 million in 2021, and 197 million for EU39 (from 99 million) while the take-up rate would continue to increase to 68.7 per cent and 65.3 per cent respectively (from 51.1 per cent and 48.5 per cent in 2021).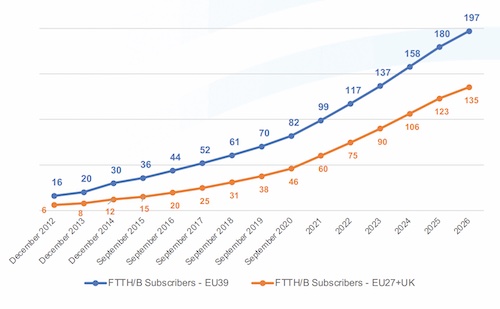 FTTH/B subscribers forecasts (million) comparison EU27+UK / EU38+UK countries (Idate for FTTH Council Europe)
Vincent Garnier, director general at the FTTH Council Europe, explained there are several factors playing a role in the deployment of networks. The pandemic, of course, led to more data traffic and more demand, which resulted in private investors giving a boost to their deployment projects in favour of FTTH/B to support the ongoing traffic increase. 
Target practise
But there has also been a number of national infrastructure and digitalisation programmes, with new European digital targets for 2025 and 2030 that will help the acceleration of full-fibre connectivity across all European countries. Garnier said: 'This trend will be intensified by new usage patterns, which are encouraging operators to migrate to FTTH solutions, capable of delivering new services [more sustainably].' 
Malcolm Corbett, CEO at the Independent Networks Cooperative Association (INCA), agrees on the drivers for increased demand, as flexible working becomes more of a way of life. 'The UK (along with Germany and Italy),' he said, 'is expected to see a dramatic increase in both the number of homes passed and the subscription take-up rate in the next few years,' he said. 'Thanks in no small part due to the work of the independent broadband sector, the UK is now deploying fibre at the highest rate in Europe and is making significant progress toward the development of "Gigabit Britain."' 
For Paolo Novellini, principal engineer at AMD, the wholesale-only model also had its role to play. He said: 'Prior to 2015, the adoption of FTTH was hampered by the cost of establishing passive networks. Moreover, investors were constrained by unknowns in deployment – especially the scale of investments and uncertainty in the ROI. The solution came through regulators and policymakers, in the form of a wholesale-only business model, where public and private investors can invest in new businesses that own the passive network and sell exclusively to operators at a regulated price. Nordic countries were the earliest instances where municipalities invested in their own network. Stokab was a pioneer in Sweden and was followed by networks in Italy (Open Fiber), together with Onivia in Spain, Siro in Ireland, and CityFibre in the UK. This new wholesale-only model represents a significant forward step in last-mile transmission, as it introduces competition in a sector where the incumbent model dominated for many decades.'
Indeed, INCA published its own research last year to help quantify the role of independent providers, which showed that more than 2.5 million homes and businesses in the UK alone could now connect to an independent fibre broadband network. This represented more than 110 per cent year-on-year growth. Corbett said: 'By 2025, more than six million homes and businesses will be using independent networks in the UK. The sector is now more than four times larger than it was a decade ago and continues to attract significant sums of private investment. £15bn will be invested in the delivery of new full-fibre connectivity by independent providers before the end of 2025.' 
Make-or-break
In addition, Garnier told Fibre Systems that the president of the European Commission, Ursula von der Leyen, referred to digital in her State of the Union speech as the 'make-or-break' issue, putting fibre and 5G at the core of Europe's strategy. He said: 'In its proposal, "Path to the Digital Decade", which spells out targets for 2030, the European Commission's proposed level of ambition is that all European households are covered by a Gigabit network, with all populated areas covered by 5G.' 
The 'Digital Decade' plan's objective is to provide all households with Gigabit connectivity by 2030, part of which includes copper switch off – something also highlighted by the Green Deal (2050), which plans to subsidise fibre deployment in areas where the investment would match the return, and to regulate the wholesale-only business model. The original principles for the plan were announced in March last year, and are currently in discussion in the European Parliament, with a view to endorsing the plan by summer 2022. 
As part of its work to help bridge the digital divide, the commission has also proposed to the European Parliament and Council to sign a declaration of rights and principles that will guide the digital transformation in the EU. The draft declaration is designed to provide a clear reference point about the kind of digital transformation Europe promotes and defends. 
It will also act as a guide for policymakers and companies when dealing with new technologies, and as such, the rights and freedoms in the EU's legal framework, and the European values expressed by the principles, should be 'respected online as they are offline'. Once jointly endorsed, the declaration will define the approach to the digital transformation, which the EU will promote throughout the world.
Executive vice-president for a Europe fit for the digital age, Margrethe Vestager, said: 'We want safe technologies that work for people, and that respect our rights and values. We want everyone to be empowered to take an active part in our increasingly digitised societies. This declaration gives a clear reference point to the rights and principles for the online world.'
Commissioner for the internal market Thierry Breton, added: 'We want Europeans to know: living, studying, working, doing business in Europe, you can count on top-class connectivity, seamless access to public services, a safe and fair digital space. The declaration also establishes once and for all that what is illegal offline should also be illegal online. We aim to promote these principles as a standard for the world.'
What next?
These are all moves in the right direction, but there are still challenges, not least in terms of network deployments, sustainability and digitalisation/skills. Garnier said: 'The recent figures demonstrate there is still a massive growth potential in terms of connectivity in many EU countries, but overall deployment is progressing at a rapid pace. However, even with the infrastructure in place, there is still a long way to go to reach a fully digitised society. With 45 per cent take-up today, FTTH investments are under-utilised. We strongly believe that to embrace the next digital decade and shape Europe's digital transformation by 2030, take-up is the next challenge, and we call on policymakers to take the necessary measures for end users to benefit from the world of new possibilities offered by full-fibre connectivity.'
Corbett concurred, highlighting a particular challenge in the UK: 'Provided the economic and regulatory conditions remain favourable, independent networks will deliver at least a third of the infrastructure needed to meet targets, helping achieve 100 per cent coverage and contributing £20bn to the UK. But a major threat [is] the UK incumbent's Project Equinox, which is about reducing costs to encourage ISPs to move customers to the incumbent's fibre networks. Yet the likely impact is to reduce the scope for wholesale competition. This will negatively impact service providers wanting to use those networks and, ultimately, consumers.' 
Plans for the retirement of copper are also essential; Garnier believes the copper switch-off will play a major role in the uptake of fibre. This transition needs to be prepared, so that no citizen or business is left behind. Public authorities must play a role, 'both with the digitalisation of their services and by incentivising citizens with demand-side measures, such as vouchers for fibre. 
Going green
Novellini highlighted the environmental benefits of deploying fibre. 'The CO2 footprint is significantly lower for a passive network than for an active one,' he explained. 'Despite these advantages, Europe has been slow in moving away from copper wire. One reason is cost, with the CAPEX investment falling on operators who have little incentive to upgrade their copper network. In the absence of any alternatives, operators do not see any economic advantage in upgrading the network. 
Garnier was of a similar view, he said: 'Full fibre is the most futureproof technology with unmatched quality parameters (latency, robustness, reliability, symmetry) and it is also the most energy-efficient technology. As a result, mandating the use of full-fibre networks can help to achieve the objective of carbon neutrality as set in the European Green Deal.' 
Overall, the FTTH Council Europe feels that Europe is on a good path from a connectivity perspective. Garnier stated: 'Countries with strong legacy copper networks or important coaxial cable presence, which started deployment of fibre later than others, are now lagging behind, but they have announced very ambitious deployment plans. The only uncertainties are how deep public authorities can go in stimulating demand, how fast the migration from copper to full fibre networks can happen and what measures to develop digital skills will be taken to ensure all can reap the benefits of an ultrafast connected society.'
INCA likewise feels there is a strong opportunity ahead, if everyone plays their part. Corbett said: 'The best way to reduce the digital divide is by encouraging a plethora of market players to rapidly build new networks across the country. Deterring the competitive investment that has done so much to accelerate the pace of new fibre deployment will slow fibre roll out and push the UK even further behind its European counterparts. We need to bring all the investment available to the table and we hope to see Ofcom reverse its current position in 2022 and return to its core responsibility for promoting competitive investment.'
Looking at the technology, Novellini reiterated some of the benefits of full fibre. 'Most importantly,' he said, 'FTTH is an inherently reliable technology. It is based on passive optical networks (PON) instead of active devices that are susceptible to failures and power outages. Wired solutions like ADSL are also passive, but too slow.' 
Need for speed
By contrast, he went on, fibre by itself does not suffer any speed limit and the electronics can be upgraded over time to track technology improvement. 'In PON,' he said, 'the electronics are only at the central office and the user's home (modem), not in the kerb-side cabinets. In addition, FTTH provides an ideal complement for fast-growing 5G applications. Fibre is the only solution to cope with the bandwidth and the latency required by IoT.' Speaking about the point-to-multipoint structure of PON networks, Novellini said: 'In the downstream direction, the optical line termination (OLT) transmits the same data to all optical network units (ONUs) continuously. Each ONU can decrypt only its portion of the data. In the upstream direction, each ONU is given a time slot, during which it can transmit data back to the OLT. Only one ONU can be active at a given time.'
He added that the OLTs in the central office can dynamically orchestrate time slots for the ONUs, and that these time slots do not have to be balanced, depending on contractual conditions. 'Adoption of the market,' he said, 'which includes development and deployment time, happens about five years later. The line rate for upstream and downstream depends on the generation of PON in use, and the evolution of FTTH protocols follows behind the availability of faster electronics.'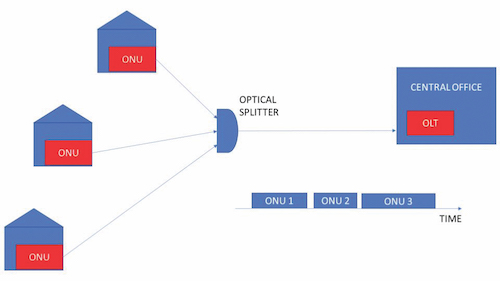 General architecture of a PON network with details on the upstream (AMD)
Novellini concluded by highlighting that, while deployed fibre is an asset that lasts for multiple decades and so does not change between one generation and the next; ONUs, however, can be optionally upgraded when the operator upgrades an OLT. He said: 'This allows operators to upgrade their deployed network smoothly over time, tracking the needs of their own customers. Future developments will focus on increasing bandwidth (upstream and downstream) and lowering the carbon footprint per port. Passive structures are significantly better than active copper structures, simply because they consume no power. It is likely that the standard HS-PON will be very closely following the 25GS-PON. The market will decide how successful the 25GS-PON will be.'
SPONSORED CASE STUDY: ROLLING OUT END-TO-END XGS-PON TECHNOLOGY IN THE UK
UK independent fibre broadband provider, Zzoomm, wanted to target market towns in the UK that it felt were underserved for broadband service options. 
To be a market differentiator versus the one incumbent provider, it decided that its customers should be able to select 10G broadband services should they wish to do so. Zzoomm selected Adtran for end-to-end XGS-PON full-fibre products and services to roll this out to the market quickly. This is their story. 
About Zzoomm
Zzoomm is designing, building and operating a new full-fibre network, where the fibre runs all the way into the property. Zzoomm is building-out this FTTP (fibre to the premises) network in towns and suburban areas across the UK where there is no existing access to a full-fibre network.
Zzoomm plc was founded in December 2018 by experienced fibre network entrepreneur, Matthew Hare, OBE. Hare had previously founded ultrafast rural fibre broadband provider, Gigaclear, in 2010, which was acquired by Infracapital in 2018 for £270m.
Zzoomm is headquartered in Oxford and is establishing regional offices to drive infrastructure planning and build at a local level in its target market of UK towns and suburban areas. 
The Zzoomm Network
The Zzoomm network is built using Adtran XGS-PON fibre systems at its core. 'The advantage of XGS-PON is it lets Zzoomm have symmetric services, so up and down speeds are exactly the same, and we can deliver up to 10 gigabits per second to every property, every home and every business on the network. That is quite unique in the towns we serve today. Adtran's XGS-PON solution is a really flexible technology, and the way it works is, we build the network by basically putting new ducts into the ground or overhead on poles to then blow fibres to the homes and businesses, so they can get their fabulous broadband service,' said Hare, CEO of Zzoomm.   
Zzoomm chose Adtran because it was looking for a partner that could help it with the entire active technology stack, so it could go from the OLT systems in the cabinet to deliver the service to the ONT, which are the terminations you put into the home or the business and, in some cases, to some of the customer routers Zzoomm used to deliver wireless in the home or business.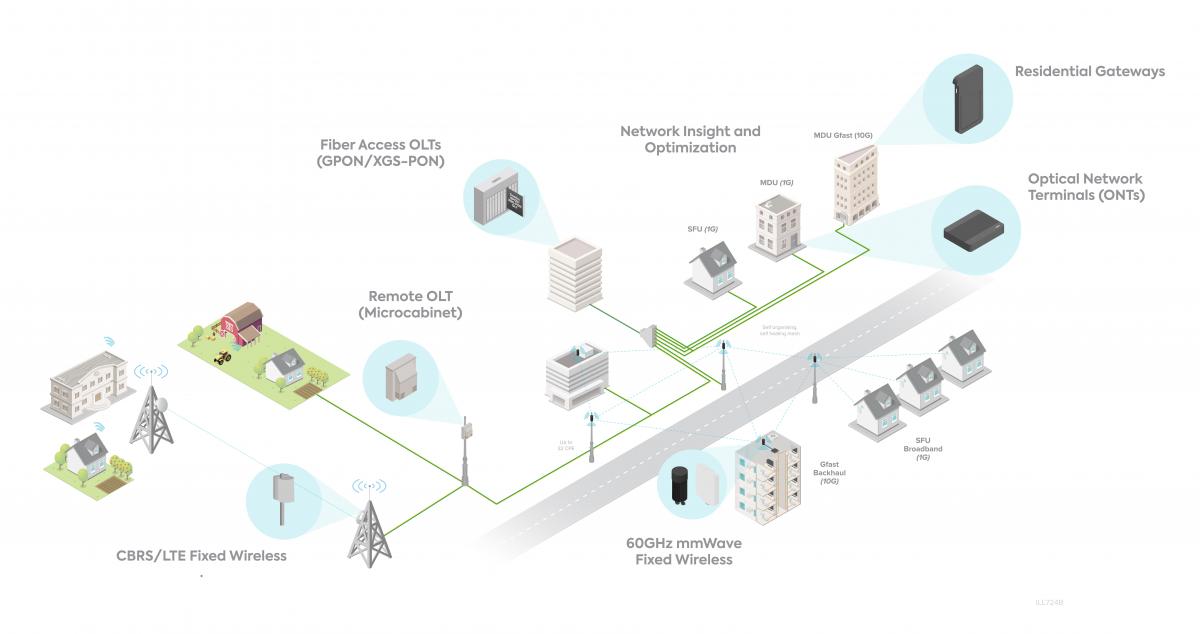 The company is leveraging a full suite of Adtran's fibre broadband and home networking solutions, which are designed to maximise the customer broadband experience. For example, a challenge for residential subscribers in the UK is that many of the residential homes are older and are built using materials that can block Wi-Fi signals. 
To overcome this challenge, Zzoomm now offers multiple services to the home using residential gateways which are leveraged to extend the Wi-Fi coverage across the home to multiple devices. 
At the core of its full-fibre network is Adtran's OLT fibre access systems, this allows Zzoomm to  easily and seamlessly scale services within its service areas, this platform ensures their customers have the network they need today and across future decades.
'Zzoomm's relationship with Adtran is without doubt really quite exciting, so it has very, very good moments and, as always, when you come across a problem, it has challenging moments, but we have a very good working relationship with Adtran,' Hare said. 'When there are hiccups, we work together and come up with a solution, so that means our customers end up being happy customers, which is why Zzoomm continues to be the success it is and grow.'
Zzoomm is currently in the build phase of the network and is adding thousands of homes and businesses to the network. Henley-on-Thames was the first town to benefit, with full fibre brought to residents and businesses in the area. More recently, more customers have been connected to the network in Hereford, Crewe, Cannock, Thirsk and Crowthorne.
The operator expects to continue adding homes for the next three to four years as fibre is rolled out en masse across the UK. Adtran's end-to-end full fibre solutions are key to the success of Zzoom's 10-gigabit delivery. 
The advantage of XGS-PON is it lets Zzoomm have symmetric services, so up and down speeds are exactly the same
More information: www.adtran.com