Product overview:
With the digital revolution constantly advancing, companies must stay at the forefront of technology to continue as market leaders. Innovation is one of the core competences at HUBER+SUHNER, and the company was recently granted the Bavarian State Award in the category "Energy Infrastructure & Storage" at eCarTec 2016 Munich for a cooled charging cable with a cooled connector –  for super-fast charging of electric vehicles.
In addition to automotive markets, HUBER+SUHNER creates innovative technologies for various other areas, including fibre to the home (FTTH). It is widespread knowledge that FTTH revolutionises the way that people live, work and play, and these markets are no exception when it comes to the importance of innovation and quality. The vast bandwidth of fibre optics has opened new doors for operators, service providers and developers who are eager to capitalise on the service delivery and revenue opportunities only fibre can deliver. HUBER+SUHNER contributes to this trend and offers solutions which are not only innovative for the FTTH network but which can also be installed efficiently and economically.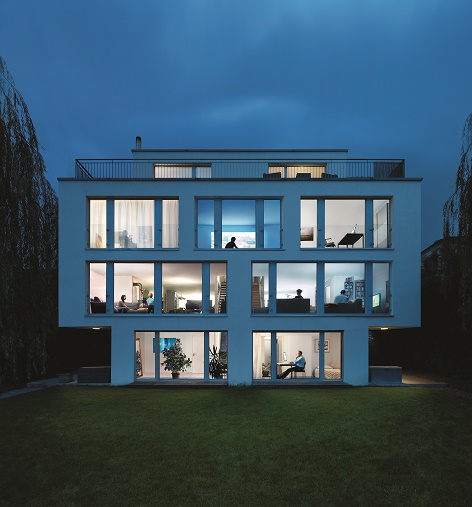 FTTH infrastructure deployment costs are primarily caused by labour. The lack of skilled resources and the need for operators to have large and fast deployments can cause headaches at many stages. HUBER+SUHNER has eliminated this issue with a brand new pre-connectorised optical terminal solution set within its well established Optibox portfolio designed for multi-dwelling units (MDU) and large apartment buildings. Integrated overlength management and splitters and pre-connectorised riser and drop cables make fast and reliable installations possible even when using non-fibre expert crews.
The LC connector is the most established connector in the world, due to its small size and excellent reliability. But even the best can be improved: HUBER+SUHNER has introduced the LC-XD connector, which reduces the amount of space required in central offices, and and the brand new COVERINO LC which will be on display at the FTTH Conference 2017 in Marseille, France. With a patented self-closing protective cap, the COVERINO LC will combine all of the benefits of the existing LC connector with additional operational safety and efficiency, preventing contamination and enhancing overall link security throughout the network.
For central office applications, the market-leading optical distribution frame system from HUBER+SUHNER, LiSA, was further enhanced with new LiSA fibre trays. The new design enhances flexibility, practicality and user friendliness. LiSA is a fully modular side-access system with up to 3000 fibres, allowing flexible patching, splicing, MTP transition and integration of DWDM, all on a footprint depth of just 300mm. These unique features are why LiSA is the preferred option for professional infrastructure management for many operators worldwide.
With the acquisition of optical switch vendor Polatis, HUBER+SUHNER also now has the broadest SDN-controlled optical switch product range in the industry, ranging from 4x4 to 384x384 ports. With 5G accelerating and the explosion of IoT applications, there is no end in sight for demand and growing fibre networks. Fast fibre provisioning, dynamic allocation, protection switching and tap monitoring for high value business services will need to be solved.  All things considered, HUBER+SUHNER is prepared for the digital revolution and is therefore the right connectivity partner for today and tomorrow.
Save
Save
Company overview:
For many years, HUBER+SUHNER products, systems and services have made a significant contribution to the expansion and development of global mobile communications, fixed networks and data centre infrastructure. High-quality components and customer-specific solutions have guaranteed perfectly functioning connections whether electrical, optical or wireless.