MACOM is a new breed of analog semiconductor company—one that delivers a unique combination of high growth, diversification and high profitability. We are enabling a better-connected and safer world by delivering breakthrough semiconductor technologies for optical, wireless and satellite networks that satisfy society's insatiable demand for information.
Today, MACOM powers the infrastructure that millions of lives and livelihoods depend on every minute to communicate, transact business, travel, stay informed and be entertained. Our technology increases the speed and coverage of the mobile Internet and enables fiber optic networks to carry previously unimaginable volumes of traffic to businesses, homes and data centers.
MACOM is the partner of choice to the world's leading communications infrastructure and aerospace and defense companies, helping solve their most complex challenges in areas including network capacity, signal coverage, energy efficiency, and field reliability, through its best-in-class team and broad portfolio of RF, microwave, millimeterwave and lightwave semiconductor products.
MACOM supports a large portfolio of components for optical communications from long haul and metro core networks to FTTx access and Data Center networks. The portfolio addresses the high performance analog interfaces between the electrical and optical domains and provides solutions to meet the demanding size, power and signal integrity requirements of today's high speed networks which are expanding to meet the continuously growing demand for data capacity. The products include high performance modulator and laser drivers, transimpedance amplifiers and clock/data recovery circuits operating up to 100 Gbps and beyond. MACOM has the broadest portfolio of FP and DFB lasers, laser drivers and TIAs for FTTx covering systems from EPON to XGPON.

Applications
> Cloud Datacenter
http://www.macom.com/data-center
> Long Haul & Metro
http://www.macom.com/metrolonghaul
> Network Security
http://www.macom.com/applications/optical-networking/network-security
> Wireless Fronthaul
http://www.macom.com/applications/optical-networking/wireless-fronthaul
> FTTx / PON
http://www.macom.com/applications/optical-networking/fttx
Product Lines
> Laser & Modulator Drivers
http://www.macom.com/products/optoelectronics/laser-and-modulator-drivers
> Transimpedance Amplifiers
http://www.macom.com/products/optoelectronics/transimpedance-amplifiers
> Clock & data Recovery
http://www.macom.com/products/optoelectronics/clock--data-recovery
> Optical Post Amplifiers
http://www.macom.com/opticalamps
> LED/Laser Drivers for Display
http://www.macom.com/products/optoelectronics/ledlaser-drivers-for-display
> High Speed Optical Receivers
http://www.macom.com/hsor
> Photonic Devices
http://www.macom.com/products/lightwave-components/photonic
> Optical Sub-Assemblies
http://www.macom.com/osa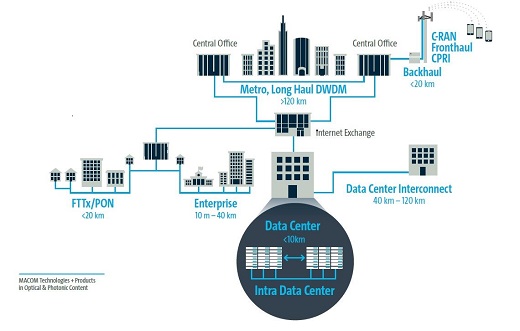 Technologies
> Gallium Nitride (GaN)
http://www.macom.com/gan
> Silicon Germanium (SiGe)
http://www.macom.com/technologies/sige
> Indium Phosphide (InP)
http://www.macom.com/technologies/inp
> Silicon Photonics (SiPh)
http://www.macom.com/technologies/siph
Address:
Address: 100 Chelmsford Street, Lowell, Massachusetts 01851, USA