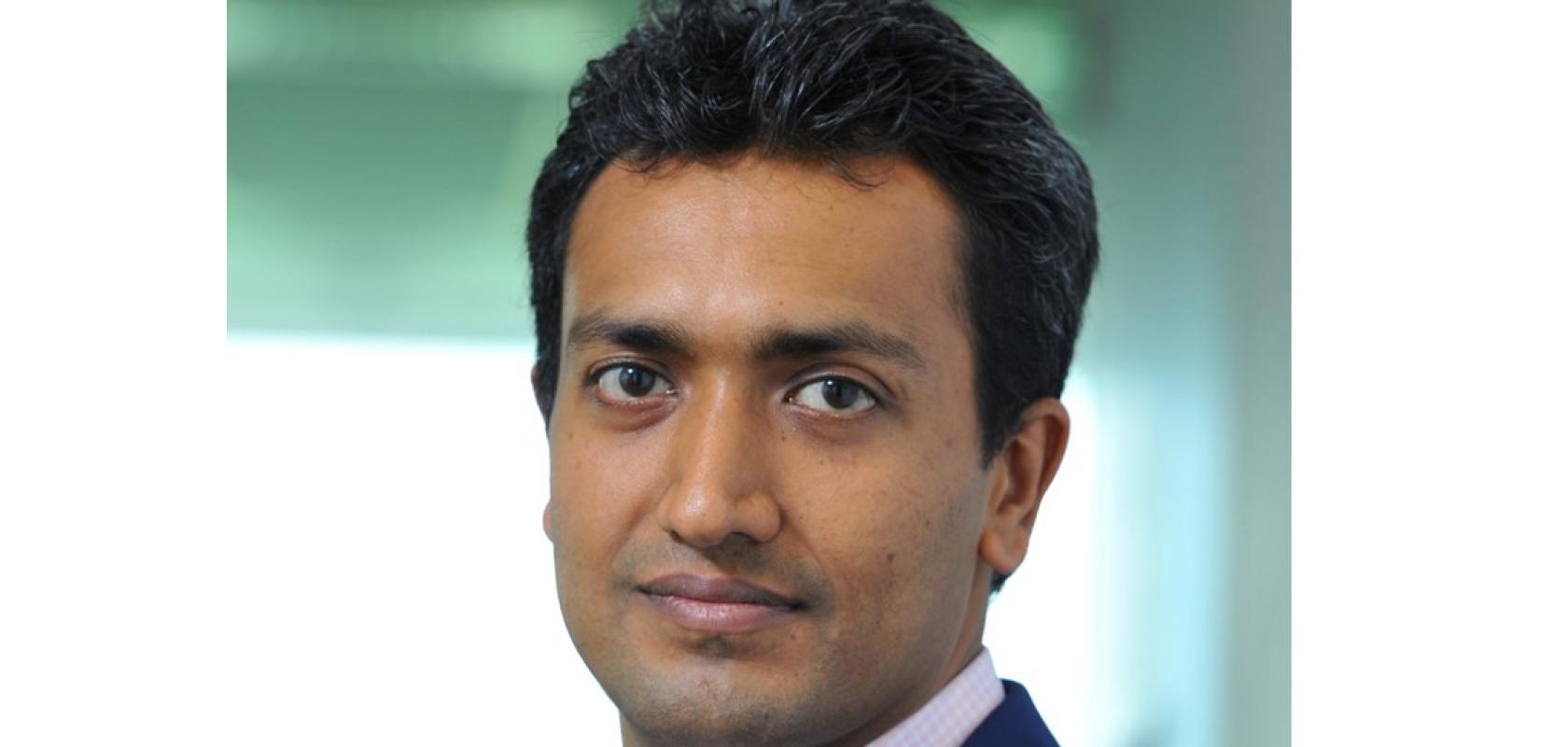 Power over Ethernet (PoE) could help service providers adapt to the opportunity provided by IoT in order to remain competitive, argues Ankit Agarwal
Human civilisation is on a mission to digitise the world. Whether it's digital transformation, the Internet of Things (IoT), smart devices or next-generation wireless networks, solutions and deployments are witnessing growth in all things connected.
There are more users, more devices per user, and more content per device than ever before, which has led to data usage growing at a staggering rate. The IoT market alone is forecast to be worth $1.1 trillion by 2025, according to GSMA Intelligence, as market value shifts from connectivity to platforms, applications and services.
However, as these IoT devices continue to increase and applications scale up, infrastructure provisioning is becoming increasingly complex. The connected world requires a solution that can converge power and data infrastructure to satisfy the demand for triple-play services and power consumption demands of edge network assets – and Power over Ethernet (PoE) is emerging as a clear game changer.
Major IoT drivers
Today's network infrastructures need to adapt to the IoT opportunity, and service providers must evolve to remain competitive.
With the advent of the IoT era, the evolutionary technology has brought forward drastic shifts of everyday living in smart homes, buildings, work places and on a larger scale, in cities. From sensors, lighting controls, security, to smoke detection, the network must be able to power numerous devices while connecting them with high-bandwidth broadband.
Other trends include the decreasing cost per central processing unit (CPU) memory and storage, enabling better data storage and analytics, as well as the reduced cost of data plans, making more cash available for investment in large processing systems.
Infrastructure for tomorrow
As the IoT environment continues to evolve, cabling will be one of the critical factors in determining usable bandwidth in a network and the associated operational costs. However, the choice of cabling can have a big influence on temperature rise and energy costs – so service providers need to consider all options carefully.
A structured cabling system is an ideal solution, compared with running power cables in proximity to data cables. This can lead to creation of noise in the network, which can reduce efficiency. In contrast, structured cabling takes such instances into account from the start and helps achieve structured network setup.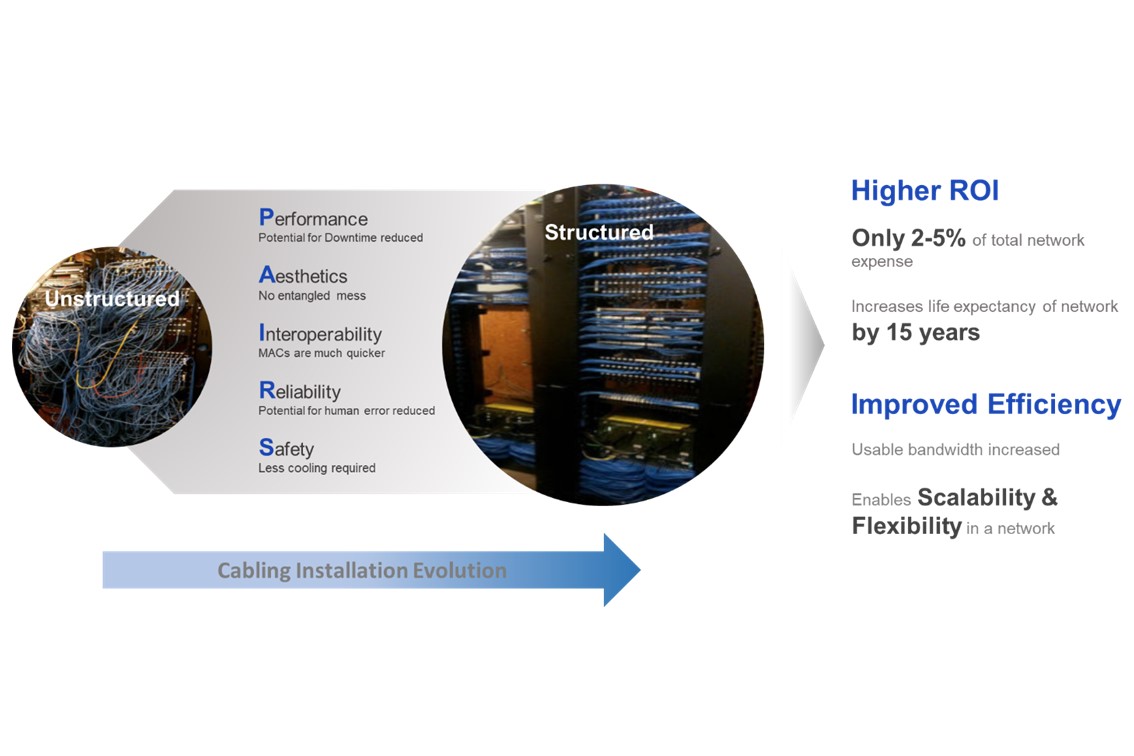 It is also flexible, reliable and highly efficient for moving, adding and changing the infrastructure as the network grows. Other benefits include: Easy scalability and adaptability to future growth needs; ease of installation, repair and replacement; a standardised and modular design enables quick and easy replacements and upgrades; easy integration and support to multimedia content and enterprise solutions such as video conferencing; unified and modular cabling helps easily diagnose and monitor; overall higher returns and improved efficiency.
On the other hand, using a unified cable medium, and transmitting signals with a common protocol, allows data single point control and data analysis features. And the potential cost savings are pretty impressive too. Service providers can expect pathway material savings of around 40 per cent, labour savings of up to 30 per cent and maintenance cost savings of nearly 15 per cent.
Power over Ethernet (PoE)
This is where PoE steps in, offering a range of benefits from time and cost savings, through to increased flexibility, safety, reliability and scalability.
PoE, which lets network cables carry electrical power, is a popular LAN switching technology. It helps provide direct current (DC) power at end points over copper Ethernet cables. DC power is transmitted from power sourcing equipment over the existing twisted pair Ethernet cable. This twisted pair Ethernet cable enables connectivity in the powered devices such as IP phones, video cameras, wireless access points, point-of-sale machines, access control card readers, LED luminaires, and other industrial and building automation applications. This technique helps in reducing the capital expenditure, bringing down the overall total cost of ownership of the project.
The new IEEE 802.3bt standard, which was ratified in September 2018, further increases the potential of PoE - offering a host of other capabilities, including support for highly efficient four-pair power delivery, and channel definitions for 2.5Gb/s, 5Gb/s, and 10Gb/s PoE operations. It also boosts the maximum power that PSE is capable of by a factor of three – expanding it from 30 to 90W – and elevates the power level for powered devices to 71.3W. In addition, IEEE 802.3bt doubles the number of supported classes from four to eight, addressing Type 3 and 4 devices for both power sourcing equipment and powered devices between 4 – 90W and 3.84 – 71.3W respectively.
Thanks to PoE's advantages, it can support data transfer rates of up to 5Gb/s over Cat6A and beyond, up to a range of 100m – making it ideal for triple-play services. High-definition video streaming only requires 400Mb/s, meaning a PoE based network has the potential to effectively stream a HD training video, while others work and talk over VoIP.
PoE can take Li-Fi technology a step further as it finds use cases from traffic light systems to retail, oceans and aircraft carriers. It offers exciting use cases as Point of Sale (PoS) systems/PoE powered helpdesks in locations such as shopping centres and hotels. PoS systems has potential to add 10-40 per cent more sales in a targeted area. PoE+ enabled VoIP, dense wireless internet access points, PoE powered IP surveillance cameras are other similar use cases.
End goal
Growing consumption of data in enterprises and homes are critical elements for the adoption of PoE. With the ability to bring high-bandwidth data and power to multiple devices and network assets, the technology can be adopted by a range of applications, including security cameras, lighting, building automation, control systems and wireless LAN access points.
By transmitting power and data via a single networking cable, PoE eliminates the expense of installing additional electrical circuitry. By relying on PoE to deploy LED lighting and existing LED lights to transmit Li-Fi, PoE can easily be used to power Li-Fi.
It also has scope in vertical markets such as citizen services, connectivity in public transportation, higher education and healthcare, and is already being used in commercial workspaces for VoIP and video conferencing.
In summary, we believe that PoE is a game changing technology for connectivity markets and will play a critical factor in shaping the network ecosystem of tomorrow – with prevalent conventional cabling techniques still in use, the market is expected to be huge. Add to this the potential of advanced PoE+ and PoE++ systems that offer multiple facility systems, helping in lowering carbon emissions and providing for better facility management – also with enhanced energy savings. All these emerging applications for commercial spaces, healthcare, finance and retail sectors can bring significant impacts in the near future.
Ankit Agarwal is CEO, products business, at Sterlite Tech