ECOC 2023: OIF showcases largest multi-vendor interoperability demo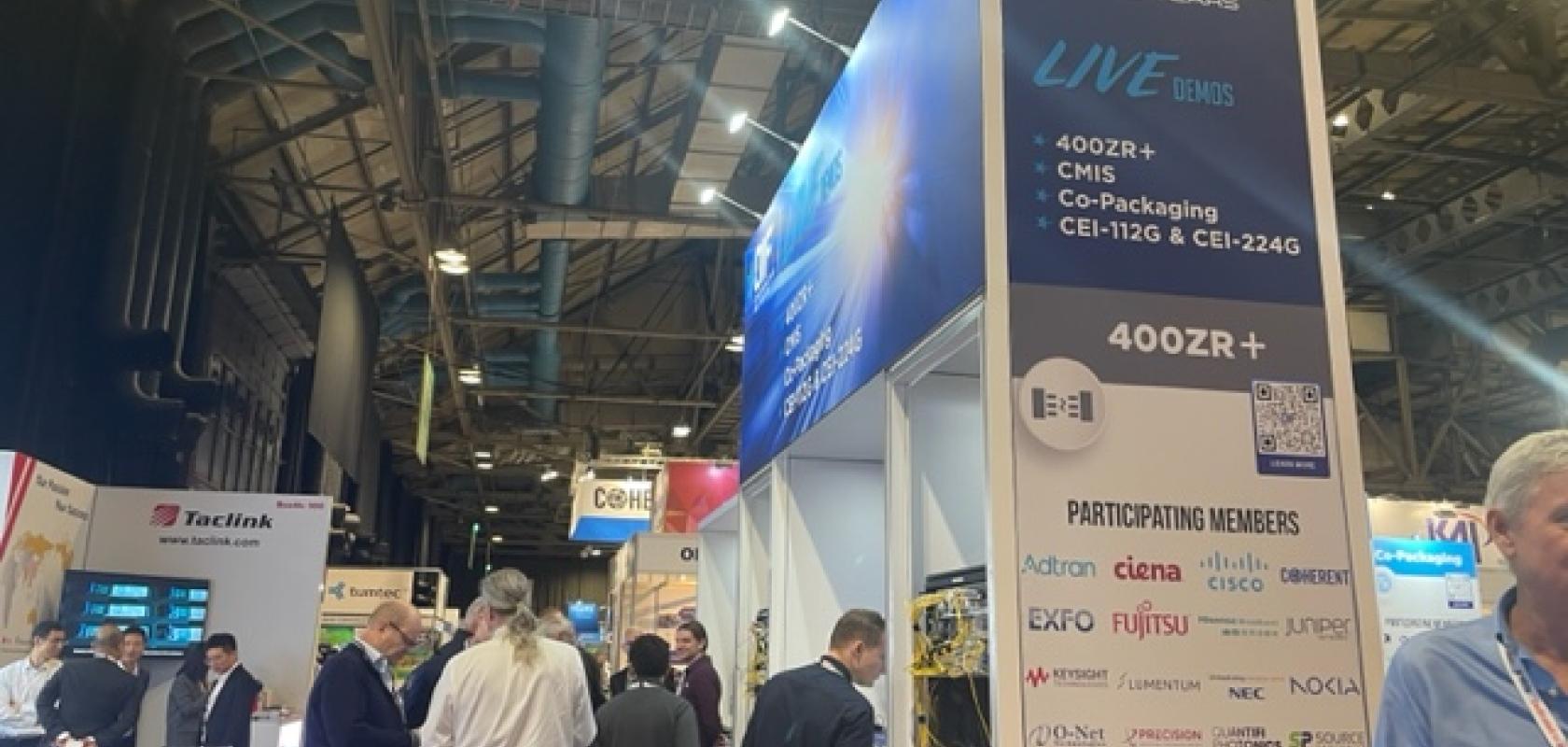 OIF at ECOC 2023
Not-for-profit consortium, OIF is to showcase its largest-ever multi-vendor interoperability demonstration at ECOC from 2-4 October. OIF will also use the event to continue its commemoration of 25 years dedicated to driving meaningful progress in the industry.
39 companies will participate in live and static interoperability demonstrations at OIF's booth #304, highlighting advancements in four key technology areas: 400ZR+ optics, co-packaging solutions, common electrical I/O (CEI) channels and common management interface specification (CMIS) implementations.
OIF member companies participating in the demonstration are Adtran; Alphawave Semi; Amphenol; Applied Optoelectronics; Broadcom; Cadence Design Systems.; Casela Technologies; Ciena; Cisco Systems; Coherent; Credo Technology Group; Eoptolink; Exfo; Fujitsu Optical Components; Hisense Broadband; Infinera; Juniper Networks; Keysight Technologies; Linktel Technologies; Lumentum; Macom Technology Solutions; Molex; MultiLane; NEC Corporation; Nokia; O-Net Technologies; Precision Optical Transceivers; Quantifi Photonics; Samtec; Semtech; Senko Advanced Components; Sicoya; Source Photonics; Sumitomo Electric Industries; Synopsys; Telefonica; Viavi Solutions and Wilder Technologies. The demo is also supported by participating companies Telefonica and LightRiver. 
Mike Klempa, Alphawave Semi and Chair of the OIF Physical & Link Layer Interoperability Working Group says: "OIF stands at the forefront of critical multi-vendor interoperability efforts, driving the industry's evolution and providing the transformative technical solutions to meet the rapidly growing demand for broadband access. As a member-driven organisation, our work remains at the cutting edge, aligned with the industry's needs and fostering collaboration to accelerate product development and solutions to market. For 25 years, we have been instrumental in facilitating industry progress. This year's largest-ever demo underscores the vital role we play in shaping the network and the significance of our work in advancing the industry overall."