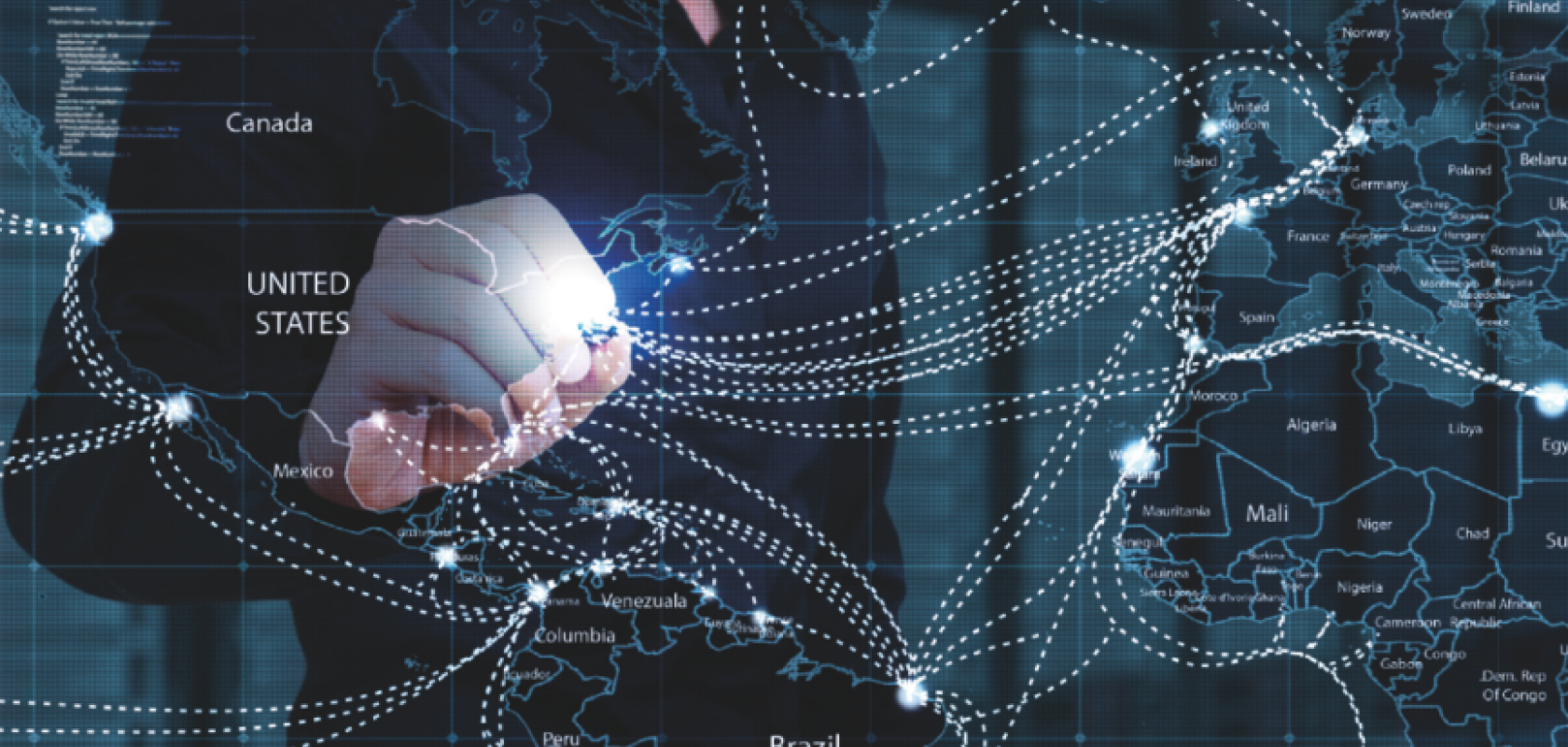 Consumer hunger for better broadband is driving greater penetration of optical technology in HFC and full-fibre networks, finds Andy Extance
While the Covid-19 crisis looks set to hamper ongoing improvement of US broadband, increasing the penetration of optical technology is keeping people well-connected.
The proportion of the country's broadband customers helped through isolation by full-fibre technology like fibre-to-the-home (FTTH) exceeds one fifth. This subscription threshold was passed in 2019, according to research from Tulsa-based market research firm, RVA, conducted on behalf of the Fiber Broadband Association (FBA). 
Meanwhile, more than half of the country's broadband customers still use hybrid fibre coaxial (HFC) cable networks, which are also pushing fibre deeper, bringing it closer to customers. Such competition underscores fibre's value, as companies strive to reach under-served communities, and overcome the obstacles to those deployments – including those posed by the pandemic. 
Mike Render, principal analyst at RVA, argues that the crisis will increase deployment of full fibre networks 'in the medium and long term'. Needs for teleconferencing, telemedicine, video socialisation and live- streamed entertainment during the pandemic make better broadband's value obvious, he said. 
Record breaker annual deployment of full-fibre reached a new record in 2019, Render said. That increased 2019's annual US fibre deployments far surpassed previous records the proportion of US homes passed by such networks – the highest possible theoretical number that can subscribe – to more than 36 per cent. Deployments are due to decrease later in 2020, due to a dramatic cutback in AT&T's fibre deployment, as well as any impacts of Covid-19, before increasing again. 'But, fortunately in the US, there are more than 1,000 providers, large and small, deploying FTTH,' Render added.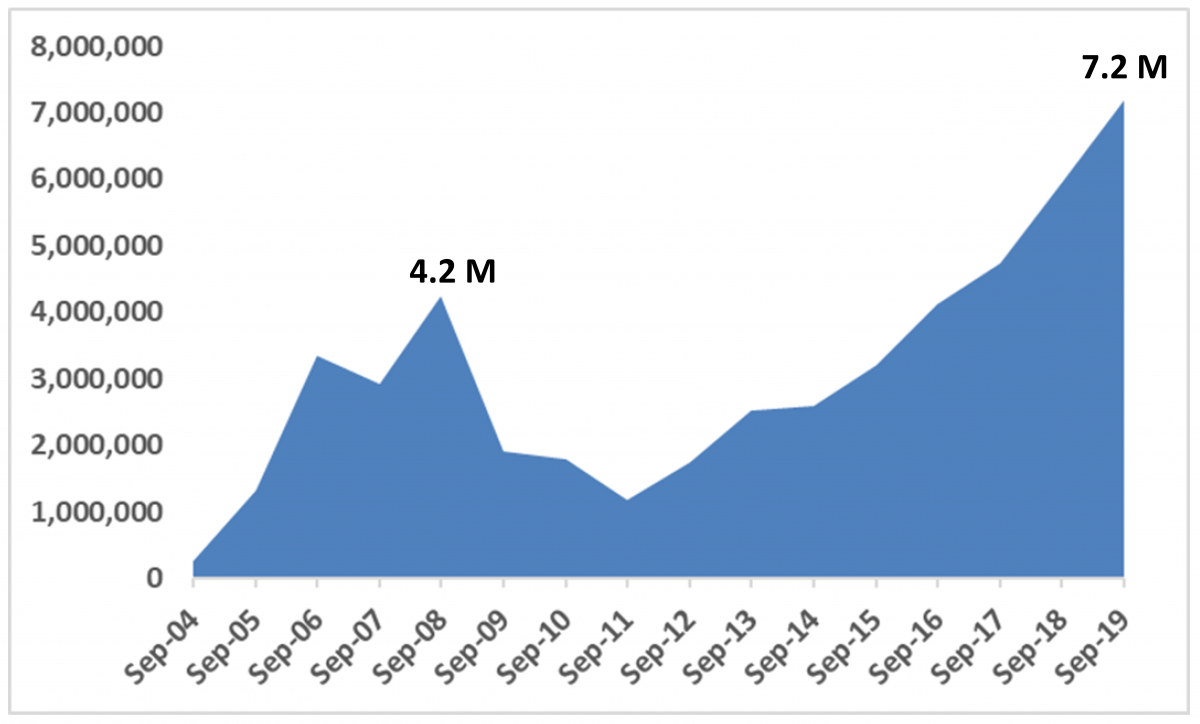 2019's annual US fibre deployments far surpassed previous records (credit: Fiber Broadband Association)
Today, deploying more fibre to improve customer experience is overtaking cost reductions for legacy telephone technology, such as copper-based digital subscriber line (DSL) systems. 'Telecom providers have tried for some time to utilise existing copper cable with closer and closer fibre end-points,' Render said. 'Even with all these attempts to enhance DSL, this approach is quickly losing market share to better HFC systems and, of course, even better FTTH systems.' Updated HFC systems can offer 1Gb/s download speeds, but much lower upload speeds, Render added. 'FTTH systems usually have a 1G tier both upstream and downstream, and some already offer 10G tiers,' he said.  
Todd Smith, media relations executive director at Cox Communications, explains that, like most HFC companies, Cox exploits the data over cable service system (DOCSIS) specification to offer broadband. 'A very large percentage of our six million homes and businesses subscribe to some form of internet from us,' he said. 
Developed by CableLabs, DOCSIS builds on historical cable architecture. This means fibres reaching 30 to 60km from a cable operator's central hub to a fibre node. From here, an access network serves tens or hundreds of homes, connected into buildings by a final coaxial section.
Historically, DOCSIS encoded TV and data as radio-frequency signals carried through fibre lines using analogue optics, but has adopted higher-order modulation to increase data rates. Today, coaxial connection lengths are progressively shrinking as fibre reaches further.
'We're providing 1Gb/s speed options via DOCSIS nationwide to homes, up to 100Gb/s on the business side via fibre services, and are already on track to deliver 10Gb/s to homes in the next couple of years,' Smith said. 'We are constantly working to drive fibre deeper into our networks, closer to homes.' 
Cox's 1Gb/s package is called Gigablast, and is its highest tier. 'We offer a variety of speeds and capabilities,' Smith explained. 'Our most popular tier by far is 150Mb/s and about half of our customers also choose our managed wifi on top of that, to help ensure consistent wireless connectivity throughout their home and to allow them to better manage their connected devices. Our priority is to make several choices available for customers nationwide, and let them decide what is best to meet the needs of their family.' 
For the company, broadening internet access also involves reaching lower income US customers through its Connect2Compete philanthropic programme for families with school children aged up to 17. Typically, this provides heavily discounted internet, but, in light of the pandemic, Cox made it completely free from March until July. 'We've signed up an additional 15,000 Connect2Compete subscribers since 13 March, when we began offering the free service in response to the crisis,' said Smith. 
Improved HFC offerings, likewise, can inspire more FTTH deployments, Render suggested. US full-fibre deployments have been driven, in part, by heavy competition in the US between cable providers, telephone providers, and in many areas, third competitive providers. 'This competitive factor has been especially evident at certain times, such as
Google entering the market and then spurring more deployment from traditional telecom companies,' he said. 
While FTTH and HFC might offer similar download speeds, the former typically claims greater reliability and lesser impact of other nearby homes accessing the network. The FBA-sponsored Broadband Experience Index, a composite measure of download speeds, upload speeds, reliability and latency, 'shows there are verifiable differences in the consumer
experience between fibre and alternative internet solutions', Render explained.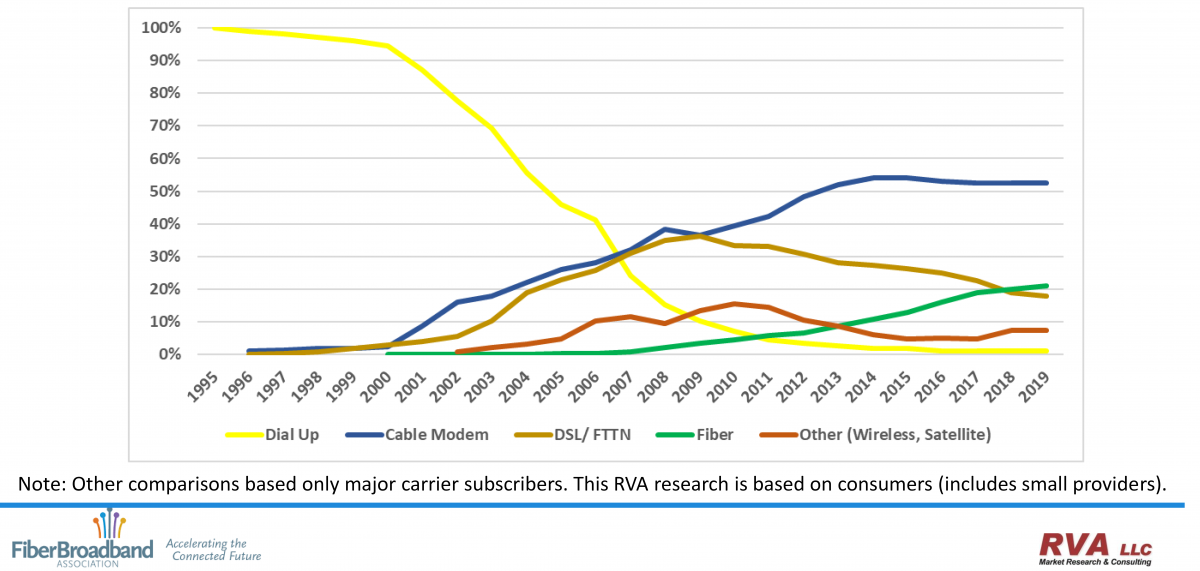 Fibre broadband has moved into second place for US home internet, according to research commissioned by the Fiber Broadband Association
Full-fibre's US market share has also been boosted by how community infrastructure is organised. 'Master planned communities, both single and multi-family, often demand fibre because it has a proven impact on real estate desirability and even monetary value,'

Render said. 'In some cases, municipalities are partnering with private service providers to offer service, and in others, they are successfully building and operating these systems.' 
Meanwhile, full-fibre networks also promise cost benefits to broadband suppliers. 'The need to reduce ultimate total capital expenditure (capex) and annual operational expenditures has also been a driver for deployment for network operators,' Render explained. '

Some private providers have taken a step approach, moving fibre closer and closer to the end-user, to save short-term capex costs. But current FBA studies are showing operational expenditures are definitely lower for providers that make the move to an all-fibre network

.' 
One such private provider is GigabitNow, which develops and operates FTTH networks for communities and municipalities typically comprising 2,000 to 10,000 homes. Its parent company, IsoFusion, started operations as a regional internet service provider (ISP) in 1994, explained GigabitNow's COO, Dan Sivils. In the early 2000s it shifted focus to data and co-location centres, but at the same time, worked on its first project delivering a full-fibre community network. 'That opened up a huge opportunity for us,' said Sivils.

Having got its first network in Washington up to offering gigabit speeds, GigabitNow started working in other communities. It has now built projects for several communities in Washington and California. 'The FTTH market is our leading business division, and we expect it to continue to grow significantly over the next several years,' Sivils explained. 'It's certainly a much more successful and, to be honest, much more satisfying business.' 
Sivils respects the big internet companies, whose nationwide networks GigabitNow must connect with, but notes that their retail customers can be 'disappointed in what they receive.' 'They buy a 50Mb/s circuit and they'll probably get 10 to 15Mb/s through it,' he said. 'We've run into a lot of communities that just accept it. We've geared our model to say, "Hey, there is a real internet out there, and we can help you get it".'  
Each project brings its own challenges, such that there is 'no cookie-cutter approach,' Sivils noted. Yet meeting regulations is the most challenging aspect, he suggested. In one project in Northern California, for 18 months GigabitNow dealt with 26 different agencies on the local county, city, state and federal level. 
GigabitNow's California projects have led it into discussions about connecting a rural area north of San Francisco. 'It's very hard to find a pocket of 4,000 homes there that are all contiguous,' Sivils observed. 'As much as everyone's talking about it, very few ISPs are getting in there and trying to help. So we're actively working with communities, trying to get some connectivity deployed. We're not actively building yet, but we certainly are getting very close.' 
Encouraging deployment in low-population- density rural America, where costs-per-home-passed can be high, is a key strategic challenge for broadband deployment. This 'rural digital divide' won't significantly impact the increasing availability of full-fibre networks until it reaches 50 per cent, according to Render. But, he added, it will become increasingly important moving toward the 90 per cent mark.

'Rural Americans have the most online need because they are the most physically disconnected,' said Render. 'In fact, rural Americans are more likely to say broadband is important and to note they are more likely to use various broadband applications. Fortunately, take-rates of fibre, when available, are also high.' 
The FBA has therefore been working with the US Federal Communications Commission (FCC) and others to urge them to prioritise the importance of fibre in bridging the rural digital divide. 
However, HFC broadband suppliers are also actively connecting such communities, highlighted Brian Dietz, senior vice president strategic communications at NCTA Internet and Television Association. 'The companies we represent have built HFC networks that are available to about 90 per cent of US homes and now offer speeds of 1Gb/s to 80 per cent of US homes,' he said. 
One example of NCTA members' efforts to reach rural customers includes Mediacom's programme to help Iowa become 'the first fully gigabit state' in 2017. Then, Mediacom deployed a 1Gb/s service to its 309 Iowa communities. The company has deployed gigabit service to 98 per cent of its footprint across 22 states. However, it highlighted challenges in establishing networks in remote areas. Issues include high costs, having to pay competitors to attach to their poles, crossing railroads to reach customers, and obtaining the appropriate permits to continue deployment. 
Fortunately, authorities are intervening to help deployment at all levels, local, state and federal. 'In the US, the primary government strategy has been to reduce deployment barriers, as well as financially help support deployment in areas of low density,' Render explained. 'Recently, besides attempting to reduce regulation and increase the speed of action at all levels of government, the FCC has addressed the costs and delays when one private entity has to deal with another, such as obtaining permission to make fibre attachments on existing telephone poles.' 
And now fifth generation wireless communication technology, or 5G, is arriving to share this infrastructure. Render sees this as primarily synergistic with FTTH and FTTB. 'There is an obvious need to take fibre to each 5G antenna located every 650 feet or so in urban areas, to meet the aspirations of 5G,' he said. 'This fact can lead to a "one fibre" or converged engineering approach, where fibre systems can be engineered to accommodate both 5G and FTTH.' 
5G does not undermine the need for FTTH, Render added. 'While 5G delivery to the home over the last 200 feet or less may be competitive in some cases, in most instances fibre directly to the home will be the best solution.' 
HFC networks are similar, agreed Smith. 'We already deliver a 1Gb/s option to the home today via DOCSIS, which is superior to 5G,' he said. Cox is very involved in 5G though, as we provide backhaul connections for wireless carriers, both traditional towers and small cells that will power 5G. In other words, 5G wireless is only as good as its wireline connection.' 
And 5G is just one example of broadband's future, thanks to evolution in optical technology, Render added. 'Next generation passive optical network (PON) systems are both allowing even higher bandwidths to the end-user and easier integration of multiple systems,' Render said.  
Sivils stressed that such developments put the US market 'in a change state'. Incumbent broadband suppliers weren't ready for the FTTH explosion triggered by Google Fibre, he said. 'It's shaken them up so badly, that they are trying to catch up. It's a very interesting time.'
Andy Extance is a freelance science writer based in Exeter, UK