800G transceivers to dominate mega data centre market, says LightCounting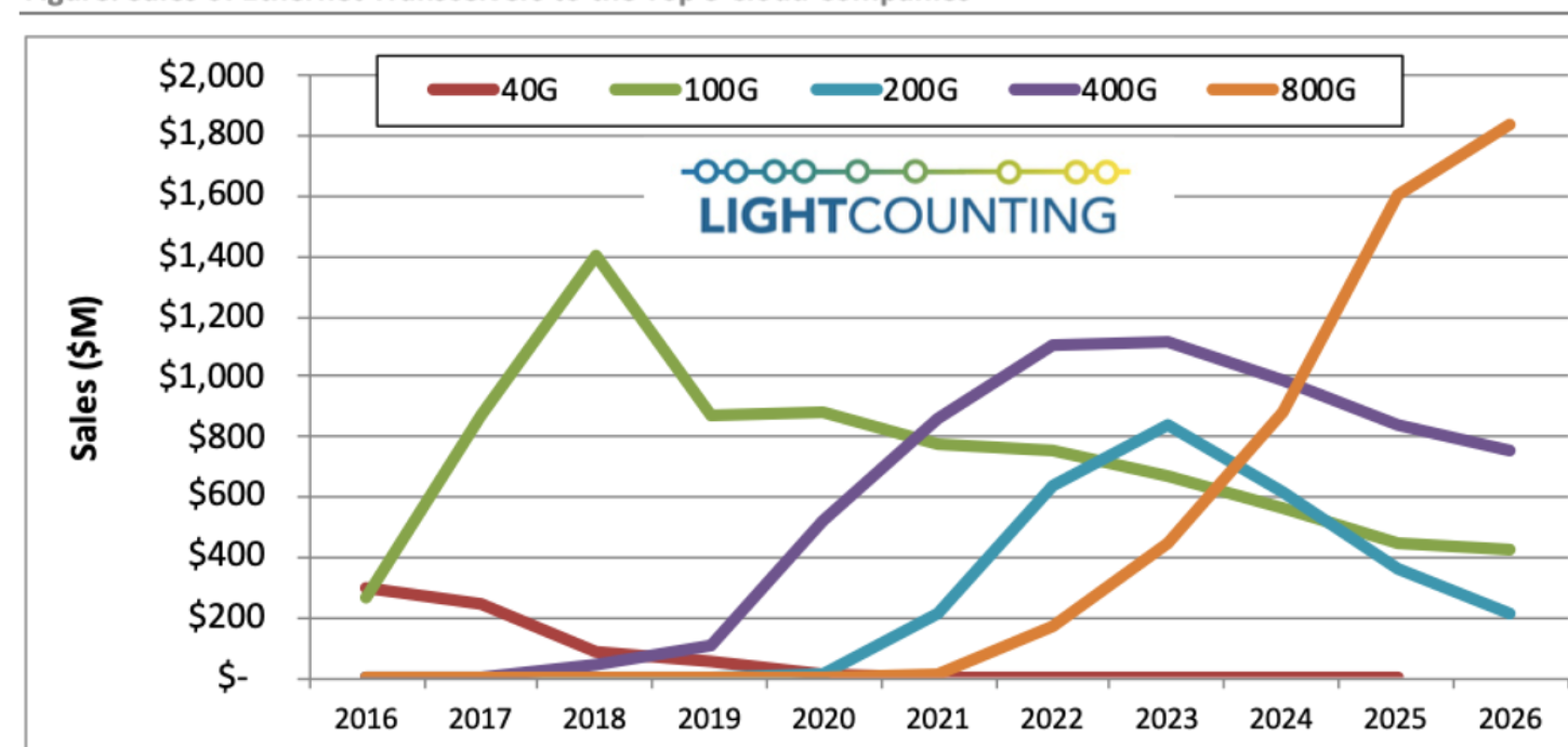 Industry research firm LightCounting has released its Mega Datacenter Optics Report for 2021.
The report analyses the impact of Mega Data centres on the market for Ethernet optical transceivers, DWDM optics, active optical cables (AOCs), embedded optical modules (EOMs), and co-packaged optics (CPO).  It leverages extensive historical data on shipments of these products - for which there are more than 50 categories - combined with market analyst research, to make projections for the market in 2021-2026. 
Amongst the findings, the report detailed how top five cloud companies - Alibaba, Amazon, Facebook, Google, and Microsoft - spent $1.4bn on Ethernet transceivers in 2020. It also predicted that their spending will increase to more than $3bn by 2026. 
800G transceivers, said the report,  will dominate this market segment by the end of the forecast period. Several factors contributed to this increased forecast, including increased prospects for growth in data traffic driven by AI applications, based on the latest data shared by Google at OFC 2021. In addition, the progress made by suppliers of 800G Ethernet transceivers and components supporting these modules supported this prediction. There was also, said LightCounting, higher than expected demand for bandwidth in data centre clusters, relying on DWDM optics.
The report went on to detail that Google's latest data on traffic growth in its networks shows 40 per cent growth for regular server traffic and 55-60 per cent growth in traffic supporting machine learning applications. Importantly, AI traffic (such as machine learning) accounts for more than 50 per cent of the total traffic in its data centres. This, said LightCounting, 'forced us to raise assumptions for future growth rate in data centre traffic by a few percentage points, which had a significant impact on the market forecast.'
Demand for bandwidth in networks interconnecting clusters of data centres continues to be surprising, according to the report. It is hard to track deployments of optics since the reach of cluster connections ranges from 2km to 70km, but LightCounting improved its estimates in the latest forecast model. This, said the company, explains why Amazon and Microsoft are eager to see 400 ZR modules in production now, and 800 ZR in 2023/2024.