FSAN unveils roadmap to future PON standards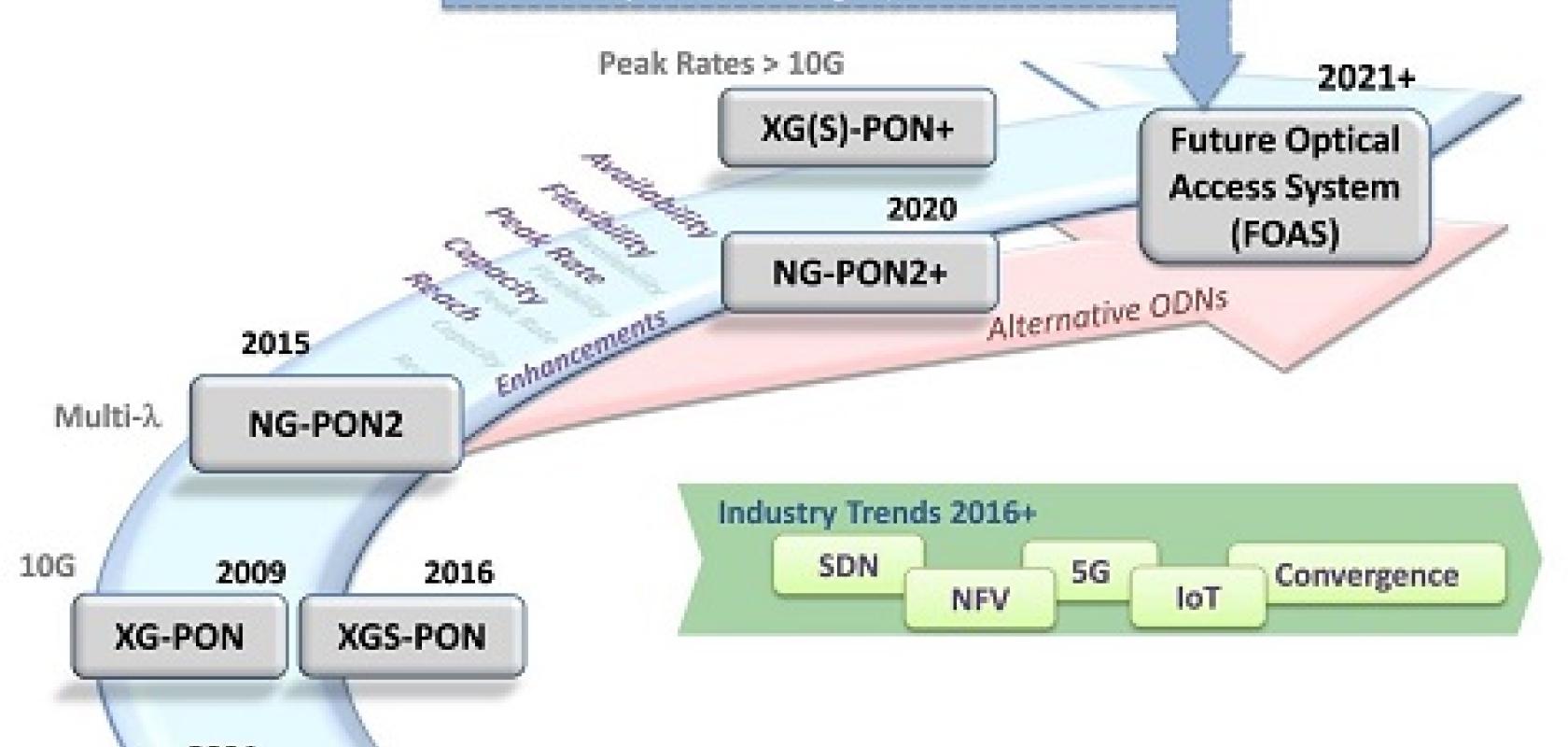 While service providers are still evaluating the latest generation of passive optical network technologies, the Full Service Access Network Group (FSAN) is already considering what comes next for optical fibre based access systems.
At a meeting held recently in Hangzhou, China, on 14–18 November the group received contributions from operators about their requirements and technology options for such systems, and issued an updated roadmap that has recently been agreed by the operator members.
FSAN is a technical forum that helps the industry reach consensus on optical access technology, before passing along the details for standardisation. The group has contributed to ITU-T in standardising a number of passive optical network (PON) systems including GPON (ITU-T G.984 series) XG-PON (G.987 series) and NG-PON2 (G.989 series).
Now the optical networking industry is considering the next steps for optical fibre based access systems and the roadmap is an important tool for guiding that work. FSAN has publicly released the new roadmap to help guide the wider industry and serve as a stimulus for future standardisation and technology development in the related organisations, such as ITU-T, Broadband Forum, and IEEE.
The new PON Standards Roadmap 2.0 emphasises a smooth evolution from previously standardised and deployed PON systems through re-use of the existing fibre infrastructure. System enhancements of most interest to the FSAN operator members are identified as: increased capacity, longer reach, improved reliability, enhanced flexibility and peak service rates beyond 10Gb/s.
Commenting on the release of the new Roadmap, Peter Dawes, Chair of the Next Generation PON Task Group in FSAN Optical Access Network Working Group, said: "After much consideration and discussion, the network operators in FSAN have identified their priorities and timelines for the evolution of fibre access systems. These have been encapsulated in the latest Roadmap and this will be used to guide the work of FSAN over the coming years."
Key industry trends that are expected to impact PON technology evolution are identified on the roadmap as software-defined networking, network functions virtualisation, 5G mobile systems, the Internet of Things, and the convergence of networks and services.
In addition to supporting the previously deployed infrastructure, the PON Standards Roadmap 2.0 recognises that optical distribution networks based on alternative splitting approaches other than power splitting may be of growing importance for emerging applications. For example, wavelength-based splitters could offer distinct benefits, the group says.
The FSAN meeting in Hangzhou was a collocated with an ITU-T Q2 in Study Group 15 interim meeting where technical contributions from FSAN members towards future PON standards were also presented.
Frank Effenberger, Rapporteur ITU-T Q2/15, welcomed the new PON Standards Roadmap. "For 20 years now FSAN has led the development of PON technologies and this new roadmap provides direction for the next 10 years," he said. "I look forward to continuing the successful collaboration of FSAN and the ITU-T in defining future PON standards based on this roadmap from the FSAN Operators. It is hoped that other standards development organisations will also find this roadmap a useful guide for their work."
The PON Standards Roadmap 2.0 is available from the FSAN website.