Nokia to swallow Alcatel-Lucent in €15.6B deal
Having confirmed they were in advanced talks over a possible deal, by the morning that deal was done – Finnish mobile infrastructure company Nokia has agreed to acquire Alcatel-Lucent for €15.6 billion ($16.6 billion).
The all-stock deal will take the form of a public exchange offer in France and the US, under which Alcatel-Lucent shareholders will receive 0.55 new Nokia shares for each of their old shares.
The deal, which is subject to regulatory approval, is expected to close in the first half of 2016.
Rumours had been circulating for the last few months that the Finnish networking company was looking to acquire Alcatel-Lucent's wireless business. Instead it opted to buy the whole company, which includes Alcatel-Lucent's IP routing division, optical transport (including submarine networks), IP platforms, and fixed broadband access businesses.
The rationale for the deal is scope and scale in a world where seamless connectivity is increasingly taken for granted across different kinds of networks. "In this environment technology that used to operate independently now needs to work well together in order to make seamless connectivity a true reality," said Nokia CEO Rajeev Suri on a conference call to discuss the transaction.
Suri pointed to consolidation amongst its customer base of telecom operators, internet providers and large enterprises, which has created fewer larger players with global needs. The new combined company will have the scale to service these players, he says.
Nokia believes that the deal will give it the ability to be the number one or number two player in each key area that it chooses to compete in. As a converged telecoms equipment provider, it hopes to challenge bigger players like Ericcson and Hauwei.
The new Nokia will also combine Bell Labs with FutureWorks under the iconic Bell Labs brand to create "an innovation powerhouse" with more than 40,000 R&D employees and an R&D spend of more than €4.7 billion. The R&D effort will focus on development of future technologies including 5G, IP and software-defined networking, cloud, analytics as well as sensors and imaging.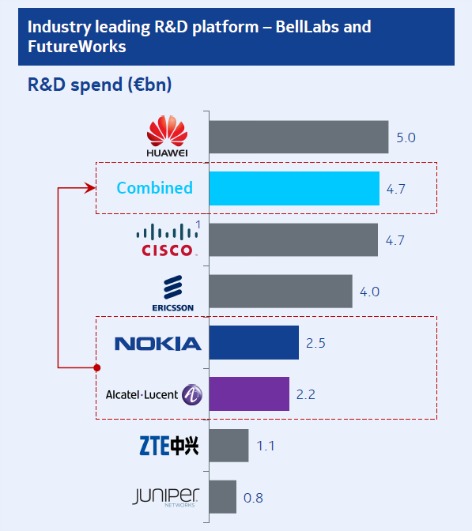 'This is not a joint venture'
The two companies are roughly equal in size. Nokia has 61,500 employees, nearly 7000 of them in Finland, compared to Alcatel-Lucent's 52,600 employees of which 6000 are in France. Nokia posted revenues of €12.7 billion in 2014 while Alcatel-Lucent counted revenues of €13.2 billion.
Yet the combination looks more like a takeover than a merger. Following the public exchange offer, Nokia shareholders will own 66.5 per cent of the post-merger company and Alcatel-Lucent shareholders 33.5 per cent.
The combined company will retain the Nokia name and be headquartered in Finland with current Nokia chairman Risto Siilasmaa and chief executive Suri remaining in charge. Alcatel-Lucent will be able to appoint three board members, including the vice president, out of the group of nine or 10.
"The governance is clear; this is not joint venture," Suri commented.
Michel Combes, current CEO at Alcatel-Lucent, gave the deal his blessing, saying that it represented an "unparalleled opportunity to create a European champion" in the converged telecom equipment market. His role, if any, in the new company is not clear; Combes simply said he "would remain a demanding shareholder".
The corporate structure is a positive in his view. "We are clear on the leadership of the company. There are no politics in between the companies, which has always been a headache in previous transactions in this industry," Combes said.
The pair hope they will be able to avoid the mistakes of the past when integrating two such large businesses. Nokia and Alcatel-Lucent are both the products of difficult mergers. Nokia combined its networks business in a joint venture with Siemens nearly a decade ago, later buying out Siemens share in the business. Alcatel-Lucent, as the double-barrelled name implies, is the result of the 2006 merger between French equipment vendor Alcatel and US-based Lucent Technologies.
Those mergers wiped out much shareholder value, but restructuring in recent years has been more successful, Suri pointed out. "Nokia has dramatically transformed itself from the company it was a few years ago while Alcatel has all but completed its successful Shift Plan. Both companies have refocused their business and improved efficiency, and this experience… will minimise the execution risks," he said.
A number of conditions need to be satisfied for the deal to take place. The remainder of 2015 is expected to be a review period where regulatory and other approvals are sought.
Certain commitments have already been agreed in France, where Nokia chief executive Rajeev Suri and Alcatel-Lucent boss Michel Combes met with French president Francois Hollande earlier this week.
Nokia will establish an 5G centre of excellence, open a cybersecurity lab, build activities at Bell Labs France, and set up a €100 million investment fund for French start-ups developing products for the Internet of Things and industrial internet. Nokia has also pledged to maintain employment in France consistent with commitments made under Alcatel-Lucent's Shift Plan.
However, job cuts may be on the cards elsewhere under the new regime. Nokia is looking to make operating cost savings of €900 million annually by 2019 by rationalising the product and services portfolio, optimising the sales force and supply chain and reducing general overheads.
Nokia is also considering the sale of its HERE mapping and navigation software business. Meanwhile, Reuters reports that contract manufacturer Flextronics is in talks to buy the manufacturing arm of Alcatel-Lucent Shanghai Bell, the vendor's Chinese joint venture.