The alternative road ahead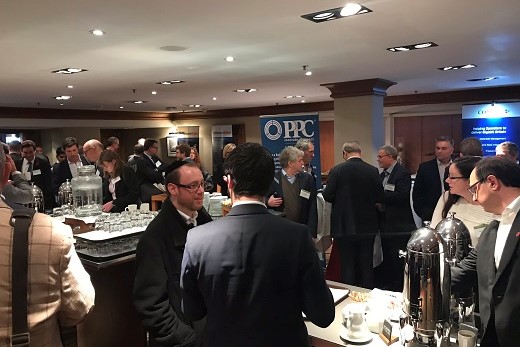 INCA members recently gathered to examine the opportunities and challenges presented to the alternative network (altnet) sector on the path to full fibre and 5G. Keely Portway reports on some of the main topics covered at the event
The overarching theme of the recent two-day members conference held by the independent networks cooperative association (INCA) in London was Full Fibre & 5G: The Road Ahead. The main INCA conference, which took part on day two, aimed to update on related issues such as progress in building new full fibre and 5G networks; policy and regulation; government programmes, funding and support; overcoming challenges and barriers; forging more collaborative relationships; and a look at some of the forward-looking initiatives being undertaken by organisations in the sector.
The event was timely, having followed closely the confirmation from UK chancellor the exchequer, Philip Hammond in his 2018 budget that £200 million will be allocated to fund full fibre broadband connections in harder-to-reach and rural areas across the UK to allow for testing of new approaches to fibre rollout in rural areas. The plans will see mostly competitive commercial investment made across the UK, and funding was certainly a hot topic throughout the day, as Ronan Kelly, CTO at Adtran and president at the FTTH Council Europe addressed in his opening keynote. 'Without the money being made available,' he warned, 'these projects cannot happen. Investors don't have to invest in telecoms. They want to invest in what gives them the best return. If you get it right you will see a large influx of customers.'
The demand is certainly there for the end user, according to Kelly. 'Consumers embrace these solutions, look at Netflix. The more applications they adopt, the more pressure on broadband suppliers.' To put this into perspective, Kelly shared an anecdote which offered a glimpse into future demand. 'My son is 10. I asked how he and his sister were getting on playing Fortnight. "Lucy is bad," he said, "it's her connectivity." The game tells you your connectivity. This has big implications if your 10-year old knows you have poor connectivity. Fibre is the only answer.'
Code of conduct
Kelly iterated how the European Commission fully supports full fibre infrastructure, and that a European Electronic Communications Code (EECC) would be imminent (it was passed a little over a week following the conference). 'Copper switch off,' said Kelly, 'has massive implications with more incumbents leaning towards fibre, trying to steer the industry away from traditional broadband.'
Earlier this year the Future Telecoms Infrastructure Review (FTIR) was published by the UK government's Department for Business, Energy and Industrial Strategy, outlining plans to ensure that the country's broadband infrastructure is fit for the future. The chancellor also backed this in his budget speech, with ambitious targets set for nationwide full fibre coverage by 2033. One of the panels at the INCA conference, chaired by the FTTH Council Europe's Erzsebet Fitori and James Heath, telecoms director at the Department for Digital, Culture, Media and Sport (DCMS), examined the FTIR and how it could help in Delivering Full Fibre to Everyone. Heath warned that the government targets are ambitious because 'the UK starts from a low base. We need to get to a build rate of two to three million properties a year so the government strategy is to create conditions that create the most chance of that happening.'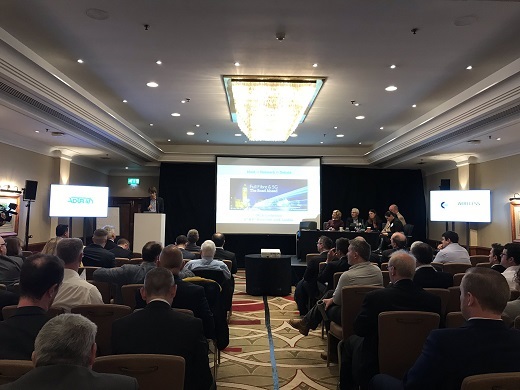 The 'Delivering Full Fibre to Everyone' panel discussion
On the panel was Mark Collins of CityFibre, who pondered 'how do we deliver? And how many gigabit capable retailers do we need?' Collins was joined by Openreach's Catherine Colloms, who called the targets 'highly ambitious' but said 'the 2025 target looks more achievable;' and Gigaclear's Adrian Wooster, who highlighted that, for rural areas in which 'about a third of customers are on ADSL we need ways of encouraging people to full fibre.'
Copper switch off
During the debate, Fitori raised the issue of copper switch-off – a theme which extended into the Regulating for a World Class Digital Infrastructure panel discussion, featuring chairs, Alex Bowers of CityFibre and Clive Carter of Ofcom, as well as Vodafone's Paul Morris, TalkTalk's Beth Wainright, Itref Latif from FCS, and Dominique Astier from Axione. Issues raised by the panel here included the need for competition in networks and adaptable regulations to support new network deployment, and Fibre Systems will look at policy and regulation in greater detail in its Spring edition.
It was not just the keynotes and panel discussions that were newsworthy from the conference, however, and it has to be noted that speakers, exhibitors and delegates were in fine fettle following the inaugural INCA awards dinner the night before.  The INCAs, as the awards are known, were launched this year to celebrate the work of alternative network providers.
Eight awards were presented on the night, with accolades going to Broadway Partners for Technical Innovation; Tameside Metropolitan Borough Council for Commercial Innovation; KCOM for Urban Impact; Lothian Broadband for Rural Impact; Balquhidder Community Broadband CIC for Best Community Project; City of London Corporation & London Law Society for Best Public Sector Project; Hyperoptic for Outstanding Contribution; and Simon Wade of Emtelle, for Outstanding Individual Contribution.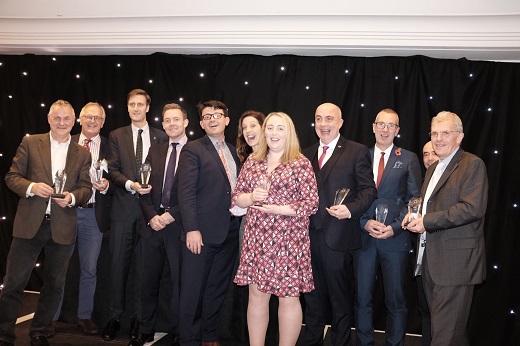 The eight lucky INCA award winners
Award winners
Cllr Bill Fairfoull, Tameside Council's deputy leader, commented on the win: 'This kind of recognition reinforces our belief that we are doing something different. I'm sure this prestigious award will strengthen our reputation and help to further raise the profile of the co-operative and the great work we are doing in Tameside to give our businesses some of the fastest connectivity speeds in the country.
Sean Royce, KCOM managing director, said: 'We are absolutely thrilled to be bringing the Altnet award for best urban impact home to Hull. The award for urban impact is particularly pleasing as it shows how our full fibre network is helping to revolutionise Hull's digital economy. With Lightstream underpinning the region's tech and digital sectors we are seeing the city go from strength to strength as one of the UK's leading digital hubs.'
Explained Nic McCormick, managing director, Lothian Broadband: 'We are delighted to have been awarded the Rural Impact Award by INCA. This is great recognition for our local team, based in Humbie, and something we could not have achieved without the significant support from the community and our Mast Site Hosts across the counties.'
A statement from Balquhidder Community Broadband CIC said: 'We're very pleased to say that we took the award for Best Community Project. We regard that as recognition of the huge effort by the community, individuals and our ISP partners, Bogons, that have gone into the founding, planning, fund-raising, design and doing of our network. So, all we've got to do now is get the ties off, get back out into the fields and keep digging – we're not finished yet!'
Steve Holford, chief customer Officer, Hyperoptic commented: 'We are thrilled to be recognised by INCA for how we are blazing a trail amongst the independent network providers. The government's target is for 15 million premises to have access to full fibre broadband by 2025. Hyperoptic alone will deliver one third of this target, at no cost to the taxpayer. In setting this vision and most importantly – delivering on it, Hyperoptic is proving that alternative networks are an important catalyst for infrastructure competition and leading the way in building the full fibre that the UK so badly needs.'
Emtelle's Simon Wade said of his special award: 'I'm delighted to receive the Outstanding Individual Contribution Award on behalf of Emtelle. The award is special to me because I've worked hard for those smaller network operators who want to succeed in a crowded market and their services are vital for providing high-quality and reliable connectivity in Britain.'
Concluded INCA CEO Malcolm Corbett: 'We are delighted to recognise the hard work of the altnet community with these first ever INCA Awards. All of the entries we received were of a very high quality and the judges had a tough time selecting the shortlist, let alone the winners, and anyone who submitted an application should feel incredibly proud of the work they have done and continue to do in building the UK's digital infrastructure.'  
Find out what spokespeople at the INCA Conference 2018 thought about what 2019 may hold for UK broadband.