Fibre, DOCSIS 4.0, CPE and optics to drive five-year growth
The latest reports from industry specialist research and analyst firms, Dell'Oro Group and LightCounting, point to a number of optical communications markets driving economic growth over the next five years. 
The latest report from Dell'Oro Group predicts that sales of PON equipment for FTTH deployments, cable broadband access equipment, and fixed wireless customer-premises equipment (CPE) will all increase from 2022 to 2026.
The firm attributes this to service providers looking to expand the reach of their fixed broadband services to customers' homes as well as the quality and reliability of those services within their homes.
Amongst the findings of the Broadband Access & Home Networking 5-Year Forecast Report was the prediction that PON equipment revenue will grow from $9.3bn in 2021 to $13.6bn in 2026. This, said the firm, will be driven largely by XGS-PON deployments in North America, Europe, the Middle East and Africa, and Caribbean and Latin America regions.
In addition, revenue for cable distributed access equipment (virtual converged cable access platform, remote PHY devices, remote MACPHY devices, and remote OLTs) is expected to reach nearly $1.3m  by 2026, as operators ramp up their DOCSIS 4.0 and fibre deployments. When it comes to fixed wireless CPE, Dell'Oro predicts that revenue will reach $5.1bn by 2026. This will be led by shipments of 5G sub-6GHz and 5G millimetre wave units.
Jeff Heynen, vice president at Dell'Oro Group said: 'We've made significant upward revisions to our long-term broadband and home networking forecast. Fibre infrastructure build-outs are resulting in more new subscribers and more CPE with advanced Wi-Fi technologies as service providers look to differentiate their services in increasingly crowded markets.'
Optics
Meanwhile, on the optics side, LightCounting has also updated its forecast for sales of Ethernet and DWDM transceivers to cloud companies over the coming years. The latest updates feature in the firm's July 2022 Mega Data Center Optics Report. 
LightCounting said that it expects that total sales to the top five US cloud companies will increase by 14 per cent in 2022 and 15 per cent in 2023, after jumping by 31 per cent in 2020 and 36 per cent in 2021. However, the company noted that sales to Amazon have been declining in 2022 due to the excess inventory of 400G DR4 and 100G DR+ transceivers accumulated in 2021. Growth in sales of optics to Google is expected to moderate in 2022-2023, but Meta (Facebook) plans to double its spending on optics. The total top five sales are projected to increase from $3.2bn in 2021 to $7.2bn by 2027, growing at 14 per cent compound annual growth rate (CAGR).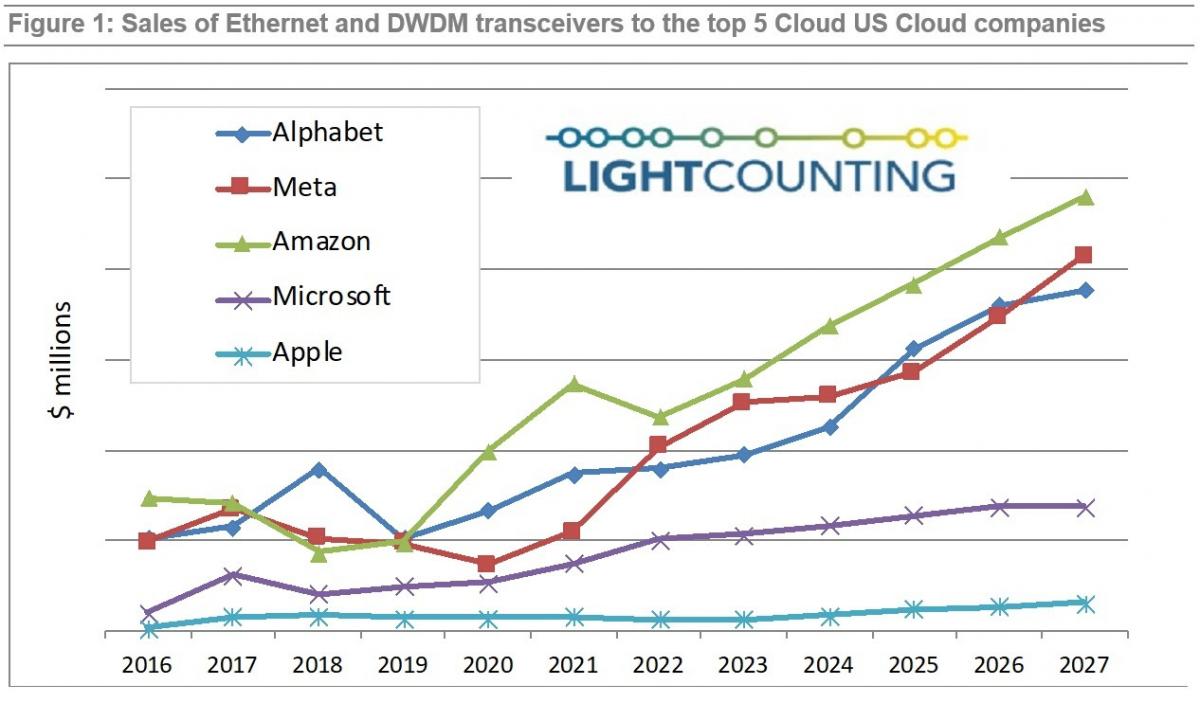 According to the report, the contribution of Microsoft is more modest, but it started deployments of 400G DR4 and 400ZR transceivers in 2022, which lifted its spending to $500m. LightCounting also made its first rough estimate for consumption of optics by Apple, which it said is planning to invest more in datacenter construction in the next five years. Apple is currently behind the other US cloud companies, but it is starting to catch up. LightCounting noted that Apple certainly has the resources to build up its infrastructure and it invests heavily in the development of new technologies.
In a news update about the latest report, LightCounting stated: 'As the global economy is bracing for a recession, our projections for 15 per cent growth in sales of optics to the top five cloud companies in 2023 may look too optimistic. However, the current inventory correction at Amazon will help to keep the market momentum positive next year. Amazon plans to increase its purchases of 400G DR4 transceivers in 2023 and Meta has no plans to slow down its deployments of 200GbE transceivers next year. If these two companies stay on course, the market for optics will be one of few bright spots in the global economy next year.'
The analyst firm also noted: 'Cloud companies will not be immune to a global economic recession. As this report goes to print, Meta (Facebook) reported its first decline in quarterly revenue since the company went public a decade ago. However, given how critical the data centres are for development of new cloud services – one of the most profitable areas for the cloud companies, it is very likely that spending on data centre construction, servers, switches and the optics will continue to increase at a faster pace than total capex or at least remain steady if the total capex declines.
Other factors of note on the report include regulatory action in China, which has impacted the investments of Alibaba, Baidu and Tencent and on the sales of optics to them in 2021-2022. It is not clear if this situation will improve in the near future. Meanwhile, the US cloud companies also face more regulatory restrictions as well, but LightCounting said that, as long as the government policies in Europe and the US remain more predictable, these companies will manage to navigate the changing regulatory landscape.
Finally, said the firm, the geopolitical situation is 'as risky as ever.' The hope is that China and the US can work together to minimise the impact of the economic slowdown in 2023, but 'their public statements are not encouraging.' Whether there is more constructive action behind the scenes, said LightCounting, remains unknown.