Slow internet 'damaging UK business'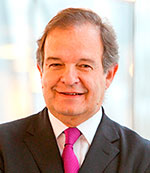 Poor internet connection speeds are disadvantaging companies in the entrepreneurial heart of Britain, according to a European politician.
James Elles, the Conservative MEP for the South-East has described how European leaders met in Brussels to discuss a key initiative of the European Commission – the Digital Agenda for Europe.
Despite Europe-wide targets, the broadband strategy is currently in the hands of member states to implement. In the UK, broadband roll-out has a national strategy, centralised on city-hubs or through complicated rural funding application programmes such as Broadband Delivery UK.
Elles, who has campaigned for high-speed broadband across the UK, said: 'The UK's strategy has left some areas of Britain in the dark and feeling that very little transparency has existed at local authority level.  
'More businesses are currently started in Buckinghamshire than any other county in England, though this area is largely disadvantaged by poor internet connection speeds.  So much so that businesses are choosing to set up elsewhere.  Internet connectivity has now become an essential factor for entrepreneurs but the danger is that current Digital Agenda targets are delivering yesterday's technologies.'
Elles says that the rest of Europe is struggling to keep up with the times: 'More broadly, the EU has a population more than twice that of the US but broadband investment is at less than 25 cents for every dollar invested in America. In other words, America invests four times per head as much as Europe.
'Furthermore, many European citizens and enterprises currently do not use IT sufficiently. This results in a growing difficulty in filling digital jobs. In 2011, the European Union was faced with 300,000 unfilled vacancies in the ICT sector; if this trend is not checked, there could be as many as 900,000 unfilled vacancies by 2015. This skills mismatch is detrimental to economic and social policy objectives.'