UK fibre engineer awarded for 'outstanding services' by Viavi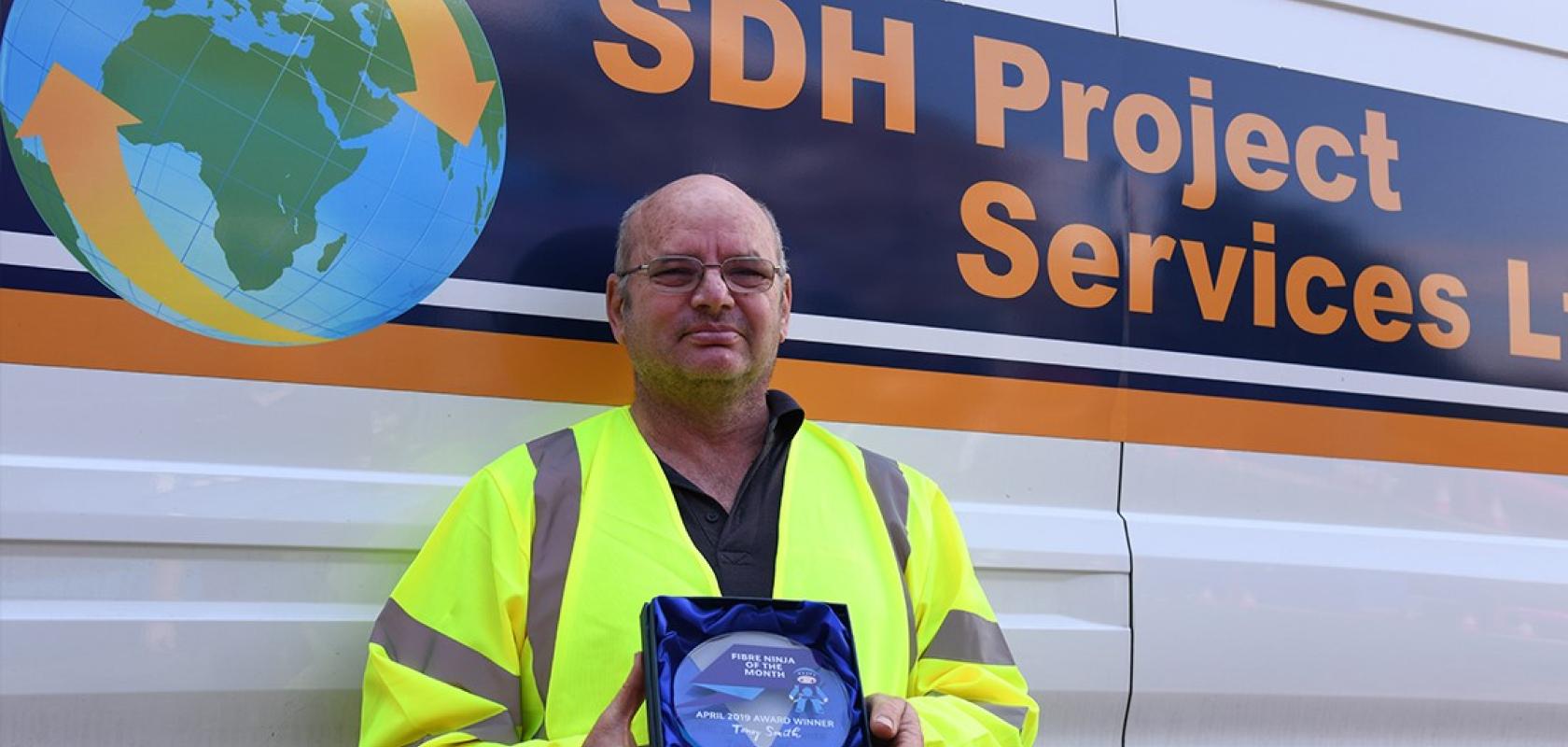 Senior fibre engineer, Tony Smith of SDH Project Services has been rewarded for his 'outstanding services' to broadband under a new initiative from Viavi Solutions, the 'Fibre Ninja Awards'.
Smith is originally from South Africa, where he spent decades working for the national incumbent telephone operator. Today he lives in Tilbury with his family and works for SDH, an international services organisation, with experience installing FTTH networks across the UK. He was presented with a plaque and other prizes, by Ian Clark, marketing manager at Viavi, Pete Twist, a senior account manager from SDH and Michael Hall,  national fibre manager at the company.
The award is designed to give recognition to a telecoms engineer systematically going above and beyond the call-of-duty in installing, commissioning or maintaining infrastructure supporting the fibre-to-the-home (FTTH) roll-out.
Commenting on the award, Twist said: 'I had a think about all the good people we have working up and down the country, but one name very quickly came to the fore of my mind, which was Tony. He has worked on these networks for years and is one of our very best. So much so, some of our customers who own the biggest networks in the UK ask for Tony by name as they know he does such a good job.'
Added Hall: 'Without doubt Tony deserves this. There's not one job he won't volunteer for. An absolute legend.'
Smith said that he was 'completely thrown sideways by receiving the award and delighted to be recognised by management within SDH.' When asked if he ever encountered hostility to the necessary roadworks that sometimes accompany fibre roll-outs and Smith said: 'Often in cities, where there is lots of choice for broadband supplier, but out in the countryside (he was working this week in the Leatherhead area) and villages, everyone was pretty excited to finally be getting the chance of "real" broadband.'