5G fuelled by full-fibre diet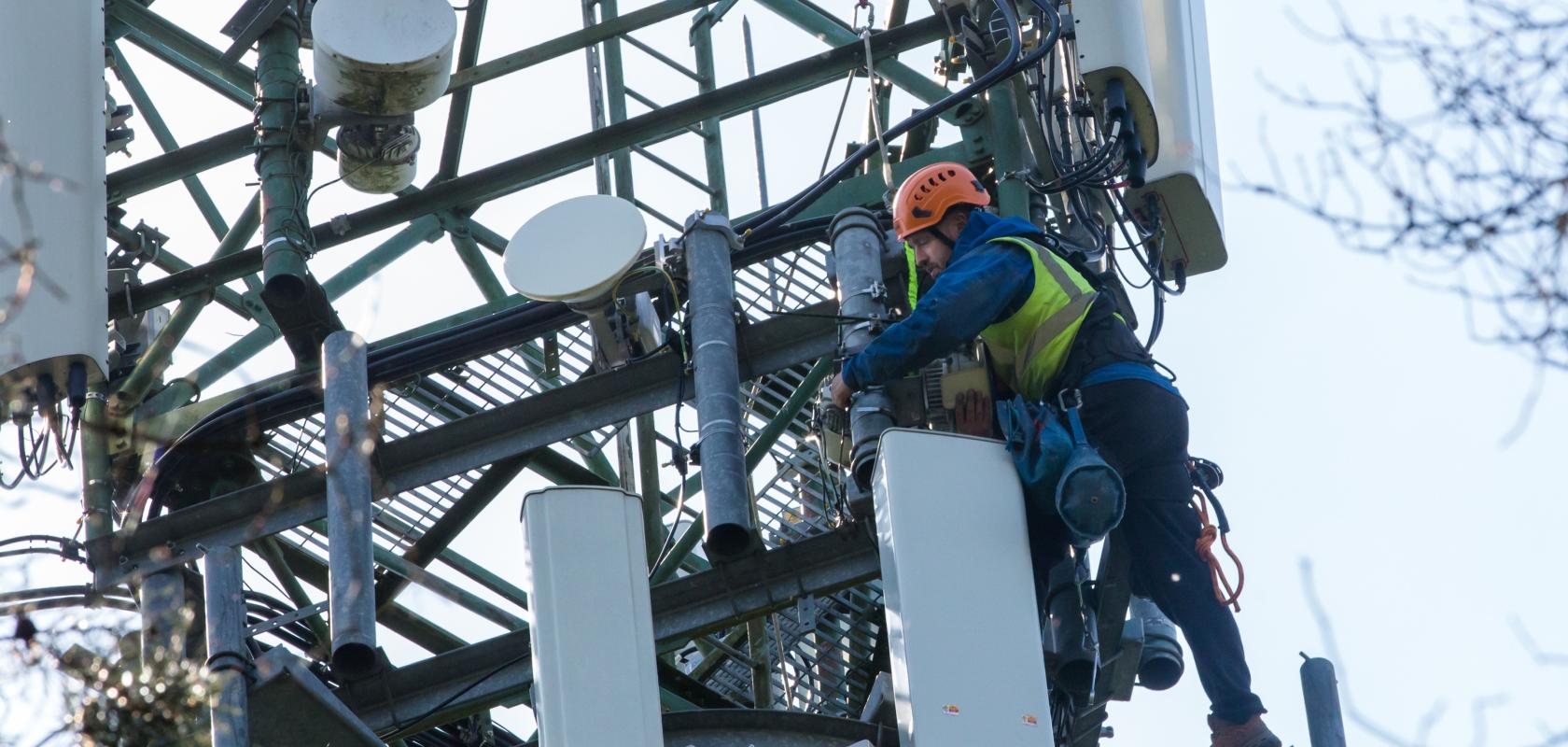 Readers of this magazine do not need to be told about the benefits of full-fibre. Or, indeed how the buzzword-that-is 5G can only provide the kind of exciting benefits everybody is so looking forward to – such as higher speed or lower latency – with the assistance of a reliable network infrastructure to support the many thousands of devices. We also all know that fibre deployment is ramping up – even during the unprecedented situation we faced in quarter 1 of 2020, the recognition of fibre engineers as key workers demonstrated perfectly the importance and reliance that is afforded to fibre broadband throughout the world. But we are not there yet, and the demands likely to be placed on fibre infrastructure from 5G mean that deployment must continue. This is certainly the message from most governments, which have set up ambitious but much-needed targets for full-fibre adoption.
In the UK, for example, just 10 per cent of premises have access to full-fibre, and this is up 4 per cent on the number reported by Ofcom at the end of 2018. While this continued momentum does show signs that the UK is moving in the right direction, the rate of growth suggests the UK could significantly miss its target. Sajid Javid, former UK Chancellor of the Exchequer, announced an additional £5bn of investment for the UK's roll-out of full-fibre, 5G and gigabit capable networks, but a plan for delivery of this network infrastructure overhaul remains to be seen.
Challenging times
In late 2019 the UK's Prime Minister, Boris Johnson also announced his plan to achieve 'full-fibre for all' by 2025, dismissing his predecessors' target of 2033 as 'laughably unambitious.' While this announcement was welcomed, for the many UK public sector organisations still relying on legacy connections, the thought of access to full-fibre or fibre-to-the-premise (FTTP) connectivity, in a little more than five years, probably seems challenging. Andrew Shilton, solutions director at network provider, MLL Telecom believes that change is particularly needed in the public sector to help deliver significant and much needed transformation. He explained: 'With the rise of the altnets – companies like CityFibre and Hyperoptic – full-fibre for the public sector is becoming reality, as their open access models provide local authorities with methods to build and light their own fibre networks. NHS Digital is also driving change with HSCN, under the Internet First initiative, transitioning public healthcare networking away from outdated systems like N3.'
Much of the public sector, according to Shilton, believes there is a lack of options or guidance in terms of accessing the connectivity services appropriate for its businesses. What's more, it would be impractical for new fibre networks to be built for all public sector organisations.
Construction costs
The biggest cost associated with putting fibre networks in the ground is actually digging up roads. So, organisations laying fibre have historically, said Shilton, 'buried as much as possible into the ground, even when not all of it was required.' This 'unlit' fibre is widely referred to as 'dark fibre'. Dark fibre is unique in that organisations can lease the underlying infrastructure to run their privately-owned networks. 'Taking the dark fibre route presents a huge number of advantages for public sector organisations keen to pursue digital transformation to improve efficiency and leave frustrating, outdated and redundant network services behind,' continued Shilton. 'While commercial internet services may be enough for some applications, there is a high amount of network traffic as huge quantities of data are sent down the network by multiple users. This causes traffic to bounce around a lot before reaching its destination.
However, if an organisation owns a private dark fibre network then they are the only ones creating network traffic. This could be critical for the likes of healthcare and blue light services that have mission critical applications hosted on the network that rely on high network performance and the ability to send and receive information quickly.' In addition to improving the flow of network traffic, investing and lighting a dark fibre network gives the ability for organisations to transfer high volumes of data, securely. Fibre cables, when lit, can deliver speeds up to and in excess of 100Gb/s. As the manager of the network, organisations can optimise this with the right equipment to fit their connectivity needs. This will become increasingly important, said Shilton, in hospitals for things like processing large image files of x-rays or in schools as technology integrates itself into the classroom. Flexible friend Shilton went on to express that the flexibility and potential for future scalability of dark fibre networks, coupled with high performance means investments in dark fibre could play an instrumental role in the UK's digital future. 'A key consideration for any organisation investigating dark fibre,' he explained, 'is that it isn't available everywhere, but can still serve some of the hardest-to-reach, rural areas of the UK.'
A local council or public sector organisation, for example, can explore the potential of dark fibre for its use in fixed wireless access (FWA). The dark fibre can be lit to make up the essential fibre backhaul layer for FWA. Broadband connectivity is then provided wirelessly, transmitted via a base station, to communities that have historically been poorly served by outdated network infrastructure. 'While navigating these options and, importantly, deciding on the right supplier to partner with might at first seem daunting,' said Shilton, 'new government frameworks have simplified the procurement process. Frameworks like RM3808 and RM6095 for the procurement of network services and fibre optic infrastructure services respectively, lists government accredited suppliers that will provide competitive solutions that can be tailored to an organisation's specific needs.'
Underpinning all this, Shilton believes it is crucial that public sector organisations understand both their connectivity needs and the needs of the local communities they serve. Further to that, it's essential that organisations understand how connectivity can be used as a springboard to support businesses functions. 'Organisations will save a significant amount of time, money and effort in the long run,' he said, 'if they can ensure their network is futureproofed to accommodate for technological advances and evolutions that may require increased network capacity.'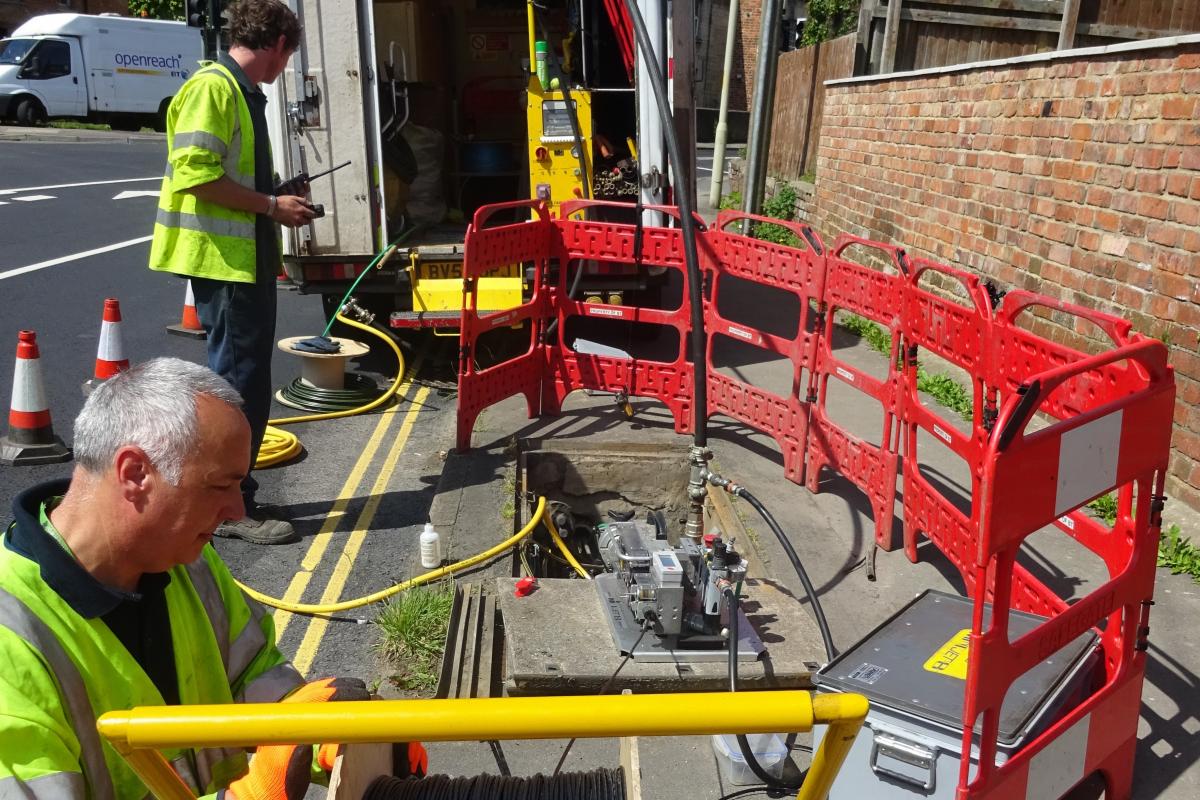 Cable development
Looking at the actual fibre cables themselves, Prysmian Telecoms UK product manager Adam Ashenden has a view on the direction of travel for technical development. 'Legislation has made existing cable infrastructure (mainly legacy British Telecom ducts and poles) available to all network builders,' he said, 'but much of this infrastructure is already at or near capacity. Even for those organisations building their own new infrastructure, space is money.' The focus for all major product manufacturers in the fibre optic market is now on reducing the diameter of fibre optic cable. This includes reducing the size of components and connectivity and implementing novel installation methods to maximise the capacity of existing infrastructure. 'There are probably limits on just how small it is possible to go,' pondered Ashenden, 'but we don't think we have reached those levels yet. The speed of development is astonishing. In 1990 we were looking at a 12-fibre cable with a diameter of 2.5mm. In 2020 the same capacity can be provided in a cable with a diameter of just 0.9mm.'
Mini-might
Getting to this point has required intense product development from vendors. This is not only of the fibres themselves but also the sheathing materials and central strength member. High-performance fibres can now be supplied down to 180µm, while research teams are studying materials down to the chemical composition level in order to further reduce cable diameter without affecting performance and capacity. 'Maintaining performance and capacity requires further innovation to accommodate the practicalities of installation into already crowded infrastructure,' said Ashenden. 'As cable is shoe-horned into smaller spaces and as the space available for splice trays is also reduced, so the flexibility of cable, and its resistance to performance loss through cable bending is key. It's a fairly obvious calculation that the greater the bend resistance of the cable, the more the bend radius of splice trays can be reduced: connectivity devices become smaller, saving even more valuable space.'
This has, Ashenden continued, had a knock-on effect for the development of connectivity components – all of which need to follow product innovation in cable design to produce an overall system that is getting smaller all the time. 'Joints, terminations, junction boxes are all the subject for further product design innovation to maximise on the miniaturisation of the cables.' The final piece of the puzzle, Ashenden went on, is of course, the installation itself. In the UK and northern Europe the preferred method for maximising the capacity of existing infrastructure is to use a blown fibre technique. Eliminating the need to excavate underground ducts, cable blowing allows cable to be installed into existing ducts at great speed – typically some 40m per minute. 'Specially designed cables and installation equipment is required,' he explained, 'but the speed and efficiency of the system has led to huge uptake in markets where the use of legacy infrastructure is critical to full-fibre roll-out.'
Densifying down
The need to speed up installation is also resulting in further technical innovation of cable design. Ribbon technology, for example, allows for mass splicing of fibres, significantly reducing the time required for splicing and termination during installation. Ribbon technology cables are currently on the market utilising 200µm fibres and approaching 7,000 fibres in a single cable. 'Increasing the speed of full-fibre roll-out is a global challenge,' said Ashenden. 'There is much common ground, allowing international groups to centralise research and development expertise, but there are also challenges specific to individual markets. Despite the seismic changes in global business brought about by the coronavirus, one constant theme has been the need to continue with a relentless focus on full-fibre installation. The speed of technical innovation will only increase – leading to ever smaller, faster and higher performing cable solutions.'
The development of network infrastructure is also reliant on the components, subsystems and access infrastructure behind it, and the new, digitalised era is creating waves in the ways these markets do business. Giovana Labegalini, business development manager at Huber + Suhner offered her view: 'Over the last 10 years, technological advancement across the world has been remarkable, with the number of things that can be connected growing exponentially. As the decade unfolds, demand will only increase for different types of streaming services and high bandwidth-consuming applications, such as virtual reality simulations.'
The only option
The only solution that can deliver the seamless connectivity expected by consumers, said Labegalini, is fibre. 'Creating radical change in every aspect of our lives, from how we communicate, to how we work and relax, fibre is the only future-ready option. Fibre will support deployments on 5G mobile networks, FTTx fixed networks, cloud and edge data centres, as well as enable industry transformation, together with software innovation such as NFV and SDN.' Therefore, she reasoned, investments made within the existing network infrastructure must consider the expected quality and reliability levels demanded, both now and in the coming years, to avoid wasting money with non-future-ready solutions. 'Year-on-year,' she said, 'the demand for improved network capabilities increases, and many telcos have seen the revenues from traditional services reduce dramatically. Some traditional service examples which are no longer needed by a number of consumers include voice calls and short messages, which are being replaced by services offered by free apps. To make things worse, these kinds of apps do not take any responsibility over the network infrastructure provided by telcos, creating a challenging environment for the carriers to balance investment and return.'
To overcome these challenges, Labegalini believes that telcos will need to increase innovation to boost business and secure new sources of revenue. As a way of doing this, many are partnering or merging with content providers, data analytics or cloud suppliers, which allow for different revenue sources. 'By adding a dash of innovation to an existing business model,' she explained, 'organisations can profit and thrive from new services, and overcome the revenue drop caused by the obsolescence of traditional services. They will also need to carefully plan network infrastructure investments and balance technical requirements and costs.' Bandwidth-boost The vast bandwidth capabilities of fibre optics, according to Labegalini, will open new doors for those operators, service providers and developers with an appetite to capitalise on the service delivery and revenue opportunities only fibre can offer. 'These fibre systems,' she said, 'must also match high bandwidth and low latency demands of business and residential applications on fixed lines, as well as on the infrastructure behind 5G networks. 'Think of it like this, the fibre infrastructure is the road that all data traffic takes and the many cars or systems on this journey must perform at their full potential to reach the desired destination. But it doesn't matter how expensive or well-made the car is, the journey will still be delayed if the road is bumpy. Therefore, it is vital to optimise network infrastructure in all of its components to increase efficiency in order to enable infrastructure to deliver services demanded at the next level.' Fibre infrastructure can, of course be present in every part of the network, from the data center and central office to the subscriber. It can be viewed as a network asset. Choosing a supplier that can fulfil current and future needs, safety and ease of installation, together with guaranteed performance, is crucial and carriers have been working closely with access partners in order to tailor optical solutions for the exact project requirements they have in mind. '
With great performance brings peace of mind for operation teams, in order for future requirements to be met,' concluded Labegalini. 'An investment now into high-quality infrastructure is an investment for the future. Aiming to save on investments in network components in the short-term may result in greater losses due to potential service disruption or the need to substitute alreadyinstalled components.'
CASE STUDY: BRINGING FIBRE TO EVERY UK PREMISE, SUPPORTING COUNTRYWIDE ROLL-OUT WITH FAST, FLEXIBLE, FUTURE-READY SOLUTIONS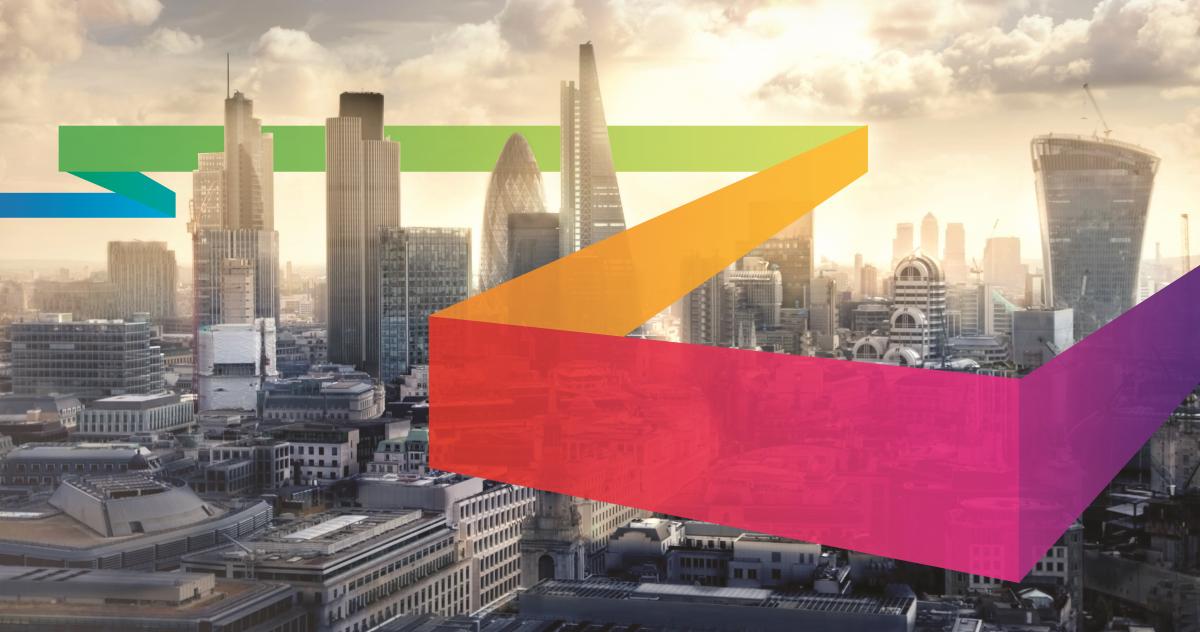 The Future Telecoms Infrastructure Review (FTIR) issued by the UK Department for Digital, Culture, Media and Sport states that full-fibre broadband coverage should be available to every home in the UK by 2033. By 2025, 15 million premises should have full-fibre broadband. However, at the end of 2018, only 6 per cent of homes in the UK had access to fullfibre connections. 
The company that owns and maintains all telephone wires, ducts, cabinets and exchanges – connecting nearly all UK homes and businesses to the national broadband and telephone network – is playing an essential role in meeting this demand. By extending its ultrafast broadband footprint using FTTP and G-Fast technology, the company is making faster, more reliable services available across the country. More than 27.6m premises across the UK can get speeds of over 30Mb/s. 
FTTP should be available to four million premises by the end of March 2021, extending to 15 million premises by 2025. Currently, some 20,000 premises are being connected with FTTP each week. In addition, the company is starting to collaborate with its telco customers on identifying the best way to migrate from copper to fibre infrastructure across the UK – and eventually shut down the analogue network. Quicker, simpler and tidier fibre management To accommodate the move and meet the increased need for full-fibre deployment, a solution was required that would reduce time spent working on fibre frames in central offices. 
CommScope, a key partner to the national telecommunications company, was brought in to support this critical program. The key requirements were for an optical distribution frame with far greater connection density in the same footprint as the outgoing product, for rapid, simple, repeatable installation practices that save time and money. Superior fibre management was needed to reduce the risk of intervention faults, thereby optimising service availability and continuity of revenues. Innovative WDM cassette technology was required to deliver fast and simple deployment of optical devices for existing and future PON architectures. An optimised colour coded patch cord management system was needed to limit scope for installation bad-practice and aid the accuracy of record keeping and auditing of circuits. Meanwhile, intuitive access to individual connectors should save time when repairing or replacing components. Low weight is needed to allow single operative installations, reducing total task time to lower the cost of deployment.
'With such a huge task ahead, the client is increasingly reliant on external partners to provide integrated solutions that match the precise needs of each project,' explained Scott Tovell, CommScope field application engineer. 'Discussions about replacing the existing optical distribution frames (ODFs) started in 2016. The solution in place used only spliced cabling and its layout made installation and moves, adds and changes very difficult and time-consuming. Setting up one rack took considerable time.'
'The ODF is a key part of the network, providing the flexibility customers need to support current and future transmission requirements, explained Geoff Buddington, key account sales director, CommScope. 'We've been working closely with the client to fully understand their needs, requirements and constraints. With this in mind, we have taken the building blocks of the FACT ODF and worked to develop a complete solution that will deliver the full functionality which they require for their fibre programme. 
'We proposed a solution that was not only far easier to work with, but which could also manage very high densities. Limited density was a particularly big issue with wave division multiplexing (WDM) connection. Following tests directly comparing the old and new solutions, the decision was made to equip new installations with CommScope's FACT optical distribution frame, which offered both of the required functionalities. One of the main advantages of this ODF is the fact that it is fully connectorised. Splicing is only necessary during installation. Once the ODF is built, connecting services is as simple as plugging in patch cords.'
The FACT ODF meets the requirements of rapid deployment, ease of installation with plugand-play connectivity, high usable density, and long-term value for the evolving fibre network. The infrastructure being rolled out today will satisfy residential and commercial subscribers' fast-growing appetite for converged phone, data and video services for many years to come. The ODF has been designed and dimensioned with significantly greater capacity in mind. This means it can manage 144 more spine fibres than both the optical consolidation rack (OCR) and optical fibre rack OFR, allowing for a total of 720 fibres from the external network to be presented. During comparisons between FACT ODF and the former solution, building a rack/frame and cabling and patching side ducts and mandrels was more than 25 per cent faster. Securing spine cables, breakout and fanning trays could be done in half the previous time and splicing spine fibres to LC connector pigtails could be done in less than half the time. When rolling out fibre across an area as large as the UK, these savings – especially in combination with the use of pre-connectorised cables - add up enormously.
CommScope scored highest in the key selection categories that had been defined for the project:
Speed of deployment

Plug & play installation

Reliability of deliveries

Short lead times

Ease to scale up
This was alongside an 71 additional and more subjective criteria, such as feedback from field engineers.
'Building blocks' and processes are highly standardised, but the system offers ample flexibility to create a tailor-made solution. Factory-tested components and pre-terminated cable are improving network build quality and speeding up installation, because there is no need for specialist fibre splicing skills and equipment. CommScope employees held regular meetings with the company's engineer and inspections to keep improving the solution's performance and implementation.