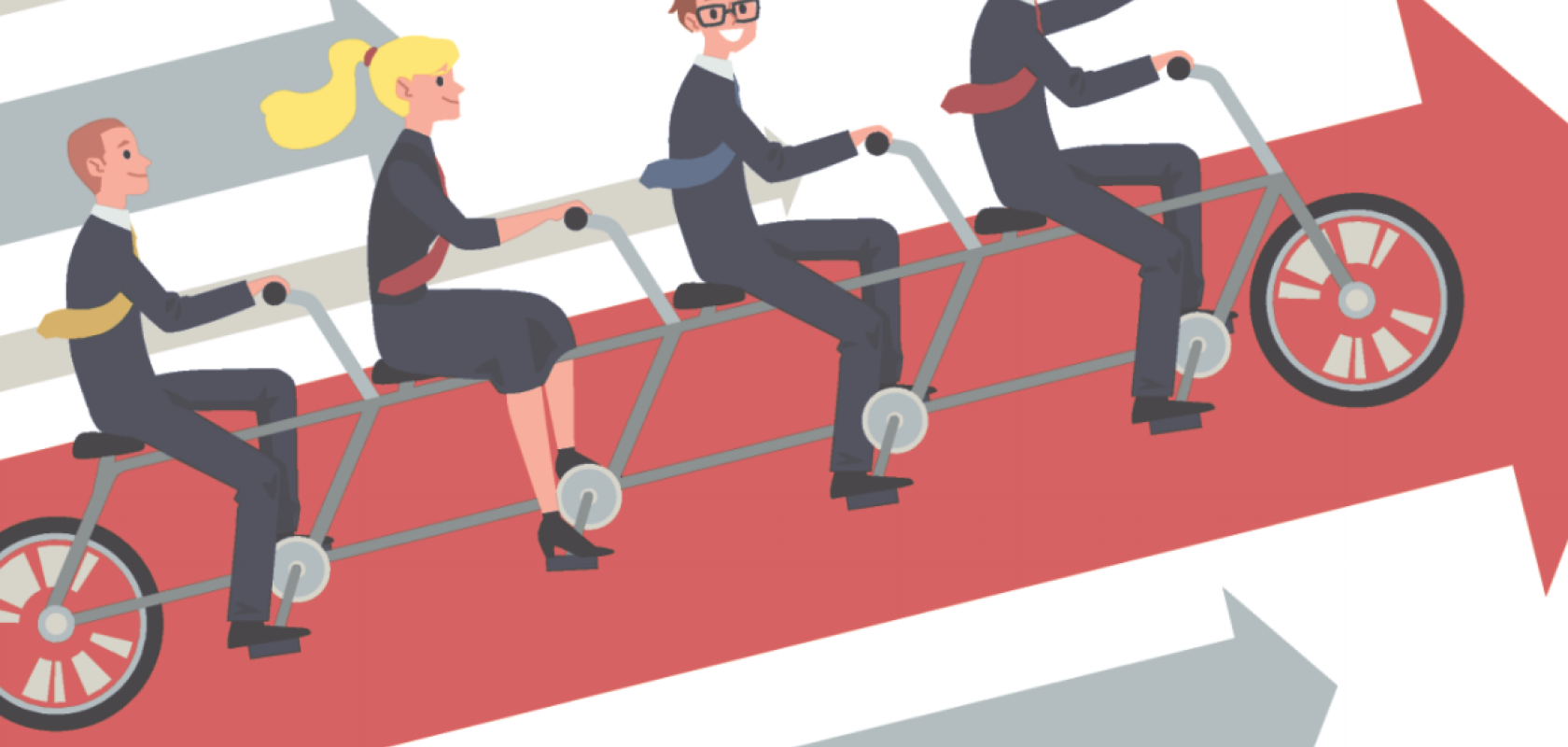 There is no denying that 5G is a hot topic in the telecommunications industry. According to Jon Baldry, director of metro marketing at Infinera, 5G will be the next step in a journey that started in 1979 when the first commercial wireless service was launched by NTT in Tokyo. 
'Over the last 42 years, we have gone from analogue to digital, from voice to data and video, and now from humans with personal devices to the Internet of Things (IoT),' he said. 'End-consumers tend to see the big steps that come along on a once-a-decade cadence with each new "G". However, there has been continual innovation throughout this period.' 
The 3rd Generation Partnership Project (3GPP), which leads the main 5G standardisation activities, has produced a stream of standards since the 3G era and is working on Release 17, which reaches its final release stage in June 2022. 
Baldry said: 'Release 15, frozen in June 2019, was the first full set of 5G standards. This contained an early drop of standardisation that allowed initial 5G networks to be rolled out with new 5G radios, and in some cases new frequencies, using the non-standalone (NSA) specification. NSA utilises the existing 4G transport infrastructure and 4G core, enabling initial Phase 1 5G enhanced mobile broadband (eMBB)-based services that are essentially faster versions of existing 4G services.' 
Release 15 and 16 capabilities such as the standalone (SA) 5G core, Baldry went on, will enable operators to expand beyond eMBB-based services to the much-discussed additional Phase 2 service types that 5G promises to enable, such as ultra-reliable low-latency communications (uRLLC)-based services. 
'There are high expectations for these Phase 2 services,' he said, 'with lots of publicity around low-latency augmented/virtual reality gaming, remote surgery and telemedicine, industrial automation, and 5G-supported automated vehicles. Which of these ideas make it to full commercial reality and rollout, and which prove to be killer apps, or not – only time will tell.' 
Where is the industry with 5G Rollouts? 
There are 168 network operators across the globe with deployed 5G networks, according to speedtest service Ookla's 5G map, Baldry revealed. '5G SA upgrades started shipping in mid-2020,' he said, 'and industry analysts that track 5G SA deployments show that, as of Q1, four of these operators have started running live SA networks. It is anticipated the number of operators running 5G SA will start to ramp significantly over 2021 and 2022.' 
In addition, as preparation continues for these more advanced 5G services, network operators are aggressively expanding their 5G RAN footprints via the addition of 5G antennas to existing 4G macro cells, and new 5G small cells to expand the coverage of the initial Phase 1 eMBB services. 
As most readers may know, 5G requires the new xHaul architecture with front-/mid-/ backhaul domains, which is a significant change from the predominantly backhaul-only networks used in 4G. 
Baldry said: 'As most operators are still running 5G NSA with existing 4G transport networks, they are in the process of determining what mix of these domains they need, as they migrate to 5G SA and Phase 2 services. Network operators are also planning for multi-access edge compute (MEC) and end-to-end (RAN, transport and core) network slicing architectures. 
'The real challenge for network operators is the management of MEC locations and transport network slices, as part of a wider end-to-end network. This necessitates an advanced multi-domain network control environment, which most operators are now working towards.' 
Baldry revealed further trends in the optical networking domain that are changing how mobile transport networks are built. 'Industry organisations such as the Telecom Infra Project (TIP) and Open ROADM are driving a move to open disaggregated networking,' he said. 'This breaks down the traditional onevendor approach to a network domain and splits the network into functional blocks that can utilise a best-of-breed approach from multiple vendors.' 
In mobile transport networks, Baldry said: 'TIP is driving disaggregation into the IP layer by disaggregating classic router functions such as the cell site gateway router into the disaggregated cell site gateway (DCSG). The DCSG splits the router into open white box hardware and network operating system software. DCSG deployments are underway, with live network trials and initial network deployments.' 
In perfect sync 
In addition to new architectural changes with xHaul, slicing and MEC, Baldry said network operators are focusing on ensuring the underlying optical network is ready for the high performance demands of 5G, like much tighter synchronisation requirements, lower-latency operation and higher capacity demands. 'Synchronisation is a hot topic again,' he said, 'as 5G requirements are driving a redesign of synchronisation distribution networks to achieve the required nanosecond levels of accuracy. There is a trend away from relying on satellite-based timing, in favour of network-based timing or a hybrid of both.' 
5G is anticipated to drive significant bandwidth growth through increased data usage per user and the proliferation of 'users' with machine-to-machine communication from IoT. 'Some mobile operators,' said Baldry, 'are evaluating advanced architectures, including the use of point-to-multipoint optics that can significantly and incrementally increase the bandwidth to each cell site, while drastically reducing network costs.'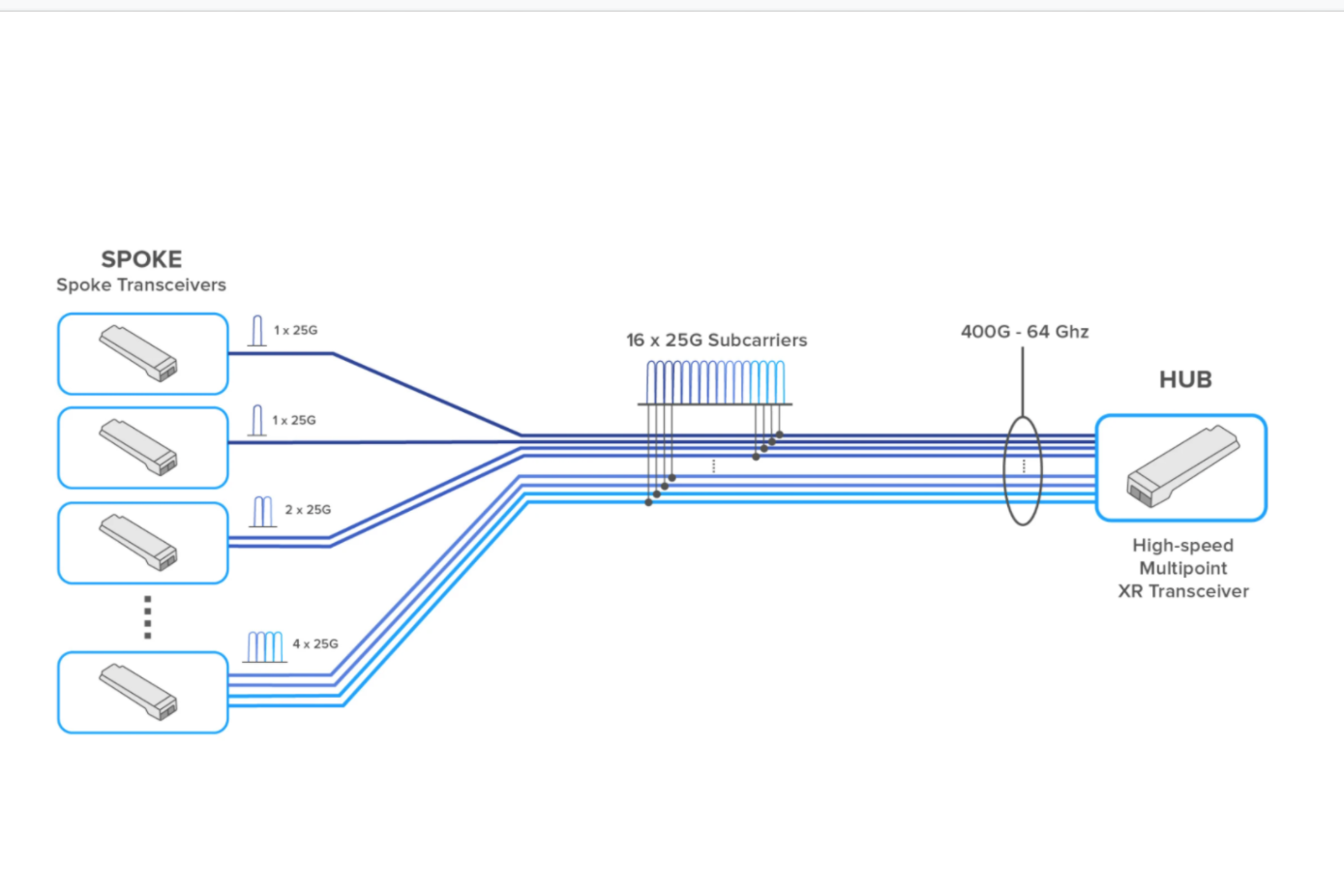 Credit: Infinera
Baldry stressed that the optical transport network has always played a key role in underpinning mobile networks, with the move to 5G greatly increasing the transport network's importance in overall end-to-end network and service performance. 
'The move to 5G is driving major changes into the transport network,' he said, 'with new architectures, higher performance demands, and new approaches that will drive faster innovation into the network. We are in the early stages of this migration, with considerable change coming in the next few years, as 5G service offerings expand to new Phase 2 services.' 
UK incumbent BT has a foot in both the fibre and mobile camps. Neil McCrae, its managing director architecture and technology strategy, and chief architect, said: '5G is an enabling technology, to do things that we weren't able to do before. 
'Like anything, you can go minimalistic, or you can do what's right. What we're trying to do is build a solution with our 5G network that underpins every kind of use case you can imagine, from simple applications like working from home, or watching Netflix or BT Sport, to the most complex, like ambulances capturing x-rays and sending them to hospitals in advance, so the emergency staff have a brief for the patient coming in.' 
Rising demand For such a complex application, said McCrae, there is a lot to take into consideration. The location of the roads, or how to ensure the ambulance has a signal throughout the journey. 5G also has higher bandwidth demands. 'In the past, the bandwidth demands on the mobile network have been very low,' explained McCrae. 
'As a real example, our broadband network peaks at over 20Tb/s. Our mobile network doesn't even touch 1Tb/s. In fact, it's quite far away from it.' 
With 5G, this will change dramatically 'We've got much bigger spectrum blocks,' said McCrae. 'We have a much denser spectrum, we've got devices with the right battery power that can now drive those setups, so you can get 800Mb/s. 'To do that, you've got to have a strong fibre platform, a strong core network. And think very carefully about how you plan and build that network.' 
In BT's case, the company built 10G connections to every single base station. McCrae added: 'We said that 5G is about high bandwidth, and we need to be able to backhaul that to wherever our customers want to send that traffic. Our fixed network made it pretty straightforward for us, because we're used to carrying that sort of traffic today on the fixed network.' 
The team at BT is proud of the performance its 5G network can achieve but in current times, there is a caveat. McCrae revealed: 'We launched our 5G network roughly two years ago, and for the last year we haven't probably experienced it in the way we might have done because of the pandemic. But, as people start to go back to work, we'll start to see more of that. And through the pandemic, we did initially see a bit of a downward trend in mobile traffic to start off with, but then that rebounded.' 
As a company with interests on both sides of the fence, it was interesting to gauge McCrae's view on the reports by some media that newer technologies, such as 5G, could make fibre obsolete by 2030. 'Shannon's law says there's only so much you can do with so much bandwidth and wavelength,' he said. 'The stark reality is there isn't enough wavelength out there, which is why we need to use the best of both of these technologies for the right time. If I clicked my fingers and made fibre disappear, the mobile side of the business, you would think it had also disappeared, because they are so dependent on each other. We use the fibre network to connect all the base stations together, the engineers out there building rely on the wireless network to get data and understand where they need to build and rollout, or go into people's homes to activate things.' 
Lessons learned 
According to McCrae, there are lessons to be learned from wireless networking that can apply to optical networking to run fibre faster – in BT's case these were around modulation. Also, there are applications in wireless technology that, without the fibre to enable them, are not valuable. 'These are two technologies that will continue to work almost as one, to serve the needs of different use cases and customers.' 
In addition, the type of fibre and other technology in broadband networks is constantly advancing. 'I sometimes wonder if everyone thinks fibre was invented 20 years ago, and it hasn't changed,' said McCrae. 'It gets better every year. The quality of the capabilities of next-generation fibre and new developments such as hollow core allows us to drive fibre faster, and with lower latency. 
'It's early days, but we see huge potential. Likewise, new developments in optics, particularly 400G. That is going to be an optical currency around for a long time because it fits in so many different use cases. We still see a huge amount of innovation and development, and it's really important that continues. When we look at demand for the network and think what the future holds, we still see 30 to 40 per cent traffic growth year-on-year. It's hard to see how you do that without fibre. That's why we're making significant investments because, to some extent, fibres are a no-regret move.' 
What's the cost? 
This intertwining of the two technologies is something FTTH Council Europe has been investigating. The first study was at the 2019 FTTH Conference. The Comsof study aimed to quantify savings that could be made by building converged 5G-fibre networks. 
It focused on underground fibre network deployments, considering three types: very dense (urban, city centre), medium dense (suburban, residential) and low dense (village) combined with three types of cell densities. After analysing a variety of scenarios, the report concluded that if an FTT-5G network is anticipated while planning for a FTTH network, the range of cost savings for the FTT5G network due to convergence, can reach 65 to 96 per cent. The extra investment on top of an FTTH network to make it 5G-ready is 0.4 to 7.2 per cent. 
The scope of the study covered a greenfield underground scenario, because this is where there are the greatest cost savings. It is also achievable, said the study, to leverage on a fibre network when already deployed. Considering that important savings can be made in rural areas, even countries leading on fibre deployment could offer high-saving opportunities. 
Last year's conference featured another study, focused on the impact of adding in spare capacity at the start, when building an FTTH network, and how that could create savings for a 5G build in the future that is unknown at the time it was built. 
Plan ahead 
The findings of the study served to show that deploying FTTH with sufficient spare capacity could result in significant savings in the future for the rollout of 5G networks. The research considered phased rollout, starting with FTTH and finishing five years later with the connection of all 5G antennas to the fibre network. 
In its webinar FTTH & 5G: the success story of convergence continued, the council provided more insight. Moderator Tom Bambury, chairman of the deployment and operations committee at FTTH Council Europe and director of business development EMEA, said: 'As 5G gets deployed, it creates huge growth in the number and variety of devices connected to a network and generating data. A projection of connected devices worldwide in billions, from Statista, goes from roughly 35 billion in 2021 to 75 billion by 2025. That's roughly 10 devices for every human.' 
He said that agriculture and machinery can become a connected device, also traffic lights, refrigerators, watches, manufacturing equipment, and more. 'The end points at which networks terminate these are also growing,' he explained, 'as well as smart cities creating terminations at traffic lights, mobile communications, small cells manufacturing sites, as well as residential sites and data centres. This creates a demand for more content and more data. To deal with that in a wireless network, we have to look at where we go with spectrum because this is the scarce commodity required.' 
He explained legacy mobile networks have used the existing mobile spectrum below 6GHz. '5G uses that spectrum,' he said, 'but will also use a very high capacity spectrum in the millimeter waveband. The key thing about this is that it enables very high capacity and data rates, but is not suitable for very long microwave or wireless links, as the range is quite small and struggles to penetrate through buildings and fabrics etc. Fibre as the backhaul medium is highly desirable when you start to use this spectrum. These are some of the factors around 5G, and 5G as it converges with an FTTH network: the use of a very high frequency spectrum; the requirement to converge and use deep fibre etc, and the increasing number of locations and devices that will be connected. So, convergence to support that certainly makes sense from a technical perspective but what about the business case?' 
Doing the maths 
Raf Meersman, CEO at Comsof and FTTH Council Europe board member, talked through the research for the business case for convergence. He said: 'When we look at 5G, it is crucial to get a real verification of the cell densification factor. How many cells do we really need? We also wanted to focus on whether there is a difference for this business case in a rural versus urban area. Then we wanted to get a feeling about how much fibre you really need to be 5G-ready and ultimately, how much cost we could save if we plan a fibre network in a smart way through convergence. How can we be 5G-ready without knowing where 5G will be? You need to foresee spare capacity in a fibre rollout today for an unknown future, and the question is, how much spare capacity would be enough?' 
The team used a calculation model, applying a wireless 5G propagation model and a wire line calculation model on geographic information system (GIS) data to provide the most realistic results. 'We can do a calculation of a standalone fibre to the home, a standalone fibre to 5G, and then a converged single network to come up with the ratios and see what can actually be saved,' explained Meersman. 
This model was applied to the three areas. 'We built further on these models and we took the same high dense area and introduced 12, 24 and 48 per cent spare capacity in the three scenarios, then assumed we built that network with that spare capacity reserved for 5G,' he said.
'Let's assume in five years from now we know what 5G looks like. We consider it to be the high cell density scenario with 95 coverage on 26GHz, and let's see how much of that future network fits into our spare capacity. It's a bit similar but with a level of uncertainty at the time we built the network.' 
In reserve 
The research's assumptions included microducts in the build, based on a certain number of ducts or subducts reserved for 5G. These averaged out to 12, 24 and 48 'micro duct bundles', and were deployed for FTTH, reserving spare ducts that should not be used for anything else in the future 5G network. 
'Then we see,' said Meersman, 'depending on how much power there is, that the 5G might fit into it for some parts and then we avoid double trenching, but for some parts the capacity is full and there may still be additional trenching because we didn't anticipate enough capacity looking at the costs.' 
Meersman provided an example of a standalone network with 0 per cent spare capacity. The cost of this network is €8.5m, and for 5G standalone it is €1.8m. Taking into account the discounting over the five-year period, the net present value would be €1.25m, making a total net present value of building two separate non-converged networks of €9.8m. 'If we introduce 12 per cent spare capacity,' said Meersman, 'we see a very slight increase of the cost, not a lot because we already have ducts that we can reserve for this and see a decrease of the 5G, so reusing that spare capacity is good but overall, the decrease is not significant.'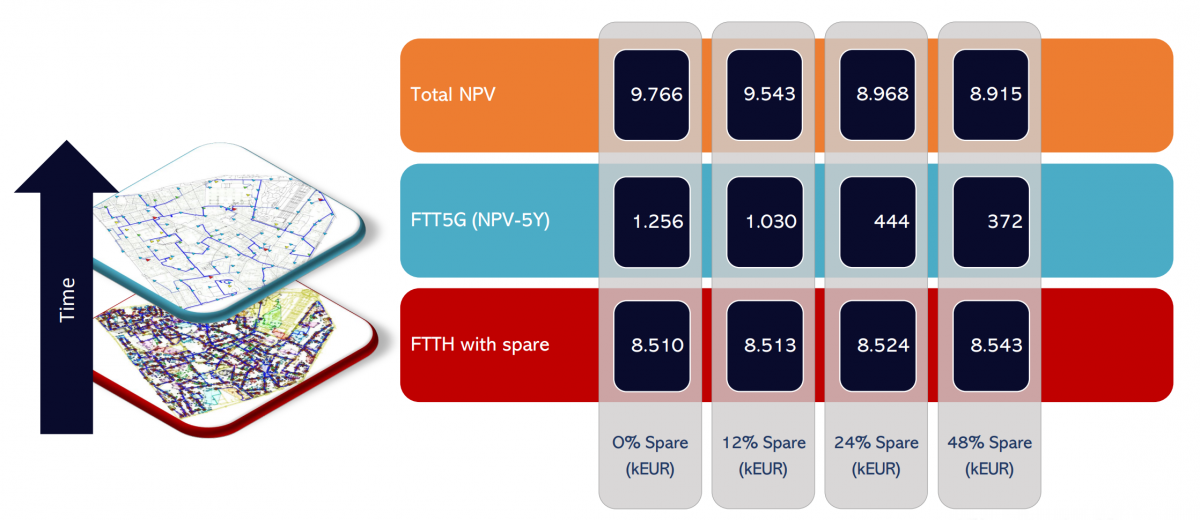 Credit: FTTH Council/Idate
The network cost increases slightly when adding 24 per cent spare capacity, however, it also results in a large decrease of 5G cost, said Meersman. 
Moving to 48 per cent spare capacity, the initial increase is slightly higher, but the decrease is not quite so high. 'In these assumptions,' said Meersman, 'with the 24 per cent, we were able to capture the majority of that value of convergence. 
'Our key findings showed there was a huge cost saving for building the FTTH and 5G networks together. Between 65 and 96 per cent of the FTTH-5G cost could be eliminated, at least for the underground. If you build FTTH with only limited spare capacity, you could incur additional costs for the future 5G network over a reasonable lifetime of the fibre. 
'This is one reason why we believe areas where there is spare capacity in fibre rollouts today will be the areas where 5G networks could be leading in the future, because this will impact the business case enormously if it is available or not. Let's just say, a good practice tip is that, you don't know yet what that future 5G densified scenario will look like, but there is a way to anticipate it and that's by building sufficient spare capacity into the networks of today.'