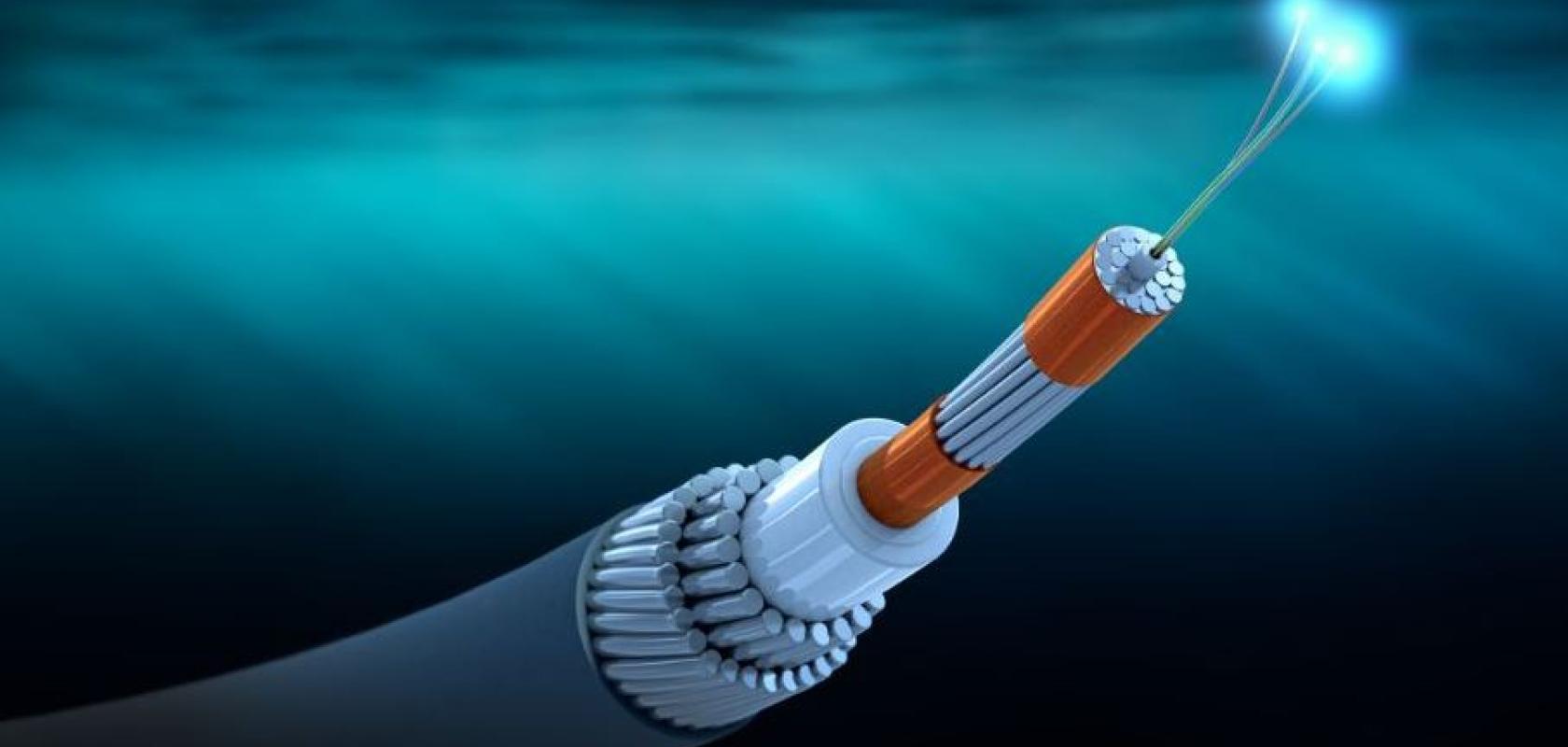 The submarine cable industry is still a very healthy one, with figures from Research and Markets predicting that it will reach $30.8bn by 2026. Submarine cables, said the company's most recent report, European Submarine Cable Market: Size & Forecast with Impact Analysis of COVID-19 (2020-2024), have become essential to digital infrastructure, thanks to the role they play in meeting growing data demands. 
The European submarine cable market, according to the research firm, has increased at a steady pace over the years and is expected to grow progressively further during the forecast period ending in 2024. Other growth drivers include a surging urban population, escalating economic growth, rising smartphone penetration, growing demand for broadband connections and growing offshore wind projects. 
The hyper market 
One very large factor in the growth of submarine networks, according to Mattias Fridstrom, chief evangelist at Telia Carrier, is the hyperscale companies such as Facebook, Google and Amazon currently dominating the cloud and other markets. 'I really believe that most of the subsea cables of the future will be built by the hyperscalers,' he explained. 'That's not a new thing, but if you look at the traffic growth that everyone sees in the network, it typically comes from the hyperscalers.' 
Fridstrom reasoned that amongst the motives for this, hyperscalers are the leading companies being asked to do the most. 'Therefore, obviously they're the ones that should be building cables,' he said. 'Land cables are a different thing and there I assume they would continue to use operators to do that. But I really see the sea cables themselves being built by them [hyperscalers], and I think that trend is going to continue, whether we like it or not.' 
This is something with which Virginie Hollebecque, vice president and leader of EMEA at Ciena agrees. 'The hyperscalers represent the vast majority of the traffic that subsea cables carry. The diversity of the routes is super important, so openness is something we have pushed.' 
As an example of this, Google recently announced that it is to build Firmina, an open subsea cable that will run from the east coast of the United States to Las Toninas, Argentina, with additional landings in Praia Grande, Brazil, and Punta del Este, Uruguay. 
The Firmina cable is designed to be the longest in the world, capable of running entirely from a single power source at one end if its other power source(s) become temporarily unavailable. It comprises 12 fibre pairs and will be used to carry traffic quickly and securely between North and South America, giving users low-latency access to Google products and cloud services. 
Tech up 
In terms of the technology involved, Fridstrom believes that the hyperscalers building submarine cables are following much the same process that has been used in the past. 'I think actually most of the people in the hyperscalers have worked with sea cables from the start,' he said. 'They have been hired because they have the skill set to build these cables. What I think they do differently is more in terms of diversity. I think the operators in the past built the cables where there was the most traffic, which was typically London to New York. Whereas now, it's much more diverse, which is good for everyone because the availability is going to be much better and you won't have the single points of failure or areas where there are tonnes of cables installed at the same place. I think that's really what they have brought into the game.' 
Referencing the challenges surrounding subsea cables, Fridstrom reveals that it is the business cases that can trouble the operators. 'If you think about the Nordics and the Baltics and the areas where we are more familiar with building these cables, the chance of getting the money back for these business cases when there are very tough prices is low,' Fridstrom says. 'It's still quite expensive to build new sea cables. There are a lot of cables being built from the UK and from Denmark, for example, and each of those cables are going to have a rough time getting their money back for that business case.' 
That's not to say, went on Fridstrom, that they should not be built. 'They're absolutely needed,' he affirmed. 'If you think about it, [subsea] normally attracts some new data centres, especially from the hyperscalers, but also from other enterprise companies. Then, of course, a country like Norway can afford to build the sea cable and a lot of people will get new jobs in new data centres and they will consume a lot of energy, but for a single operator thinking of building the cable for €20-30m euros and try to make the money back in 10 years, that's not going to work. Prices on the market are very low and hyperscalers can build the cables themselves. But operators can't. They need to sell the capacity, and that's tough.' 
Regional growth 
Looking at new and growing markets, Fridstrom highlights South America and Africa as two places that will experience an uptick in traffic going forward. 'South America is a bit ahead,' he said, 'and there have been a number of cables built there, but I think Africa is just one step behind them and that's a very interesting place right now. You can already see the hyperscalers themselves are involved in some of the cables that are being built, and there's still an interest from operators to build these cables and help African countries connect.' 
Something that Fridstrom has witnessed in his day-to-day work with Telia is the need for more diverse networks, with the Nordic regions the next areas of interest. 'We are directly involved now with new submarine cables between Norway and Denmark,' he explained. 'That is just to connect, to make sure that Norway has more weight out to the Western world and to the rest of the world, rather than through LAN cables to Sweden. There is a big demand for the Norwegian market to come out, and a big demand from the world, to use Norway's hydropower and the number of fantastic locations for building data centres where the energy is very green and the labour is still very good but connectivity is not as good as it should be, but getting better with a new sea cable. We're directly involved in one of those sea cables, and I'm sure we will buy a lot of capacity on the other sea cables as well to be even more diverse into Norway.' 
Hollebecque too has spotted these amongst the growing markets for subsea. 'I believe that Africa is the home of the next new builds in terms of open cables,' Hollebecque says. 'I would say that in addition to this is the Nordics region. We are seeing an increased demand in terms of connectivity, so we have announced a couple of projects in this area.' 
One of these projects is working with Altibox Carrier to help it strengthen its NO-UK submarine cable, which spans 670km and connects routes between the Nordics, UK and US. The operator is deploying Ciena's Waveserver 5 coherent optical solution to help boost capacity across both its subsea and terrestrial networks. 
'I see the Nordic region as pretty dynamic,' Hollebecque said, 'especially with the national data centre interconnection, [as well as] the fact that some hyperscalers want to create diversity in terms of routes. Broadband and 5G are developing, so business as a whole has increased too.' 
Hollebecque sees a third region that is becoming very active, and that is the Middle East. 'It is geographically very well positioned to carry a lot of strategic traffic,' she explained. 'We have been working with Batelco, as an example, for its BGN network, to increase the capacity and to sustain a lot of traffic reaching east and west.'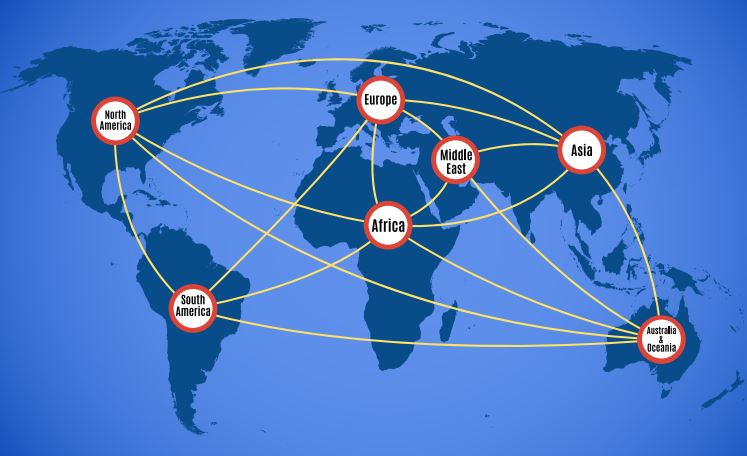 Image credit: WindVector/Shutterstock.com
Investment opportunity 
A recent example in this market is the news that Digital 9 Infrastructure is investing more than £50m into the development of a new intercontinental fibre system. This is designed to be a carrier-neutral network platform between Europe, the Middle-East and India comprising subsea and terrestrial fibre assets, which will connect key locations in these regions. The investment will take place over a three-year period, alongside a leading global content provider and consortium that are, at the time of going to press, unnamed. Subsea operator Aqua Comms, which was acquired by Digital 9 Infrastructure in March, will market and operate this route under the name Europe Middle-East India Connect 1 (EMIC-1). 
Looking to the future, Fridstrom addressed the issue of densification. 'There are a lot of discussions around cables across the Atlantic, with many more fibres than used currently,' he said. 'That's going to change the market dramatically if you could suddenly build the cable with 24 or 48 fibre pairs. The price of one fibre pair becomes a lot less and I would argue that almost every operator could have their own fibre pair across the Atlantic, which has been a dream for a long time but never really achievable. That is something that could change the picture quite a lot and I think we are almost there.' 
For Hollebecque, the key is going to be openness. 'In the transport industry generally, the openness – whether that be terrestrial or subsea – we believe [is] very important for various reasons,' she explained. 'To make sure that our customers are not blocked, for example, but also to create diversity. The notion of open subsea cables is really about the business of using one component from one vendor with another solution from a different vendor, about the interoperability, and it's something we have seen in the terrestrial market as well. Consider that the hyperscalers represent the vast majority of the traffic that subsea cables carry. So, the diversity of the routes is super important and is something that we have pushed for more than a decade now.' 
Coherent optics 
Hollebecque explained that this openness is something that Ciena has pioneered, particularly in subsea with the development of its WaveLogic coherent optics. '[Optical transmission] is at the heart of the operation,' she said, 'because that's where rapid technology innovation can happen. We are at our fifth generation of current optical modems with the WebLogic 5, which has been extremely important for our customers, because it has been a way for them to address those ongoing bandwidth growth requirements.' 
In line with the move towards openness, Hollebecque envisions the business models moving away from the traditional service provision towards payment 'consumption' models, where the customer pays according to the resources used. 'The consumption model is already starting to evolve,' she said. 'As an example, we are seeing more and more spectrum sharing projects and that's relevant because that's the best way to create some flexibility and to offer a "best of breed" solution to customers. The disaggregation model is something we see more and more, and we are happy to support that.' 
Another trend that Hollebecque has witnessed is the growing importance of software innovation. 'Again, this is something that is already happening in the terrestrial environment and this will follow into subsea,' she explained. Arguably, the use of software for the automation and proactive maintenance of a cable system that lies under the seabed is even more critical. 'We already have good engagement in terms of how our management tools or our software can help with proactive maintenance to make sure we can reduce the cost of operation. But I believe in the future, this will be even more important.' 
This was, Hollebecque continued, one of the building blocks of the company's GeoMesh Extreme solution when it was launched a couple of years ago. 'That was the notion of management with the software working to make sure we can reroute very dynamically and have a very resilient and secure network,' she said. 
Use cases 
In terms of applications, the GeoMesh Extreme solution was selected recently by Bulk Fiber Networks, when it opted to enhance its Havfrue submarine cable system. The 7,851km transatlantic subsea fibre system connects the USA and Denmark, with branches to Ireland and Norway. Havfrue is designed to unlock the Nordic region's aforementioned lowcost, renewable energy for use in sustainable data centres, as well as create new routes to Nordic and European markets, and Bulk is a co-builder of the system and sole owner of the Norwegian branch. 
The spectrum sharing submarine network infrastructure will enable Bulk to provide tailored virtual fibre pairs to individual customers while delivering flexibility and agility. The network is also designed to adapt as connectivity demands change and the GeoMesh Extreme solution leverages Ciena's 6500 Submarine line, terminating equipment to help facilitate this. 
'It is important for vendors to create best of breed solutions for customers,' said Hollebecque. 'That way, in terms of openness, they will be able to select different carriers and [...] from a customer standpoint they want to have seamless, end-to-end services. If we have more and more open cables and more terrestrial and subsea integration – which is already happening right now – the notion of end-to-end customer experience will be even more important. That's why for me, software will be key in the future.'
SPONSORED CASE STUDY: LIFE IN THE FAST LANE IS HERE FOR LATIN AMERICA-TO-EUROPE SERVICES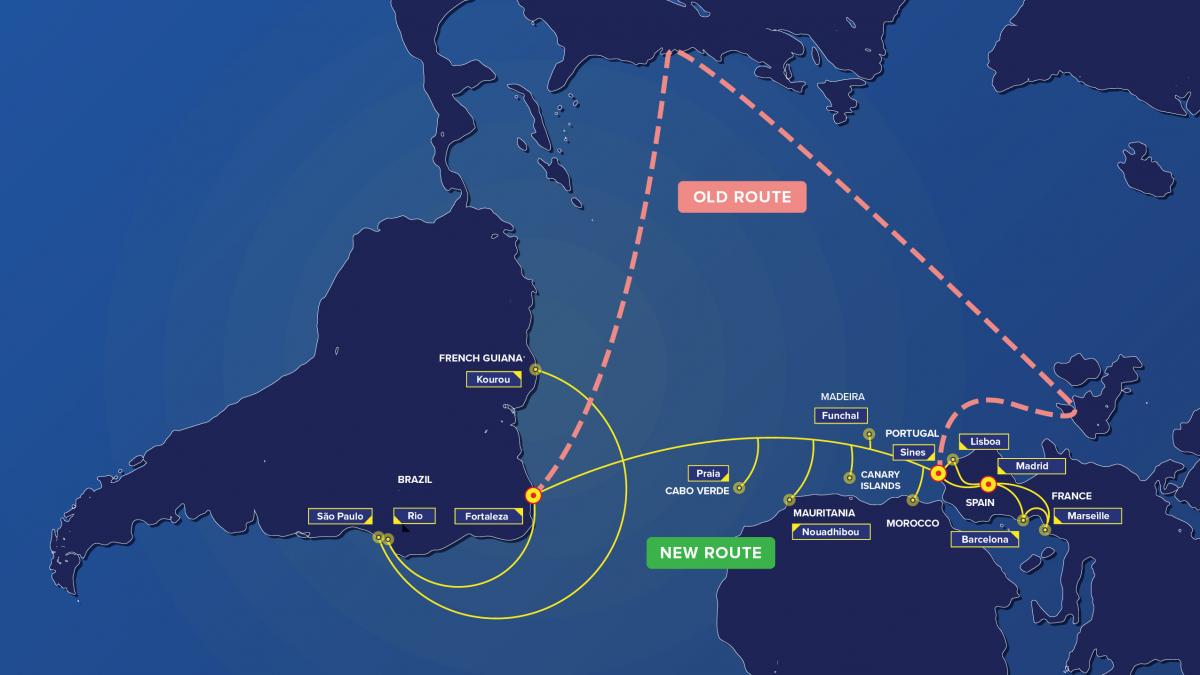 One of the key trends over the past decade has been network-based applications steadily replacing locally run applications for many users. Regardless of how network-based applications like Salesforce.com, AWS, Azure or Office 365 are used, they all operate far more effectively if the latency of the network is low. This is one of the drivers behind the construction of large-scale data centres around the world. 
Unfortunately, local data centres can take months or years to plan and build, and not all applications can be hosted locally. Cloud-based versions of applications like SAP, for example, can suffer from performance issues when latency is too high due to issues such as record synchronisation bottlenecks. For these and other reasons, low latency over long distances – such as between Europe and Latin America – can be extremely attractive for network operators. 
Given this fact, it may surprise you to know that, until recently, high-capacity data services passing between the Iberian Peninsula and Latin America have generally taken a very indirect route – from Europe to the US and then down to Brazil. But this is set to change thanks to the EllaLink express optical platform, which offers a direct route via a high-capacity submarine cable from Sines in Portugal to Fortaleza in Brazil. Since the physical route length contributes almost all the network latency for long-distance routes, it's no surprise that EllaLink is able to shave off up to 50 per cent of the latency compared to existing high-capacity routes. 
The EllaLink platform 
EllaLink is a state-of-the-art system offering secure, high-capacity connectivity over a direct mid-Atlantic route linking the major terrestrial and subsea hubs in Europe and Latin America. Like most submarine cables, it is the result of years of planning among multiple stakeholders and it is now ready for service. 
The foundation of the platform is a high-performance submarine cable with four fibre pairs on its trunk that follows a direct route from Portugal to Brazil. But a key aspect of EllaLink is it is about joining two sets of communities that share common languages, business interests, data privacy philosophies and cultures – predominantly Portuguese and Spanish. 
The cable has been installed with an unusually rich set of branching units, which allow wavelengths to be redirected to locations such as Cabo Verde and Madeira. The system has also been designed to accommodate future subsea extensions to the Canary Islands, Morocco, Mauritania, French Guiana and Southern Brazil. Using a resilient terrestrial fibre ring, EllaLink can connect to Madrid and Lisbon and extend to Marseille, where it hooks into the massive Mediterranean cable systems carrying traffic to the Middle East and onward to Asia. 
Designing for low latency 
Latency is driven by a number of factors, but they are certainly not equal contributors. For long-distance cables, the dominating factor is the speed of light through silica, the material used for modern optical fibres. At first glance this seems incredibly fast at 200,000km per second. But that means for every kilometre of fibre, an additional five microseconds of latency is added (one way). Using the previous indirect routes via the US, the total distance could easily reach 12,000km, which would add 120ms of round-trip latency (both ways) to a connection, just from the fibre itself. This can be reduced to about 60ms using the more direct route EllaLink designers chose. 
In comparison, other latency factors like packet processing, packet queuing and packet transmission are typically measured in microseconds or less for modern packet switches. To put this in perspective, imagine the crowd in a large Starbucks branch of perhaps 40 or 50 people. Now compare that to the number of people in FC Barcelona's stadium, with a capacity of almost 100,000 people. The latter would be the comparative size of the fibre propagation latency. 
The need for low latency is driven by the way we all use networks today. Probably the bestknown low-latency application is high-frequency or algorithmic trading. Algorithmic trading is used in capital markets, where long-term debt and equity-backed securities are bought and sold, to react to market events faster than competitors. Every millisecond shaved off the latency of a link means higher profits for these traders. B3 – Brasil, Bolsa, Balcão – is the largest stock and derivative exchange in Latin America, and its clients always look for ultra-low-latency network connections to meet their strategic needs for arbitrage and market making. 
Designing for performance 
EllaLink was designed to make the most of the latest generation of coherent transponders by using a large-area, low-loss optical fibre with no chromatic dispersion compensation over the length of the cable. This type of positive dispersion cable was specifically designed to optimise the performance of coherent transponders because they have a much lower nonlinear penalty than older, dispersionmanaged cables. Taking advantage of this, Infinera was able to demonstrate outstanding optical performance with its new ICE6-based coherent optical engine. Using this solution, the total capacity of the long-distance portion of the cable would be up to 100Tb/s, with wavelength data rates between 500Gb/s and 700Gb/s. 
Designing an open platform 
While all modern submarine cables are designed to be 'open' from a commercial point of view, in that each fibre pair can use whichever transponder product the customer chooses, EllaLink goes a stage further by offering a shared spectrum service within a single fibre pair. This 'virtual fibre pair' service allows EllaLink customers to choose the best-of-breed transponder at any point in the cable lifecycle without having to commit to a full fibre pair of capacity. Advanced and intelligent optical power management is needed to maintain service integrity for a given virtual fibre pair operator, and to protect them from mistakes or outages happening to other operators on the same fibre pair. 
Furthermore, these service demarcation points can extend beyond the cable landing station and on to a data centre or PoP that could be tens or even hundreds of kilometres inland. This optical express capability eliminates the need for expensive and power-hungry opticalelectrical-optical (OEO) network designs that terminate at the beach before transiting into the cities. 
Summary 
EllaLink delivers the first high-capacity direct link between the Iberian Peninsula and Latin America. The direct route means that latency can be halved compared to today's indirect routes. The total system capacity is up to 100Tb/s on the trunk system between Portugal and Brazil, which is designed to offer a totally open service interface for EllaLink's customers. 
With thanks to Vincent Gatineau, chief marketing and sales officer at EllaLink and Geoff Bennett, director of solutions & technology at Infinera for preparing this case study