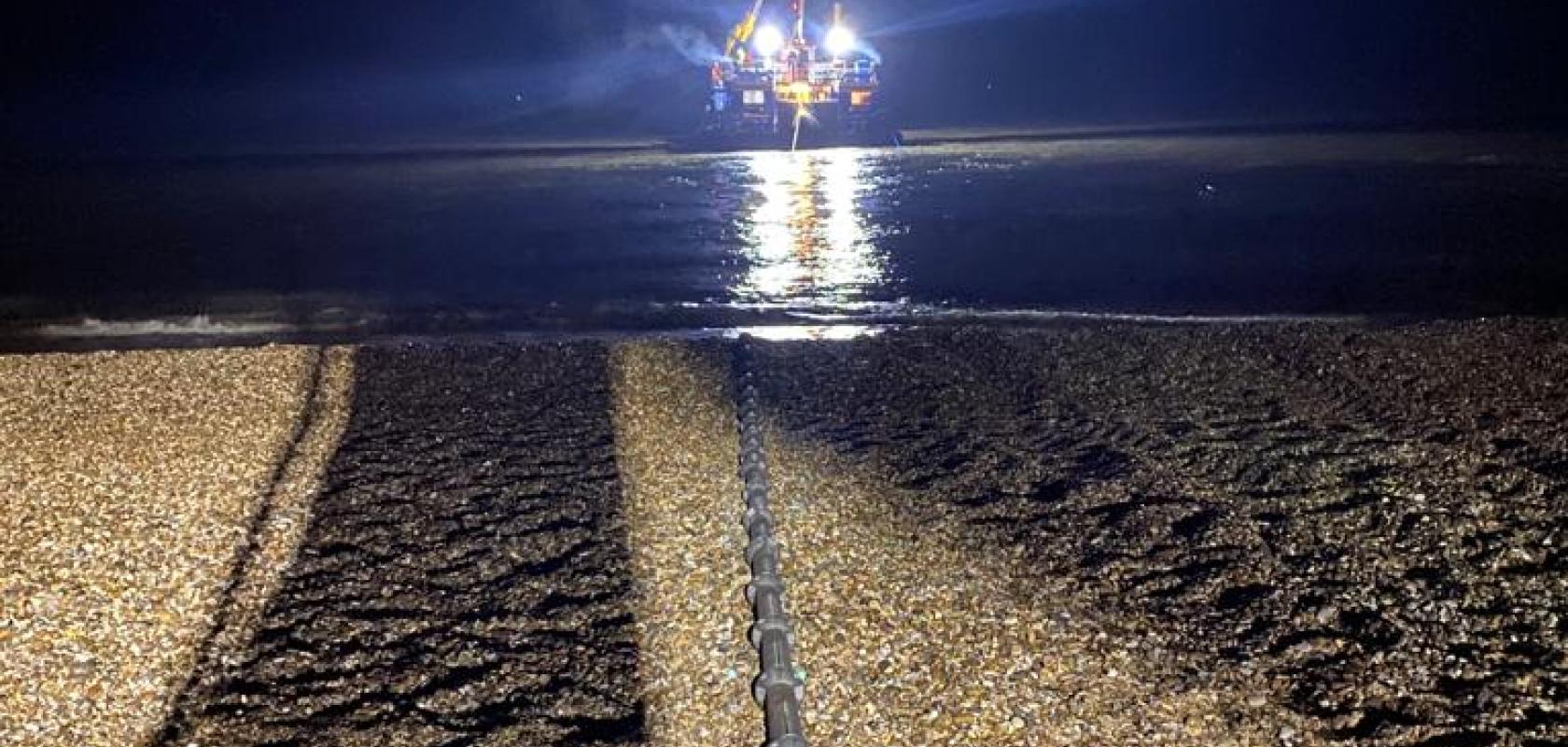 The subsea cable sector is reacting to a tough triple challenge: rising demand for bandwidth, expectations for environmental sustainability soaring and falling profit margins. Will the operators succeed or could countries be cut off?
In January, an undersea eruption and subsequent tsunami cut off Tonga from the rest of the world. The subsea cable connecting this remote South Pacific island to New Zealand was damaged; it would take months to repair and only satellite phones were working. That natural disaster severed a communication lifeline to the country, demonstrating to the world the importance of a resilient subsea cable network, with backup cables and rerouting options that would cope in a crisis. 
Brian Lavallée, senior director of solutions marketing at Ciena, a networking systems, services and software company, is blunt: 'People don't realise that 99 per cent of all international data is carried through a mesh of submarine cables that, together, are the jugular veins of international connectivity. No other technology can compete with the scale, economics and energy consumption of optical submarine cable technology. In short, there is no plan B.'
Improving connectivity
The subsea cable sector is working hard to ensure that this vast, hidden and physical network will keep everyone connected 24/7 – even remote islands such as Tonga. Mattias Fridström, vice president & chief evangelist at internet backbone company Arelion (formerly Telia Carrier) says the sector is busy. 'Many new cables are being planned and we are seeing major improvement in global connectivity,' he told us.  'Focus is no longer solely on the transatlantic and transpacific routes, but new routes to Africa, Middle East and South America are being built.'
Typically, Atlantic cables are 6,000-6,500km long, while trans pacific cables can reach 10,000km. Operator, the West Indian Ocean Cable Company's (WIOCC) 2Africa project intends to connect 46 cable landing stations in 33 countries in Africa, Asia and Europe and will be the longest subsea cable system in the world with a total length of more than 45,000km.
The extending subsea network is being driven by a world thirsty for data. 'This is driving the hyperscalers – such as Google, Meta and Amazon – to develop and lay new long-distance cables,' notes Fridström, 'as they are the ones with the funds and the greatest need for capacity.' 
But keeping up with capacity demands is only part of the challenge. Even as bandwidth increases at a 30-40 per cent compound annual growth rate, the cable layers, hyperscalers and wholesalers must struggle with significant price erosion as the cost-per-bit goes down. Profit margins are low and only technology innovation makes this sector commercially viable. 
Growing cable capacity sustainably
Innovation is evident throughout the subsea cable system – from the optical fibres themselves to signal boosters, routers and at landing stations where cables emerge. One recent game-changer has been adoption of new space division multiplexing (SDM) cables. A traditional trans-oceanic cable contains four to eight fibre pairs, whereas SDM cables have 12 to 16 pairs (and possibly more in the future). More fibre pairs means more data capacity.
Google and SubCom completed the first long-haul, submarine SDM cable, known as Dunant, in 2021. It contains 12 fibre pairs and can deliver a record-breaking 250Tb/s across the Atlantic Ocean. 
'New SDM fibres with a smaller effective area require less power to work and will lead to trans-oceanic cables with many more fibres in the same cable,' comments Fridström as he acknowledges the huge impact of this technological advancement. 'This may lead to fibres becoming more affordable and may allow smaller companies, like us at Arelion, to own our own fibres across the Atlantic or Pacific.'
Other innovations now 'in the water' include active branching units. An active branching unit can dynamically route and reroute wavelengths to one or more end-points, such as landing stations in different countries. Today, they can be controlled remotely, even as they lay on the deep ocean floor. 'We can communicate with active units electronically,' says Lavallée, 'to switch and reroute wavelengths between branches. So, if one cable is damaged, you can remotely reroute the wavelength along a different path.' Submarine cable networks can benefit from increased redundancy and resilience for increased availability of network services.
The network effect
As the submarine system starts to branch and network, cable owners begin to breathe more easily. Rerouting can alleviate the need for immediate cable repairs. Now cables can be repaired under more favourable conditions – for example, when the weather is calm or limited maintenance ships are available.
Indirectly, the latest technology is making the industry more sustainable too. It is even possible to optimise the submarine system's performance from land, typically at the land stations, where it is far easier to install next-generation technologies. Ciena, for example, is driving advances in coherent optical modem technology that maximise cable data capacity to drive down costs for operators. Lavallée highlights the benefits in numbers: 'With ongoing modem advances, we went from 5-10 gigabits-per-channel decades ago to as high as 800 gigabits-per-channel for some cables. This results in unprecedented increases in data-carrying capacity per-channel with massive decreases in required energy per-channel.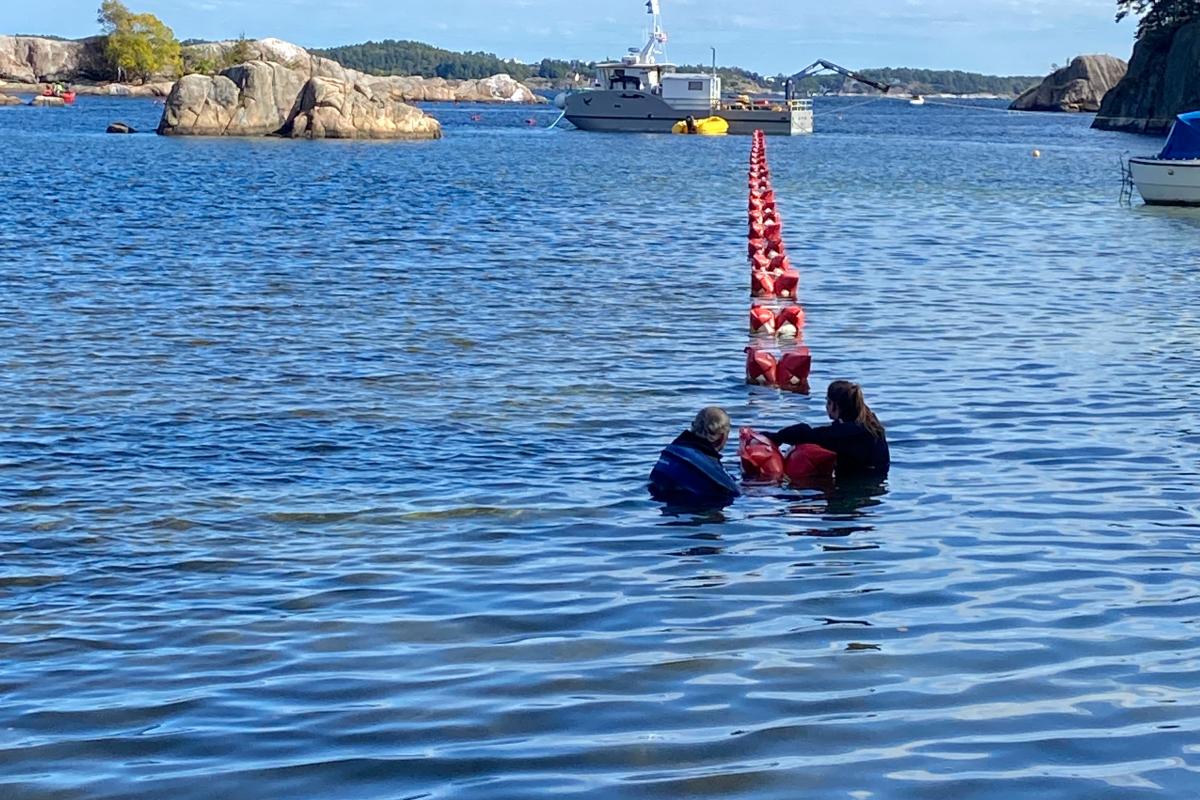 Havsil is a repeaterless subsea cable connecting Norway to continental Europe (credit: Bulk Infrastructure)
'All new generations of modem technology are developed to be better in terms of the energy-per-bit perspective,' Lavallée adds. 'With coherent optical processors, we had an 80 per cent reduction in power used over just two generations of modem technology to achieve a huge reduction in electricity cost for the network operator.' 
Software also has a role to play, with data-driven analytics and machine learning helping to optimise overall cable capacity. Automation software and analytics mean that you can now remotely provision and optimise new services from anywhere. You no longer need to travel to remote ends of submarine cables, often transoceanic distances, which aids in reducing the overall carbon footprint of the submarine network sector.
Updating systems
Some cables, such as that fractured connection between Tonga and New Zealand, sit lonely on the seabed, but others sit alongside existing infrastructure. Cable-laying does not just deliver new hook ups, but also must upgrade pre-existing cables to cope with the increase in data traffic. 
For example, the UK has a dense network of cables around its coast, with branches reaching out to Europe, the US and beyond. In July, Zayo announced the launch of Zeus, a subsea route connecting Lowestoft in the UK to Zandvoort in the Netherlands. Yannick Leboyer, chief operating officer for Zayo, explains: 'Many of the existing cables are 20 years old and, with increasing bandwidth demands, they need supplementing and replacing. In addition, there is an increasing number of landing stations and different countries can be connected under the sea.'
Zeus is so short (approximately 200km) that it doesn't even require repeaters – optical devices that boost the signal between fibre lengths. It therefore delivers capacity rivalling land cables that can carry up to 192 fibres (repeatered systems generally are limited to 24).
But there are significant risks associated with a high-capacity subsea cable. Leboyer is understandably cautious. 'With more fibres per cable, there is a lot more at risk financially if a cable is damaged,' he warns. 'It is still important to have three or four active routes so that traffic can be redirected if needed.' 
Laying cable logistics 
In busy waters such as the North Sea, subsea cables need precision laying and extra protection from the hazards of fishing and other sea traffic. Unlike trans-oceanic cables that can just be dropped and bury themselves in the seabed, Zayo had to dig deep to protect Zeus from the dangers of populated and relatively shallow waters. Geir Holmer, CEO of JTD Associates, got his fair share of adventure as consultant on the Zeus project. 'We needed to bury the cable 2-3m under the seabed to prevent it being exposed due to sedimentary shifts and strong currents.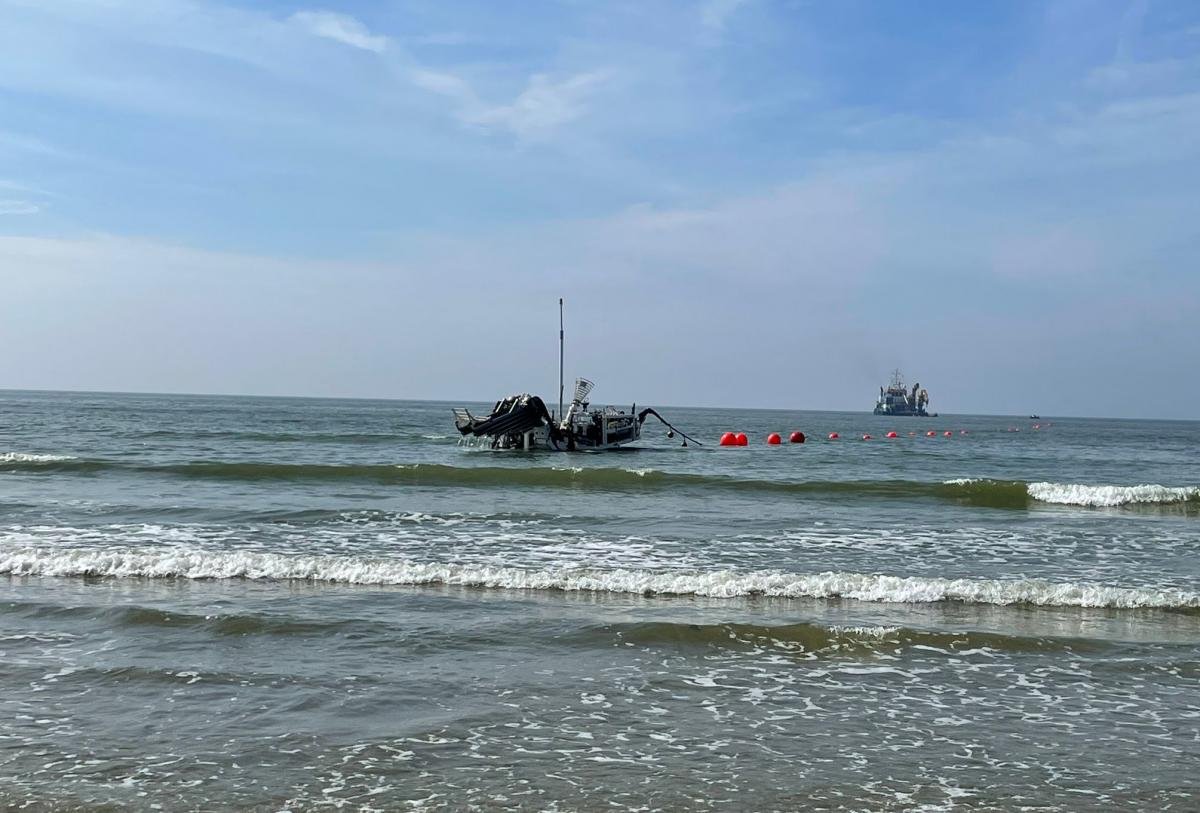 In busy waters like the North Sea, subsea cables need precision laying and extra protection from hazards (credit: Zayo)
'Assessments were made to find an ideal route that avoided pipelines and shipwrecks, and we had to remove obstacles such as an unexploded WW2 bomb,' reveals Leboyer.
In some waters, such as the Mediterranean near Marseille, the seabed is so cluttered that burying cables is simply not viable. Instead, they are laid on the surface and protected by cast iron shanks. 
Renewable and sustainable solutions 
Despite successful projects such as Zeus, Leboyer and Holmer both highlight the fact that the current global economic situation is unnerving the cable laying sector. Since the start of the war in Ukraine, for example, the price of fuel for the cable laying boats has climbed by 140 per cent. 
In the long-term, higher profit margins are best achieved by improving the industry's environmental sustainability, especially by using less and renewable forms of energy.
Mattias Fridström is already observing change. 'The boats deployed to lay and repair cables are starting to become more sustainable as they use more electricity and less fossil fuel,' he says. 'If cables are installed in a better way, with improved planning (like with Zeus), and in better locations, we will see fewer faults and the need for large repair vessels will be reduced, leading to less consumption of non-renewable resources.'
Aside from the issue of fuel, the subsea cable network also needs electricity to work. Could this ever come from renewable sources? 'Powering subsea cables with renewable resources is not a given, but progress is being made,' Fridström suggests. He is supported by Zayo's Yannick Leboyer who adds that many land-based data centres aim to be carbon-neutral in the next decade. 'Routing cables to those that have achieved neutrality will lead to less fuel consumption,' he says. 'In addition, we can reduce the use of fossil fuels by doing our data processing in countries where more renewables are used, such as Norway.'
Our subsea future
With groundbreaking technologies now reaching the market, and our increasing appetite for cloud-based services and applications, the submarine cable network industry will be very busy. Hyperscalers and wholesalers are racing to connect the people and machines to our surging international bandwidth demands. 'Understanding there is no Plan B for submarine cables, as an industry, we must continue to innovate over land, sea and cloud to maintain pace with the world's insatiable demand for bandwidth.' says Lavallée.
The industry is also seeking sustainable solutions at every point, from the fibres and modems to the boats that brave the deep. It's win-win too: sustainability benefits the environment, but helps to combat those tight profit margins too. 
Yet growth is likely to slow in the face of current economic instability. As Holmer notes, inflation is applying the brakes. 'The cost of putting cables into water is going up with the rate of inflation, the price of fuel and manufacturing costs,' he warns. "However, the price customers want to pay for bandwidth is going down and the margin is continually eroding. If both trends continue, will there be a point where no one will want to lay new cables?'
SPONSORED CASE STUDY: ELLALINK SPECTRUM SHARING SERVICES
The EllaLink subsea cable brings direct high-capacity, low-latency and fully diverse connections between Europe and Brazil. It is an example of a cable system that follows a trend of being deployed to provide direct connectivity between high-growth geographic locations. 
EllaLink is an example of a submarine cable system that was designed from scratch to be as open as possible in terms of transponder options and service offerings.  The concept of spectrum sharing is still a new and interesting approach for submarine cable capacity sharing. Spectrum sharing is a service option in response to demands for increased granularity of bandwidth management while retaining full operational control, commercial  flexibility for transponder selection and the benefits of being a real submarine service operator on a long-term strategic move. 
Over the past 10 years, bandwidth management has evolved. Historically, the approach was to deploy OTN switches in the cable landing station (CLS) and to terminate the submarine wavelengths digitally. Services could then be carved out. Switching and multiplexing remains popular because this approach is multiservice, feature rich and carrier grade. Three developments have decreased the use of OTN: 
Modern submarine  fibre pairs offer very high capacity, placing more pressure on the scalability of OTN switching.  The EllaLink platform can offer around 25Tb/s of capacity per fibre pair on the longer segments.

Ethernet has become the service interface of choice, diminishing the multi-service advantages of OTN in favour of muxponders.

High-performance coherent transponders like Infinera's ICE6 optical engine mean that fibre pair operators no longer need to digitally terminate services in the CLS and can extend the optical path onward to the nearest point of presence (POP) or data centre. 
So, we see the increasing popularity of small-form-factor transport platforms like Infinera's GX G42, which uses sled-based muxponder cards that can multiplex 100GbE and 400GbE services into higher-data-rate wavelengths at 600Gb/s or higher that can traverse the Atlantic Ocean. 
For some operators, the entire capacity of the fibre  fits their business model, such as hyperscalers Google, Meta, Microsoft and Amazon. Submarine service providers will also take entire fibre pairs and then carve up that capacity to sell to their customers. A recent option is for fibre pair operators like EllaLink to offer analogue spectrum as a service. This is spectrum sharing. 
Amplifier bandwidth on modern submarine cables is usually around 4.8THz. This overall bandwidth can be divided and presented by the ROADM. As a first level of security, the ROADM physically prevents Tenant B from tuning their transponders into the bandwidth allocated to Tenant A, and vice versa. In most submarine cables, tenants must decide whether to locate their transponders in the CLS, or to continue the optical path to the nearest data centre. EllaLink's transponders are located at both the Sines and Fortaleza CLS, and in the Lisbon (Equinix) and Madrid (Interxion and Equinix) data centres.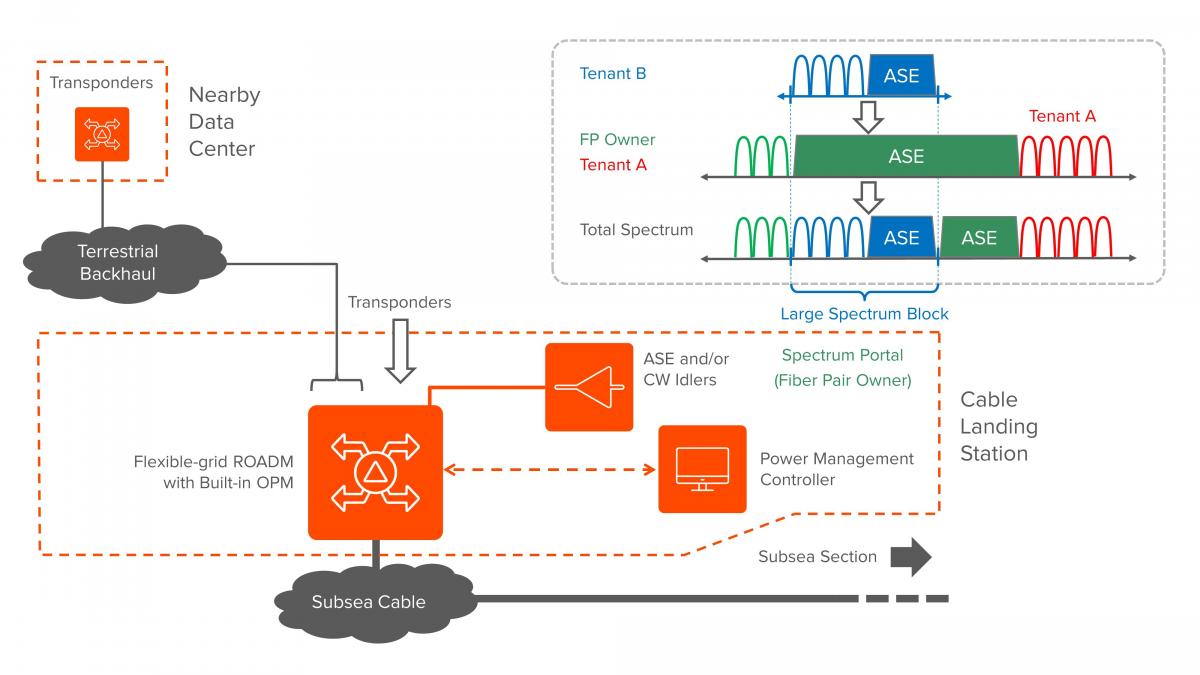 Across the Atlantic stretch of the cable, EllaLink has four fibre pairs. In any one of these pairs, the fibres are terminated using a terminal that includes a flexible-grid ROADM to handle wavelength management.  The ROADM also acts as the demarcation point for spectrum sharing tenants – shown here as Tenant A, Tenant B and so on.
Stable optical spectrum 
Creating the virtual fibre service is not simply a case of wavelength multiplexing. In submarine cables, care must be taken to control optical power levels to maintain stable operation. 
In all amplified optical links, it's essential to maintain a level of total optical power in the fibre that is sufficient to deliver good signal power to the receiver, but will not generate nonlinear effects, resulting in significant amounts of noise. Terrestrial networks usually use an automated power balancing protocol between the amplifiers to deal with variations in power, but in a submarine cable each fibre pair is pre-loaded with an amount of optical power that results in stable levels across the entire amplified spectrum. 
An optical power management solution consists of a flexible-grid ROADM – a way to inject optical power into the fibres and control software to monitor power levels. EllaLink uses Infinera's Intelligent Power Management (IPM) solution, which includes all three elements, as well as explicit support for power management in cables that, like EllaLink, include subsea branching units (BUs). 
Optical power management and spectrum sharing 
Maintaining a stable optical spectrum is particularly important when virtual fibre services are offered because, if optical power is not actively managed, the errors of one virtual fibre tenant could impact other tenants on the fibre pair. 
There are many scenarios in which IPM is used to maintain operational stability. These can include events that take place in the branched sections of the EllaLink cable. Branched sections can present a challenge for optical power management because the subsea wavelength-selective switch (WSS) can block a empts to inject ASE optical power from the main section of the cable. In these cases, IPM can take advantage of unique power injection capabilities with idler lasers to fill in optical power at the edges of the ROADM passband for a given branch. 
Summary  
The EllaLink platform offers a unique combination of high-capacity, low-latency and diverse connectivity between Europe and Latin America. Branching units on the cable help to deliver this capacity into locations such as Cabo Verde, Madeira, and Morocco, directly feeding fast-growing markets for the first time. EllaLink is also an open platform, offering fully flexible services, including spectrum sharing and colocation with extensive data centre capacity that helps to maintain low-latency operations. Advanced optical power management is a vital requirement to maintain stability in an open spectrum sharing environment. 
With thanks to Vincent Gatineau, chief marketing and sales officer at EllaLink, and Geoff Bennett , director of solutions and technology at Infinera, for preparing this case study.