Bold, brainy and in Bristol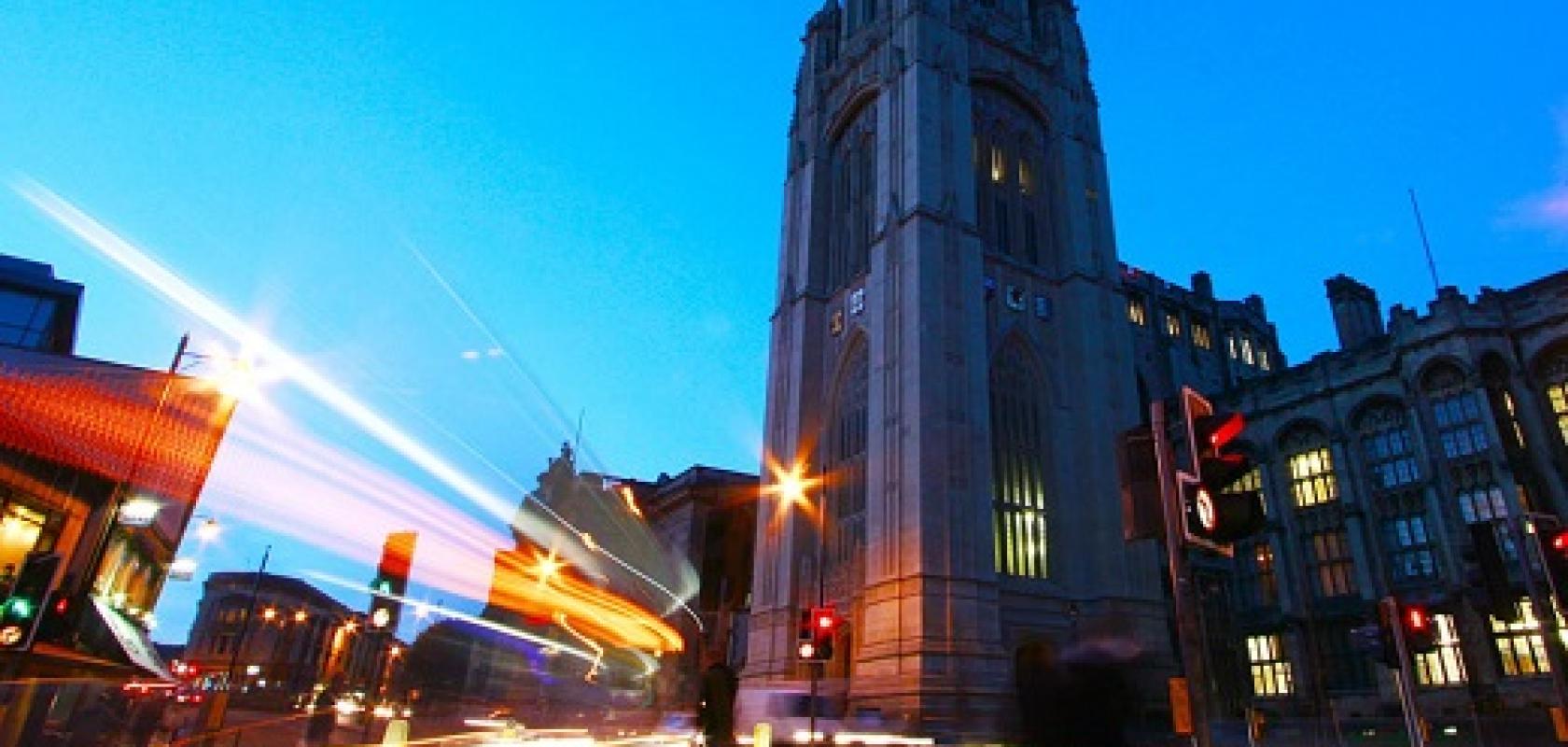 In March this year, Bristol will host the UK's first, public 5G trial. The two-day live-trial – with Nokia and BT – will involve up to 5,000 people and is set to put the UK, and this city in the west of England, at the forefront of next-generation telecommunications.
Bristol is home to a unique smart city platform – 'Bristol is Open' or BiO – that boasts a breathtakingly diverse array of cutting-edge communications technologies that companies can now experiment with, in a real-world environment, rather than in the laboratory. Formed by Bristol City Council and Bristol University, the venture integrates three networks: a sprawling optical network beneath the city centre, a mile-long region of heterogeneous wireless connectivity branching out from the core, and a RF mesh 'canopy' with access points dotted across 2,000 city lampposts.
The rich fibre infrastructure comprises 144-fibre cables connecting four main active nodes with dynamic optical switching, while the wireless mile includes Wi-Fi, 3G, 4G and 5G network access, and even LiFi wireless connectivity. Meanwhile, the RF mesh canopy uses myriad wireless technologies connected back to the core fibre ring at nine points, extending connectivity for low-power, low bandwidth applications.
All three networks – core fibre, wireless 'mile' and RF mesh – are linked to the so-called BlueCrystal supercomputer at University of Bristol's Advanced Computing Research Centre where the information flows are analysed in real time. And the networks are also connected to Bristol's 3D Data Dome planetarium, serving as a data visualisation facility (see panel 'Hive of Activity').
Crucially, every single element across this diverse network platform will soon be controlled by software. The result will be a software-defined network that can be reconfigured at the click of a mouse; technology that, until now, has not existed beyond a data centre.
'Our platform is open for testing technologies, placing software, creating services and rolling out new solutions,' highlights Professor Dimitra Simeonidou, chief scientific officer and the driving force behind Bristol is Open's technology.
For Simeonidou, the platform has been an absolute labour of love, and the 5G trials in March can't come quickly enough given the last few years of research and innovation. 'I arrived in Bristol about four years ago, and from the very first week we were talking about liberating the strengths of the city and doing something really transformative around the digital agenda,' she said.
On joining Bristol, one of her tasks was to design the platform, and optical fibre was the starting point. 'It's my belief that when you start with something new, you have to start bottom up, and having a good fibre infrastructure is fundamental to avoiding later bandwidth bottlenecks,' she stated.
At the time, Bristol already had a 76km-long fibre-optic network housed underground in a system of ducts owned by its council. The network had been developed by cable TV company Rediffusion, and then bought by the council to support its own telephony and data traffic network communications and CCTV needs. However, come 2015, the council leased the network to Bristol is Open, ready for Simeonidou and colleagues to begin their exciting project.
Working with UK-based optical switch developer, Polatis, the researchers installed dynamic optical switches at nodes across the network, ready to bring the fibre layer under software control. Designed to support software-defined network controllers, these switches enable dynamic control of resources, which, according to Simeonidou, was 'so 
very very important' to the platform.
'The switches can dynamically switch across different single-node fibre cores,' she explained. 'This means we can configure fibres on the fly and allocate different types of fibres to different applications, and actually control where the data traffic goes.' As well as fibre switching, the metro network also deploys wavelength-division multiplexing using coherent technology at speeds of up to 100G. As Simeonidou puts it: 'The optical layer of the network really is very, very state-of-the-art.'
From Ashton Gate to Zeetta
The software layer of the network has been developed by Bristol University spin-out, Zeetta Networks. Co-founded by Simeonidou and headed by Vassilis Seferidis, the company set out to design an open networking platform that uses industry-standard hardware with its orchestration software, NetOS.
'The concept of software-defined networking has been successfully implemented and is used every time you do a Google search,' points out Seferidis. 'Researchers at Bristol University who had been monitoring this industry development, decided to implement it outside of the data centre environment and so have developed extensions of the SDN data centre technologies to allow other devices to be controlled by the software.'
Importantly, as the software monitors network devices, it can also define subnetworks within the physical network, enabling the construction of virtual 'network slices' that can be apportioned to service providers to trial applications. For example, a sub-network could be used to deploy services such as Ultra High Definition wireless video or city-wide WiFi.
'This is a very powerful paradigm, as you now have the means to monetise your city-wide network infrastructure,' points out Seferidis. 'Individuals will be able to add an application to a smaller part of the network for a few hours or a few days to see if it works, and from here, extend it as a business.'
As part of BiO, Zeetta has been working with NEC to integrate the Japanese telecom giant's SDN-compatible switches with NetOS. And, right now, Zeetta is in the final stages of porting its netware onto the BiO infrastructure and will be developing the applications that will allow users to access the network via its software. 'We will have a self-provisioning portal that users can access to carve out parts of the network and start experimenting,' he said. NetOS is already being deployed at Bristol's largest stadium, Ashton Gate, to slice up internet access via user groups. Here, for example, higher quality provision could be allocated to revenue-generating services or emergency services over Facebook users.
Recently, Zeetta was selected by Facebook and BT to join the Telecoms Infra Project and develop its software platform while working towards the project's overall aim to boost connectivity in isolated regions. 'We hope to deliver connectivity to segments of the population where traditional solutions are simply too expensive, be it sub-Sahara Africa or rural Scotland,' points out Seferidis. 'Software defined networking can provide overarching control across different networks, and be used to develop the most cost-effective service for each situation.'
But crucially for Zeetta, BiO provides the opportunity for the company to demonstrate its software in an operational and diverse network, one that is far more complex than a data centre. 'We need to show that the software can efficiently and effectively control a complex network such as BiO,' said Seferidis. 'And once proven, out next target will be to extend this to 5G... and control all the different networks in a vicinity.'
Software aside, a critical part of the project has also been to develop new ways to effectively connect wireless traffic to the fibre network. As part of this, Simeonidou and colleagues have pioneered the so-called '5G in a box' aggregation service; an open hardware convergence platform that can be programmed to interface with different access network technologies. These include a wired passive optical network as well as wireless access including WiFi, LTE and, of course, 5G.
The platform provides two flexible optical interfaces for backhauling. The first, bandwidth variable transponders, use the frequency domain, while the second, time-slotted optical networks, harness the time domain.
Working with Nokia, BiO researchers developed novel programmable network transponders – 'into-the-fibre' bandwidth variable transponders – to convey vast swathes of wireless data down the fibre-optic cable using the most spectrally efficient format for the distance required. 'The transponders select a modulation format, and can be programmed to map wireless traffic into the fibre in a very optimal way,' explained Simeonidou. 'For us, being able to aggregate traffic to a bandwidth variable transponder has been a real breakthrough. What's more, it's a breakthrough for the whole 5G story, and it's come from optical researchers rather than radio researchers.'
For lighter loads, the researchers turned to a time-shared optical network (TSON) concept for 5G backhauling, as part of an EU-funded project called 5G-XHaul. Here, incoming wireless traffic is aggregated into optical frames that are then assigned to suitable time slots, wavelengths and paths for further transmission. 'It is difficult to aggregate traffic from a WiFi network and lightly loaded millimetre wave network, unless this is from, say, a huge festival with thousands of people,' points out Simeonidou. 'But TSON does this and has been incorporated into the 5G-PPP architecture.'
Critically, the 5G-in-a-box aggregation service not only provides wireless traffic with a route into the fibre backhaul, but it also ensures that the high-performance network achieves the strict key performance indicators (KPIs) dictated by the 5G Infrastructure Public Private Partnership, 5G-PPP. For example, as Simeonidou points out, three autonomous car projects are underway at Bristol, which demand ultra-low latency – under one millisecond – in the network. 'If someone jumps out in front of a car, it has to react very, very quickly,' she observed.
In addition, the network is set to sustain huge volumes of traffic, making capacity a key KPI. '[For 5G], unless you have this programmable interface between your 5G radio and fibre backhaul, you cannot address the key performance indicators you need to achieve in terms of latency and capacity,' said Simeonidou. 'But, with this platform we can trade-off between the two KPIs.'
Given the 5G-in-a-box progress, the researchers are already having conversations with venues including stadia, arenas and music halls, that have fibre access and want to support high-density traffic at certain times. And excitingly, these 5G innovations and more will also soon be thrust into the limelight with the upcoming 5G end-to-end trial at Bristol's Millennium Square.
This initial deployment intends to examine the optimum models for 5G that will maximise coverage and speed in dense urban networks. Pre-standard 5G, 4G, 3G and WiFi access networks will operate as myriad applications and services are tested over a range of spectrum bands using various end-user devices. Indoor LiFi trials will also take place.
As part of the 5G trial, Nokia Networks' 5G commercial AirScale radio access and AirFrame distributed hardware server system will be used alongside additional elements. These include the 5G massive MIMO antenna system – pioneered by Bristol University's Smart Internet Lab, the University of Lund and National Instruments, and trialled by BT – as well as LTE small cells and iPasolink ultra-compact microwave systems from NEC. In combination with spectrum from BT, the city-centre fibre infrastructure enables all this innovative equipment to be put through its paces.
As Paul Adams, director of marketing, UK and Ireland, at Nokia Networks says: 'This is providing a fantastic opportunity for Nokia to test our applications products and theories in a real-world environment and we can apply what we learn to any other city.'
Indeed, since joining BiO, Nokia has also been investigating video analytics from Bristol's CCTV system comprising 1,700 cameras, and analysing data traffic flows across the city. Researchers have also installed environmental sensors across the mesh network, to monitor emissions and generate real-time maps of pollution across the city.
'There's been a lot of discussion about the Internet of Things and Smart City applications, and frankly, there's been a lot of hype,' said Adams. 'But the fact that we have this network is really quite extraordinary.'
But extraordinary or not, for Simeonidou, the best is yet to come. She expects Bristol will be the first 5G city in the UK, and as she says, 'probably internationally'. The network is expected to extend to the University of West England and a planned £300 million city campus called the Temple Quarter Enterprise Campus. From here Simeonidou hopes to see the network stretching to neighbouring cities, such as Bath, as well as rural communities that need skills development.
'We've just got extra funding to upgrade Bristol's infrastructure with the capability to support data from live autonomous car traffic,' she said. 'Our 5G story is exceptionally exciting, and I honestly think that in the next five years, most of the people involved will not get a lot of sleep.'
Rebecca Pool is a freelance science writer based in Boston, UK
Hive of activity
Since its inception in 2015, Bristol is Open has quite literally been open to many partners, providing what is called 'City Experimentation-as-a-Service' for application development and testing. As Bristol is Open chief executive, Julie Snell, tells Fibre Systems: 'We've taken the lab and put it out into the street. And because Bristol University and Bristol City Council have this 50:50 partnership, we can act more like a service provider and provide this one-stop-shop for developing multiple network connectivities.'
The network's first stunning application, supported by Rolls Royce, has been the 98-seater Bristol Data Dome and the UK's only stereo 3D hemispherical screen with 4K resolution. Connected via the fibre network to the high-performance computer, BlueCrystal, the planetarium is used to visualise complex experiments and create virtual reality environments. Rolls Royce has already used the facility to showcase its low emissions aero-jet engine, the Trent XWB. And more recently, BBC's 360-degree natural history footage was shown there.
Earlier this year, mobile technology research and development firm InterDigital organised an internet-enabled scavenger hunt to test IP-networking developments for 5G. Users with Android devices downloaded an app to take part in a search for digital clues, allowing InterDigital to analyse the experienced latency of services, such as video streaming, over the network.
And now, more virtual reality applications are in the pipeline with researchers hoping to, for example, generate a hologram of Brunel that can explain engineering challenges, as well as develop an exhibition of the history of slavery in Bristol.
'I hope that very soon we will have proved the model and have shown you can connect multiple networks,' highlights Snell. 'In telecoms we've always had this ambition that one day you could be using WiFi, walk out of the door and your call is handed over seamlessly to the mobile network, and then handed over to other networks around you. 'We're not quite there yet but we're getting tangibly close,' she said.