A wide range of applications means that the market for active optical cables is growing strongly, as William Payne discovers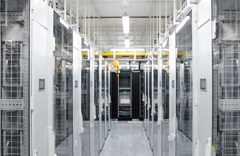 A market that originated in 2007 in the esoteric arena of HPC data centres, the active optical cables sector has grown at such a pace that today it is predicted to be worth more than $1 billion by 2018.
Despite being a new entrant in a marketplace with a well-entrenched dominant technology that was not only cheaper but had the advantage of a huge installed base, active optical cable reached roughly 150,000 units and $40 million in sales by 2010, according to market specialists LightCounting.
It has been the voracious appetite of very large internet and cloud data centres that has driven the recent surge in AOC market growth. However, today new home and entertainment markets beckon, promising enormous growth for AOCs, if price does not prove an impediment to entry into consumer markets.
The AOC advantage
Copper has been firmly entrenched in data centres for decades. That means that existing infrastructure has been largely built around copper, and that both vendors and users have made significant investments in copper technologies. Copper cable, being a commodity product, is also cheaper than active optical cable.
All things being equal, that usually gives a product significant advantages. But active optical cables are making significant inroads, taking market share away from copper cabling at a rapid pace, despite copper's entrenched position.
There are a number of reasons users are jumping to active optical cables. One is weight. Five metres of copper cabling weighs in at roughly a kilo. Ten metres of AOC weighs less than 150g. That weight difference translates to AOCs having significantly less chance of damage to switch ports, meaning less maintenance and better server utilisation. Lighter and thinner cables are also easier to manage, require less space, and are easier to maintain.
A key difference between copper, whether passive or active, and active optical is in bit error rates over distance. Beyond five metres, passive copper begins to suffer excessive bit error rates. Active copper improves range to around 15 metres, for roughly the same cost as active optical cable. Active optical cable for its part can operate reliably up to 100 metres, while the latest AOC products are extending their reach to 1km.
In comparison with transceiver products, active optical cables have the advantage of much greater simplicity, and potentially of reliability, as they are factory terminated, and there is no risk of mis-matching polarities, dirt entering the assemblies, or different manufacturers' tolerance mismatching.
40 and 100Gbps
The 2014 Optical Fiber Communication Conference and Exposition (OFC) held in San Francisco in March, saw several announcements of 100Gpbs AOC products for long-distance data-centre connections, as well as a number of 10 Gbps AOC products for short distance top of rack-centric connections.
Even before OFC opened, Fujitsu Components had stolen a march on its competitors, announcing in January a 100Gbps QSFP28 AOC (25Gbps x4 channels). In a move indicative of the industry's desire to retain and evolve proven VCSEL technology, for reasons of reliability and low cost, the Fujitsu QSFP28 deploys four 14Gbps VCSELs which are boosted by boosting the VSCEL driver with adaptive modulation to combat signal attenuation at high frequencies.
At the OFC show itself, Molex announced its new 100Gbps QuatroScale zQSFP+, and demonstrated it running a 26Gbps connection over 1km. Molex stresses both the low power consumption and the low jitter output of its new product – a result, it claims, of the silicon-based technology. The company has announced that it plans to bring out a low power AOC version of the zQSFP+ in the near future. The single-mode fibre will provide long reaches of up to 4km, which makes it suitable for large multi-building data centres and campus installations. The QuatroScale line is also slated to include a 400Gpbs CDFP AOC product as well
TE Connectivity has also launched a 100Gbps QSFP28 four lane MSA. Featuring the company's silicon-based Coolbit optical engine, TE's new 100Gbps assembly makes use of 25Gbps VCSELs. The company claims this combination of silicon-based optical engine and new 25Gbps VCSEL products provide a 50 per cent reduction in energy consumption over four-way SFP+ interconnects.
Towards 400Gbps: the CDFP MSA
In March, the CDFP multi-source agreement (MSA) consortium released mechanical specifications for a 400Gbps interface. The new form factor is targeting both proprietary interfaces, and the forthcoming 400Gbps Ethernet standard expected in 2017.
Made up of a number of leading AOC vendors, including Finisar, Molex, TE Connectivity, and Avago, the CDFP MSA consortium has developed specifications that represent an evolution of existing QSFP28 and zQSFP+ technologies to produce a next generation AOC form factor.
The CDFP MSA is attempting to resolve two challenges. One is to allow equipment vendors to scale to 400Gbps, the other is to provide for switches with up to 13 ports on the front panel. This front panel port density would allow switches to move from a switch bandwidth of typically between 1.28 and 1.44Tbps to a switch bandwidth of 5.2Tbps for devices supporting 13 ports. Compared to QSFP, which appears, to the CDFP MSA consortium, the dominant form factor in the near future, CDFP is designed to double port density.
The CDFP MSA is currently envisaged to support 16 lanes at 25Gbps at a range of up to 2km. Eight or four lane designs running at 50 Gbps and 100Gbps are clearly under discussion, as is the option of extending range beyond 2km.
VCSEL based AOC CDFP products are expected to utilise the same technology as QSFP28 AOCs in a 16-lane configuration with a range of around 1km. The consortium is expecting a range of CDFP 400Gbps AOC product announcements throughout 2014. Longer range, single-mode silicon photonics-based AOC products are expected to double the range to 2km. They are expected to offer significantly lower cost and power consumption to conventional long-range data centre optical connections.
Finisar demonstrated at OFC a CDFP 400Gbps AOC comprising sixteen 25Gbps VCSELs in an MSA designed for the new 400Gbps CDFP specifications. The new form factor is slightly larger than the QSFP.
AOC in a flatter data centre
A key driver for the adoption of AOC cables is the need for ever faster, larger, less latency-prone data centres – both within the internet's giant data centres, and also within cloud installations.
IBM distinguished engineer, Casimir DeCusatis, says the conventional assumptions that govern data centre networking begin to change radically as data centres reach very large proportions. 'Typically, inside a data centre, spectral efficiency is not so important, and tends to be traded off for lower transceiver cost, lower power consumption, and more links to give you greater path diversity. In a data centre, fibre is cheap, abundant and easy to deploy. But, as distance increases, and you get to multiple kilometre distances, then fibre becomes more expensive. With greater distance, operators become more willing to spend on the end points, you focus on maximising spectral efficiency.'
According to DeCusatis, the need to provision and reconfigure networks very rapidly within very large data centres is a key factor that will affect AOC uptake. 'Network function virtualisation and software defined networking are two very important trends in cloud data centres that could affect adoption of active cables. Functions that used to be done by physical appliances will be done by software running on a server. This has the potential to reduce the number of rack-to-rack interconnections. In a software-defined environment, you don't need so many cables, because the physical environment is simplified.
'Workloads that are moving to the cloud such as social networking, mobile computing, software development and test, are very dynamic. They change very quickly in time. Provisioning these workloads is a real challenge. They can't be changed weekly. They need to be changed hourly or even every few minutes. But the data centre network is a real bottleneck. Servers and storage can spin up virtual machines and virtual storage in minutes, but the network cannot.'
According to DeCusatis, the adoption of AOC aligns with a general change in data-centre networks. The adoption of TCP/IP networking also brought university-style network configurations that are increasingly unsuited for very large data loads in agile data centres. 'Campus networks evolved into tree structures with multiple layers of switching, access aggregation, and core. And that was fine, as long as most of your traffic was flowing north-south. And then we decided to import that campus networking architecture into the data centre, and data centres were architected the same way. But people are starting to realise that that doesn't work so well because, inside the data centre, most of your traffic is not north-south, but is peer-to-peer between different servers on the same layer. So today's data centre network architecture just introduces needless latency. So that's where the push comes from to flatten the network – so most traffic flows east-west, not north-south. And if the network is flatter, it becomes more dynamic.'
A continuing future for VCSELs
Most installed AOCs are based on VCSEL technology, though there has been speculation about adoption of DFB lasers in AOC products.
Kevin Ressler, TE Connectivity's director of global application engineering, says DFB-based AOCs are likely to find a place in future HPC and cloud installations. 'For links below 300 metres,' says Ressler, 'VCSEL multimode is the optical choice when considering the total solution inclusive of optoelectronics, structured cabling, and passive interconnect. Single-mode DFBs are more likely to be incorporated into larger data centres with a considerable number of runs over 300 metres. HPC and cloud installation are key factors in driving data centres larger, increasing the opportunity for DFBs.'
At OFC 2014, pointing the way to future possible multi-Terabit AOC assemblies, Finisar also demonstrated a 40Gbps VCSEL at OFC.  In practice such a high-speed VCSEL AOC is likely to limited to short distance connections. However, much of the data traffic within the modern very large data centre is very short distance, typically blade to blade or rack to rack. Finisar are working with IBM on developing a 56Gbps VCSEL, double the industry standard speed for VCSELs. Such fast VCSELs could see CDFP AOC cables operating at near Terabit speeds of around 900Gbps.
The market for AOC
In September, a report from Companies and Markets examined the growth of the AOC market beyond the high-performance computing (HPC) sector. C&M argued that growth in commercial data centres, and the advent of 100Gpbs speeds – which it sees as increasingly widespread in five years' time – would see the market achieving sales of around US $1 billion by 2018. The analysts particularly stressed the role of QSFP+, and of growth in Asia in driving growth, with Asian AOC sales overtaking those of America – C&M premising a compound annual growth rate of 63 per cent for the Asia Pacific region for AOCs up to 2018.
Increasing uptake of big data and analytics software will play a key part in driving AOC growth in the large and medium-sized data-centre sector.
However the C&M report argues that large data centres will typically be driven by the need to preserve and better utilise existing infrastructure. This will drive evolutionary product growth with vendors looking to technologies that preserve form factors and make better use of existing cabling, rather than dramatic disruptive moves.
It is a sign of how fast the AOC market is moving that by spring this year, a number of vendors had already announced 100Gbps AOC products, and another industry analyst had predicted that just one part of the AOC market would be worth more than the figure placed on the whole industry by C&M in September. In May, a report by fibre optic industry analysts Communications Industry Research (CIR) of Charlottesville, on AOC products in new markets, concluded that the value of non-data centre sales will be worth US $1.2 billion by 2019.
The home entertainment AOC
The main new markets, according to CIR, include personal computing, digital signage, and consumer electronics. Form factors examined included not only conventional AOC data interfaces, but also personal computing and entertainment plugs such as HDMI, DisplayPort, DVI, Thunderbolt, PCIe, and USB 3.
In a departure from previous surveys of non-data-centre AOC markets, which have laid stress on digital signage, CIR believes that much the greatest proportion of growth will come in adoption of AOC technologies in the personal computing environment, spurred on by developments in Thunderbolt and USB 3. According to CIR, the personal computing sector will be worth around 44 per cent of all non-data-centre AOC sales by 2019, with a value of around $835 million.
Vendors identified as active in driving this growth comprise leading industry giants as well as specialist market players, including Ace Plus, Apple, Avago, C2G, Best Buy, Broadcom, Chromis, Comoss, Corning, DeLock, Dell, Electronic Links International, FCI, Finisar, Hitachi Cable, IBM, Intel, Luxtera, Marvell, Mellanox, MiraDeed, Molex, OneStop Systems, PalPilot, Quiktron, Radio Shack, Samsung, SiFotonics, Sony, StarTech, Sumitomo, TE Connectivity and Via Labs.
Growth in the home entertainment, PC and workgroup computing sectors could represent a huge opportunity for AOC vendors. The uptake of AOCs in this new market would be closely tied to the evolution of the PC from single use work system to cluster controller and local server for a number of interconnected multimedia devices, TVs, and other PCs – a trend that is already well under way both in the home and in many workplaces.
The increasing modularisation of the PC, particularly in the home, to support very large fast I/O multiple terabyte storage, particularly for high definition video as well as HD internet streaming, is like to drive growth. The tipping point is likely to be when device to device connectivity reaches 25 Gbps – the rate at which AOC becomes cheaper than copper at typical workgroup and home computing distances of three metres. As a mark of just how close we already are to that tipping point, Apple's Thunderbolt interface already operates at 20Gbps. Intel is working on developing optical Thunderbolt. As early as 2011, Sony laptops were featuring Thunderbolt AOC interconnects to internal graphics cards. Vendors currently marketing Thunderbolt AOCs include Corning, DeLock, and Sumitomo.
The AOC market is predicted to go from sales of $40 million to $1 billion in just eight years. Speeds and distance are also increasingly rapidly, with Terabit speeds on the near horizon. And distance has gone from metres to kilometres in just a few years.
However, challenges still remain. To enter consumer markets – where there is enormous potential for growth – AOCs will have to almost certainly come down in price. And changes to very large data-centre network architectures, while at present driving growth in AOC, could in future restrict it, as SDN and NFV cut the demand for cables and simplify network configurations