AFL has expanded far beyond its origins as a manufacturer of optical ground wire, and now offers a broad portfolio of fibre-optic products. Robert Roe talks to Phil Edwards, president of AFL EMEA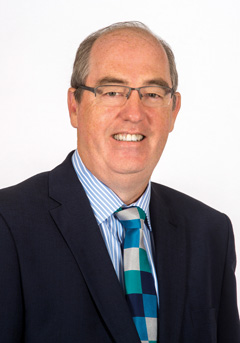 Last year, AFL celebrated its 30th birthday. The company has come a long way since 1984 when Alcoa, formerly the Aluminum Company of America, joined forces with Fujikura of Japan to form Alcoa Fujikura Ltd., better known today as AFL.
In its early days, AFL focused on manufacturing optical ground wire (OPGW) and accessories for utility communication networks. Used by electricity distribution network operators, OPGW is placed in the highest position of overhead transmission lines where it shields the all-important conductors from lightning strikes while also providing an optical fibre that can be used for communications. Thus one cable serves two purposes.
AFL has since diversified into a global company serving many different industries that have one thing in common – optical fibres. This means much of the company's experience can be transferred to the different challenges that arise within the various markets it serves.
'All of this is fibre-centric, and I mean fibre in the context of being a fibre component, a fibre cable element, a cable for various applications and the connectorisation of those fibres to make plug-and-play solutions,' explained Phil Edwards, president of EMEA for AFL.
AFL's diversification has come about through organic development and acquisition over the last 15 years. The company now serves the broadband, telecom, datacom, enterprise, wireless and transit rail industries as well as oil and gas, mining, avionics, nuclear and renewable energy. It expanded into test and measurement with the acquisition of Noyes Fiber Systems in 2000, and has even moved into fibre-optic training with the acquisition of Light Brigade in 2008.
Edwards said: 'Our big story at AFL is that we can build a network and we can populate that network with products because we are both a service and product supplier. That overlap gives us a distinct advantage in terms of understanding what customer requirements might be. It allows us to discuss in detail with a customer the operational, technical and commercial challenges that they face.'
Another advantage for AFL, according to Edwards, is the lasting connection with Fujikura, which has owned AFL outright since 2005. Edwards said: 'What you should recognise is that AFL is a 100 per cent subsidiary of Fujikura. We represent the whole AFL and Fujikura product range. We engage with the full portfolio that is available globally so we can go to a customer and present the best solution for their specific situation.'
European moves
Headquartered in Spartanburg, South Carolina, AFL has built up its presence in European markets through a series of carefully timed acquisitions that were directly responsible for developing the areas that make up AFL's business today, Edwards explained. 'AFL got involved in Europe directly in the year 2000 through the acquisition of a company called FOCAS, based in Swindon, UK,' he said. 'It then bought another company out of the Draka organisation in 2009, namely Draka's optical ground wire division. It also bought a services company in 2011 called TCC Group based out of Bracknell, UK, and finally in the last 12 months it has also bought a company called FibreFab in Milton Keynes, UK. Those four components really make up what we today call AFL EMEA. 
Naturally, AFL retains a strong interest in the utility market and has increased its market share through acquisition. For instance, it purchased US firm Laser Armor Tech in 2001 to support the growth of its OPGW business, as well as the division from Draka in 2009. Today AFL has the world's largest production capacity for OPGW.
New areas that are a primary focus for AFL include the industrial and enterprise markets. The company focuses on a mixture of industrial applications such as the oil and gas market. 'We are basically talking about control and measurement within the oil and gas industry, and inside harsh premise environments,' Edwards explained. 'We have also invested strongly in providing optical connectivity products that are extensively deployed into both the enterprise and telecom market segments.'
Edwards notes that the markets AFL serve are very competitive, particularly the telecommunications industry. Staying ahead in such a competitive environment requires a huge investment in technology and expertise. 'Technology is changing dramatically so what was a high-earning technology one year can be less advantageous the following year, which places strong demands on the investment in technology and the competencies of the organisation. It is a very dynamic world, but it is a very competitive and demanding world in which to be successful,' he said.
For AFL in particular, growth in these markets relies largely on developing and investing in new networks and the maintenance and upgrading of existing technology already deployed in (or over) the ground. Edwards said: 'We are very much infrastructure sensitive. If you look at any of our market segments, they all rely on building out – upgrading or maintaining infrastructure – whether it is in the utilities world, whether it is in the oil and gas world, or whether it is in the telecoms world.'
Edwards added: 'If you look at what is going on European-wide at the moment, the connected home piece is obviously focusing on delivering high-speed broadband to both residential and enterprise – that is a key area of engagement for us.' This is an exciting time for broadband deployment in Europe, he says, particularly with the recent action from Vodafone and Liberty Global – owner of cable operators Virgin Media in the UK, Ziggo in the Netherlands and UPC throughout Europe – to name but a few. 'We see these as key opportunities to engage in,' he added.
Another area that Edwards expects will grow over the coming years is the data centre market as the number of connected people and devices increases sharply. Utilities will then have to deal with the challenge of how to power these devices – and the data centres on which they depend – from diverse energy sources connected to the new, intelligent smart grid. Edwards said: 'The rollout of ever increasing sources of energy, be it renewable or fossil-based, certainly provides the constant need for either new investment or the maintenance of existing infrastructure.'
He notes that AFL is well aligned with markets that have the potential to generate sustainable activity going forward – an important consideration when facing an uncertain future. 'For a company like AFL, the key is that we have good competence across a number of different potential application areas. We are able to provide a value proposition to the customer, which is not only good for today, but is a sustainable technology for the lifetime of the investment,' he concluded.