Keely Portway takes a look at what needs to be done over the next 12 months to move toward the goal of copper switch-off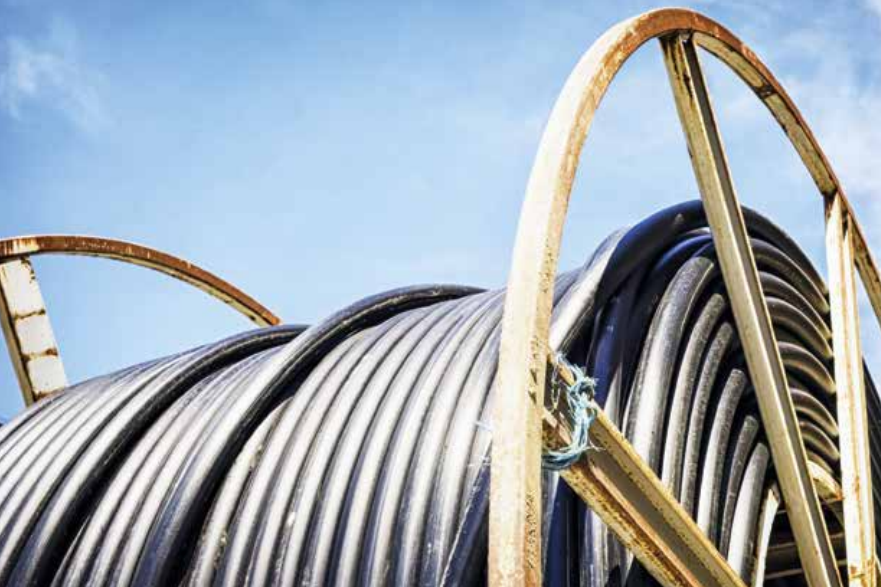 Keely Portway takes a look at what needs to be done over the next 12 months to move toward the goal of copper switch-off
There is no denying that global awareness of the benefits of fibre is growing, as markets throughout the world rush to deploy fibre networks – with some getting close to copper switch-off. The latest figures from industry research firm Point Topic put the global quarterly growth of fixed broadband subscribers for the second quarter of 2019 at 1.7 per cent. Meanwhile, the number of global fixed broadband connections was 1.08bn. 
 
The report, titled World Fixed Broadband Statistics – Q2 2019 shows that between Q2 2018 and Q2 2019 the number of copper lines globally fell by 6.6 per cent. Fibre to the home (FTTH) connections, on the other hand, increased by 18.6 per cent and FTTx/VDSL by 7.1 per cent. This means, said Point Topic, the trend of subscribers dropping copper in favour of fibre continues, albeit at a slower rate than in the previous quarter. Wireless – mostly fixed wireless access – and satellite also experienced a healthy growth as the technologies that are being increasingly used to cover broadband 'white spots'.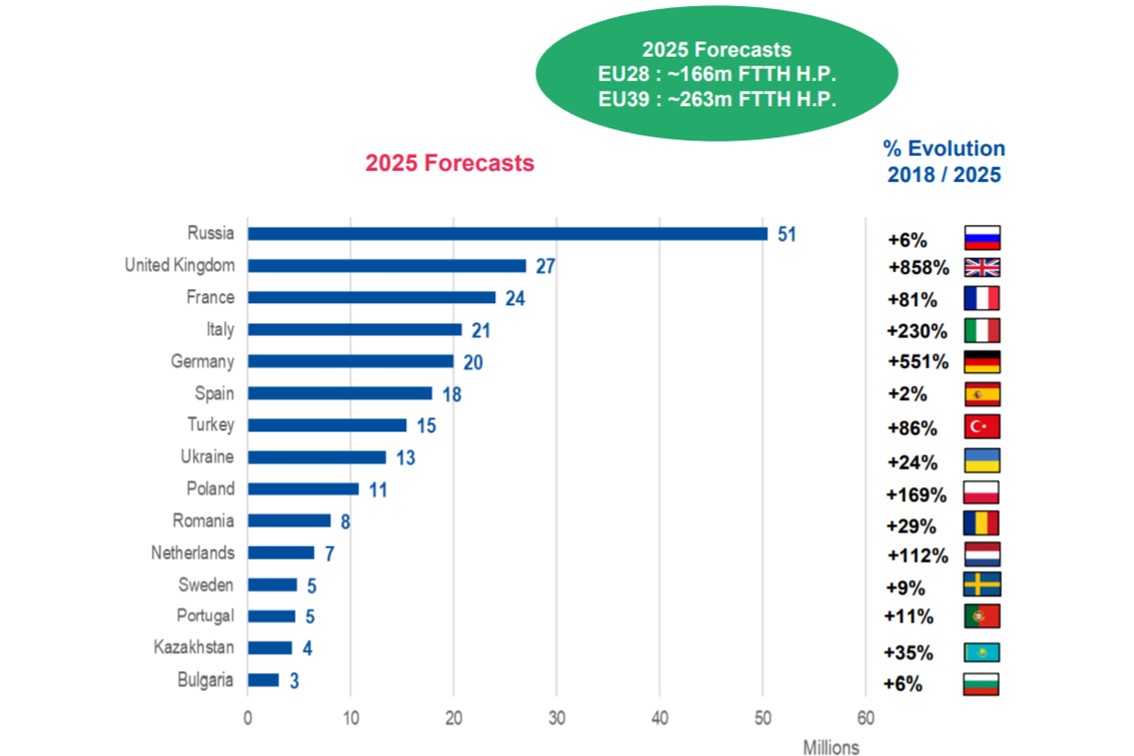 The predicted number of FTTH Homes passed in Europe by 2025
 
Is this 'slower rate' of fibre take-up over copper a sign of things to come over the next 12 months? Not in Europe, according to FTTH Council Europe president Kees de Waard. 'Digital transformation in Europe is progressing at a fast pace, and various communication technologies and new emerging services now increasingly require access to very high capacity networks in order to efficiently deliver products and a high-quality experience to end-users,' he said. 
 
'As the number of connected devices in the economy and in everyday life is relentlessly growing, European countries are looking at ways to implement a nationwide expansion of full-fibre-based Gigabit networks and 5G. In order to enable the digitalisation of our industries and society, and reduce their environmental impact, step-change infrastructure investments in fibre infrastructure are needed.' 
On trend 
Every year, the FTTH Council Europe releases a Market Panorama, which provides a snapshot of the state of fibre in Europe and globally. The comprehensive set of data highlights indicators that influence fibre deployment, and provides an overview of trends for coverage, take-up rate and number of subscribers.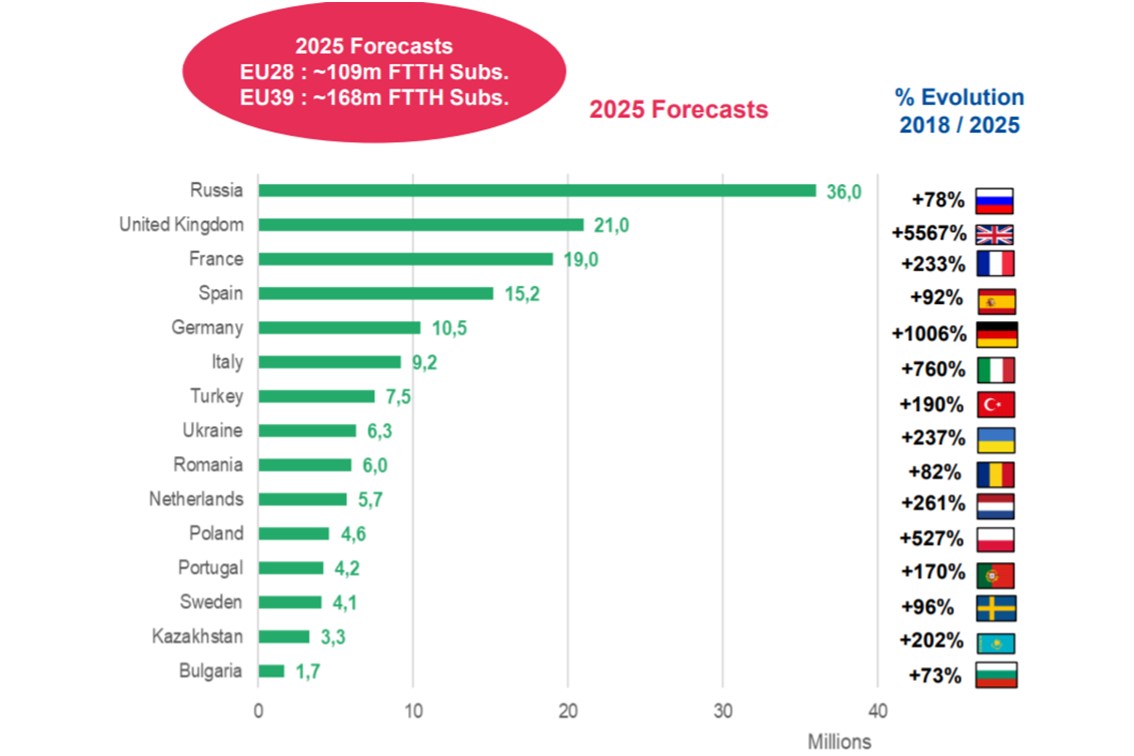 The predicted number of FTTH Subscriptions in Europe by 2025
 
According to the 2025 forecast indicators presented in the latest FTTH Council Europe's Market Panorama, at the 2019 FTTH Conference, some big but fibre-poor markets in Europe are likely to undergo a period of accelerated growth in FTTH development. 
 
'For example,' said de Waard, 'fibre deployment rates in the UK and Germany are forecasted to skyrocket from the bottom to advanced positions of the ranking.' 
 
 
On the other hand, he explained, Spain, France, and Italy will once again show a consistent and steady FTTH deployment/ subscriber growth by 2025, and therefore keep their strong positions in the forecast rankings. 
Meeting objectives 
'Nevertheless,' said de Waard, 'there is still a long way to go until the provisions of the recently adopted European Electronic Communications Code (EECC) become reality, and the coming months will be crucial. The implementation of the legislation will be essential, but public authorities should focus even more on the delivery of the connectivity objectives, namely the promotion of access to and take-up of full-fibre based very high capacity networks. In order for the industry and investor communities to deliver these networks, there is a vital need for a high-level political commitment to full-fibre infrastructure, a commitment that is consistent and provides clarity for investors that there will be no diversion over time.' 
 
Moreover, de Waard believes that it is of the utmost importance to ensure that regulatory and legislative framework will not only promote efficient competitive fibre investments but that it is also complemented by reinforced, practical measures aimed at cutting red tape and hurdles preventing efficient and swift fibre deployment, both in cities and in remote areas.
 
'Full-fibre networks will be instrumental to delivering a European Green Deal,' he said, 'and to making our industries, as well as the telecoms sector, more sustainable. We need to debate and build a consensual European strategy to switch-off legacy copper and must ensure that consumers get a fair deal. Operators should walk the talk and only call their networks fibre when it is indeed full-fibre. In our view, this is the only way we will be able to connect everyone, everything and deliver a Gigabit experience everywhere.' 
 
It is a similar story in the States. American trade association, the Fiber Broadband Association – in partnership with strategy consulting firm Cartesian – released its own study, exploring the costs associated with deploying full-fibre networks to all households across the entire US. 
 
The study found that, since 2008, full-fibre homes passed in America have more than tripled, growing at 12.5 per cent compound annual growth rate (CAGR). Take-up rates in fibre connected areas have also increased by 16.6 per cent since 2009.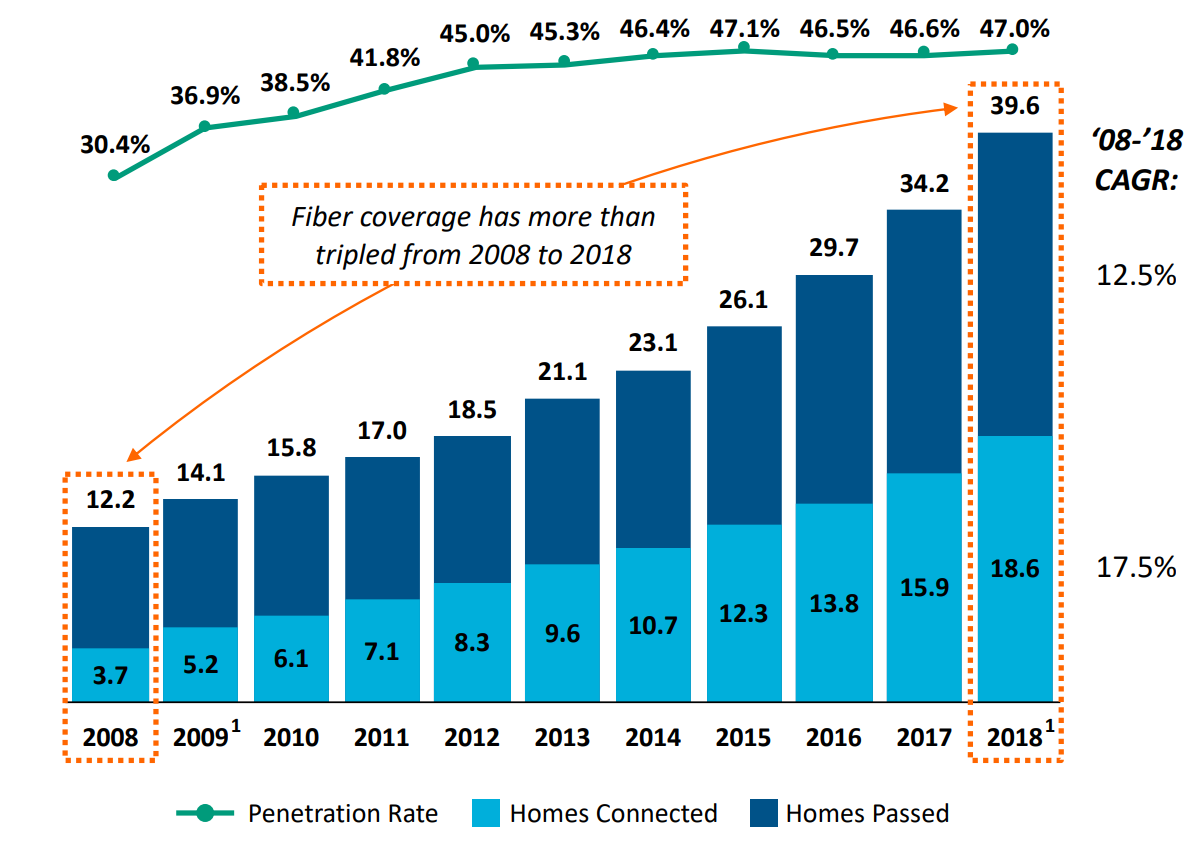 The number of unique homes passed and connected in the US between 2008 and 2018
Dreams come true 
Today, one out of two homes are connected with fibre. However, there are still more than 19 million Americans who still lack access to broadband, the majority of which live in rural areas. The report states that 24 per cent of people in rural areas lack access to 25Mb/s service. This is compared to two per cent of urban Americans. According to Lisa R Youngers, president and CEO of the Fiber Broadband Association, providing full-fibre to these regions is achievable. 'Building all-fibre networks throughout America is not a pipe dream,' she said. 
 
Indeed, the latest study – All Fiber Deployment Cost Study 2019 – highlighted that America is currently on a pace to deploy full-fibre networks to approximately 50 per cent of households by 2025, and that by 2029 some 90 per cent of households can be passed if spending on the implementation of these networks increases by an additional $70bn. 
 
But it is not the cost alone that will impact the deployment of full-fibre networks in the US, much as in Europe, there are also the issues of politics, regulations and red tape. The report highlights that passing 90 per cent of US homes by 2029 can only be achieved through investment, innovative deployment models, government efforts to lower access to infrastructure and efficiently provided support from government. Youngers explained: 'We have long known that having access to all-fibre networks is far superior than other technologies in driving economic growth, social interaction, and political engagement. Now we know that deploying all-fibre networks to most parts of the country in the next decade is feasible.' 
Fine example 
To demonstrate this point, the study offered a case study in which a consortium of rural municipalities – Southwest Minnesota Broadband Systems (SMBS) – ensured delivery of full-fibre to a number of rural communities with the right regulatory support. 
 
The areas covered in south-west Minnesota had previously not enjoyed any speeds faster than dial-up, because, said the report, the incumbent providers felt it would be a poor business case to invest. The SMBS consortium secured a grant of $6.4m and a loan of the same amount via the Rural Utilities Service Broadband Initiatives Programme, funded by the Department for Agriculture and Rural Development. This cash injection was used to expand an existing FTTH network in the Windom area – provided by WindomNet – into surrounding communities. Around 3,600 homes were passed and almost 2,000 subscribers accumulated. 
 
Once completed, the expanded fibre network helped save consumers in the areas around $200,000 per year from having an alternative to satellite internet. The costeffective backhaul also allowed the network to expand 4G coverage in the area. What's more, the project served to help the community, as one of the larger employers in the area had planned to re-locate in order to benefit from a better connection than the dial-up it was previously using. Following the project's completion, the business stayed in the area, saving a number of local jobs. 
 
The Fiber Broadband Association sent a copy of the All Fiber Deployment Cost Study 2019 report to Marlene Dortch, secretary of the Federal Communications Commission, in an effort to encourage 'reasonable actions by the Congress, the Commission and other government agencies, coupled with the efforts of private broadband providers' in order to achieve the 90 per cent deployment goal. Youngers concluded: 'If we want to close the digital divide, it is essential that we make all-fibre networks a reality for all America's communities.'