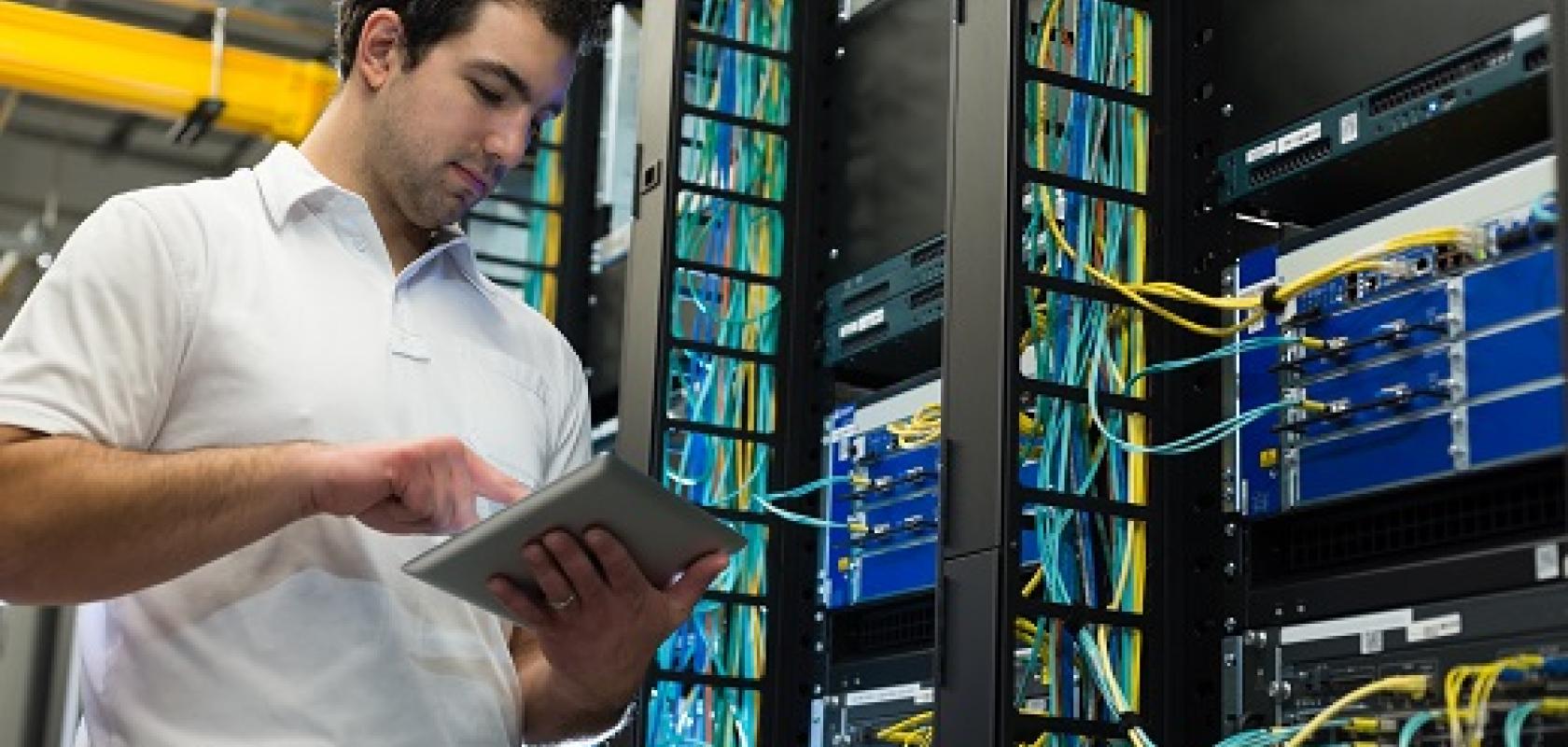 The global optical communications industry is currently experiencing a surge in demand for fibre to the premises (FTTP) in order to achieve the faster broadband speeds required for the evolving needs of the consumer, who is no longer content to wait before watching the latest episode of their favourite box set.
A high level of demand is unarguably a positive as industry indicators go, but the supply has to be there in order to meet it. A recurring message from this year's FTTH Europe event in Valencia highlighted the currently widening gap in skills amongst installers – many of whom may have previously only worked with copper – and, as the current workforce ages, there are fewer youngsters coming up through the ranks to safeguard the industry's future. So, what is the answer? For many companies it is to hire local people and provide training in-house, or maybe upskilling existing employees.
Training standards
Richard Ednay, technical director at Optical Technology Training Ltd (OTT), poses whether - current training standards, when it comes to qualifications, are fit for purpose, particularly in the UK. 'Installer training is often delivered badly in the UK,' he explained, 'and companies are not always good at spending money on training, so they'll often choose on price alone. The industry has evolved, but the last time there were any changes to the City & Guilds syllabus was in 2000, and they are not recognised globally.'
Richard believes that a truly well skilled worker should be able to go anywhere in the world and still be able to perform. 'Many commercial training providers,' he said, 'are giving away bits of paper instead of competence, squeezing multiple courses into a five-day period so there is no ability to develop those skills to do a job to a reasonable standard. There are examples of the syllabus being out of date, and guided learning hours not being adhered to. This problem is exacerbated by the industry bodies who approve providers "doing the double".'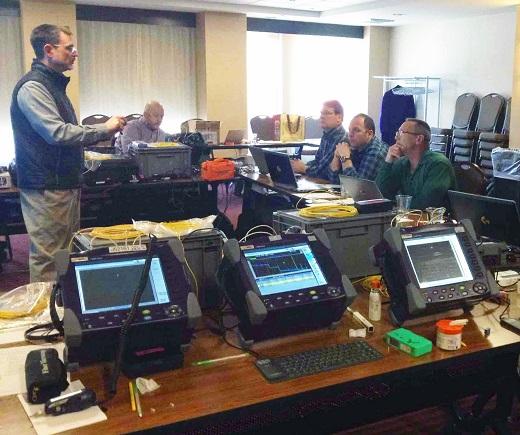 An example of a Certified Fibre Characterisation Engineer course, showing the amount of equipment used to deliver high quality training
As chairman of the British Standards Committee on fibre optic systems (GEL86/3) for many years, Richard is well placed to advise when it comes to training standards. He has been involved with most of the international standards bodies for fibre optics at some time, including IEC, ISO/IEC, ITU and the TIA; and he wrote the definition of 'fibre characterisation' in ITU G.650.3. In addition, Richard designed and developed the Certified Fibre Characterisation Engineer (CFCE) programme that has been running since 2005. OTT's training and certification programmes are now delivered globally by licensed partner companies including Cross Connect Training, FiberGuide and Fiber Insight.
Nice to know, or need to know?
'Now that things are taking off with FTTH, we need more skills,' Richard concluded. 'But it should be considered what learners actually need to know in order to fulfil the job role rather than "nice to know" stuff you may want to tell them. There are some providers not capable of doing that kind of analysis.'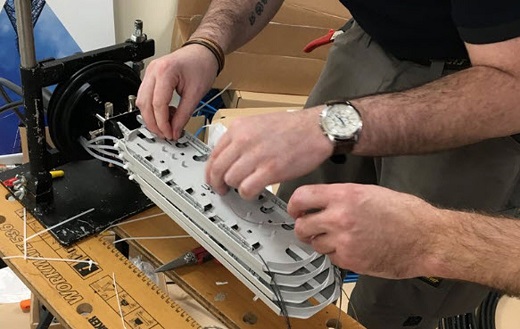 Image from a Certified Optical Fibre Installer course, showing the management of fibres into cable joint housings, a key skill for outside plant cabling
Tom Ronan, regional product manager at Viavi, believes that training on best practice, such as 'inspect before you connect' is essential, as is the ability to truly engage with the audience.
'Any study of figures will show that the UK is considerably behind the curve in FTTx rollout,' he said, 'not even making it onto the FTTH Council's annual ranking, with a penetration currently estimated at 1.1million homes. Germany fares little better and even France is only around the average, which is two thirds down the table. In the UK, this is contributing to the estimated £11 billion-a year productivity losses, caused by slow internet (according to The Daisy Group). So, it's not hard to see why everyone from governments down are putting the pressure on to install more fibre, which is great news for the fibre installation sub-contracting industry.'
Tom pointed out that BT has recently announced it will end its public switched telephone network (PSTN), planning to shift all customers over to IP telephony services by 2025 on their fibre network. Orange has set a goal of having all IP networks by 2020, and Deutsche Telekom aims to migrate all its lines in Europe to digital by the end of 2018.
Fibre-led future
'This is a sea change for the industry, as millions move towards a fibre-led future,' said Tom. 'This aggressive fibre roll-out, including turn-up of dark fibre installations, is putting a lot of pressure on installers and those in quality control or planning overseeing it all. It is incredibly difficult to pin down exactly what the failure rates are for various networks as, for obvious reasons, no one wants to own up to that, but we've heard of numbers as high as 30 per cent. Now imagine the costs of that? Numerous repeat site visits, delays in payment, customer dissatisfaction etc. This will be costing tens if not hundreds of millions across Europe. The disappointing thing is that with a little less haste and a little more testing, these failures would drop to single digit.
'Along with many of the service providers, we've recognised that much of the burying of cable is now being conducted by a vast network of contractors and sub-contractors. These talented folks are often well trained and, in many cases, subject to gaining certification before working on networks, however they are under a lot of time pressure and might struggle with the continued professional development and opportunities for training required to stay up to date on the latest fibre standards. It is true of everyone in the industry, but especially true of contractors, that time is money, so they can't afford to attend seminars.'
To help address this problem and further engage with contractors, the company has begun fitting out a fleet of training vehicles to visit contractors' own depots in Europe, sharing best practices and showing how to make the most efficient use of the latest test equipment, designed for speed and ease of use. The tour is also an opportunity to reward what the company calls 'unsung heroes'; the contractors who often get bad press when their ground-works cause traffic jams.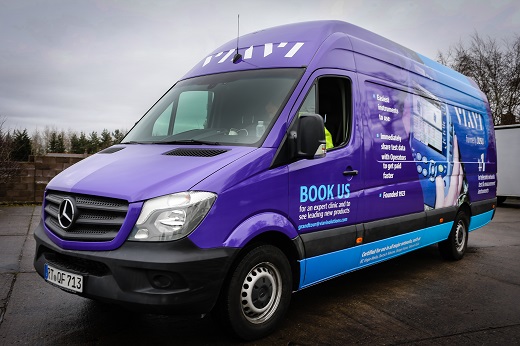 Time is money for contractors, so it makes sense to take the training to them
Inspect before you connect
'One of the best received campaigns we have delivered on the tour is called 'Inspect Before You Connect,' said Tom. 'While standards bodies have established acceptance criteria for the quality and cleanliness of fibre connector end faces, technicians still face challenges with implementing these practices. Without the right fibre-testing tools, maintaining these standards or specifications is difficult, and failure at this point is driving unacceptable turn-up failure rates.
'Contaminated connectors are the number one cause for troubleshooting in fibre optic networks. A single particle mated into the core of a fibre can cause significant back reflection, insertion loss and even equipment damage. This becomes even more critical and hard to test for in MPO fibres.'
This issue is something which also strikes a chord with Mike Jones, vice president at Sticklers, who believes: 'When it comes to fibre, cleanliness is key and a mission-critical process. A few tiny dust particles on a fibre end-face will create a gap and degrade the network, guaranteed. Fingerprint oils will increase signal losses, a small bit of 'icky pic' gel will ruin a splice, and the list of problems goes on. The simplest answer is to clean and inspect every connector end-face, both sides, every time.
The biggest challenge
The biggest challenge, according to Mike, isn't technical, it's management. 'Certainly, if techs don't know they need to clean you're going to have problems,' he said. 'I've seen older techs wipe connectors on their shirt. If they think that's how to clean, well, their systems will crash. But the most insidious challenge is from techs not using the tools they have. I've spoken with techs who refused to clean because their compensation was based on the number of installs they completed each day. If those installs didn't work, well, that "was somebody else's problem". Short-sighted incentives will bring your networks down.'
When it comes to cleaning, there is only one best practice, according to Mike: 'Clean every connector, both sides, using the right cleaning materials, every single time they are ready to be mated. Section 5.3 of IEC 61300-3-35 also instructs us to inspect the connector end-face after cleaning. If you're not cleaning and inspecting, you're not doing the job. You're playing Russian roulette with your network.'
The first step in preventing this, believes Mike, is with training. 'We are working with fibre training schools, for example, the Fibre Optic Association (FOA) to produce a specialised cleanroom fibre cleaning kit. This kit contains all the supplies an instructor needs to demonstrate and teach proper cleaning techniques.
'We're basically selling this kit to any independent fibre school at our cost. And we're providing it straight to fibre schools, all around the globe, to avoid the mark-ups distributors put on to the products.
'Most installers know they should clean. The real problem is the long-tail of money. It comes back to the contract and the performance specifications. Most contractors try to offer the lowest bid, just to win the business. The root cause of network problems starts at the clients' desks, with their deficient procurement procedures.
'Don't blame the installer, they're just trying to earn a living. There are hundreds of fibre training centres around the world. Every large company has their own in-house standards and training programmes.
'There is sufficient training available. Ultimately, what's lacking is a willingness, on the part of clients, to pay for training.
'We have to train the operators and get them the right tools; there's no argument there. But the biggest challenge is the clients. Many of them fail to explicitly include cleaning in their procurement contracts.
'Think about this for a second. Clients are totally in charge. They specify the routers, the multiplexers, and the quality of the fibre itself. But usually they ignore cleaning, or simply assume it is part of the procedure. So, I am suggesting that clients must include two new specifications in their contracts. First, every end-face must be cleaned in accordance with IEC 61300-3-35. Secondly, proof of end-face cleanliness, photographs must be included in the network acceptance paperwork.
'Most operators are provided with tools by their company. The product selection decision isn't with the technician, it's with management. If management doesn't think cleaning is important, they're not going to provide the right tools for the job. It's all about 'false economies'. The root cause is a focus on the cost to buy a product, instead of the right goal: the cost per cleaning.
'You can train your techs all you want, but if you don't give them the right tools and the right economic incentives, they won't get the job done right. Every installer must have an inspection scope that can record images of the end-faces. Lastly, every client should demand cleaning and inspecting to the IEC standard be included in their contracts and their budgets. Let me say it once more: it's cheaper to clean and inspect than to repair. Manage the process properly and do it right the first time.'
Show of support
An interim approach to the skills shortage currently being adopted by vendors is the tailoring of product offerings to help de-skill some of the installation processes involved. This is something that blown fibre solutions and ducted network provider, Emtelle, has been doing for some time, as UK sales manager, Simon Wade explained: 'The biggest issue that fibre networks face is the availability of skilled resource to deploy the fibre. The numbers of people available to perform the high skilled tasks such as splicing, blowing fibres and deploying cable, and the quality of work needed – it's a highly-skilled profession. There's a tremendous amount of work going on at the moment and the availability is becoming a key critical factor.'
To help provide support in this area, Emtelle has worked to provide a range of products that need a lower skill base to deploy. An example of this is a pre-connected microduct system that requires no blowing or splicing for the install. Most recently, at this year's Data Centre World event, the company launched a new, de-skilled duct solution specifically for data centres. The philosophy with this range is to reduce costly cable damage via quick and easy installation, using minimal training and tools.
The company's de-skilled solutions have been used by contractors undertaking works in numerous projects; from a large P2P FTTH project in partnership with GVO d.o.o. in Germany, to supply superfast fibre optics to 5,345 households; to working with EDF Energy in the UK on the Olympic Stadium. The company intends to assist its global customer base by providing de-skilled solutions throughout the world, and has added a new facility in Germany in order to do so.
'The facility in Germany complements our other facilities,' Wade continued, 'and that's going to address the demand from continental Europe. We believe that the crest of the wave is happening now and we're addressing that by having appropriate resources in place.'
Main image: Sticklers is working with fibre training schools such as the Fibre Optic Association (FOA) to produce a specialised cleanroom fibre cleaning kit