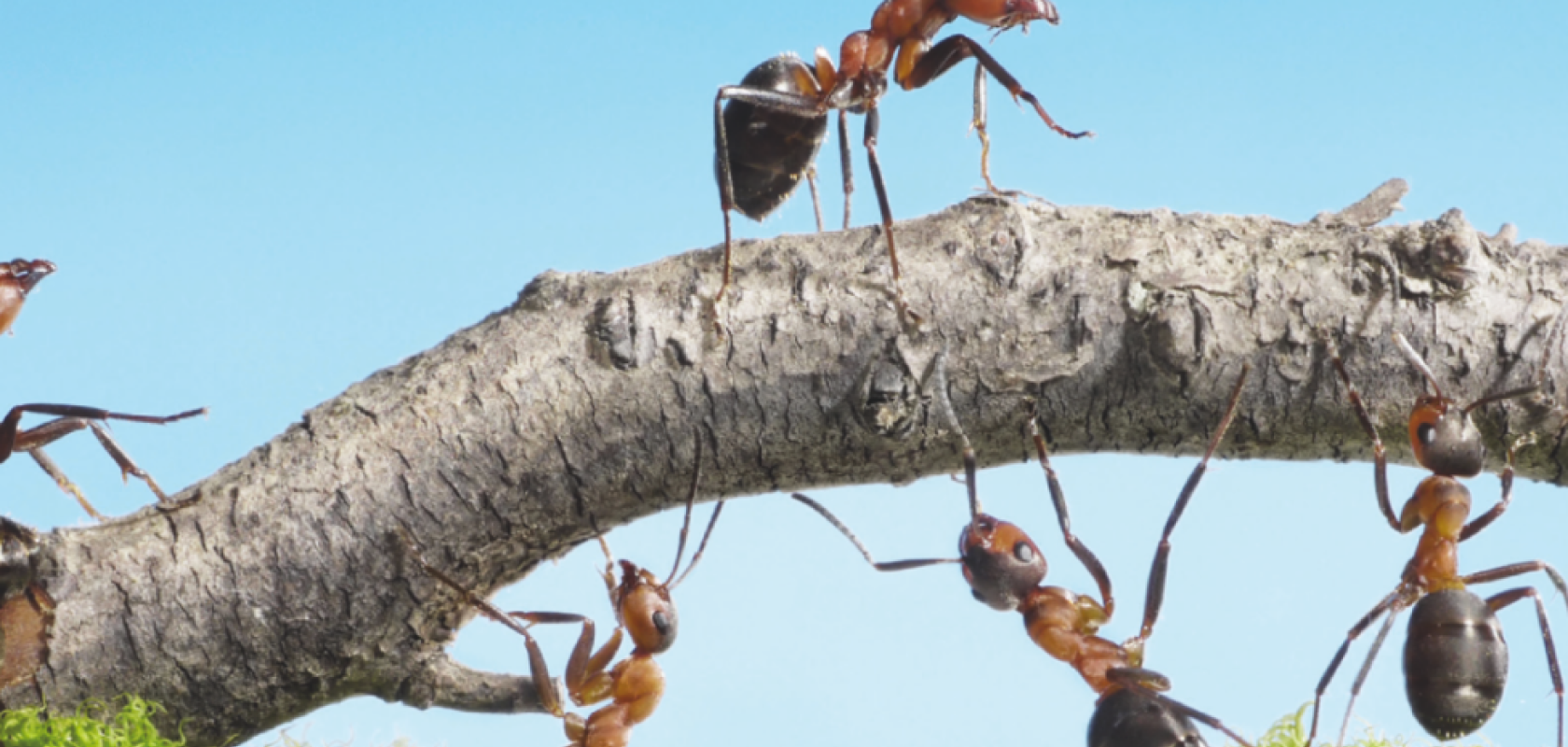 Optical transport networks continue to evolve to address growing dynamic and diverse cloud-based service demands. Network agility and responsiveness are critical. To this end, operators are adopting openness to fuel innovation and enable automation across network and service operations. 
Open networking helps enable more cost-effective and efficient use of resources. It leverages automation to create network value by enhancing service offerings and accelerating service activation resulting in increased ROI and customer satisfaction. 
The Optical Internetworking Forum (OIF) has been working for more than 20 years to help accelerate progressive transformation in optical networking as an industry forum that drives the electrical, optical and control interoperability that enables a more efficient and reliable network. According to Dave Brown, director of communications at OIF, interoperability is the linchpin to open networking. 'Open networks rely on multi-vendor interoperability across the physical data plane and up and down the management plane and application layers,' he said. 'The interoperability needs and challenges are broad and deep.' 
Fuelled by member contributions, OIF identifies industry needs and gaps, develops Implementation Agreements (IAs), and performs interop tests and demonstrations. This operating model has produced more than 80 IAs that have been 'specified' and widely adopted. OIF IAs to date cover a broad range including coherent optical specs such as the 100G DWDM framework, IC-TROSA transmitter/receivers, and CFP2 coherent modules, the FlexE protocol, SERDES and CEI electrical interfaces, tunable lasers, and transport SDN control. OIF's DNA and footprint are found in nearly every transport network component interface. 
Looking back at this past year, Brown explained: 'In 2021, OIF built on this by evolving critical optical, electrical, protocol, management, and network control IAs and adopting new projects related to packaging and management.' 
Optical 
As adoption of OIF's 400ZR IA for coherent pluggable solutions took off in 2021, Brown revealed that the new 800G Coherent project is well under way. 'The goal of this new project, spurred by member webscale and cloud companies, is to define interoperable 800G coherent line specifications for campus and DCI applications,' he said. 'The resulting IA will define single-lambda 800G coherent line interfaces for two applications; 1) amplified, single span, DWDM links up to 80-120km; and 2) Unamplified, fixed wavelength links of 2-10km. Both applications support Ethernet client(s) (minimum 100GE) up to 800G aggregate bandwidth.' 
Driven by industry needs, this work is identifying technical challenges and creating relevant interoperability projects in OIF. 'For example,' said Brown, 'OIF recently published the High Bandwidth-Coherent Driver Modulator (HB-CDM) 2.0 for 800G-plus coherent solutions IA. The HB-CDM 1.0 64 Gigabaud (GBd) standard was a critical new component enabling optimised 400G+ metro and long-haul coherent networks, supporting the industry's need for more capacity with a standardized footprint, interface, and performance. The HB-CDM 2.0 is a natural extension covering 128GBd in coherent technology for 800G per wavelength and beyond coherent systems. The HB-CDM 2.0 follows the integrated laser and coherent receiver standards from OIF in enabling next-generation compact, high-performance coherent networking solutions.' 
Co-packaging 
The Co-Packaging Framework IA was launched in late 2020 following virtual member-only and public workshops that explored and discussed key drivers and the significant constraints (electrical, thermal, optical, etc.) related to co-packaged connectivity interoperation. 'The scope of the Co-Packaging Framework project is to: identify the key co-packaged applications and their requirements; study and identify issues associated with co-package connectivity (both optical and copper); identify opportunities and develop industry consensus to pursue interoperability standards; and document the study in the Framework IA (a technical whitepaper); as well as to launch follow-on standardisation activities at OIF or other appropriate standard bodies,' said Brown. The initial projects started under the Framework project's umbrella are the 3.2T Co-Packaged Optical Module and the External Laser Small Form Factor Pluggable (ELSFP) Module. 
In March 2021, the organisation started a 3.2T Co-Packaged Module project for intradata centre switching applications. It targets the need for a standardised co-packaged solution to address data centre power constraints and enable new network architectures and applications. The IA will define a 3.2T copackaged optical module that targets Ethernet switching applications utilising 100G electrical lanes. 
Following that, in May, it launched the External Laser Small Form Factor Pluggable (ELSFP) Module Project to support copackaged optics applications. This blind-mate pluggable external light source module project will define a new form factor optimised to package lasers to support co-packaged optical modules. 
Protocol 
'FlexE maintenance release 2.2 incorporates the updates and corrections reflected in the FlexE 2.1 implementation guide,' explained Brown. 'FlexE is a technology for extending standard Ethernet PHYs to add support for bonding, sub-rating, and channelisation and also provides support for management channels and time synchronisation. The FlexE 2.1 IA supports homogeneous collections of 50GbE, 100GbE, 200GbE, and 400GbE PHYs. A common application is data-centre interconnect over advanced coherent links. The FlexE framing mechanism is used as the basis for Recommendation ITU-T G.8312, Interfaces for the metro transport network. As IEEE 802.3 continues to develop standards for beyond 400 Gb/s Ethernet, it is anticipated that FlexE will be extended to operate over groups of greater than 400 Gb/s Ethernet PHYs.' 
Management 
The Coherent – Common Management Interface Specification (C-CMIS) project also launched in 2020 creating an IA that serves as an extension to the CMIS specification, specifically targeting DCO modules and DWDM functions. 'C-CMIS provides the necessary management information for Digital Coherent Optical (DCO) modules in form factors including QSFP-DD, OSFP, and COBO,' said Brown. 'The document is focused on supporting the OIF 400ZR implementation agreement. Future versions will include more complex Metro modules and may extend these management features to other form factors.' 
Brown talked about the two new management projects launched in August. 'The first,' he said, 'transitions ownership and maintenance of the Common Management Interface Specification (CMIS) from the Quad Small Form Factor Pluggable Double Density (QSFP-DD) Multi-Source Agreement (MSA) to OIF, and the second will focus on CMIS extensions for co-packaging implementations. Due to the complementary/synergistic nature of the work with OIF's co-packaged optics, NPO, CEI, and coherent optics projects, OIF will take over the ongoing CMIS revisions as well as further enhancements and CMIS extensions under this track.' 
Electrical 
OIF is also building on its work defining Common Electrical I/O (CEI) interfaces that began almost 20 years ago with a 6Gb/s IA. The newest project is addressing next-generation architectures and data rates around 224Gb/s for CEI interfaces. 'The expected result will be a technical white paper summarising a consensus-based body of knowledge that will enable several new projects for next-generation CEI clauses addressing specific reaches and architectures,' explained Brown. 
Another new initiative, the CEI-112G-Extra Short Reach (XSR)+ project is designed to allow lower power, multi-source 112Gb/s (optimised for 106.25Gb/s) electrical I/O interface to be developed with advanced PCB and substrate technology, into 2022 and beyond. Brown explained: 'The project will also support an open ecosystem based on Near Package Optics (NPO) architecture. OIF members are proposing that an "XSR+" type interface be used to add reach for NPO applications over the existing XSR interface to enable a multi-vendor open ecosystem without adding significant power.' 
Networking 
In May 2021, OIF started the Application of Artificial Intelligence to Enhanced Network Operations project. This will result in a white paper identifying a collection of use cases for applying AI to construct intelligent, resilient, and high-performance optical and packet networks. 
Planning for a 2022 Transport SDN API Interoperability Demo continues, according to Brown. 'The 2020 OIF Transport SDN API Interoperability Demonstration focused on SDN-based programmability, control, and automation in open, partially-disaggregated transport network architectures,' he said. 'By collaborating with other industry groups such as Open Networking Foundation (ONF), MEF, and Telecom Infra Project (TIP), these multi-vendor interop demos have aligned the industry on standard open architectural frameworks and application programming interfaces such as T-API. The planned 2022 demo will test enhanced T-API and OpenConfig API spec use cases such as streaming telemetry.'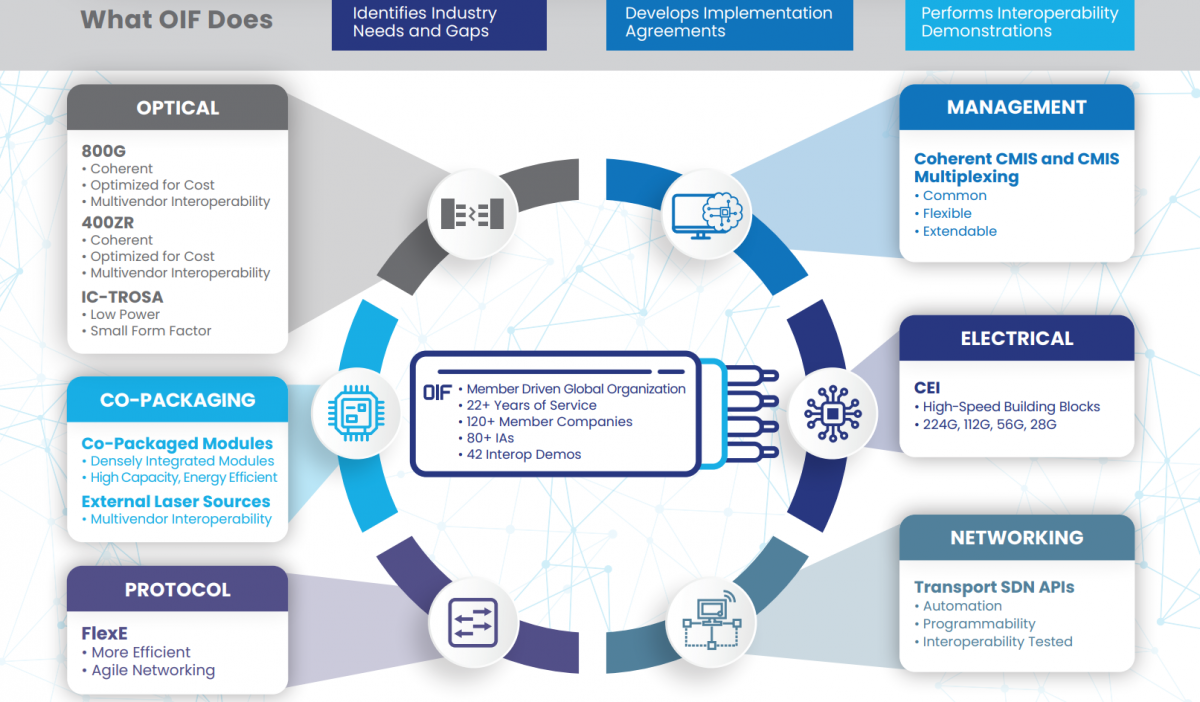 Looking to the future, Brown emphasised that there will be no laurel-resting for the organisation. 'Year after year,' he said, 'for more than 20 years, OIF members have continued to identify the industry's needs and requirements and rapidly develop interop solutions that have directly impacted and facilitated global connectivity in the open network world. There is no end in sight for OIF based on all the new activities started in 2021, ensuring a busy future delivering interoperable solutions that enable a bright future for networking, compute and storage industries.' 
Also striving towards interoperability is the Ethernet Alliance, which launched in January 2006 as a non-profit industry consortium to promote and support Ethernet. David J. Rodgers, events chair, explained: 'The familiar and frequent refrain from members of the Ethernet Alliance is "interoperability testing, when is our next plugfest?" It is the push for interoperability that has proven to be the hallmark of the success for Ethernet becoming a ubiquitous communications technology. This fact has never been truer than with today's multitude of pervasive Ethernet applications and uses.' 
Multiple applications 
There is, continued Rodgers, a veritable cornucopia of Ethernet flavors and applications. 'Single pair, automotive, IoT, PoE – to name but a very few of the current permutations and all are reliant on ecosystem vendors deploying products that just work,' he said. 'That often these technologies do in fact just work is a direct result of the commitment solutions vendors make to advancing interoperability and standards conformance.' 
The advent of increased lane speeds, from 25GbE NRZ to 50GbE and now 100GbE PAM4 signaling, is changing the landscape for data centre and enterprise connectivity. 'Where copper has been king,' said Rodgers, 'we're now experiencing the migration to more fibre and enhanced electrical connections. The pervasive nature of direct attached copper cables (DACs) in 10GbE and 25GbE interconnects, where 5m links are allowable, has become now 2m for 100GbE. These connections are still viable for switch to switch communications and some other short throws, however the ethernet community must now add Active Electrical Cables (AECs), Active Optical Cables (AOCs), and pluggable transceivers – aka optical modules – to bridge longer distances within the enterprise.' 
The Auto-Negotiation and Link Training (AN/ LT) routines for DACs remains one of the more critical interoperability challenges in the next Ethernet era, according to Rodgers, as links need to support both new data rates as well as legacy communications in new products. 'Ethernet interoperability testing will require test cases incorporating existing products in combination with new to ensure legacy hardware will work with new offerings,' he said. 
The data centre manager will also need to include AEC, AOC, and optical interconnects in applications previously served by DACs, adding more complexity to the enterprise integration. 'The alphabet soup of transceiver technologies may be overwhelming to some,' said Rodgers. 'Suffice to say, the IEEE and corresponding MSAs are working to ensure articulation of clear use cases in an effort to simplify the task as best as possible, and the Ethernet Alliance too will be on board to assist with education and relevant resources.' 
Looking ahead 
The new solutions and products are already a focus of the upcoming Ethernet Alliance sponsored Interoperability Plugfest plans. The soon to be ratified IEEE802.3ck specification for 100GbE single lane Ethernet will be a major component of the 2022 testing sessions. 'Key test and measurement companies are diligently working now to test early PHY designs based on the specification,' revealed Rodgers. 'The feedback loop created by early testing is essential too. From specification to early product testing and then presenting findings to the IEEE is ongoing and will expedite successful product designs and deployment.' 
Testing of component building blocks is not necessarily new, however it takes on greater importance with the increased data rates. Irrespective of the interconnect options, believes Rodgers, the underlying success of 100GbE is predicated on a solid physical layer foundation. 'All members of the Ethernet ecosystem are reliant on the stability of associated specifications to ensure their products too just work,' he said. 'Without that surety of specification conformance, without focused and cooperative testing amongst all players, everyone in the pool suffers. 
'Success with the testing and validation of the emerging new components is a great first step. There is an ongoing requirement for interoperability testing of legacy Ethernet products in conjunction with new 100GbE offerings to ensure seamless and successful integration moving forward. The legacy interop testing has long been part of the requirement of customers directly and the Ethernet ecosystem overall.' 
The Ethernet Alliance has committed to advancing opportunities for the Ethernet community to come together to test and validate performance and interoperability of emerging technologies. 'A major focus for these ongoing efforts,' said Rodgers, 'will be on interconnect solutions. As the effective connection reach of DACs lessens with higher data rates, the use of optical options, AOCs and transceivers, and electrically enhanced copper cables will increase. The network equipment manufacturing community will strive to ensure the end users of their products enjoy the benefits of testing such that Ethernet continues to just work.'