Dave Brown, OIF Director of Communications (Nokia) and Nathan Tracy, OIF Market Awareness & Education Committee Co-Chair – Physical & Link Layer (TE Connectivity)
Network operators are deploying or planning to deploy open optical networks to accelerate innovation and lower capex. They need enhanced and innovative new services delivered and managed with streamlined, automated operations. However, operators are faced with technical and operational challenges. On the technical side, the features and capabilities of new open and disaggregated products may fall short of those offered in traditional, "closed" products. In terms of operations, open network deployment depends on integrating and managing solutions from multiple vendors. This is proving to be no easy task. OIF can help on both fronts.
Interoperability is key
Open networking depends on interoperability, and interoperability relies on collaborative, standardised implementation approaches. The mission of OIF is to bring industry players together to develop interoperable solutions that grow the industry ecosystem and facilitate global interconnectivity in an open network world. The main work products of OIF are implementation agreements or IAs that help enable interoperability.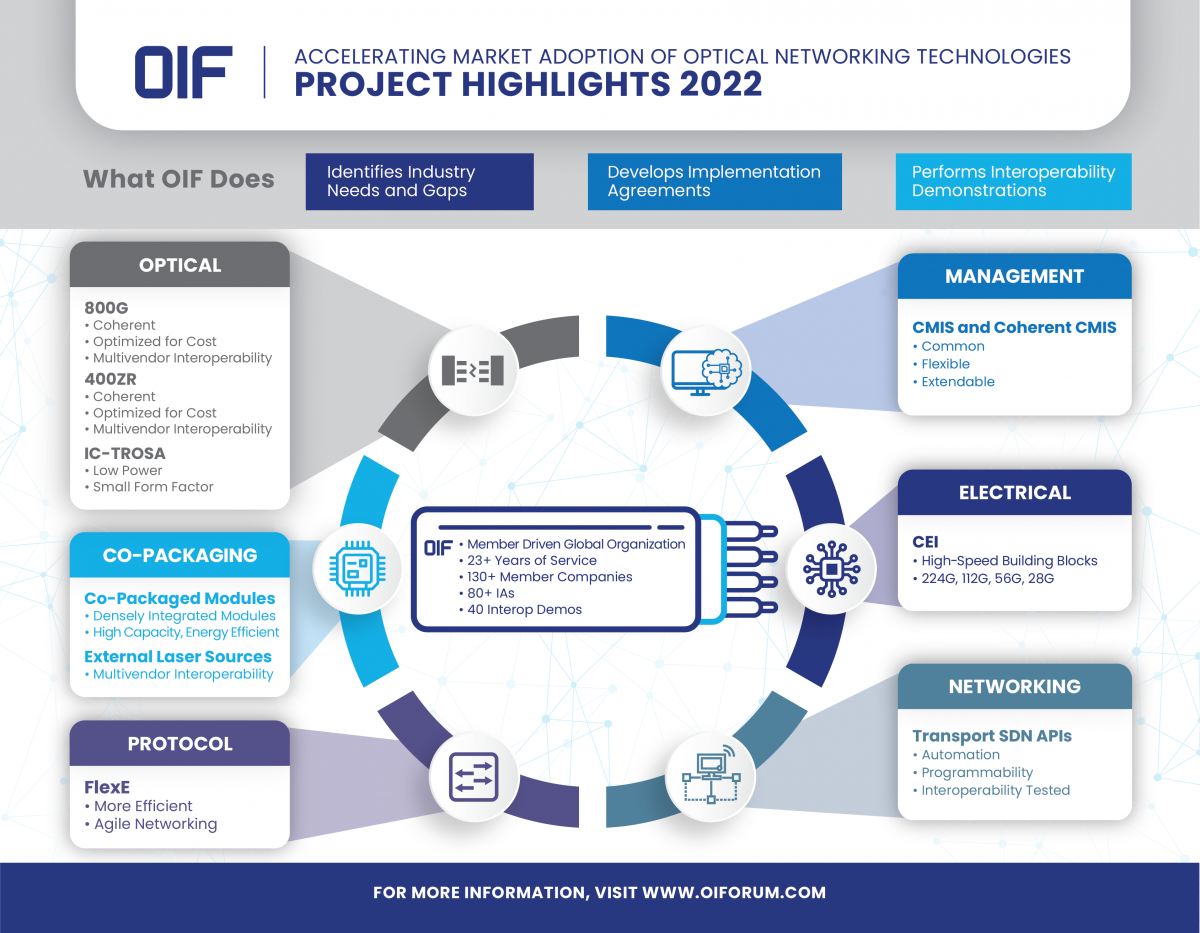 Over nearly 25 years, the proven operating model of the OIF has produced over 80 IAs that have been "specified" and widely adopted. OIF IAs to date cover a broad range, including coherent optical specs such as 400ZR coherent optical, 100G DWDM framework, IC-TROSA transmitter/receivers, and CFP2 coherent modules, the FlexE protocol, SERDES, and Common Electrical I/O (CEI) electrical interfaces, tunable lasers, and transport SDN control. OIF's DNA and footprint are found in nearly every transport network component interface.
The OIF 400ZR coherent optical IA is a notable successful example of this mission. Member companies rallied to develop a "spec" to meet the cost, power, and performance requirements of a specific application. That work lowered vendor investment risks, accelerated product development, and helped develop a broad ecosystem of interoperable 400ZR solutions.
In 2022, OIF evolved critical optical, electrical, protocol, management, packaging, and network control IAs and adopted new projects related to management. The progress and success of this work were showcased in a global multivendor interoperability demo at the 2022 iteration of ECOC. Nearly 30 member companies participated in demonstrations in four critical areas: 400ZR optics, co-packaging architectures, CEI architectures, and Common Management Interface Specification (CMIS) implementations. 
400ZR is here. 800G is on the way
OIF's 400ZR project is proving successful in facilitating new and simplified architectures for high bandwidth inter-data centre interconnects and promoting interoperability among coherent optical module manufacturers. The 400ZR interop demo at ECOC showed a full implementation across an 80km DWDM ecosystem using multiple form-factor pluggable modules, 400GbE routers, a 75 GHz C-band open line system, and test equipment solutions from multiple vendors. The demo provided evidence of widescale 400ZR deployment readiness based on a broad ecosystem of interoperable solutions.
As the adoption of OIF's 400ZR IA takes off, the new 800G coherent project is well underway. The goal of this new project, spurred by member webscale and cloud companies, is to define interoperable 800G coherent line specifications for campus and DCI applications. The resulting IAs will define single-lambda 800G coherent line interfaces for two applications; 1) 800ZR for amplified, single-span, DWDM links up to 80-120km; and 2) 800LR for unamplified, fixed wavelength links of 2-10km. Both applications support Ethernet client(s) up to 800G aggregate bandwidth. Think of 800ZR as 400ZR, only faster. The goals for 800LR, which only supports 400 and 800, are to enable ultra-low-latency, low-power, low-complexity modules and create a new class of coherent interfaces suitable for the coming generation of data centre coherent optical interconnects.
Connecting with co-packaging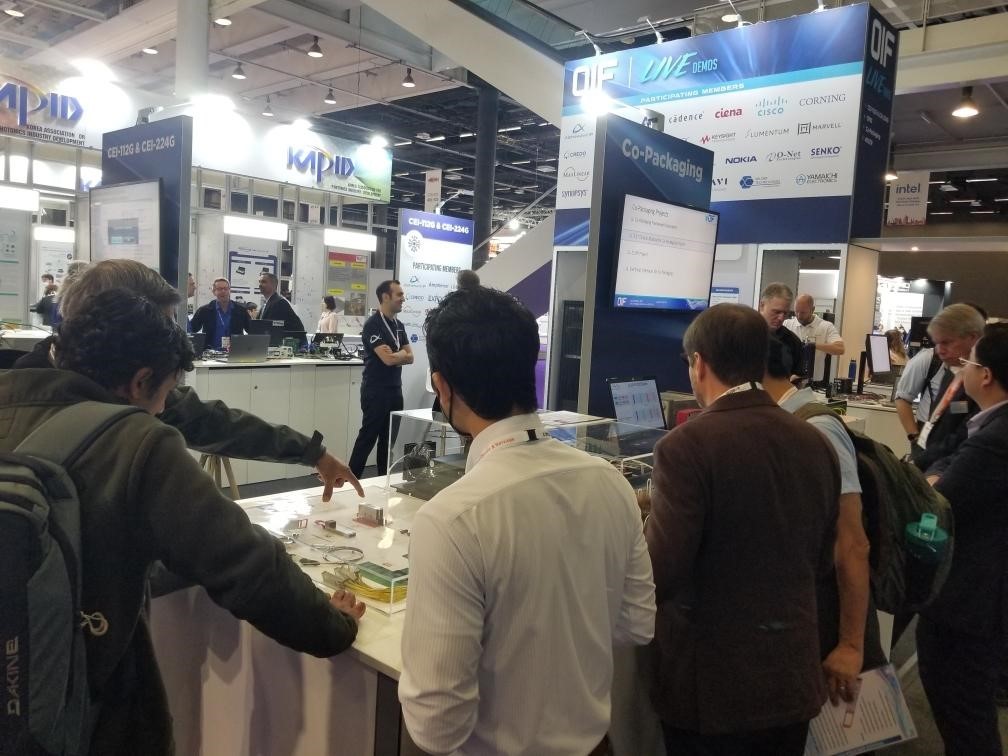 OIF's multivendor interoperability demos at ECOC 2022
The Co-Packaging Framework IA project was initiated in late 2020 following virtual member-only and public workshops that explored and discussed key drivers and the significant constraints (electrical, thermal, optical, etc.) related to co-packaged connectivity interoperation. The initial projects started under the framework project's umbrella include the 3.2T co-packaged module and the external laser small form factor pluggable (ELSFP) module.
In February 2022, OIF released the Co-Packaging Framework IA, which identifies the critical co-packaged applications and their requirements and charts a path for interoperability standards. This framework document aims to identify some essential applications and their requirements for which co-packaging implementations may provide significant benefits. 
While individual companies consider options to optimise power and density, OIF has seen the need to lead industry standardisation discussions for co-packaging architectures that promise to reduce power consumption and increase bandwidth edge density. OIF is leading the industry's interoperability discussions for co-packaging solutions. At ECOC, it showcased its progress with multi-party demonstrations of its 3.2T Module project and External Laser Small Form Factor Pluggable project (ELSFP). A variety of interoperable components that enable co-packaging were shown, along with a system-level implementation.
Get to know CMIS
The Coherent – Common Management Interface Specification (C-CMIS) project was launched in 2020 to create an IA that serves as an extension to the CMIS specification, specifically targeting DCO modules and DWDM functions. C-CMIS provides the necessary management information for digital coherent optical (DCO) modules in form factors, including QSFP-DD, OSFP, and COBO. The document is focused on supporting the OIF 400ZR implementation agreement. Future versions will include more complex metro modules and may extend these management features to other form factors.
In January 2022, OIF expanded its role in driving industry interoperability through the addition of the Common Management Interface Specification (CMIS) work originally initiated by the Quad Small Form Factor Pluggable Double Density (QSFP-DD) Multi-Source Agreement (MSA) and now transferred to OIF. CMIS may be used by pluggable or on-board modules, such as QSFP double density (QSFP-DD), OSFP, COBO, QSFP, and future module developments like co-packaged optics with the host to module management communication based on a two-wire interface. This specification is targeted at systems manufacturers, system integrators, network operators and suppliers of CMIS-compliant optical and copper modules. 
At the 2022 first-quarter meeting, OIF initiated a project to create supplemental specifications for the CMIS for Form-factor Specific Hardware Management (FSHM). CMIS will be adopted to manage the future generation of small form-factor pluggable (SFP) 112, SFP-DD/SFP-DD112, and quad small form-factor pluggable (QSFP) 112. Currently, CMIS does not provide hardware management control for these form factors. 
OIF started another new project that will add CMIS support for host to module link training. This project will provide an optional out-of-band, protocol-agnostic management mechanism for optimising link tuning and training.
In June, OIF released the CMIS 5.2 IA, which includes new features supporting a wide variety of form factors, most importantly fibre channel enhancements, expanding the range of end-user applications. This IA marks the first OIF-approved CMIS IA and the completion of the transition of the work to OIF. CMIS addresses commonality in managing pluggable modules and is a critical interface working hand-in-hand with other OIF areas, including co-packaging and electrical. A new project launched in June will create the next version of CMIS by adding the necessary support for co-packaging/External Laser Small Form Factor Pluggable (ELSFP) projects. This work represents the next steps in the evolution of CMIS and its alignment with other OIF projects to enable an interoperable ecosystem.
CEI for the next generation
Four new CEI projects were launched in March: CEI-224G-Extra Short Reach (XSR) Common Electrical On-Package IO Project, CEI-224G-Very Short Reach (VSR) Common Electrical Chip-to-Module IO Project, CEI-224G-Medium Reach (MR) Common Electrical Chip-to-Chip IO Project, and CEI-224G-Long Reach (LR) Common Electrical Backplane and Copper Cable IO Project. These are the first set to target the 224G generation of electrical interfaces.
In addition to these 224G project launches, OIF published the 224G Framework Project white paper, which provides a roadmap for the applications, challenges, and projects needed to support new specifications and technologies. The four new projects will develop the IAs to address that roadmap.
In June, OIF published a new IA for CEI 5.0 specifying the next generation of 112Gb/s electrical interconnects. The IA specifies transmitter, receiver, and channel requirements associated with extra short reach (XSR), medium reach (MR), and long reach (LR) interfaces for multi-chip-module, chip-to-chip, and high-speed backplane applications. This IA marks a new generation of specifications for 112G interfaces that enable applications including backplane, chip-to-chip, and die-to-die interfaces within a package. It also enables multiple applications, such as co-packaged optics. 
Multiple live CEI-112G demonstrations at ECOC featured multi-party silicon supplier interoperability over various channels, including mated compliance boards, PCB channels, direct attach copper cable channels, a cabled backplane, and even fibre. Each configuration demonstrated the technical viability of 112Gb/s operation and multiple industry form factors, including OSFP and QSFP-DD. 
As the industry looks forward to higher data rates and increased throughput for the next generation of systems based on 224Gb/s per lane, new specifications and technologies will be requiredu77u8u. OIF unveiled the first live 224G demo at ECOC, proving it is leading the charge on 224G hardware interconnection application spaces and definitions.
SDN API
Planning for the next transport sdn api interoperability demo continues. The 2020 OIF Transport SDN API interoperability demonstration focused on SDN-based programmability, control, and automation in open, partially-disaggregated transport network architectures. By collaborating with other industry groups such as Open Networking Foundation (ONF), MEF, and Telecom Infra Project (TIP), these multivendor interop demos have aligned the industry on standard open architectural frameworks and application programming interfaces such as T-API. The planned demo will test enhanced T-API and OpenConfig API spec use cases, such as streaming telemetry.
Summary 
The OIF, celebrating 25 years of success in 2023, is supported by a membership that spans the entire industry value chain and continues to tackle the industry's toughest interoperability challenges head-on. OIF members continue to identify the industry's needs and requirements and rapidly develop interop solutions that directly impact and facilitate global connectivity in the open network world. There is no end in sight for OIF based on all the new activities started in 2022, ensuring a busy future delivering interoperable solutions that enable a bright future for networking, compute, and storage industries.
Peter Jones , Ethernet Alliance Chair (Cisco)
In 2023, Ethernet will mark its 50th anniversary. Five decades since its invention, Ethernet's dominance continues, and it remains the technology to beat. Ethernet is everywhere. It encompasses a singularly broad range of choices and options to serve a diversity of users, and its constant innovation fans greater adoption of the technology to fuel business growth. Ethernet is the foundational technology that powers the internet and the cloud.
As highlighted in the Ethernet Alliance 2022 Ethernet Roadmap (below), the expanding application horizon, including building automation, data centre, enterprise, and automotive, is the catalyst driving Ethernet's development.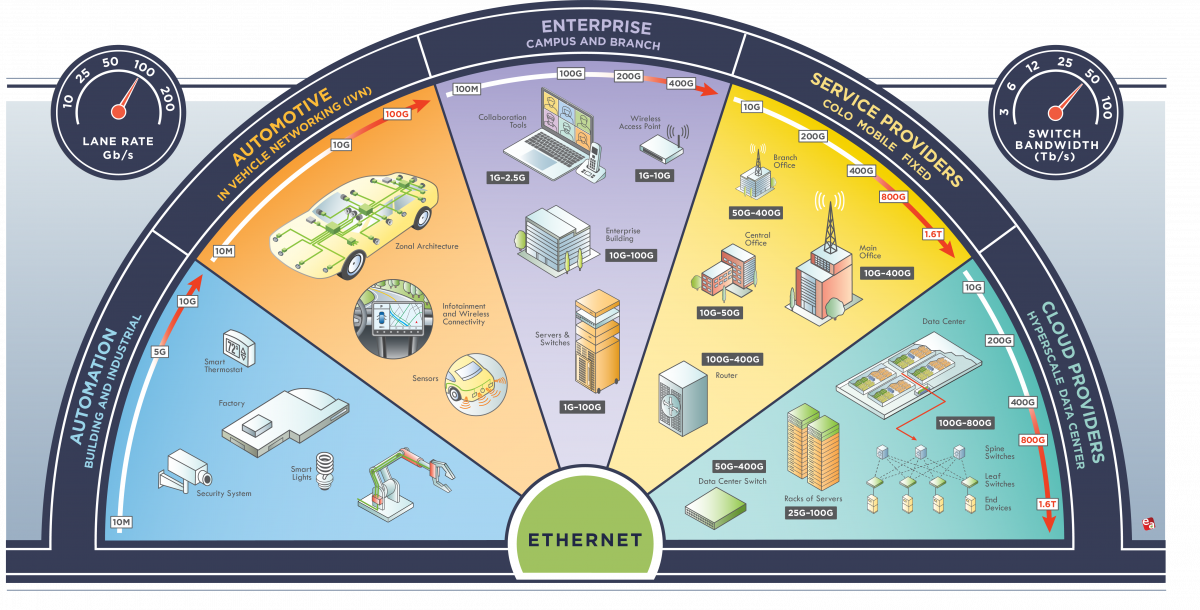 From the beginning, Ethernet has enabled the development of our hyper-connected world, and will continue to do so in the future. 800GbE will accelerate the arrival of ground-breaking innovations like the metaverse and pervasive IoT, by making it possible for system vendors, service providers and chip manufacturers to cost-effectively improve the performance of hyperscale data centres and network backbone technology.
Demonstrating interoperability across a wide range of legacy systems and emerging technologies reinforces Ethernet's inherent flexibility and shows why it has established itself as the foundation of networking globally. As Ethernet advances towards Terabit speeds, assuring interoperability is more critical than ever. Seamless connectivity is a must for businesses and end-users. The Ethernet Alliance helps promote and facilitate interoperation regardless of implementation, through its multi-vendor interoperability events across the ever-evolving Ethernet ecosystem.
Ethernet Alliance interoperability demonstrations bring together a wide range of current and next-generation products. They showcase interoperability and test solutions for 25Gb/s up to 800Gb/s. Our members represent the full spectrum of Ethernet technologies and products, including providers of NICs, switches, routers, ICs, pluggable modules, cable assemblies (e.g., DAC, AEC, AOCs), and test and measurement solutions to enable innovative networks of every type and size.
As a global consortium dedicated to the continued success and advancement of Ethernet technologies, the Ethernet Alliance is closely aligned to the development of IEEE 802.3 Ethernet standards. In 2022, Ethernet Alliance showcased QSFP-DD and OSFP ports with 800-Gig capable optics, 800-Gig capable DACs, and 800-Gig capable products, while the IEEE 802.3 Working Group is defining the 800GbE standard.
Providing our members the opportunity to test their equipment with existing and future standards enables delivery to the market of highly interoperable products with 100/200/400GbE, and 800GbE/port capabilities in the near future.
Ethernet Alliance members represent a large ecosystem of different devices operating at this brand-new speed. Member companies with 800-Gig, 400-Gig and 100-Gig devices work with each other to ensure interoperability. Current and future products and systems are on full display at Ethernet Alliance interoperability events, and help advance real-world applications by building confidence in the technologies. For example, successful interoperability of network equipment with 112G electrical lane interfaces that support high bandwidth 800GE applications and emerging 400GE digital coherent optical (DCO) transceivers are critically important to data centre operators. The Ethernet Alliance's multi-vendor interoperability events accelerate the adoption of these new, cost effective, high bandwidth data centre interconnect solutions.
As we approach Ethernet's 50th birthday and beyond, the Ethernet Alliance will continue to prioritise collaboration and interoperability in community-led, standards-based activities, and showcase the latest technological advances in high-speed Ethernet, enabling flexibility, reliability, and new services required to support next generation network evolution.