European FTTH/B coverage surpasses more than half total homes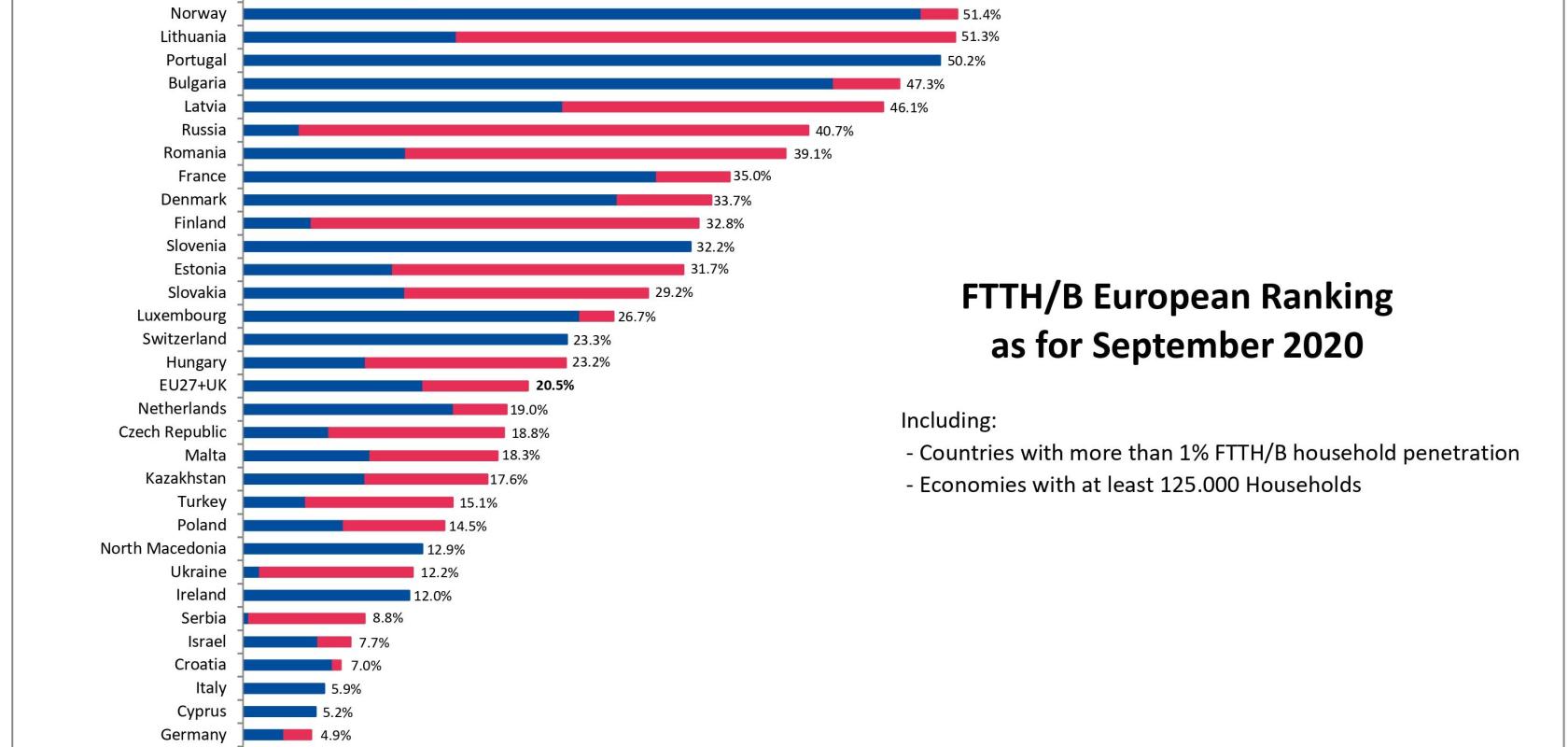 The FTTH Council Europe has revealed its 2021 Market Panorama in association with Idate, outlining fibre deployment trends in Europe.
Amongst the findings, the Market Panorama found that the total number of homes passed with FTTH and FTTB in the EU39 reached nearly 182.6 million in September 2020, compared to 172 million in September 2019. A key milestone was also reached, as FTTH/B coverage in EU39 now amounts to more than half of total homes. By September 2020, said the report, EU39 reached a 52.5 per cent coverage of FTTH/B networks, showing a clear upward trend from the September 2015 figures when the coverage was at 39.8 per cent.
The main movers in terms of homes passed in absolute numbers are France, Italy, Germany and the UK, while the top five of the annual growth rates in terms of homes passed is led by Belgium (+155 per cent), Serbia (+110 per cent), Germany (+66 per cent), United Kingdom (+65 per cent) and Ireland (+49 per cent). 
The number of FTTH and FTTB subscribers increased by 16.6 per cent in the region, with 81.9 million subscribers in September 2020. Leading the charge was France, which added 2,787, 000 new subscriptions, with Russia second at 1,681,000 new FTTH/B subscribers. Spain rounded out the top 3 with 1,436,000. 
The Market Panorama also found that the alternative network and internet service providers (altnets) still constitute the largest portion of FTTH/B players, with a contribution of around 57 per cent of the total fibre expansion. Interestingly, many countries in which legacy infrastructure still dominates have modified their strategies, deploying more FTTH solutions, migrating from existing copper-based and cable-based networks towards fibre and are even intensifying copper switch-off. However, three historically copper-strong countries (UK, Germany and Italy) accounting for almost 60 per cent of homes left to be passed with fibre in the EU27+UK region. 
When it comes to the all-important rankings, Iceland retained its place at the top, with a 70.7 per cent  penetration rate, followed closely by Belarus (70,4 per cent). Spain took third position from Sweden. This year also saw four countries enter the ranking (after no new no entries last year), namely Belgium, Israel, Malta and Cyprus.
Vincent Garnier, director general at the FTTH Council Europe said: 'The telecoms sector can play a critical role in Europe's ability to meet its sustainability commitments by reshaping how Europeans work, live and do business. As the most sustainable telecommunication infrastructure technology, full fibre is a prerequisite to achieve the European Green Deal and make the European Union's economy more sustainable. Competitive investments in this technology should, therefore, remain a high political priority and we look forward to working with the EU institutions, national governments and NRAs towards removing barriers in a way to full-fibre Europe.'
Added Eric Festraets, president of the FTTH Council Europe: 'The data of this new edition of our Market Panorama confirms that fibre rollouts are taking place at an increasingly faster pace in Europe, and the EU is making a very significant - though uneven - progress in meeting its connectivity targets. This year's report demonstrates that 3 European economies that have recently intensified their fibre rollout – Germany, Italy, and the UK – still account for almost 60 per cent of the entire remaining homes to be passed in the EU27+UK region. This further demonstrates that the implementation of the new European Electronic Communications Code and in particular of its Very High Capacity Networks provision will be essential to meet the ambitions of "Europe's Digital Decade" and a greater digital empowerment by 2030.'