FTTH Conference 2019: UK enters European fibre broadband rankings for first time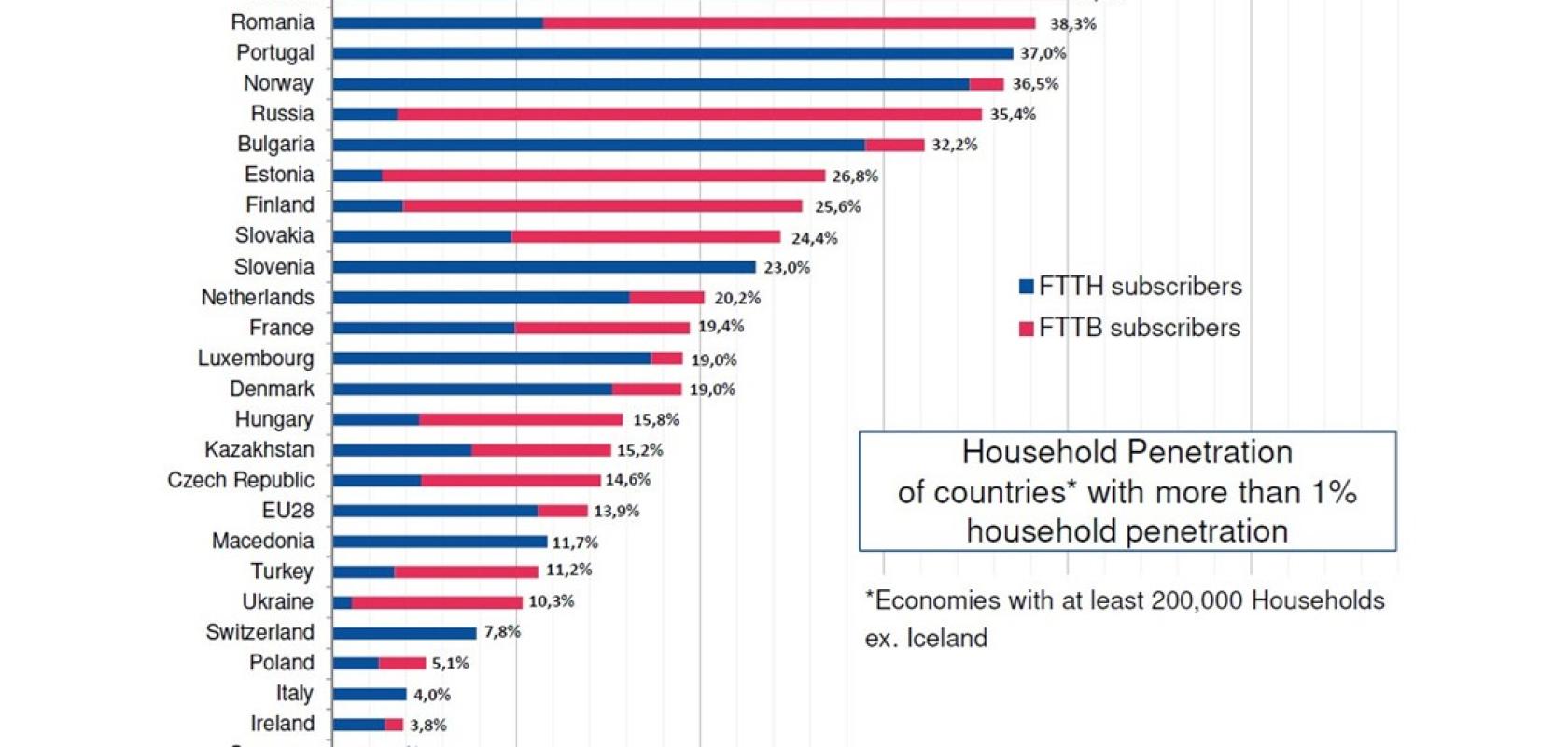 The latest FTTH Market Panorama figures, prepared by IDate, were released at the FTTH Conference in Amsterdam.
Amongst the key findings, Roland Montagne, principal analyst, broadband and FTTx, and business development director at IDate revealed that the UK has entered the broadband rankings for the first time.
In terms of European FTTH penetration Latvia remains in the lead of the rankings for the third year running, with 50.3 per cent, followed by Lithuania (46.9 per cent). Spain takes third place with 44 per cent. The UK made its debut with a penetration rate of 1.3 per cent and a take-up rate of 13.1 per cent. FTTH/B subscriptions grew by 83 per cent compared to September 2017 for a total of 369,250 subscribers, and its FTTH/B Homes passed by 22.8 per cent reaching 2,817,000 homes passed. This was largely attributed to UK regulator, Ofcom promoting investments in FTTH/B across the country.
In addition, host nation, the Netherlands counted 3,064,000 homes passed by FTTH/B for a total of 1,577,700 subscribers, a growth of 5 per cent in homes passed and 16 per cent in subscribers compared to the previous year. The fibre take-up was about 51.5% of the total homes passed by FTTH/B technology, which ranked Netherlands among the top countries in Europe.
This year, forecasts for 2020 and 2025 were also revealed for the first time, based on an individual analysis of 15 countries. Russia is expected to continue leading the ranking for FTTH/B homes passed in 2020 and 2025, however, Montagne said that the findings point to the UK catching up to become second in the ranking in 2025, ahead of France and Spain. Estimates plan for around 187 million home passed for FTTH in 2025 in EU28 with fibre becoming closer to the end-user with FTTH accounting for 63.8 per cent versus 36.2 per cent for FTTB. 'We believe in the strong progression of the UK,' he said.
Commenting on the report, Ronan Kelly, president of the FTTH Council said: 'These new figures show a momentum that is accelerating over the last few years. Full fibre is the way forward and the results of the Market Panorama provide compelling evidence of this. Fibre expansion is booming in many countries and today more consumers are aware of the benefits of fibre. Our job is not done, however, there is still a long way to go until every citizen and business has access to the benefits of full fibre in Europe.'
Following the report, the Independent Networks Cooperative Association (INCA) has issued a statement praising alternative network operators (altnets) for their contribution. CEO, Malcolm Corbett said: 'We are delighted to see the UK included in the FTTH Council's annual report, with this confirming that the UK is playing a major role in building Europe's fibre broadband infrastructure. This recognition has been a long-time coming and it is no coincidence that it comes after such significant progress in the independent sector where smaller operators have grown substantially to become viable competitors to the incumbents. The UK's ranking is both a credit to their work and the Government's efforts in recognising that independent network build-outs are critical in developing a world class digital infrastructure in the UK that is fit for future requirements.'
Evan Wienburg, TrueSpeed CEO, concurs: 'The UK's entry into the FTTH Council's EU Global ranking for the first time is great news - and a definite step in the right direction towards the government's vision of achieving full fibre connectivity across the whole of Britain by 2033. In particular, it is a testament to the hard work being undertaken by a raft of smaller, independent providers who are laying the foundations for our digital future by deploying built-to-last full fibre networks across the country. But more needs to be done. Only by reducing the focus on FTTC and accelerating the pace of full fibre network builds across all infrastructure providers can the UK move up the EU rankings and deliver on the promise of a world-class digital infrastructure.'