Global optical components market overdue for growth, says LightCounting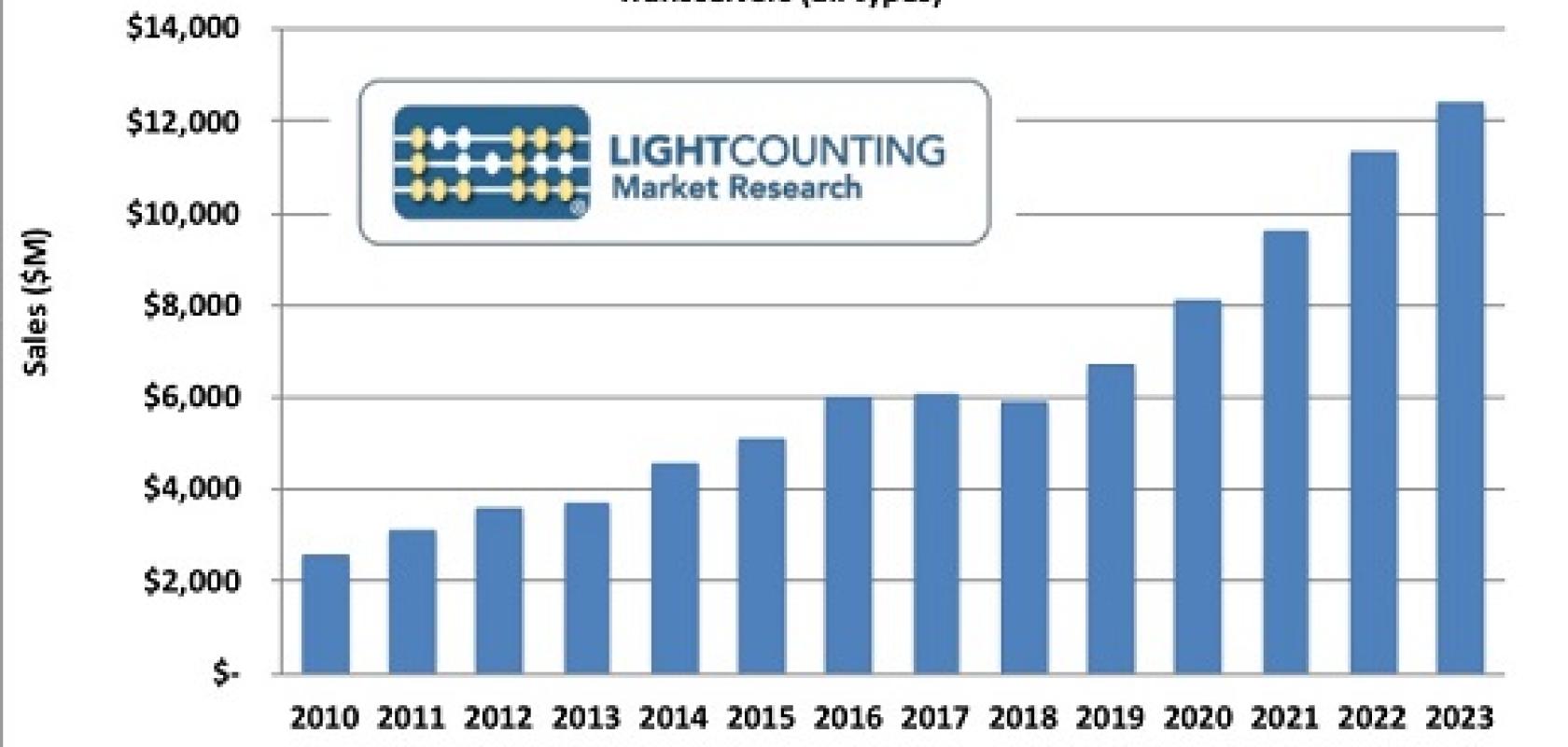 Optical analyst firm LightCounting has released its latest Optical Communications Market Forecast Report, which finds that the cloud is the biggest driver in limiting the optical transceiver market's decline in 2018 to less than 3 per cent.
The report cites demand for 100GbE transceivers from operators of mega data centres in the US as strong and says that cloud companies in China are also beginning to deploy this technology. Predictions – in line with Google's plans for 2019 – are that sales of 200GbE, 2x200GbE and 400GbE optics will expand the Cloud market segment from $2.3 billion in 2018 to more than $6.8 billion in 2023.
The decline in sales of telecom optical components and modules in 2017-2018 was mostly due to weaker than expected sales of optics to Huawei and ZTE, said LightCounting. The April 2018 export denial to ZTE – which has subsequently been lifted –  added additional confusion, reducing annual sales of optics to the company by 20-30 per cent, and delaying numerous projects worldwide (see U.S. banned from selling to ZTE after activation of export denial).
Assuming there will be no further restrictions on sales of optics to Huawei and ZTE, LightCounting's market forecast notes that Huawei is making a lot of optics internally and ZTE is starting to catch up. The 2019-2023 predictions assume these companies will make most of their high-end optics, including DWDM components and modules, in house. Components and modules manufactured internally by Huawei, ZTE and other system vendors are not included. Domestic Chinese transceiver vendors will pick up most of the orders from Huawei and ZTE for lower-end (non-DWDM) optics. These are included in the forecast, which accounts for the global merchant market.
The analyst company warns that while a trade conflict with China would not be not good news, the fundamental market drivers remain in place, and the longer-term outlook has not changed significantly. Growth in sales of Ethernet will remain strong in 2019-2023, and access optics for FTTx and wireless, along with optical interconnects will grow over the forecast period. Deployments of 5G are starting and sales of 25G 'grey' and WDM fronthaul optics are picking up in 2018.
Projections for sales of CWDM and DWDM modules are increased in 2019-2023. Shipment volumes of 10G CWDM transceivers are 'exceeding expectations' in 2018 and the company revised its 2019-2023 forecast accordingly. Volume shipments of 600G DWDM modules are planned for early 2019 and these products are included in the '400G and beyond' category.
More importantly, says LightCounting, there are signs that a new cycle of DWDM system upgrades is starting now. Suppliers are reporting strong sales of pump lasers for applications in fiber amplifiers since the second half of 2017. Sales of WSS modules used in ROADMs are up sharply in 2018. All these products are usually deployed in the early stages of upgrade cycles and these should be followed by a pick-up in sales of DWDM transponders and line cards, which is likely to happen in 2019.