2017 a 'record year' for optical components revenues, cause for optimism in 2018, says Lightcounting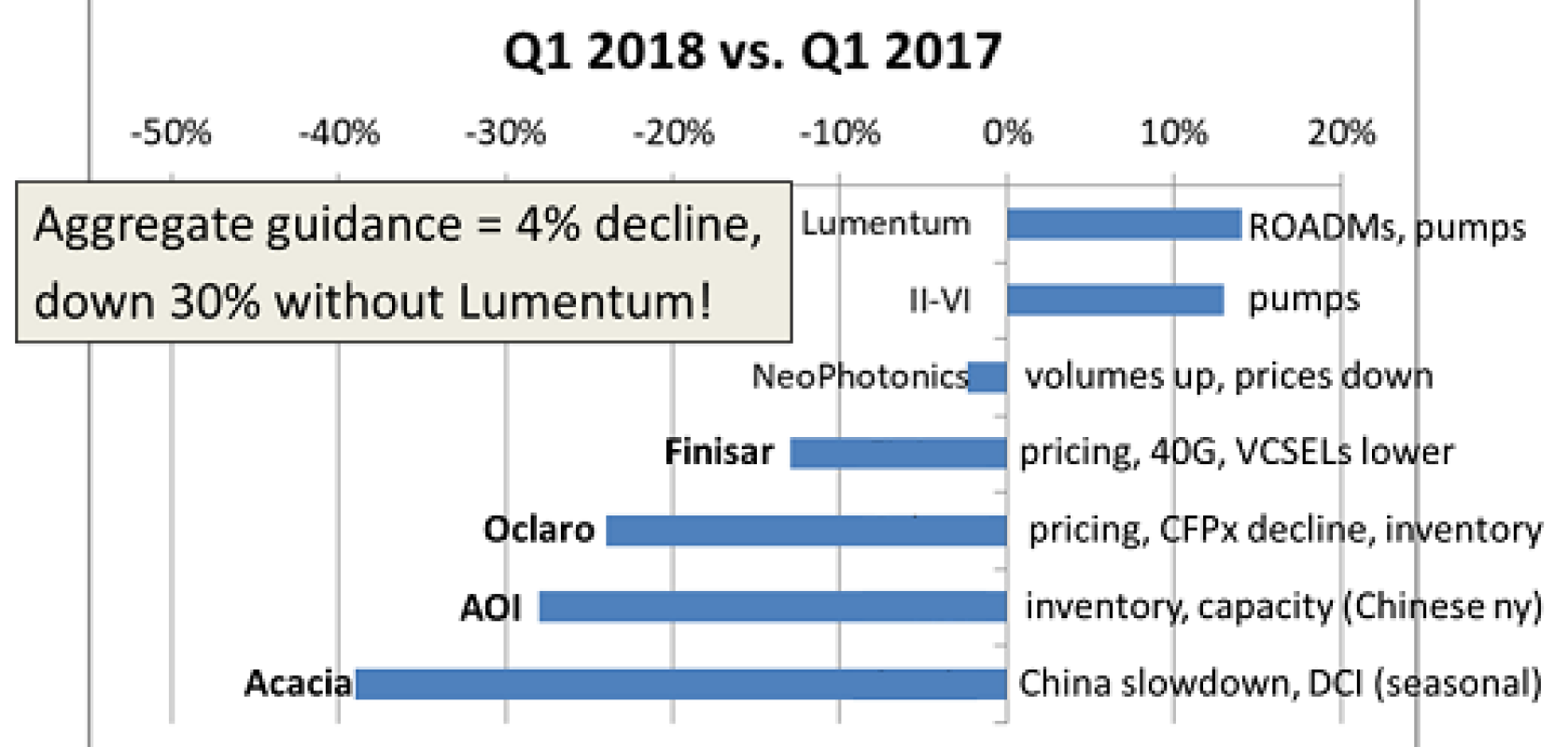 According to the March 2018 Quarterly Market Update by Lightcounting, 2017 was a record year for revenues in the optical components industry.
Aggregate 2017 revenues of public optical components, said the specialist market research firm, totalled $8.266 billion for 2017, 8 per cent higher than reported for 2016 ($7.639 billion). The transceiver-only figure provided by the survey data is $5.482 billion for 2017, which is half-a point higher than 2016 ($5.451 billion). For transceivers alone, said the company, 2017 was a still a record, but by an insignificant amount.
The publicly-reported, total-company figures includes revenue from new and different product opportunities such as 3D-sensor arrays (which provided Lumentum with an incremental $200 million in sales in the fourth quarter of 2017), and are expected to be even larger in the latter half of 2018. II-VI also reported sales growth above the group average.
The update conversely revealed that many components vendors experienced decreased demand for various products in 2017. This is attributable to a number of factors – spending by Chinese OEMs slowed, partly due to inventory and partly due to a pause in network upgrade projects. Some products like 40G and CFPx transceivers are near the end of their product life and are being replaced with smaller/faster substitutes. Access products for PON and fronthaul networks, meanwhile, are at a low point in the multi-year network upgrade cycle. The early 2018 market outlook provided by company CEOs in their earnings calls is summed up in the chart showing revenue guidance for Q1 2018, presented as projected revenue growth vs. Q1 2017. 
There are, according to the update, reasons to be optimistic about 2018 as a whole. The ICPs double-digit revenue and spending growth shows no signs of slowing down, and China is embarking on a plan to build up data centres. (see China optics market to double, says LightCounting). The inventory issues at OEMs are reported to be either resolved or due to be resolved by the end of Q1.
China Unicom has issued a tender for new network equipment and China Mobile is expected to do the same. CSP capex, which was 2% lower in 2017 than in 2016, is expected to increase slightly, returning to 2016 levels.  And although the first 5G-capable phones won't hit the market for another year or two, CSPs are already embarking on trials, and starting to upgrade their core/metro/access networks to support the higher levels of traffic that widespread 5G will eventual bring. Meanwhile traffic growth in global networks and in data centres continues unabated, maintaining strong demand for higher-speed Ethernet and DWDM optics.
Importantly, Lumentum's success in 3D-sensors for smartphones demonstrates that it could be beneficial for optical components makers to branch out into adjacent markets, transferring their expertise and technology capabilities. II-VI and Finisar are following Lumentum's lead into the 3D-sensor market, and Finisar is investing in a new 6-inch VCSEL wafer facility in Sherman, Texas to expand capacity for these products. LIDAR and other optical sensors will play an increasingly important role in autonomous vehicles, and optical components no doubt find application in other varied facets of an 'internet everywhere' 5G/IoT world.
LightCounting's March Quarterly Market Update provides data and commentary on Q4 2017 financial results of CSPs, ICPs, hardware, and components makers, as well as actual product level shipment data for 3Q and 4Q 2017, obtained via LightCounting's proprietary vendor shipment survey. During the next two months the company is due to publish its High-Speed Ethernet Optics report (with Ethernet transceiver forecast), the Cloud Report, and the LightCounting Market Forecast (covering all product segments). Reports on the State of the Industry and on Integrated Optics are due for release in May.