Optics will grow in 2017 despite China slowdown, says LightCounting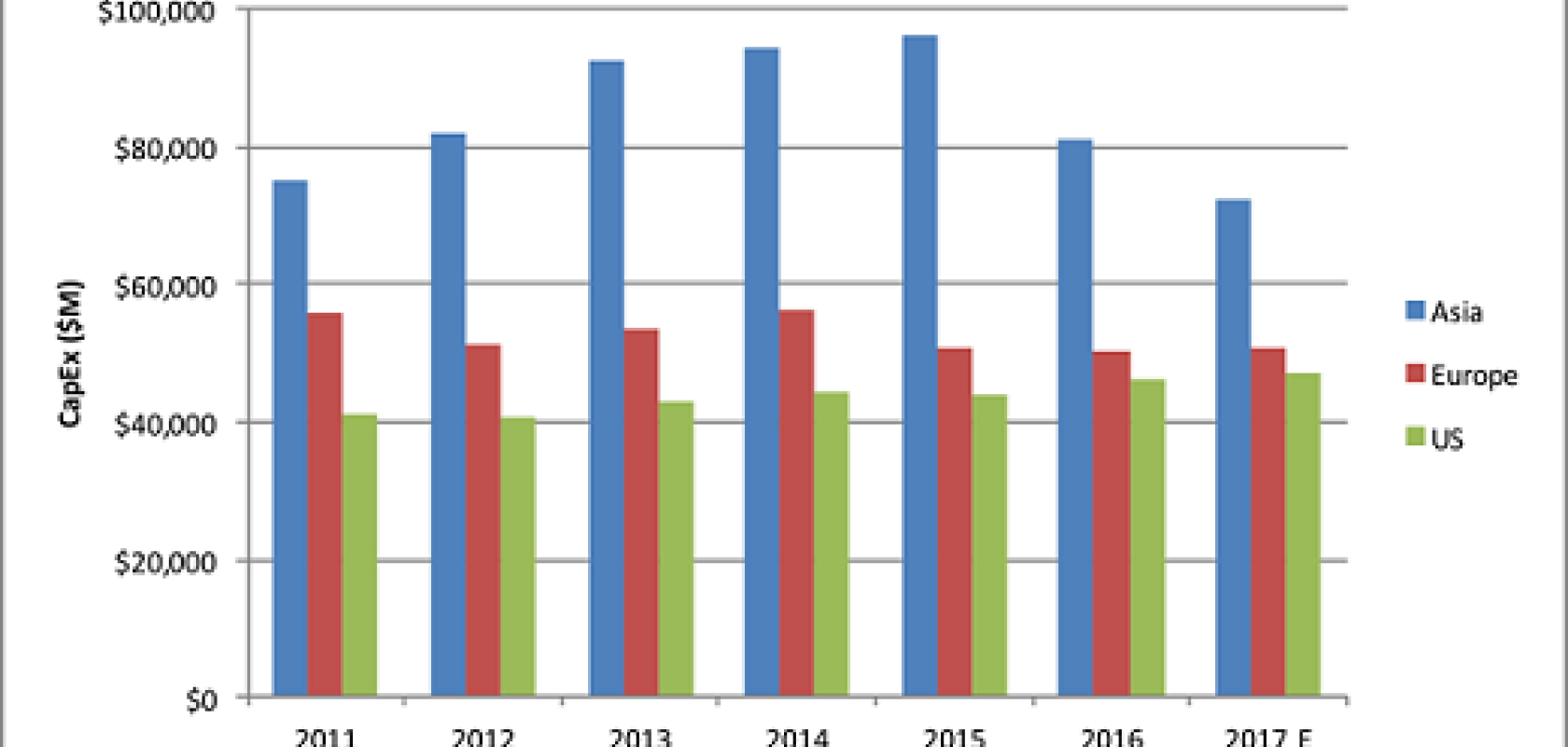 The optics market will enjoy robust growth in 2017 even though many network operators are cutting capital expenditure, according to market research firm LightCounting, which has just issued an update to its Optical Communication Market Forecast.
That's in spite of the slow start in 2017, which generated anxiety about the industry that LightCounting has sought to calm (see LightCounting: demand for optics will remain strong in 2017). Huawei led the market last year, but sharply reduced its purchases of optics in Q1 2017.
LightCounting also shared capex figures for the top 15 service providers by region, which indicate there will be a sharp decline in Asia this year, which is directly related to lower spending by the three main Chinese operators.
LightCounting says the slowdown will not prevent the market from enjoying another good year, however. "This decline started in 2016, and yet 2016 turned out to be the best year for optics so far, demonstrating that spending on optics can increase even as total capex declines," the research firm pointed out.
Optical networking gear accounts for only 10 per cent of service provider capex on average, and optics looks set to win a larger share of capex in the future.
China Mobile was the largest consumer of optics in 2016, LightCounting found (see Optical upgrades in China will resonate worldwide). It added 30 million fibre-to-the-home (FTTH) subscribers and deployed more than 50,000 ports of 100G DWDM optics in its core network. LightCounting estimates that deployments of 100G DWDM ports in China in 2016 led to a 70 per cent increase in network bandwidth.
In a presentation at the OIDA Executive Forum 2017, China Mobile indicated that traffic growth rate on its networks increased from 46 per cent in 2013–2014 to 88 per cent in 2015–2016. This growth rate will inevitably slow, but it will remain well above the global rate of 30 per cent.
China Mobile along with China Telecom and China Unicom will have to continue spending a larger fraction of their revenue on capex to keep up with their above average growth rates, according to LightCounting. The capex to revenue ratio for Chinese service providers is 25 per cent compared to 15 per cent for all other telecom operators.
"Given a very slow start of 2017, we expect that Chinese service providers will increase bandwidth of their DWDM networks by 40 per cent this year, but they will have to catch up in 2018 to keep pace with growth in network traffic," the market research firm wrote.
Meanwhile, a spike in demand for cloud data centre interconnect (DCI) applications will compensate for slower demand in China, keeping the DWDM market segment growing in 2017, the market research firm predicts. Amazon and Facebook report that traffic inside their data centres is doubling annually. Traffic between their data centres is expected to grow at a slower pace, but the rapid construction of new data centres leads LightCounting to estimate 100 per cent DCI bandwidth for 2017.
Figure: Service provider capex by region. Source: LightCounting