LightCounting: Ethernet market on track for record growth this year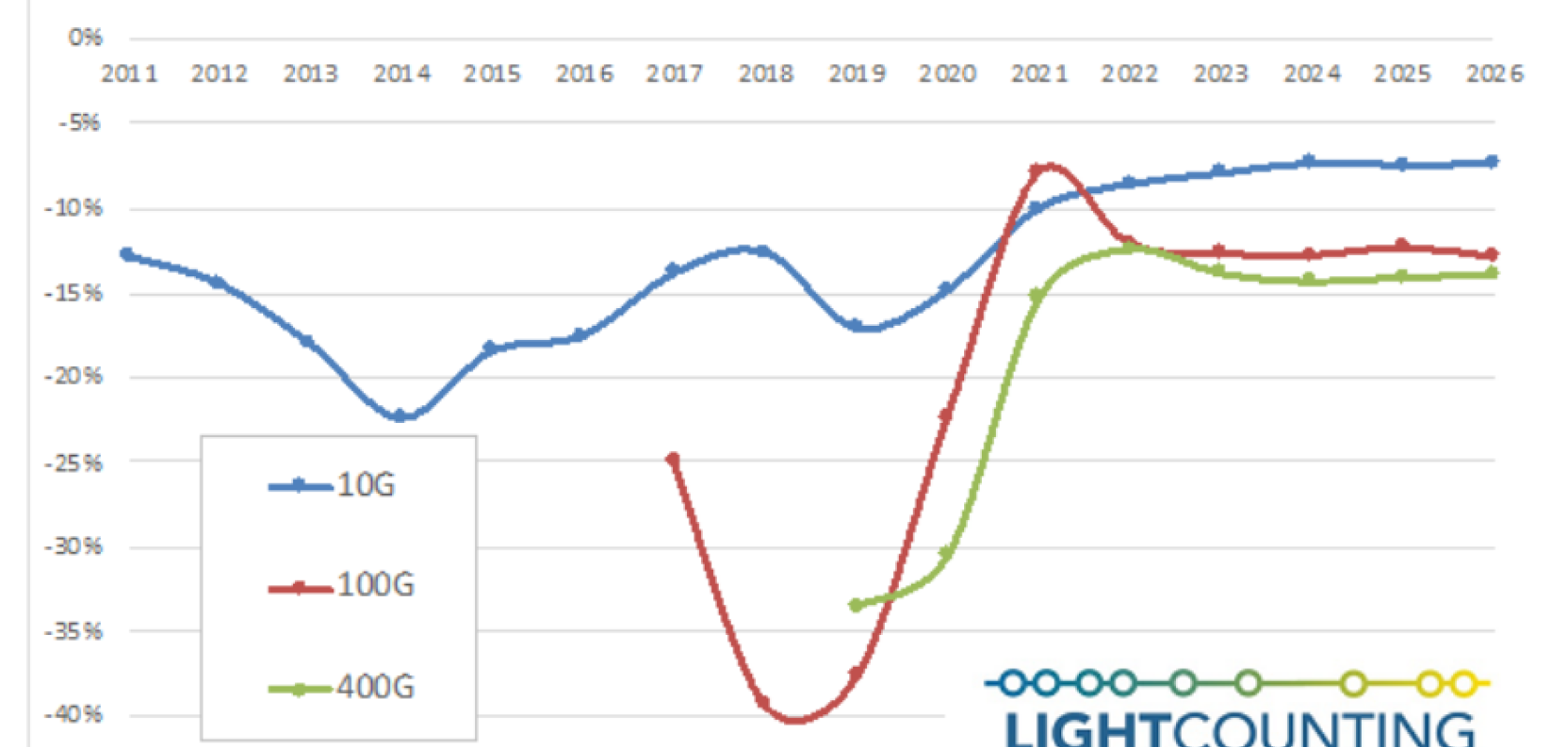 LightCounting has released its High-Speed Ethernet Optics Report for September 2021.
According to the data, sales of Ethernet optical transceivers set a record in 2020, reaching $3.7bn. This is up 34 per cent from a slow 2019, when the market declined by 18 per cent. The market research firm predicts that the marker is on track for a new record of $4.6bn this year - a growth of 24 per cent. 
In terms of the drivers for this, LightCounting highlighted that suppliers of optics recovered quickly from the disruptions caused by Covid-19 early last year, and the demand for all products ranging from 1GbE to 400GbE exceeded expectations for the full year. While demand for legacy products started to decline towards the end of 2020, it picked up again in the first half of 2021, which, said the report, was not expected and likely came from upgrades in enterprise and telecom networks that were delayed due to the pandemic.
Another positive development, according to the report, is more stable pricing. Annual price declines averaged at about 15 per cent for 10GbE transceivers over the last decade. Price declines of 40-50 per cent per year are justified for new products, but, reasoned the report, 100GbE was not new in 2018-2019. The demand for 100GbE was unstable, there was too much competition and new suppliers were entering the market. 
Data for sales collected by LightCounting in the first half of 2021 would suggest that we could be on track for the slowest annual price decline on record: less than 10 per cent for 100GbE. And it is not just 100GbE, the majority of products tracked by LightCounting will see price declines of around 10 per cent in 2021. This is attributed to shortages across the supply chain and higher prices for IC chips.
This latest forecast assumes that we will return to 12-15 per cent average price declines in 2022-2026, which, says LightCounting, is consistent with historical averages, excluding 2018-2019. Apart from more reasonable price declines, the company increased the forecast for 200GbE FR4 transceivers consumed by Facebook in 2022-2023 and 200GbE SR4 modules deployed by Alibaba, Tencent and other Cloud companies in China over the next five years.
Several factors contributed to a higher forecast for 400G transceivers, according to the report. Pricing is part of it, but volumes were also increased for 400G SR8 and 400G DR4 products, based on higher-than-expected sales in in the first half of 2021. LightCounting also added a forecast for 400G SR4 transceivers, a product that was announced at CIOE 2021 by at least one leading supplier.