LightCounting research note highlights steady Q3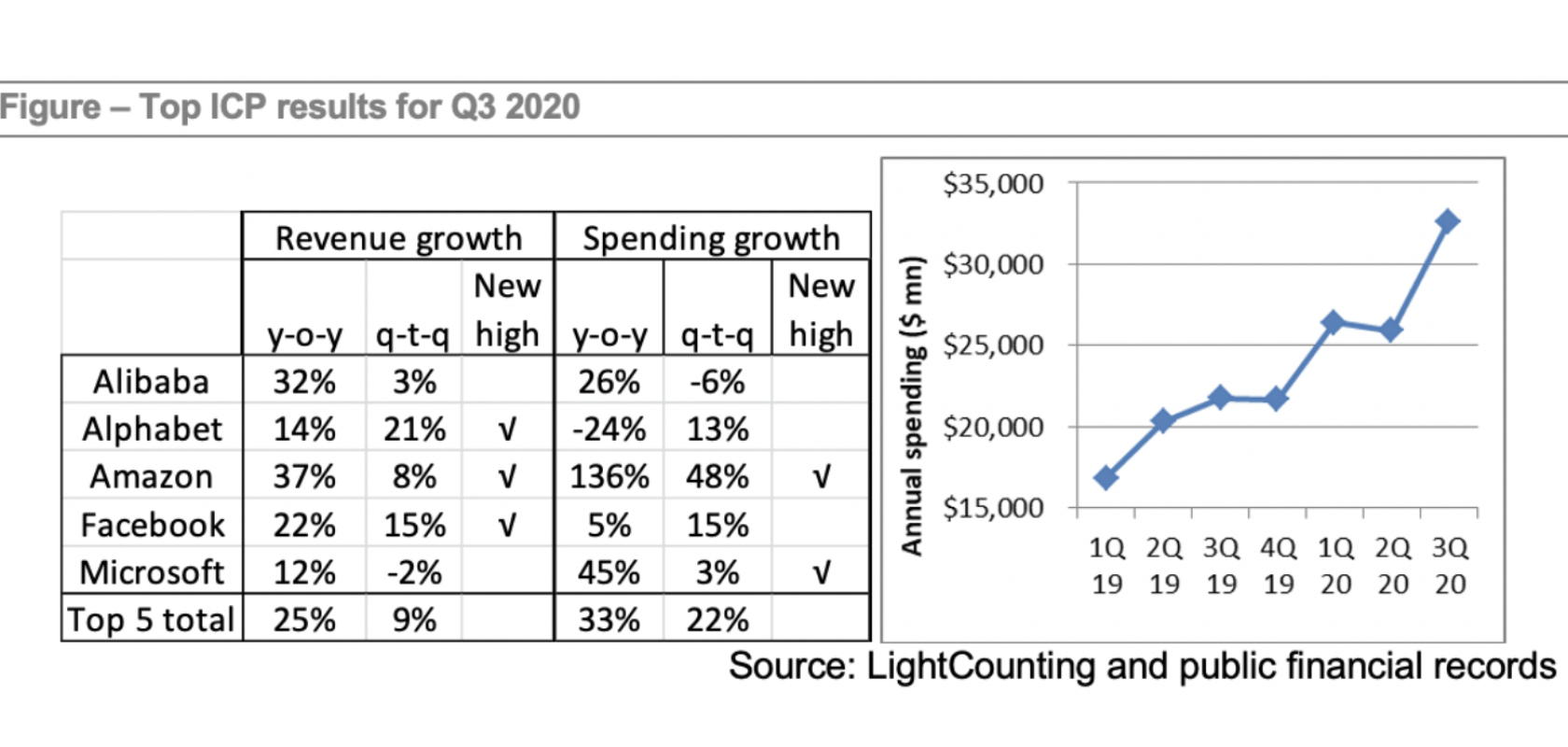 Industry analyst firm, LightCounting has released its latest research note, which provides analysis of the latest quarterly financial reports.
The note, which precedes the company's complete coverage in the upcoming Quarterly Market Update – Optical Networks and Datacenters, said that, while negative impacts of the pandemic were felt in Q1 and Q2, it also accelerated moves to online business models, including in education and office work. This meant that there were improvements in demand and supply, over Q2.
Internet content providers have reported strong growth in revenues and spending, said LightCounting. Combined revenues of the top five - Alphabet, Amazon, Apple, Facebook and Microsoft - increased by 25 per cent year-on-year and 9 per cent sequentially, while spending increased by 33 per cent year-on-year and 22 per cent sequentially.
Content service providers, on the other hand, reported declines in sales and capex as a whole, with mixed results by company. Combined revenues of companies in this group that reported Q3 results were down 1 per cent and spending was down 8 per cent year-on-year, according to the research note. China Mobile, China Telecom, China Unicom, Comcast, and Orange reported single-digit growth in quarterly revenue year-on-year, and the rest were flat to negative.
Things were a little brighter for telecom equipment maker sales, which improved over. Q2. Notably, Nokia's optical networking business was up 18 per cent year-on-year and 28 per cent sequentially, but total revenues were down 3 per cent year-on-year. Ericsson Networks group revenues grew 14 per cent sequentially, and 15 per cent year-on-year, driven by China and North America. ZTE's revenues grew 37 per cent year-on-year and 5 per cent sequentially.
Sequential growth in revenues of optical component vendors has moderated, said LightCounting, after a strong Q2. However, the year-on-year comparisons are still impressive. NeoPhotonics expects a 35 per cent drop in Q4 sales because of restrictions on sales to Huawei, but the restrictions' impact on the larger companies, including II-VI and Lumentum, will be, said the research note, 'barely noticeable'.
Apart from Intel, the semiconductor companies reported higher revenues. Intel reported a 7 per cent sequential decline in Q3 sales and expects another 5 per cent drop in Q4 due to lower sales to service providers. In contrast, highlighted LightCounting, AMD reported close to a 50 per cent increase in Q3 sales and expects more growth before the end of the year, driven by sales of processors for AI applications.
Last but not least, datacom equipment vendor sales were slated to have fallen 10 per cent versus Q2, due to large declines at IBM, Inspur, and Lenovo. Arista, Extreme, H3C, and Juniper, however, reported sequential increases in sales. Cisco was also down 2 per cent sequentially and 9 per cent year-on-year. Cisco's Infrastructure platform revenues were down 4 per cent sequentially and 16 per cent year-on-year. Orders from the enterprise customers were down 15 per cent. Guidance for the current quarter is flat to down by 2 per cent. Hardware sales will continue to decline a bit steeper, according to the analyst firm, but Cisco's management sounded 'more optimistic than a quarter ago.'