Ixia and Viavi showcase 400 Gigabit Ethernet test system with FEC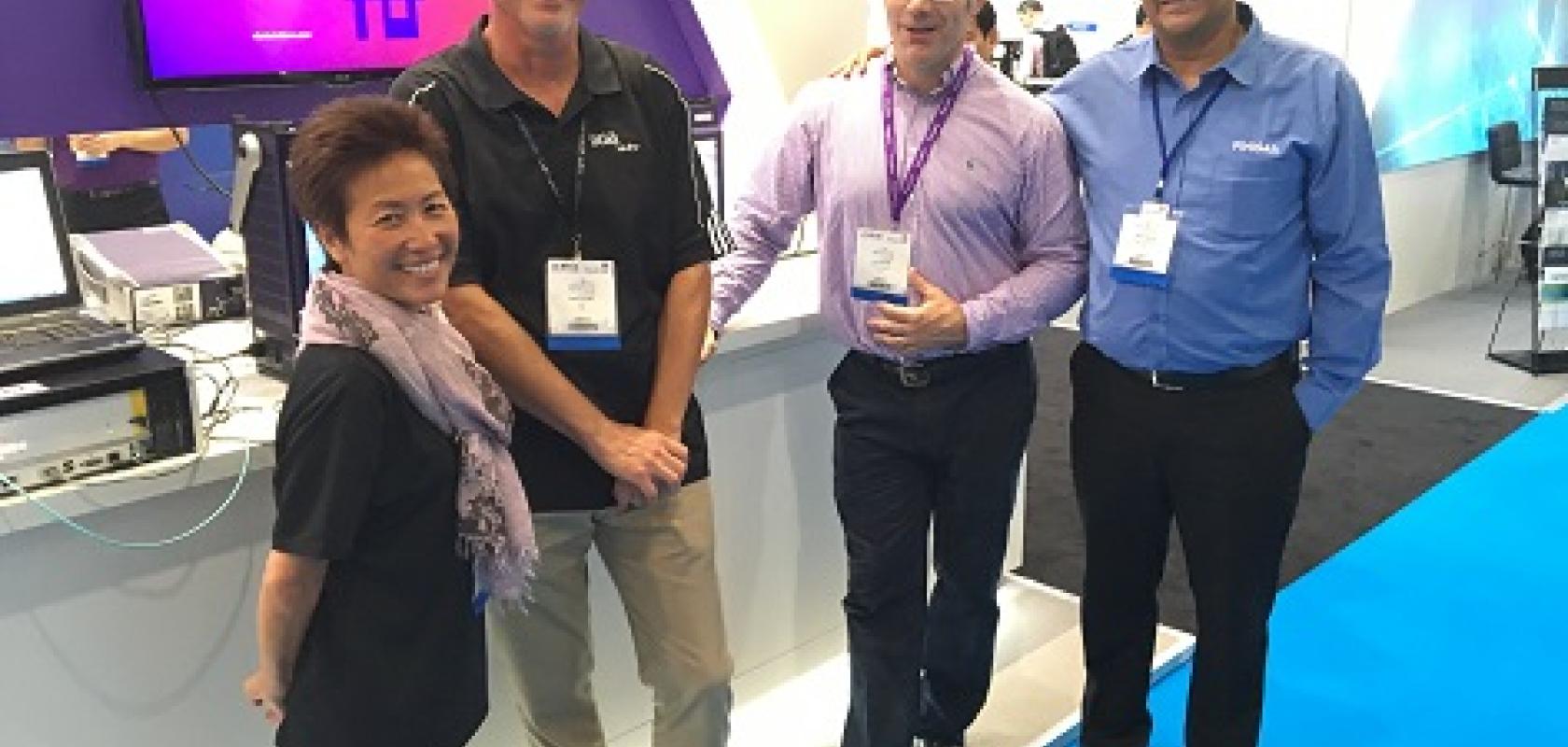 Participants in the demo, from left to right: Thananya Baldwin and Jerry Pepper from Ixia, Paul Brooks from Viavi, and Sando Anoff from Finisar.
ECOC 2016 - Ixia and Viavi Solutions joined forces to show what they claim is the world's first public interoperability demonstration of a test system running bi-directional 400 Gigabit Ethernet line rate traffic with RS-544 forward error correction (FEC) as currently defined in the IEEE 802.3bs draft standard.
The demonstration showed 400 Gigabit Ethernet test equipment, which had been developed completely independently by two different companies, interoperating using third-party pluggable optics from Finisar. It took place on Viavi's stand #550 at ECOC 2016 in Düsseldorf, Germany, this week.
"We wanted to show the world that 400 Gigabit Ethernet is real. The standard is good enough to go out and build things," said Paul Brooks, product line manager for high-speed transport at Viavi.
The availability of robust test tools is essential to the development of new intellectual property and ASICs for the next generation of higher-speed switches and routers for ever-expanding hyperscale data centres, according to Viavi. Carriers and service providers also need to address these requirements.
Ixia and Viavi Solutions showed interoperability of independently developed MAC, PCS, and RS-544 FEC intellectual property by each company. The adoption of FEC is relatively new to client-side interfaces, and has been added to make it easier to develop new photonic interfaces based on PAM-4 signalling, which has more challenging signal-to-noise operation.
As an IEEE Task Force contributor, Ixia says it has intimate knowledge of the FEC requirements. The vendor's 400GbE Jumpstart Test System features wire rate packet generation at 400Gb/s. In the demonstration, real-time FEC encoding will take place on the outgoing traffic data path, and at the same time FEC error correction will operate on the incoming traffic data path.
On the other end of the set-up, Viavi's Optical Network Tester (ONT) now includes FEC and PAM4 modulation to support the faster speed. Pioneers of the high-speed network ecosystem now have a comprehensive, integrated platform for design, development, and validation of 400G technologies including CFP8 pluggable transceivers, the company says.
"It is a very exciting time in high speed networking technology, and we are delighted to work together with Ixia to demonstrate the first stages of a vibrant and healthy 400GbE ecosystem," said Brooks. "We are all committed to helping our customers successfully bring 400GbE products to market with the confidence that they can interoperate and perform to expectations."