OIF reveals SDN T-API interoperability demonstration findings at NGON 2018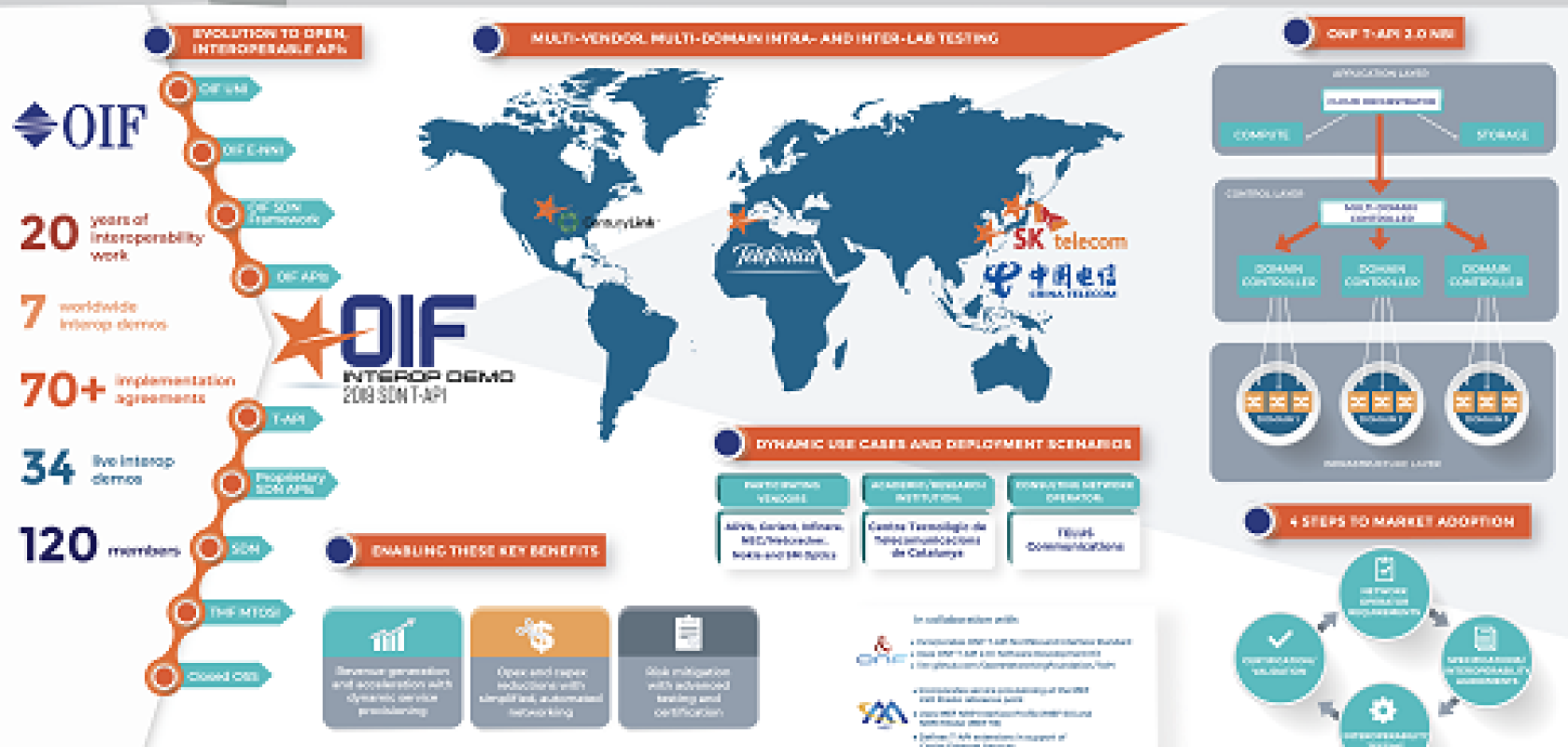 The Optical Internetworking Forum (OIF) took to the podium at this year's NGON and DCI Europe conference in Nice to reveal the results of its 2018 Software-Defined Networking (SDN) Transport Application Programming Interface (T-API) multi-vendor interoperability demonstration.
Working in collaboration with MEF, the OIF said that it aims to lead the industry toward the validation and widespread commercialisation of T-API 2.0 from the Open Networking Foundation (ONF) as a standard northbound interface (NBI) to transport network controllers.
The multi-vendor demo, which was led by four network operator labs – CenturyLink, China Telecom, SK Telecom and Telefónica – included lab and cloud deployed systems testing new dynamic behaviour use cases and deployment scenarios. The demo also incorporated service provisioning scenarios at the LSO Presto reference point in the MEF LSO architecture, using the MEF NRP Interface Profile Specification (MEF 60), which defines extensions to T-API in support of carrier Ethernet services.
Vendors included ADVA, Coriant, Infinera, NEC/Netcracker, Nokia and SM Optics, whilst Centre Tecnològic de Telecomunicacions de Catalunya (CTTC) participated as an academic institution and TELUS Communications as a consulting network operator. Testing began in late April and, at the time of the presentation, had just concluded. Jonathan Sadler OIF board member and networking interoperability working group chair, Coriant, explained that the lengthy period was predominantly because 'we wanted it to be accurate' but also because it was taking place in carrier labs throughout the world, so the time difference required some navigation.
The 2018 demonstration builds on the forum's 2016 interoperability test and demonstration, which addressed multi-layer and multi-domain environments; as well as the 2014 demonstration which prototyped the use of Northbound APIs and helped advance transport SDN standardisation.
Opening the presentation on the first day of the conference was Lyndon Ong, OIF marketing committee co-chair-networking, Ciena, who provided a background to the OIF and its work, highlighting its goal 'to remove roadblocks.' Following further in-depth background provided by speakers including Karl Gas, vice chair, physical and link layer, optics at the OIF; and David Ofelt OIF physical and link layer working group vice chair protocol, Juniper Networks; Sadler revealed the demonstration's findings.
'The OIF's goal for interop events is to improve the quality and clarity of specifications being tested," explained Sadler, 'eliminating the "one size fits all" straightjacket.' The demonstration, he explained, was broadly successful. Alignment with IETF RESTCONF is 'a good start' and 'specifications are about 99.9 per cent clean and ready to go.' Additional use cases were also found.
As the tests were performed, however, said Sadler, 'we noted possible points for misunderstanding and places where the specifications may be enhanced.' These include some controllers reporting differing capabilities, and more clarity being required in terms of division of responsibility. 'These results will be liaised to ONF and MEF for review at future meetings,' said Sadler, and are addressed in T-API 2.1.
A technical white paper and an executive summary of the demo result will be available in August, and the next step will be T-API 2.2.