NEWS
Quarter of WDM bandwidth will be 400G coherent by 2020 says Cignal AI
19 September 2017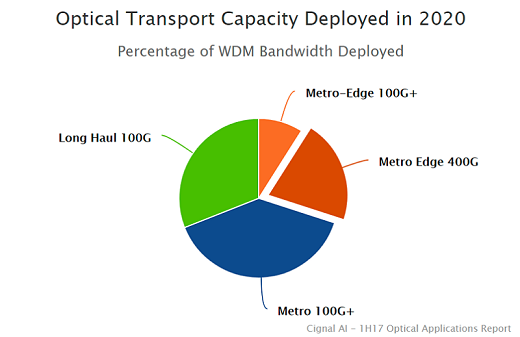 Coherent 400G technology will start to ramp this year and account for almost one quarter of all deployed optical transport capacity in 2020. That's the conclusion of a new report from networking component and equipment market research firm, Cignal AI.
The 'Optical Applications Report' report also represents the industry's first comprehensive analysis measuring the anticipated growth of coherent 400G WDM, according to Andrew Schmitt, lead analyst for Cignal AI.
The introduction of small form factor 100G and 400G coherent pluggable modules will spur a market transformation. Both data rates will be widely adopted at the edge of the network by the end of 2021, displacing slower speeds. "Pluggable 400G ZR modules should enter the market by 2019, and they will be the final nail in the coffin for 10G WDM networks," commented Schmitt.
Ciena will lead deployment of 400G technology, followed by other suppliers six to nine months later. Meanwhile, Cisco is growing 100G port deployments faster than all other vendors in the market, according to Cignal AI.
Also in its report, Cignal AI predicts that revenue for equipment originally designed for the data centre interconnect (DCI) market will reach $1 billion by 2019, as these systems become widely adopted outside of traditional DCI applications. To fit with the wider application space, the market research firm has decided to change the category name and definition to 'compact modular'.
Spending on compact modular equipment more than tripled in the first half of 2017, compared to the same period last year as incumbent, wholesale and cable operators adopt these stackable systems with open software models to build disaggregated optical networks. Ciena, Cisco, and Infinera are the market share and technology leaders for this sector, according to Cignal AI.
The third key category of optical hardware examined in the report is advanced packet-OTN switching. Revenue in this category grew in the double digits in the first half of 2017, compared to the same period last year. Despite its complexity, advanced packet-OTN switching remains the best approach for unifying many customers and applications on a single transport infrastructure. Large incumbent operators such as Verizon are increasing deployment of these systems.