Viavi's Gigabit Monitor showcases a whole world of gigabit broadband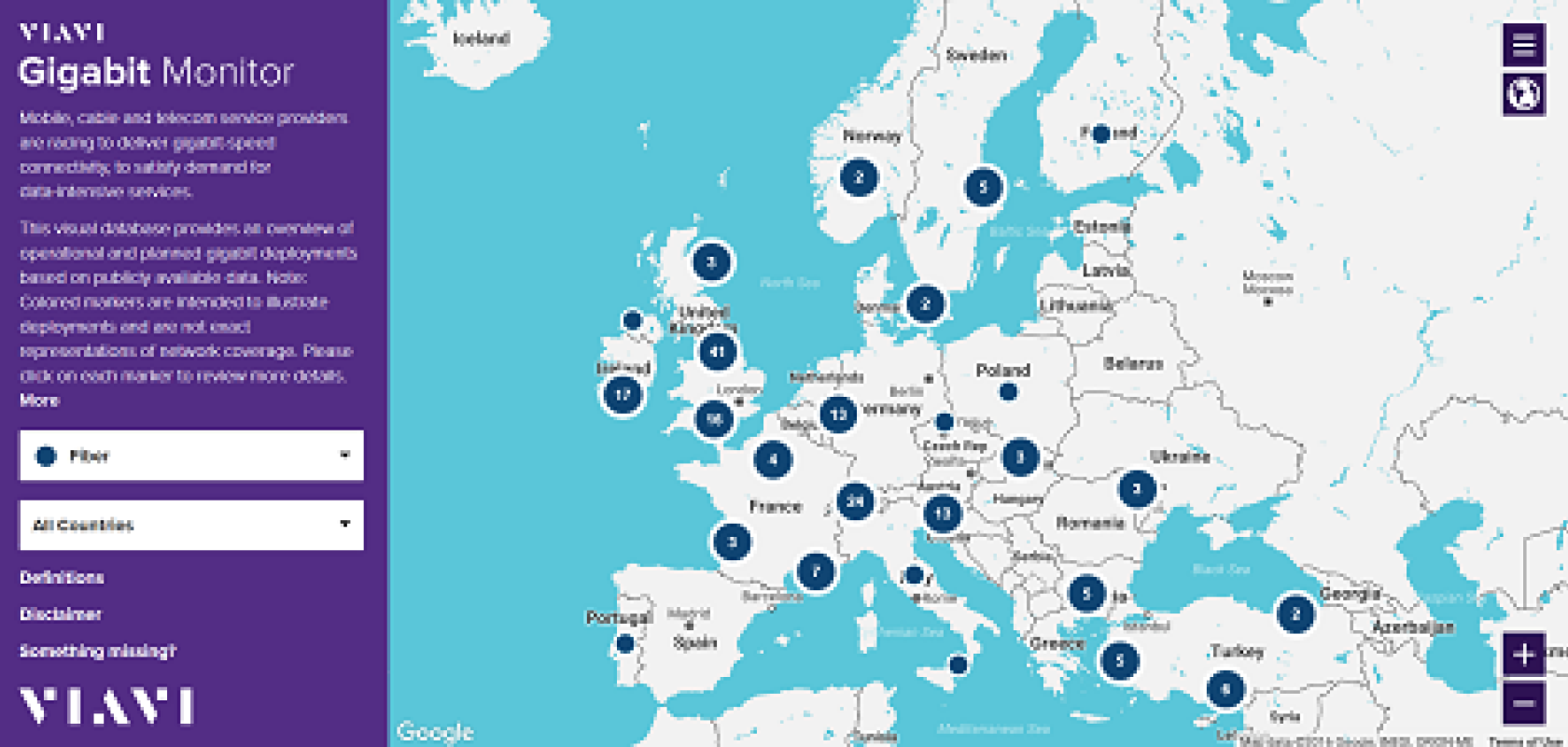 More than 500 gigabit deployments are currently operational or planned around the world, according to the Global Gigabit Monitor, a new visual database produced by Viavi Solutions.
Launched today, the database paints a picture of mobile, cable and telecom service providers all race to deliver lightning-fast internet connectivity to meet end users' demands.
'The gigabit revolution is in full swing and faster speeds can't come soon enough to feed an insatiable appetite for bandwidth,' said Sameh Yamany, chief technology officer, Viavi Solutions. 'There are more than 20 billion connected devices and that number is continually increasing.'
Compiled completely from publicly available information such as company websites, press announcements, trade media and local newspapers, Viavi's Global Gigabit Monitor records both wireline and wireless installations and, as it does so, some interesting results appear.
Communications service providers worldwide are accelerating efforts to deliver gigabit internet, a network speed that is 159 times faster than the global average of 6.3Mb/s. More than 70 per cent of the live gigabit deployments tracked have been launched since the start of 2015, according to Viavi.
There are now at least 350 live gigabit deployments globally, with a further 164 announced or under construction, across all technologies including GPON, DOCSIS 3.1, G.fast, LTE-A, 5G and 802.11ac Wi-Fi. The true number could be much higher as the database is not exhaustive.
Fibre dominates in terms of technology: 85 per cent of known gigabit deployments are based on fibre to the home connectivity, while only 11 per cent are based on coaxial cable technology.
Wireless gigabit is already here: Nearly 3 per cent of known gigabit deployments are based on LTE-A, an enhanced version of 4G that is gigabit-capable. Viavi also discovered 37 wireless carriers that have announced plans for 5G networks. Five of them plan to have 5G networks live as early as 2017.
North America has the largest share of announced gigabit deployments, with 61 per cent. Europe is second with 24 per cent. Asia, Australasia, Middle East, Africa and South America share the remaining 15 percent of deployments.
'With a 100-fold increase in speed, service providers will need to ensure that their ecosystems are ready for the massive network evolution required to deliver the customer experience they envision.' Yamany concluded.
--
The Gigabit Monitor is a web-based tool intended to showcase gigabit broadband. The data can be split by geography or technology and viewers can zoom in for more details. The database also shows whether a service is Announced (service provider has publicly announced deployment plans in a given market), Under Construction (network build is underway), Trial (a limited live network is in operation) or Commercial (service is currently available to consumers).
The database is available at: www.gigabitmonitor.com.