Viavi supplies 400G testers to cross-section of optical networking ecosystem
Test and measurement specialist Viavi Solutions reports that it has sold its ONT-600 400G tester to companies representing a cross-section of the high-speed optical networking ecosystem, demonstrating the momentum in this emerging yet rapidly growing market.
Customers range from chip, module and network equipment manufacturers, to a Tier-1 US telecommunications carrier offering wireless, wireline and converged services.
Although Viavi didn't name the carrier in its press release, it's likely to be AT&T, which boasted that it wants to be first to introduce 400 Gigabit Ethernet services (AT&T to trial 400 Gigabit Ethernet services in 2017).
Viavi also announced one of the customers for its 400G instruments by name: ORIX Rentec, a Japanese leader in industrial equipment leasing.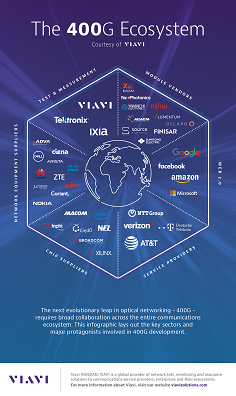 "As wireless, cable and telecommunications operators race to deliver gigabit connectivity to end users, they are accelerating deployment of high-speed optical technologies from access to the core. All participants of the industry value chain – research and development, network equipment manufacturing, and service delivery – are under pressure to evolve network architectures to support new services while maintaining quality of experience on existing ones," commented Paul Brooks, 400G technology lead, Viavi.
Viavi says its ONT optical network tester family has been proven in lab testing of 100G components, and is the first tester on the market to offer 400G support to include forward error correction (FEC) and PAM-4 modulation, the company claims.
Viavi participated in a public interoperability showcase with Ixia at the ECOC Exhibition in September last year to show that its 400G test environment was ready for prime time (Ixia and Viavi showcase 400 Gigabit Ethernet test system with FEC).
Pioneers of high-speed networking now have access to a comprehensive, integrated platform for design, development and validation of 400G technologies including CFP8 pluggable optics, Viavi asserts.
Of course, it takes more than one company to drive the next leap in optical data rates. Viavi has also produced a handy infographic (right) describing the main market sectors and players in the 400G ecosystem.
"We are delighted to deliver comprehensive test, measurement and validation solutions for 400G to leaders throughout the high-speed optical networking ecosystem," Brooks addded. "The ONT-600 400G offers all the features needed to deliver 400G to the market today and can scale with a range of future applications to address upcoming challenges such as FlexE, FlexO and future OTN. With numerous demonstrations of interoperability proving its readiness for market, we expect it to accelerate 400G solutions, from integrated chips, to CFP8 modules through to complete systems."
Save
Save
Save