Anritsu introduces high-performance BERT for the cloud era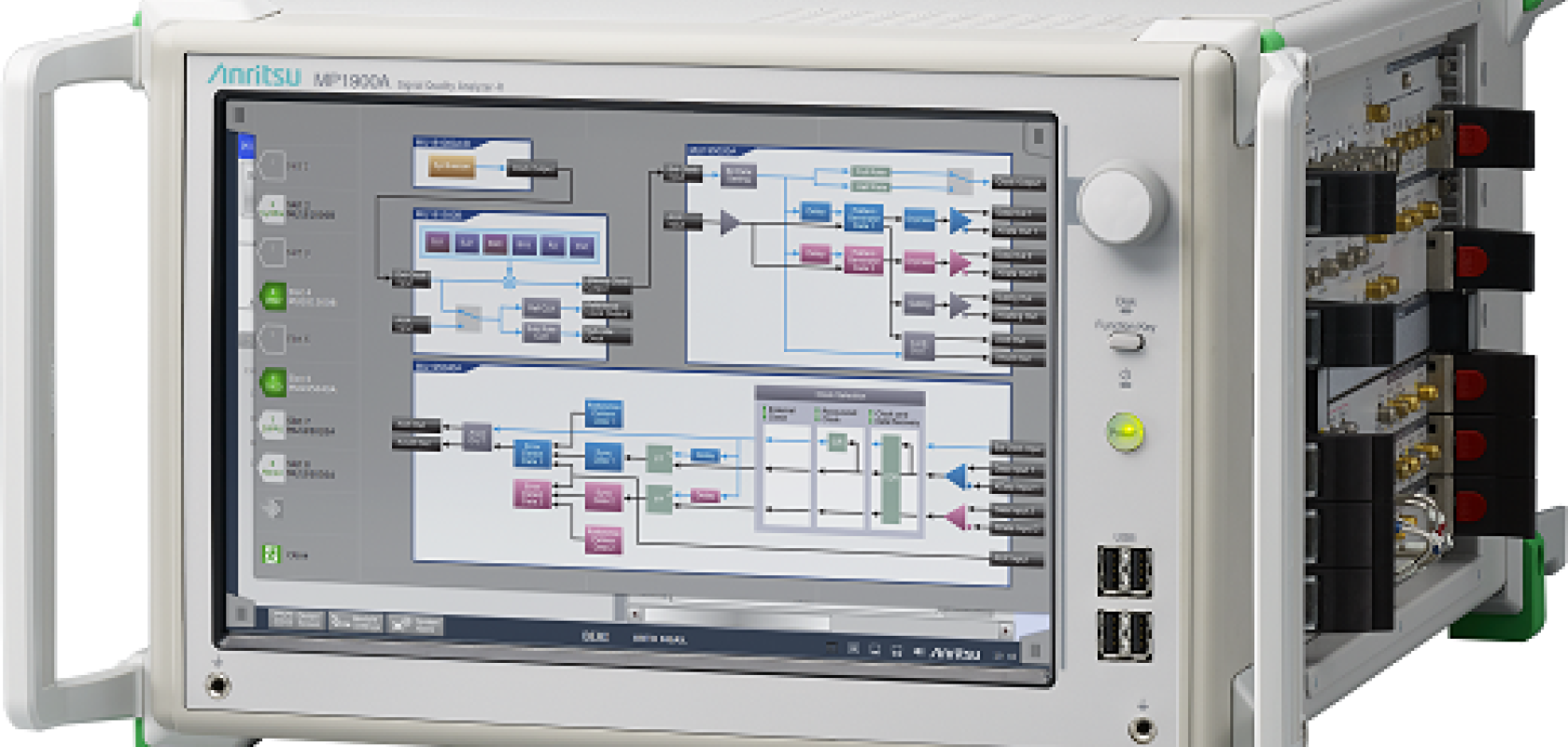 Anritsu has introduced the MP1900A signal quality analyser, a next-generation bit-error rate test (BERT) platform designed to meet the test and measurement requirements driven by cloud and data centre operators.
The new instrument is the successor to the MP1800A, which has been on the market since 2007. Back then telecom operators and carriers called the shots. Now the data centre and storage vendors are moving the market in new directions and influencing test requirements at all levels in the value chain, from operators through to the chip and module manufacturers.
New drivers lead to new requirements in a signal quality analyser platform, Anritsu says. The MP1900A combines the ability to test networks, not just across geographical distances between data centre locations, but inside the data centre, from rack to rack or rack to server, and from one network interface card to another. This meets the needs of key customers such as Intel who are using both optical modules and high-speed electronic interfaces as both types are found on high-end servers.
"The MP1900A is unique on the market," claimed Alessandro Messina, EMEA wireline business marketing product director for Anritsu. "It's the only signal quality analyser to address all the emerging high-speed test requirements for optical and electronic interfaces in the same instrument."
Transmission technologies for high-speed, large-volume data transfer are based on multiple channels and PAM-4 (pulse amplitude modulation). "PAM-4 is the best way to grow speeds without growing the bit rate," Messina observed. The new instrument supports baud rates up to 56Gb/s and up to 16 separate channels of pulse pattern generation, giving it the ability to test signal integrity for 200 and 400 Gigabit Ethernet as well as PCI Express Gen 4 and Gen 5 buses.
The MP1900A mainframe has the same footprint as its predecessor, but is slightly taller, making room for a 12.1-inch touch-screen display and more slots to add test features, with eight slots instead of six. Simple to operate, the MP1900A has an intuitive GUI that can display block diagrams and four applications at the same time. Remote commands matching each GUI function can be displayed on-screen to shorten configuration time for automated measurements.
Three new plug-in modules are offered, the 21G/32G MU195020A pulse pattern generator (PPG), the MU195040A error detector, and the MU195050A noise generator. The instrument is backwards compatible with the MU181000B synthesizer and MU18500B jitter modulation source.
Engineers can have a high degree of measurement confidence when using the instrument, as the MP1900A has best-in-class performance, the company claims. The built-in PPG has intrinsic jitter of typically 115fs rms, as well as typical response times, Tr/Tf, of 12ps. Total peak-to-peak jitter is typically 6ps maximum and typical input sensitivity of the internal error detector is 15mV.
A unique Link Negotiation Function is used to connect the MP1900A to the device under test (DUT) to speed up bus interface evaluation supporting high-speed digital interface standards. Engineers can use the function to conduct PCI Express Gen 4 and Gen 5 tests, LTSSM status analysis, jitter generation, and CM/DM noise injection. A jitter measurement function evaluates signal integrity, while a 10-tap emphasis function and equalizer function can be used to characterise test signals according to transmission path loss.
The MP1900A can also be configured with peripheral equipment to expand its measurement capability. The MP1900A forms part of a solution for testing 200 and 400 Gigabit Ethernet, supporting generation of 32Gbaud and 64 Gbaud PAM4 signals, and measuring bit-error rate, jitter and amplitude noise injection, and emphasis addition, for versatile future-proof standards support.
To help customers transition to the new platform, the most important cards from the MP1800A are supported, according to Messina. The platform is compatible with the range of 32Gb/s cards; older 12.5Gb/s and 14Gb/s cards were discontinued six months ago and will not be supported.
The instrument is available to order now.