PRODUCT
Anritsu launches 'world's smallest' handheld tester to aid deployment of high-speed networks
15 May 2018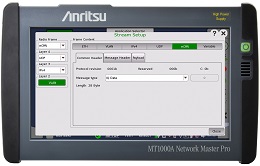 Anritsu Corporation has released the latest firmware for its Network Master Pro MT1000 portable handheld tester for evaluating the transmission quality of different communications networks operating at speeds from 10Mb/s to 100Gb/s. The company says that this now makes it the 'world's smallest-in-class' handheld tester supporting 100Gb/s with eCPRI/RoE and high-accuracy delay measurement functions.
The upgraded tester with strengthened functions for 5G mobile networks is designed to support the measurement needs of mobile operators and network installation companies and help with the early and easy deployment of high-speed networks.
The new eCPRI/RoE and high-accuracy delay measurement functions are critical technologies for measuring throughput and latency and performing high-accuracy time synchronisation tests during the installation and maintenance of 5G mobile networks carrying eCPRI/RoE traffic.  
In addition to supporting RFC2544, Y.1564 and many other network evaluation test standards, it also supports Sync-E and IEEE 1588v2 tests. When combined with the optional High-Performance GPS Disciplined Oscillator MU100090A, it offers support for time synchronisation tests based on GPS time data as well as high-accuracy one-way latency measurements between two remote MT1000A units.