EXFO speeds up cell-site commissioning with BBU emulation for FTB-1 Pro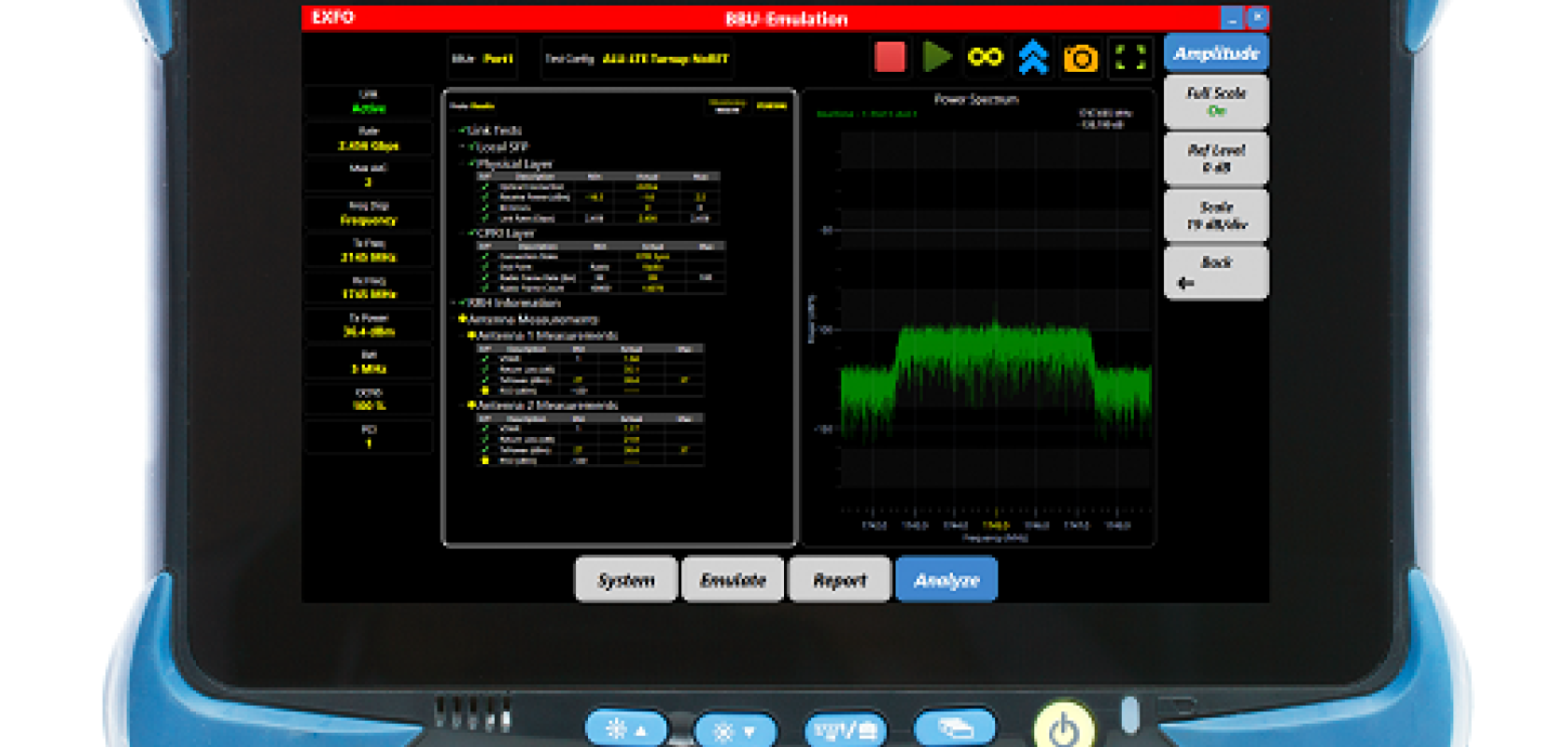 EXFO has added baseband unit (BBU) emulation technology recently acquired from Absolute Analysis to the FTB-1 Pro portable test platform. This BBU emulation technology has already been approved and adopted by a North American Tier 1 mobile network operator, the company says.
This FTB-1 Pro can now be used to validate the quality of installation of new or upgraded cell sites by identifying and addressing issues with remote radio heads (RRHs) and antennas during the first site visit, before the BBU is commissioned. This enables operators to deploy fibre-based mobile networks faster, improving time-to-revenue for new services.
The emulation technology allows technicians to run tests that were not previously possible without a commissioned BBU, helping them identify and resolve issues faster. Since results are representative of live cell site performance, mobile technicians can be confident of the quality of their installation prior to handoff to mobile network operators.
The ability to isolate problems associated with RF interference, PIM testing and LTE transmission make BBU emulation a must-have feature, according to EXFO. In addition, mobile network operators can benefit from full emulation of CPRI control and management and IQ data as well as the reporting of local and remote SFP status, antenna remote electrical tilt (RET) and VSWR data.
The FTB-1 Pro also features a comprehensive line-up of capabilities including automated fibre connector inspection, fibre characterisation using the iOLM application, CPRI link validation, and OpticalRF software to provide real-time, high-resolution radio spectrum analysis over optical links.
"Adding revolutionary BBU emulation technology to EXFO's unmatched fronthaul test solution makes it the true all-in-one choice to efficiently validate fibre-based mobile networks," said Stéphane Chabot, EXFO's vice president, test and measurement. "Operators get to revenue faster, cut the total cost to deploy next-generation wireless fronthaul networks and deliver consistently outstanding service to their subscribers."