The latest optical fibre cables for 2023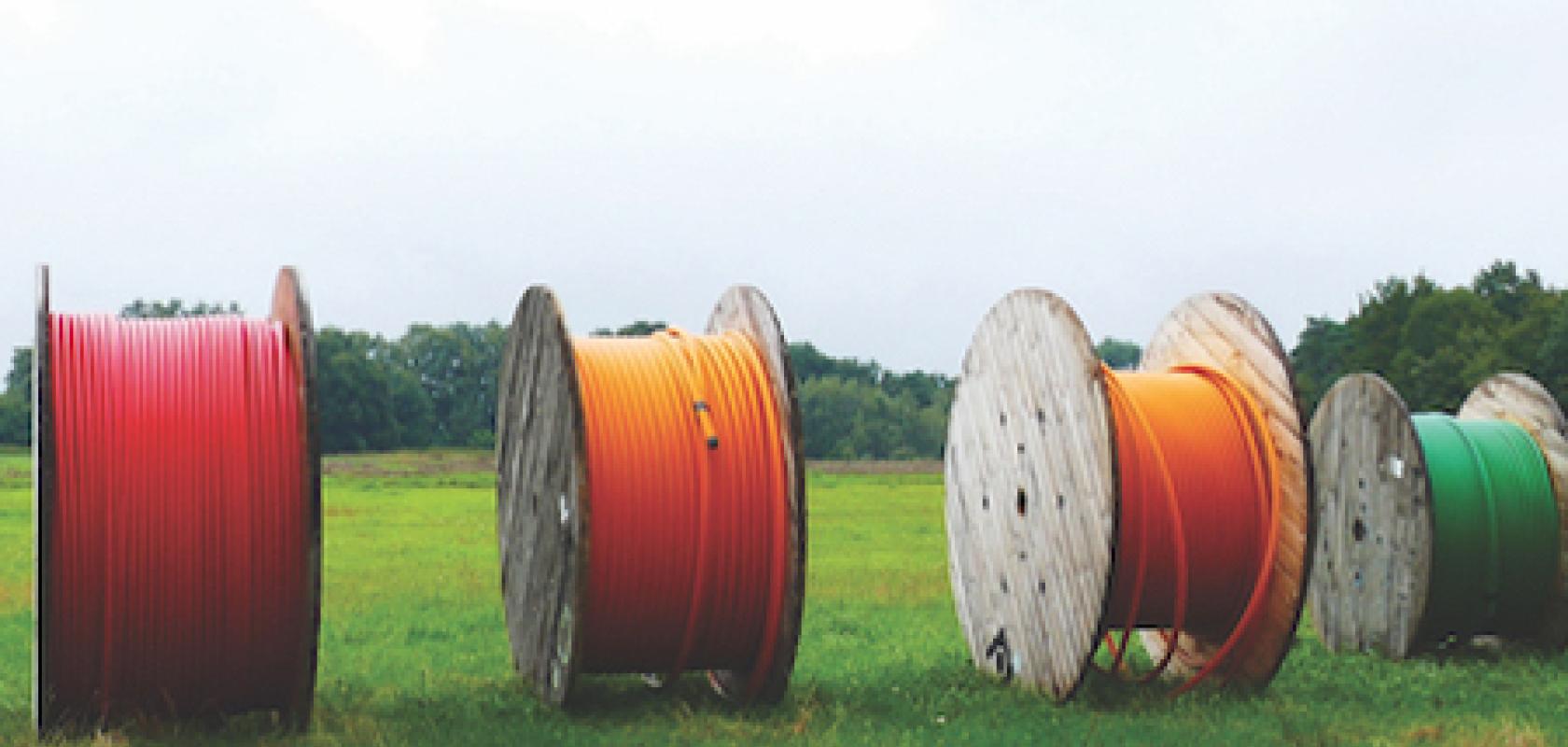 Optical fibre cables have seen widespread commercial use for broadband networks since the mid-2000s thanks to their superior bandwidth and speed over longer distances. Fibre has added data security, lower latency and – as anyone who still lives in an area not covered by full-fibre may know – optical fibre cables are less likely to be dug up and stolen for profit than their copper counterparts.
But these high-grade plastic, glass and silica cables that can transmit light signals with little loss of strength have been around much longer than the start of the new millennium. A theoretical description was published in 1961, by Elias Snitzer of American Optical, of single mode fibres with a core so small that it was able to carry light with only one wave-guide mode. The industry will also be more than familiar with the work of 'father of fibre optics' Charles Kao who discovered in the 1960s that, by carefully purifying glass, bundles of thin fibres could be manufactured that would be capable of carrying huge amounts of information over long distances with minimal signal attenuation. In 1970, a team of scientists at glass manufacturer Corning came up with a method of doping silica glass with titanium to make single mode fibres with attenuation of less than 20dB/km. 
The two main types of fibre used today are multimode and single-mode. Multimode fibre has a larger core so light can travel in many rays (or modes). It is mainly used for communication over shorter distances. Single-mode fibre has a much smaller core so light only travels in one mode. This is most commonly used in longer-distance transmissions, of more than 1km. There have also been a number of advances within these fibre types, such as ribbon cable and bend-insensitive fibre 
Ribbons have a number of conducting wires running in parallel to each other on the same flat plane, and were devised to combine a much-needed high fibre density with a simpler process for mass fusion termination process. The cable is pre-ribbonised, with groups of groups around 12 individual fibres that are bonded together for faster mass fusion splicing. This has the benefit of less time needing to be spent by installers.
Bend-insensitive fibre, meanwhile, was designed to overcome the problem of larger core fibre's sensitivity when handling in terrestrial environments. If a fibre cable is bent excessively, the optical signal could refract and escape through the cladding. Bending can also cause damage to the fibre, resulting in bend loss. Bend-insensitive fibre has a layer of glass around the core of the fibre, which has a lower index of refraction. This means that it can essentially reflect the weakly guided modes back into the core when stress occurs.
Another relatively recent development is hollow core fibre, which uses gas or a vacuum in favour of traditional cores to enable properties such as faster light speed and reduced sensitivity to environmental variations.
With the FTTH market rapidly gaining pace, and many countries getting closer to achieving roll-out targets, it's probably not surprising that the market for fibre optic cables is growing. A recent report from Market Reports World estimates the global market to be worth more than $12m this year, and forecasts a worth of more than $17m by 2028 with a compound annual growth rate of 6 per cent during the period.
Optical fibre cables and equipment on the market now
Vendors of optical fibre cables include AFL Global, which specialises in providing fibre optic products and solutions for industries, including telecommunications, enterprise networks, and data centres. The company offers a portfolio of fibre cables, connectivity solutions, and testing equipment.
Belden, an American manufacturer of high-speed electronic cables and networking products including fibre optic cables but also flat and coaxial cables, and peripheral equipment connections. Its line of indoor and outdoor fibre cables products is offered in tight buffer and loose tube designs, while armoured, burial, and ruggedised designs are suited to a wide range of environments.
Europe-based Cablescom is dedicated to the design and manufacture of both copper and fibre cables. A wide range of indoor, outdoor and drop cable fibre products are available, in compliance with the requirements of the large telecommunications operators. The company also offers quality management, logistics, and laboratory services.
CommScope designs and manufactures a comprehensive line of fibre optic cables, from outside plant to indoor/outdoor and fire-rated indoor fibre cables. The company offers high-performance designs that meet or exceed industry standards. Products are available in central tube, loose tube and ribbon constructions with single-mode and multimode fibre.
Corning manufactures a wide range of optical communications, mobile consumer electronics, display technology, automotive, and life science glass and ceramic products. The company invented the first low-loss optical fibre and its product range today includes numerous aerial, duct, direct buried and LSZH cables for indoor and outdoor use.
Furukawa Electric offers a comprehensive range of passive products including a wide variety of optical fibre cables. The company has manufacturing plants in markets including Mie Prefecture in Japan, Georgia in the USA, Goa in India, Sao Paulo in Brazil and Shaanxi in China, and supplies optical fibre throughout the world.
Fujikura produces optical fibre cables and coaxial cables throughout the world. Its diverse range include aerial SSD and direct buried installation, standard loose tube all dielectric cables, drop cables, aerial distribution cables SSW, low friction cables, and SpiderWeb ribbon.
Hamamatsu offers transmitter/receiver photo ICs for plastic optical fibre communications between and within devices and equipment in fields such as factory automation, consumer electronics, automotive, and medical. The photo ICs support a wide variety of transmission speeds.
Hengtong provides a series of end-to-end cable products and service solutions including layer stranded optical cable, central-tube optical cable, ribbon optical cable, special optical cable, indoor optical cable, power optical cable. The company has also established a standard air-blowing proving ground, flame retardant and fire-resistant combustion laboratory, in accordance with GB/T and IEC standards. It has successfully passed CNAS certification and developed successively ultra-fine air-dry optical cables, all-dry ADSS optical cables, anti-bite optical cables and other new products.
Jiangsu Zhongtian Technologies is principally engaged in the manufacture and sales of communication products. Its product range includes general optical fibre cables, power optical fibre cables, submarine cables, optical fibre products, radio frequency cables, aluminium alloy wires, aluminium clad steel wires, soft optical fibre cables, optical fibre ribbon cables, optical cable components, as well as detective optical fibre cables, among others.
Lumenisity was formed as a spin-out from the University of Southampton in the UK to commercialise breakthroughs in the development of hollow core optical fibre. The company's CoreSmart cable solution uses a patented nested anti-resonant nodeless fibre (NANF) hollow core technology to operate robustly on a single mode. This provides continuous uninterrupted transmission at 1310nm and over the full C and L bands and beyond. Microsoft acquired the company in 2022.
Molex can provide customisable plastic optical fibre (POF) cable assemblies and harnesses that are flexible enough for a range of applications. The company also offers custom hybrid POF harnesses with features to help speed up installation, solve routing issues and provide a compact solution.
OFS designs and manufactures single-mode optical fibre for applications including transcontinental, regional, metropolitan, home/business access, and in-building fibre optic systems, with its TeraWave, TrueWave, AllWave lines. The company's multimode portfolio offers high bandwidth OM3, OM4, and OM5 graded-index multimode optical fibres designed to support a wide range of short-reach, VCSEL based LAN, central office, and data centre applications. OFS can also provide a range of specialty and custom fibres.
Prysmian's optical fibre and cable technology is designed to deliver information at optimum speed. The company has five production sites around the world, from which it provides single-mode and multimode fibre, speciality fibres, and tubes and core rods.
STL provides for fibre optic and optical fibre cable solutions for a wide range of applications. Its lower bend loss optical fibre is designed to enable high network performance and lower installation costs. The company also offers a range of 250um and 200um bend insensitive single-mode fibre and non-zero dispersion shifted single-mode fibre solutions for 5G and FTTx applications.
Sumitomo Electric Lightwave's portfolio of optical fibre ribbon cables ranges from inside riser rated ribbon cables to interlocking armoured jacketed cables, for any application. Due to a patented pliable ribbon design, smaller diameter cables can hold much higher fibre counts and can be more easily terminated in the field.
Based in China, Yangtze Optical Fibre and Cable Joint Stock Limited Company (YOFC) is a manufacturer of optical fibre and cable products. It offers a wide range of fibre optic cables for various applications, including telecommunications, data centres, and enterprise networks.
This is not an exhaustive list. If you provide fibre optic cables and related products and would like your company to be included, please let us know.

Featured optical fibre product: Hamamatsu
Photo ICs are intelligent optical sensors with diverse functions that integrate a photodiode and signal processing IC in the same package. Hamamatsu designs all types of optical sensors based on the mounting environment and application needs. These compact and lightweight devices function as photo ICs for optical links and can be adapted and customised based on the requirements of our customers. They are used as data links in POF Communications for short-distance highspeed digital applications.
The transmitter/ receiver photo ICs for POF communications support a wide variety of transmission speeds ideal for factory automation, electronics and home entertainment The lightweight transmitter photo IC combines a red LED, with a peak emission wavelength of 650 nm and a drive IC. The receiver photo IC is compatible with CMOS and is resistant to electromagnetic induction noise due to the monolithic integration of photo diode and signal processing circuit. From design to manufacturing, Hamamatsu delivers standard and customised solutions with high-volume manufacturing capabilities. Find out more about Hamamatsu's Photo ICs by visiting the company's website.