Viewpoint
Sponsored Content
Industry Consortium Forms Open Eye MSA Targeting High Speed Optical Connectivity Applications

The ever-expanding bandwidth demands on Cloud Data Center infrastructures are intensifying the pressure on optical module providers to enable faster connectivity solutions at volume scales and cost structures. Companies across the optical networking industry are diligently working to meet these demands, but as the ecosystem of components, modules and switch systems continues to grow exponentially, a new issue has arisen: the need to ensure seamless interoperability at the correct power, latency, and cost points.
The industry is well aware it will take extreme effort and design precision to achieve coherence among the heterogeneous products coming to market. To expedite this process, multiple semiconductor, photonic component and system companies have come together to form an industry consortium, known as the Open Eye Multi-Source Agreement (MSA). The mission of this consortium is to standardize advanced specifications for the enablement of lower latency, more power efficient and lower cost optical modules targeting 50Gbps, 100Gbps, 200Gbps, and up to 400Gbps optical modules for datacenter interconnects over single-mode and multimode fiber.
The Open Eye MSA aims to accelerate the adoption of PAM-4 optical interconnects scaling to 50Gbps, 100Gbps, 200Gbps, and 400Gbps by expanding existing standards to enable optical module implementations using optimized clock and data recovery (CDR) based architectures in addition to existing digital signal processing (DSP) architectures.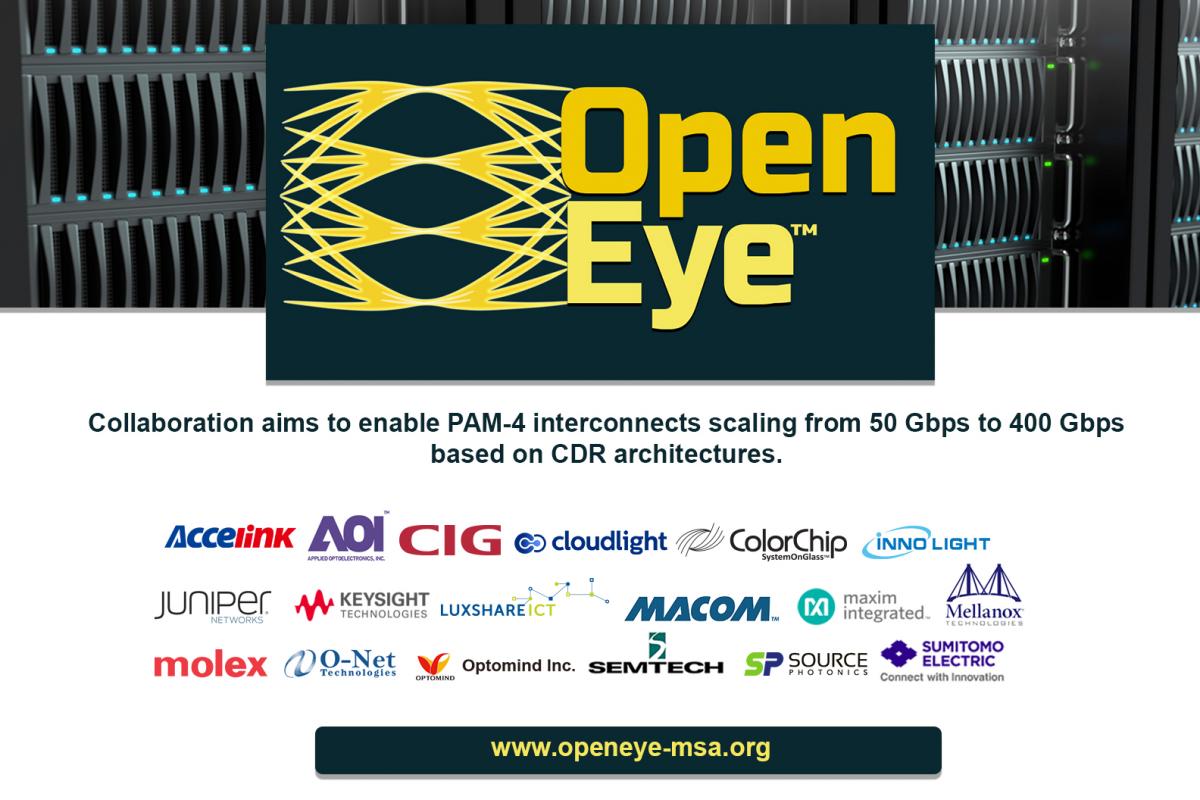 Minimizing the need for signal processing in optical modules has many advantages, including significantly lowering latency, power consumption and cost. The Open Eye MSA industry consortium is committed to investing its amassed innovation and engineering resources for the development of an industry-standard optical interconnect, leveraging seamless component interoperability among a broad group of industry-leading technology providers, including providers of electronics, lasers and optical components.
The Open Eye MSA approach is a natural evolution relative to today's high-volume optical nodes, enabling users to scale to next generation Baud rates. The initial Open Eye MSA specification will focus on 53Gbps per lane PAM-4 solutions for 50G SFP, 100G DSFP, 200G QSFP, and 400G QSFP-DD as well as OSFP single mode modules. Subsequent specifications will address multimode and 100Gbps per lane applications.  
Targeting compliance with this newly formed MSA, MACOM announced a complete analog and silicon photonics portfolio of products for seamless integration in 100 Gbps and 200 Gbps optical modules. Optimized for volume-scale deployment in high-density Cloud Data Center links, MACOM's components will enable faster, lower cost and more power efficient optical modules as defined by the upcoming Open Eye MSA industry standard.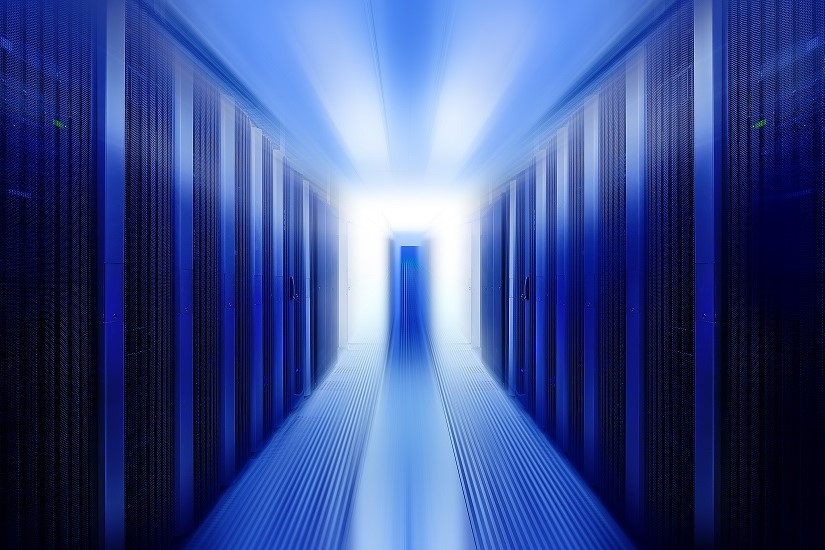 This end-to-end transmit and receive portfolio will feature low-cost, low-power extensions to MACOM's existing lineup of Clock and Data Recovery (CDRs), drivers and (Transimpedance Amplifiers (TIAs), adding an upcoming companion integrated 200G FR-4 L-PIC optimized to reduce customers' module costs through dramatically improved ease of assembly, calibration and test. These components are designed to eliminate the need for expensive, power-hungry signal processing and 53Gbps EMLs, enabling streamlined optical module architectures.
MACOM's full CDR-based and L-PIC-based portfolio includes the MAOM-38053 four-channel transmit PAM-4 CDR with an integrated driver and L-PIC transmitter. On the receive side, the portfolio features a MATA-03819 quad TIA, MACOM BSP56B photodetectors and the MASC-38040 four-channel receive PAM-4 CDR. This approach is anticipated to deliver over 25% reduction in power consumption while simultaneously driving the cost per gigabit down as compared to today's CWDM4 and digital signal processing (DSP)-based PAM-4 solutions. Cloud customers can now double their link rate with only minor incremental power and cost.
By participating in the Open Eye MSA, MACOM is applying its expertise and market leadership in 25G, 50G and 100G analog chipsets, optical components and design, while working in parallel to advance the DSP technologies necessary for faster connectivity speeds into the future. Extensive application expertise and leadership in PAM-4 enabling technologies will help to ensure a seamless migration from 100G CWDM4 to industry-standard 200G PAM-4 module architectures.
For more information about MACOM's Cloud Data Center connectivity components, please visit https://www.macom.com/data-center.
For more information about the consortium, visit www.openeyemsa.org.
This article is brought to you by: