Keely Portway reports from the OFC 2019 Conference and Exhibition in San Diego, where it was apparent that, while some of the challenges facing the industry are unlikely to disappear just yet, the high levels of innovation and product development are equally here to stay
A year ago, the 2018 OFC Conference and exhibition in San Diego opened its doors just as news broke that Lumentum had acquired outstanding Oclaro common stock in $1.8 billion agreement. Consolidation was understandably a hot topic at the event and, in the year since - bringing us to the 2019 iteration, which took place from 4-7 March.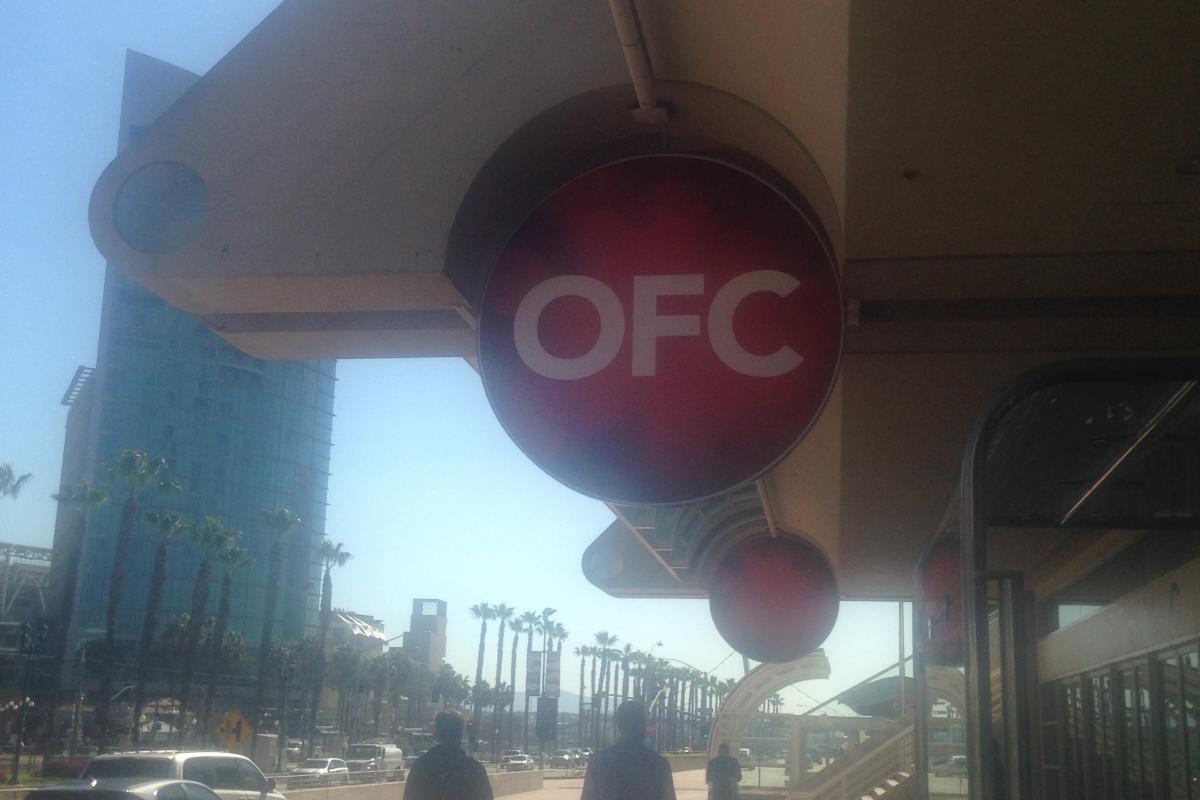 Somewhat fittingly, as some 15,400 delegates arrived at the San Diego Convention Centre for OFC 2019, it was announced that Lumentum had agreed to sell certain optical transceiver product lines to Cambridge Industries USA - with holding company Cambridge Industries Group (CIG). Those lines to be acquired are developed and manufactured by Oclaro.
Other notable mergers and acquisitions (M&As) in the past 12 months include:
Many of of the larger and more widely-recognised businesses have already been touched by M&As at some level, but does this mean that things will realistically begin to calm down going forward? Not necessarily, according to Woo Jin Ho, senior analyst at Bloomberg Intelligence, who spoke as part of the first OFC State of the Industry analyst panel, looking at why M&A is here to stay. '2018 was a very active year in M&A,' he explained, referencing the aforementioned transactions and some of the driving factors behind them – such as the pooling of technology and IP, increasing market share, or expanding into complementary markets.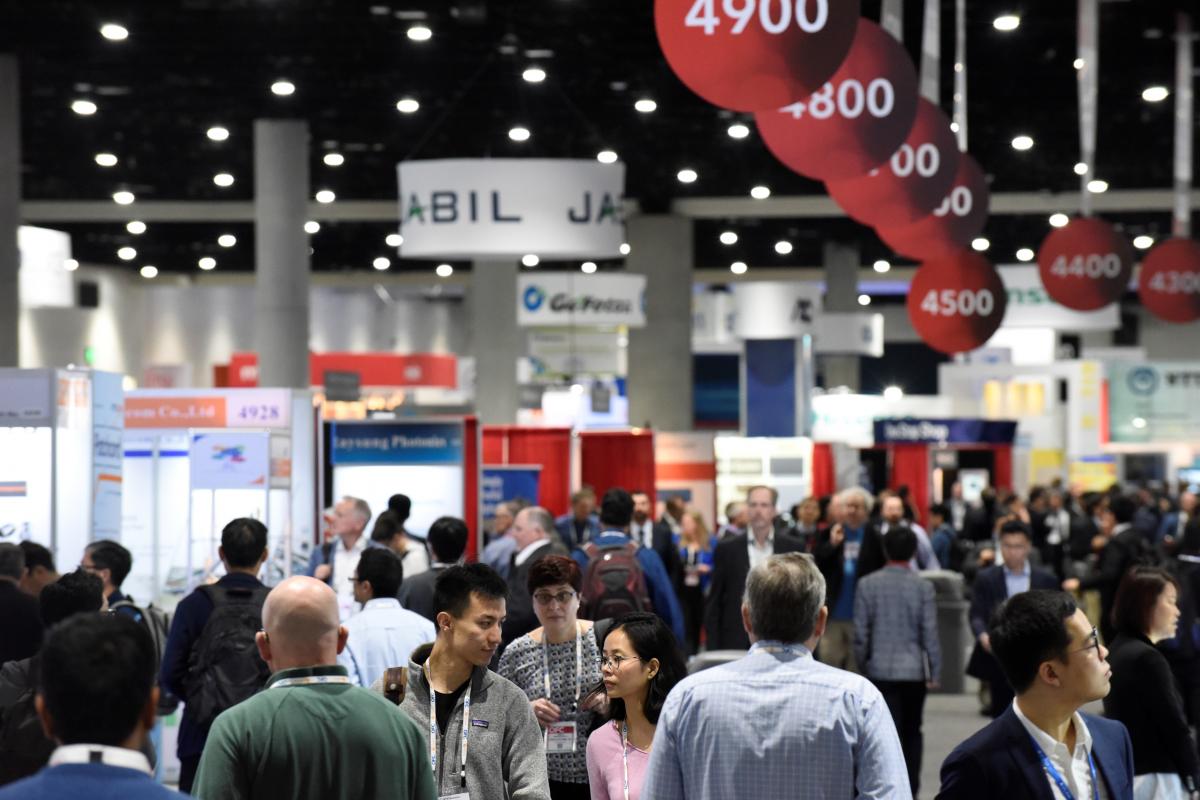 Driving forces
Looking at the bigger picture, Ho believes there are two key areas driving industry consolidation. 'Number one,' he said, 'is China, which has been investing heavily in the optical infrastructure. Number two is the internet cloud provider, which has been investing heavily in data centre interconnect (DCI).'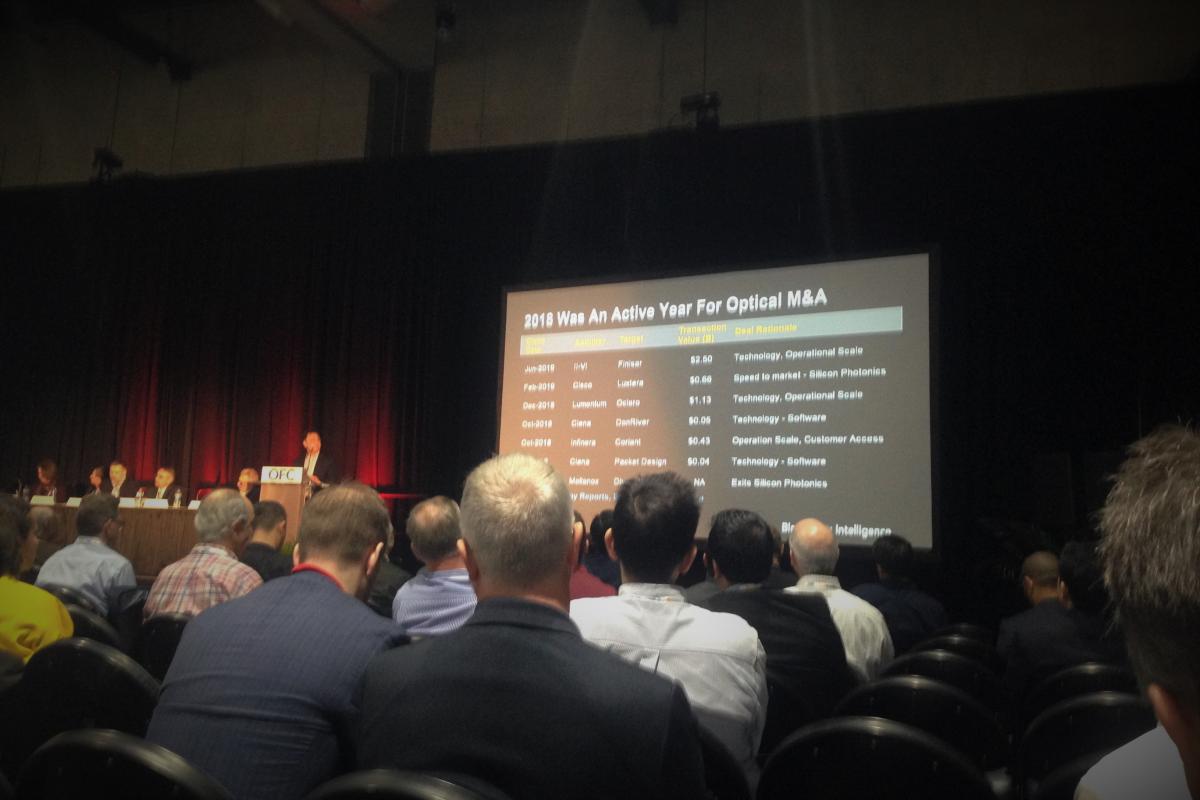 Going on to say that the market landscape might be different without the Chinese market or cloud providers, Ho explained: 'The challenges may grow and Made in China 2025 will create more consolidation. China wants to supply 30 per cent of domestic demand for optical components by 2022.'
The other key challenge going forward, said Ho, is the cost of chip development. 'The next node we are coming toward is the 7nm, the development costs for which are roughly $300 million. Scale will increasingly matter. It is easier for larger scale vendors to move R&D around.'
Money matters
Vladimir Kozlov, founder and CEO at LightCounting Market Research also addressed monetary issues during the panel discussion, stating: 'It's an exciting time in the industry. The demand for optics is very strong, why are we bringing up the worrying question of pricing? The reason it's such a problem that we have, is sales of optical transceivers declined last year for the first time in many years.'
He explained that, from 2011 until 2015, price declines were strong, but that, surprisingly, the market did not go through the usual three-year cycle. 'So,' he said, 'there were two years where the demand was very strong but in 2013 demand actually broke by a factor of two, so the market didn't decrease in terms of units shipped but it still declined because there were so many suppliers looking for business.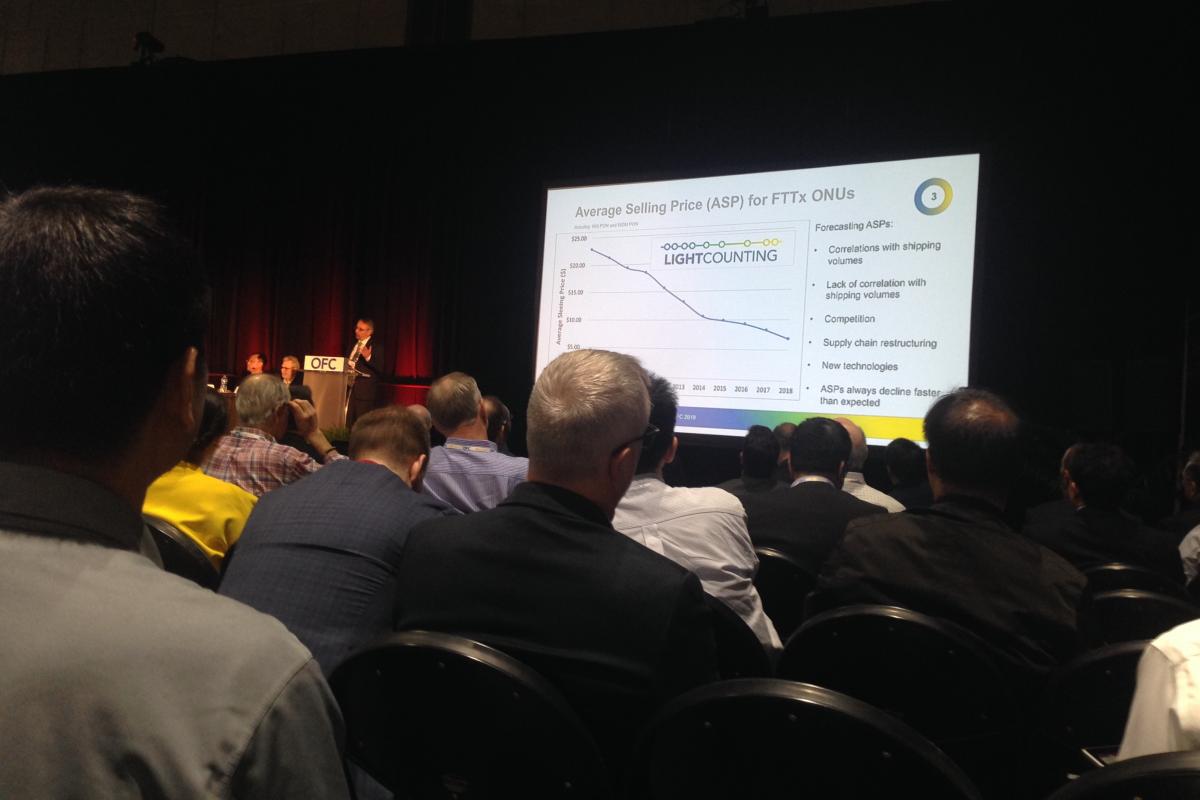 'So, it's almost like whatever happens, prices decline,' he reasoned. 'And in fibre to the home it was changes in the supply chain that actually supported such low prices over time. What we are seeing is a change from vertically integrated suppliers of transceivers to a spiralised kind of supply chain where we can choose types of suppliers. That type of arrangement supported the fibre to the home market and supported this low price so the reason I bring it up is that I want to compare it with what's happening in the ethernet and DWDM markets. If we look at average prices of products in different market segments the average product prices for these markets is actually pretty stable.'
What's next?
Kozlov attributes this to new innovations, and Cignal AI's Andrew Schmitt took to the stage to look at a number of industry trends, including what is coming next. 'Almost 10 years ago I talked about a re-boot,' he began, 'and we're due for something big, but what is that going to be?'
Touching on vertical integration, which has 'historically resulted in market success,' Schmitt also discussed the trend for disaggregation, pointing out that its definition has changed over time, its value is not entirely clear in all places, and that not all operators believe the complexity is justified. Looking at coherent technology, Schmitt said that the time to volume decreases with every generation. 'The big deal,' he said, 'is fourth generation coherent. It's not about making it faster, it's about higher volume and making it cheaper.' He put investment in fourth generation components at $500 million.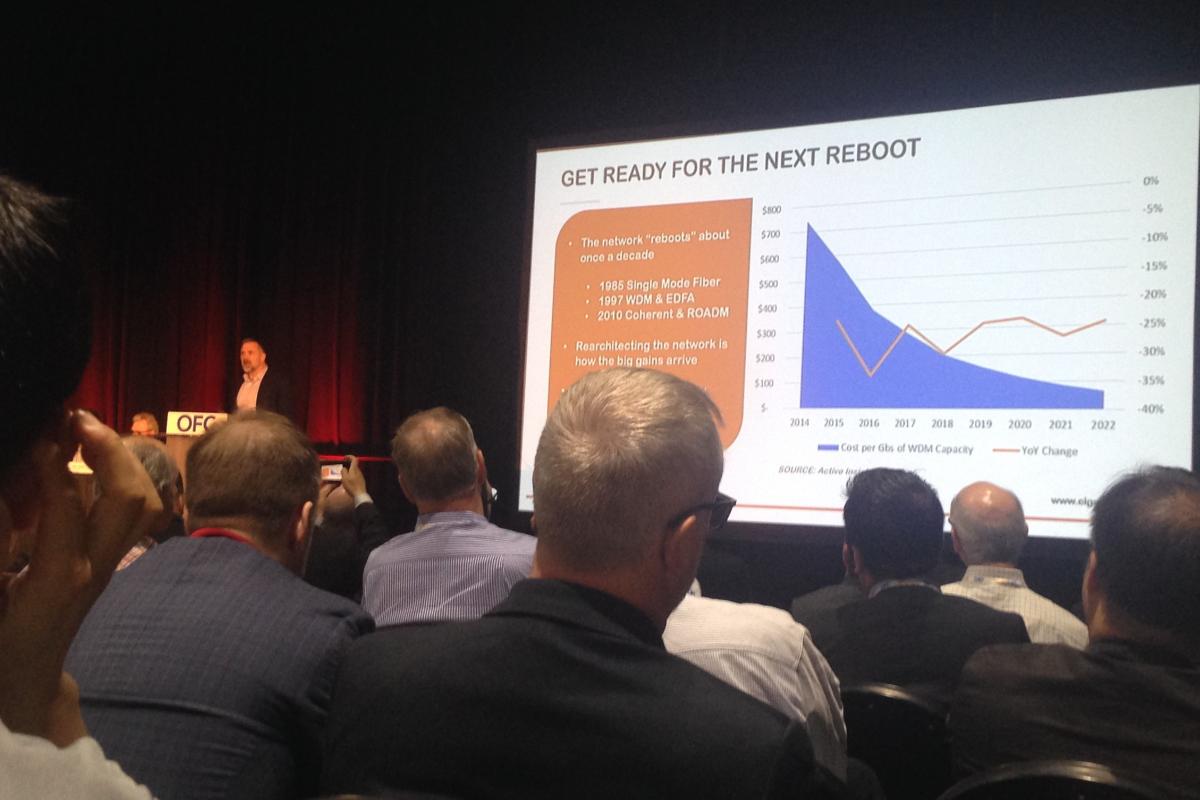 Indeed, in the run-up to the show, a number of companies announced their next generation coherent chipsets/transceivers, with the notable ICE6 from Infinera engineered to deliver up to 800Gb/s per wavelength, and Ciena's latest range of WaveLogic technology, which includes a single-wavelength 800G solution.
A big deal
Contemplating what could come next, Schmitt cited pluggable WDM as 'a big deal,' alongside 400ZR and 400ZR+, and this was reflected on the show floor, with several live multivendor interoperability demonstrations including Coherent Transceiver Interoperability, Ethernet Alliance, OIF and Open ROADM MSA SDN. Technologies from around 40 different vendors were featured in these demonstrations, including 400ZR, and also 10GbE, 25GbE, 50GbE, 100GbE, 400GbE; Open Source Open ROADM SDN Controller; pluggable CFP2-ACO and CFP2-DCO modules; and Common Electrical I/O (CEI)-112G, FlexE (Flex Ethernet).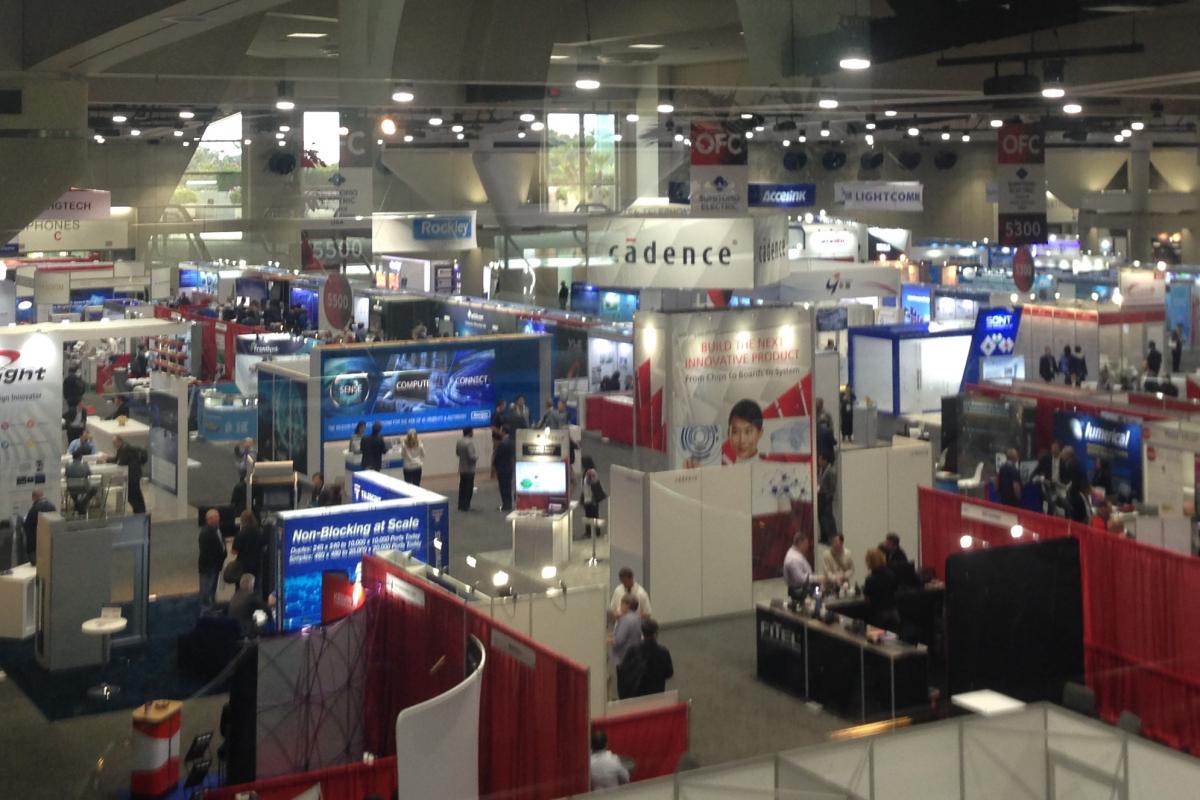 On the array of technology at the event, Ho said: 'Key emerging trends to look out for the industry and vendors based on the conference include 600G/800G optics and systems and 400ZR for the hyperscale cloud data centres.' Meanwhile Schmitt concluded his presentation quoting the line: 'Old soldiers never die, they just fade away,' adding, 'I think that's going to happen to the stand-alone optical hardware business.'
OFC 2020 will be held 8-12 March in San Diego.