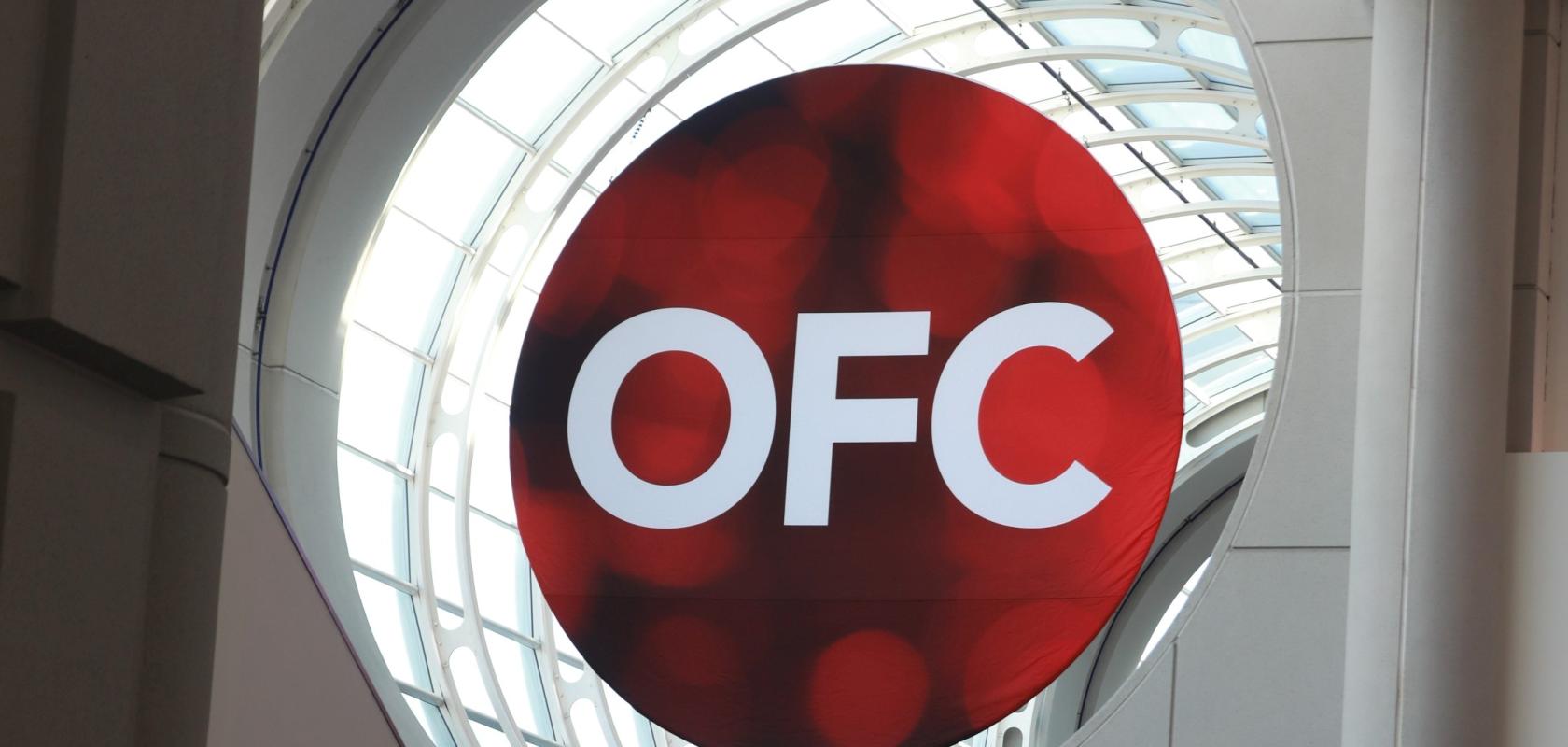 Keely Portway reports on the popular Market Watch panel that took place at OFC 2022, focusing on the current state of the optical market
Five words that describe the state of the optical communications industry right now, according to panellists at the Market Watch: State of the Industry discussion that took place at the first in-person OFC event since 2020 were: happy, growth, complex, exciting and bright.
There was certainly an air of cautious optimism as people were able to meet face-to-face once again for demonstrations, networking and learning. But what are some of the key trends, challenges and market influences when it comes to optical communications in 2022? 
Investment is one key driver, and the view of Mike Genovese, equity research analyst at Rosenblatt Securities is that the state of the industry is currently extremely strong, going as far as to say: 'It's the strongest that I've seen in my 25-year career.'
Genovese believes that this is set to continue. 'It looks like it's sustainable over the course of a multi-year cycle,' he said. 'The strong capex uptick that we're seeing from service providers, hyperscalers and enterprises started in the year 2000, with the greatest capex by the hyperscale integrated communications providers (ICPs) and layered on with unprecedented levels of federal and state stimulus for fibre broadband that's starting to hit over the next few years.'
Investment drivers
Other drivers such as the pandemic also accelerated the digital revolution, geopolitical restrictions and consolidation reducing competition, and advances in coherent technology moving people away from sometimes negative perceptions about the white box. Said Genovese: 'All of the product cycles in all parts of the network are hitting at the same time, from 800G in the core to 10G FTTH, there's just so much going on in the industry, it's truly an exciting time from a top-down perspective.'
Making a comparison of capex and federal stimulus over the past more than 20 years, Genovese described the 'pretty violent' growth during the tech bubble of the late nineties and early noughties. 'What we're seeing now,' he added, 'is the start of a more sustainable, more predictable, double digit growth industry, and the federal stimulus that is coming in over the next few years is around five-to-six times what it historically has been.' 
Against this backdrop, Genovese explained that when it comes to investment cycles, it is not just optics at the core but also a cycle for optics at the edge and a very strong cycle for FTTH taking share from cable and DSL. He went on to highlight what these trends mean for industry and in particular, for vendors, saying that product cycles currently drawing investment are 800G long-haul and subsea, 400G metro and data centre, 100G edge, 10G PON, open line systems, pluggables, 5G and metaverse. This, in turn, means that the types of companies that may benefit are vendors of optical systems and optical components; vendors of products for fibre broadband; test and measurement suppliers; vendors of equipment for the data centre market and suppliers of 5G equipment.
While Genovese also acknowledged that recently the stock market hasn't necessarily been 'very friendly,' he believes that the fundamentals of the optical industry are very strong. He said: 'Revenue growth is accelerating, margins are going to get better from here and it's a great time to be in optical. The investments will reflect the fundamentals. I'm very confident in that and extremely bullish on this industry.'
TV stars
Another trend in recent years that has shaped today's industry is the way in which fibre and TV interact. Alex Derbes, portfolio manager, investor at Gilder Gagnon Howe & Co explained: 'Americans spend an incredible amount of time watching TV. According to the Bureau of Labor statistics, in 2020 we spent an average of three hours-a-day watching TV.
But what we're doing with our leisure time has actually been changing pretty dramatically, with younger people aggressively shifting away from linear TV and towards other forms of leisure activities like Facebook, Snapchat, streaming TV like Netflix, and these are all things that fibre optic communications have enabled both in the data centre and also in the access technologies.'
But now a trend is emerging where TV is also beginning to change fibre. Derbes elaborated: 'The economics for a video distributor like a cable company are they buy content from media companies like Disney and Viacom and CBS and AMC and generally they pay per-subscriber per-month. The larger the video distributor, the bigger the price break they get, so previously it was very difficult for a small upstart ISP to compete.'
Derbes went on to say that, as video has moved over the top, people have Netflix and access to things like YouTube TV, there has been a shift. Where, 10 years ago when people bought new houses, the number one thing that they cared about was who had the best video channels and then they bought whatever internet they had.
'In the last few years,' said Derbes 'that's really flipped upside down and now, when we move into a new house, we try to find the best internet services, secure in the knowledge that we will be able to buy the video channels that we need from some other source, and this is the price difference for a large service provider, their channels are what that costs them in margins and actually they make money on that, so $85 a month versus a small operator's $105 a month.'
But, with more of the smaller providers entering the market, and greater commitment for roll-out ensures more capital, these smaller providers are seeing take rates go from 30 to 50 per cent. Derbes elaborated: 'As they pull a piece of fibre down the street now they're expecting as many as 50 per cent of those houses to sign up over the first two or three years and this dramatically changes the economics for them because they're advertising the fixed costs over 66 per cent more homes and that's something I'm really excited about over the next few years.'
Optical components analysis
Offering an analyst's view of the state of the optical components market was Lisa Huff, senior principal analyst, optical components at Omdia. Huff shared that the company predicts the market for optical components will achieve a growth rate of above $12bn this year. The driving force, she said, is digital business, specifically, internet content provider (ICP) data centres.

Together, she said, the revenue for the top nine ICP data centres (Oracle, Tencent, IBM, HP, Facebook, Alibaba, Microsoft, Google and Apple) now exceeds $1.4trn, and over the last three years, the revenue growth has exceeded 15 per cent year-on-year. 'Of course,' said Huff, 'everyone knows that the foundational business is set in e-advertising, search, social capabilities and e-commerce, and it's built on a foundation of hyperscale data centres supported by network bandwidth architecture, but that's starting to change. We see these striving towards two industry roadmaps: a data centre construction roadmap and then a conductivity roadmap.'
Going into more detail, Huff pointed out that for the top two ICP data centres, Microsoft Commercial Cloud (MCC) and Amazon Web Services (AWS), the ramp to commercial cloud was accelerated by Covid. This, she said, is something that is set to continue. 'We see accelerated migration to cloud; we see a strong hybrid multi-cloud strategy for businesses now because they can't afford to be down in case of a lockdown. Not only are the data centres now building hyper scale data centres, they're starting to build distributed or smaller data centres closer to enterprises at the edge to deliver services faster and with less latency and we're even seeing some far-edge distribution.'
In terms of what this means for optical components, Huff went on to explain that 400G+ coherent devices are driven by these ICP data centres. '400G and above growth is going to be tremendous over the next few years ,' she said, 'and the biggest growth is going to be in CFP2-DCO and QSFP-DD/OSFP ZR/ZR+ for DCI. That doesn't mean that 600 and 800G will be less. They will be used more in the core network, but it will be network equipment manufacturers' integrated devices versus pluggables.'
Inside the data centre, Huff explained that there are still a lot of 100G connections, but that these are quickly transitioning to 200 and 400G, depending on the customer. She predicted: 'We expect 400G will take the number one revenue position in 2023 and 800G, while there are some being shipped right now, we don't expect it really to see substantial growth until after 2026.'
Coherent optical evolution
Scott Wilkinson, lead analyst, networking components at Cignal AI looked at the coherent optical evolution and its impact on traditional DWDM. During his presentation, Wilkinson didn't refer to coherent in the more traditional 'generation 1/2/3' way, mainly because 'it was impossible to keep track of what everyone called those different numbers.' For the purposes of his talk, and this article, Wilkinson used baud rate, so, for example, a 'Gen30' is a 30GBd coherent product. As there have been different generations of GBd products, some of them performance-based and some based on the ability to fit into a pluggable. So during his talk, a 'Gen30C', is a 30GBd pluggable, while 400ZR would be 'Gen60C'.
Wilkinson talked through the time that different generations of digital signal processors (DSPs) were sold and pointed out some interesting trends, with Gen30 coming along at 100-200G top speeds from 2010, and then they turned into pluggables. Then the Gen60s came along and then they turned into pluggables. 'It's about three years,' said Wilkinson, 'from the time something came out as a performance, to the time a pluggable version of it came out. Now, it's been about two years since we've had Gen90, so when are we going to have a Gen90 pluggable?'
According to Wilkinson, we may actually not, because the OIF is working on an 800G standard based on 120GBd. 'We may actually skip it,' he said, going on to discuss public announcements about performance in the field. 'There is very clearly a gap, the Gen90 stuff can go a longer distance for the same speed, bringing a better speed at the same distance. There's a nice gap between that and the old generation, the old Gen60. What's really interesting is when you put the Gen60C on top, what you see is this ability to put two of those and get the same performance as you get on a high-performance.'
This has led to some confusion, said Wilkinson, with the announcements of, for example, 800G products that are actually two 400G products. 'But this ability,' he continued, 'of the compact devices to have performance that rivals the performance ones, that's a really interesting trend that's changing the way networks are being built' Echoing Huff, he continued: 'In terms of transitions it's all about 400G and a lot of that is predicated on the fact that China is doing a lot of Gen30 200G.' There is also the possibility that China may move to Gen60 200G.
But, said Wilkinson, it really comes down to how much of this is pluggable and he cited about half being pluggable. 'The 400 ZR movement has changed the way all of this works,' he said. 'It's amazing how much of it is turning into that and that's breaking down into DCI versus the new stuff and there have been several announcements of this show where it's 0dBm output or higher to go over ROADM networks. It's changing things like IP-over-WDM.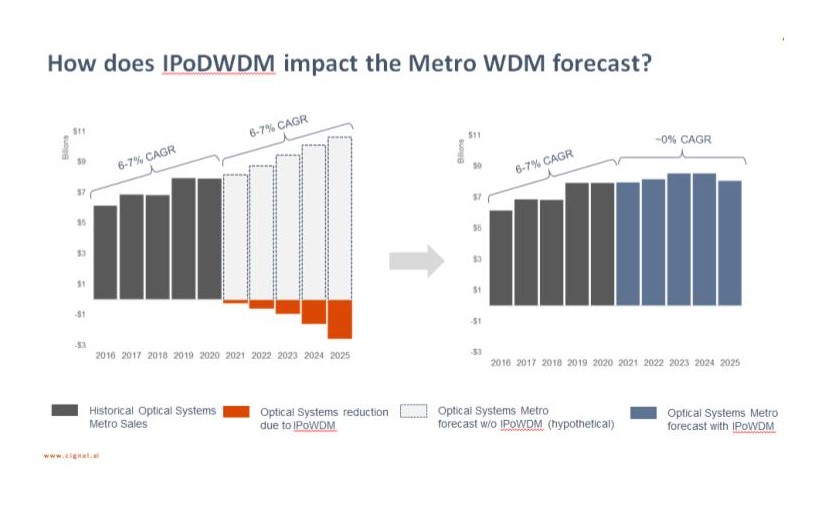 Wilkinson looked back to the first mention of IP-over-WDM in 2000. 'That was when we were talking about skipping the SONET layer,' he said. 'Now we're talking about skipping the transponder layer and everybody says that it's the same old thing, but I promise you, it is not the same thing anymore.'
In fact, Wilkinson pointed out, this time the form factor is right, as the client form factor (QSFP-DD, OSFP) does not sacrifice the faceplate density. In addition, he said: 'The 400G transition, and Lisa mentioned this happening inside the data centre, is now matched up with the speed outside the data centre. That's never happened before, it's a very big incentive. The bottom line is that there are people out there who have a whole lot of money to spend and they need to find a way to get rid of transponders in their network, because they can't afford to keep doing it that way. This is a great solution.'
But what is the impact on the DWM market? Explained Wilkinson: 'Over time, we've had a pretty steady growth rate of metro WDM. We've done some analysis to find out the impact every time somebody puts a coherent 400G into a router instead of building it into a transponder, and you have to consider there are some places where they never would have a transponder anyway. There are some places where it's not really a one for one replacement you're getting rid of a lot of other things too so it's actually bigger. Put all that together, and here's the controversy, what you get is a flat WDM market going forward. It's not declining yet, but it's certainly not growing.'
Global trends
Martin Vallo, market and technology analyst at Yole was the final speaker on the panel, addressing the global technology and market trends shaping the future of the optics industry.
Vallo began by positioning some of the key players involved in the co-packaged optics (CPO) activity, with traditional optics vendors such as Mellanox, Foxconn Interconnect Technology (FIT)/Avago and II-VI, who work with Indium Phosphide (InP), and then the optic suppliers which working with silicon photonics (SiPh) technology, such as Acacia, Luxtera, Ranovus, Elenion, Aurrion, Quintessence, Teraxion, ClariPhy and Intel.
'The CPO ecosystem emerged from the merchant silicon vendors and equipment vendors, partnering with the silicon photonics players, pioneers and foundries,' he said. 'The important point here is that only a few players are capable of making the whole CPO assembly today and from our analyses, we can also see that the CPO success will strongly depend on a willingness to tightly cooperate with different players.'
Vallo went on to say that in today's market there are only two DC operators who are active in the CPO domain, while the Chinese counterparts would rather remain with the pluggable optics. Looking at a market map, he also revealed that the vast majority of the CPO involved players have been identified in the US. We found out, it might have a logical consequence of the ARPA and DARPA research programs, which funded numerous projects seeking new approaches to improve the data centre's energy efficiency.'
Meanwhile, said Vallo, the European and Chinese players presented their CPO activities through the projects of standard bodies, but the particular outcomes have not been shown. Looking at growth in these markets and the race to leadership appears to be between the U.S. and China. However, between 2017 and 2020 the optical transceiver industry in the U.S. grew, said Vallo, by only 1 per cent, while in China, it grew by 24 per cent. 'It's amazing,' said Vallo, 'the Chinese DC operators invest the most heavily in local optics products as they want to maintain economic growth by ensuring a secure and controllable technology supply chain.'
On the flipside of course, there is the issue of American companies being unable to sell in China or becoming targets of consumer boycotts. 'Consequently,' said Vallo, 'this might be one of the reasons, so why the US optics industry is looking at the CPO ecosystem, to improve the revenue growth rate.'
Vallo went on to compare the two markets in terms of technology accessibility. He said: 'The US players leverage their position to control the higher margin of the whole process along the vertical. So, although the Chinese optics industry is growing rapidly, there is still a lack of access to the to the important transceiver components today and in the context of the of the trade war, the Chinese players want to become self-sufficient in all transceiver components. In our analyses, it's obvious that the US players are self-sufficient in in all transceiver components, as well as in photonics and electronics, and they want to strengthen their position and there is the potential that they could create a new technology ecosystem that they could dominate in the future.
Vallo concluded by offering a revenue growth forecast made by Yole last year, which stated that the revenue of Datacom optics reached around $5.3bn in 2020 and the firm predicts that it will reach around $15bn in 2026, and more than $28bn in 2032. 
When it comes to CPO optics, said Vallo, including OBO optics $6m in 2020. 'We expect, he said, 'that it will reach more than $2bn by 2032 at a compound annual growth rate (CAGR) of 65 per cent for the period to 2020-2032. This growth will be driven by huge savings of energy and capex over pluggable optics.'