Jeff Heynen explains why fibre deployment will show no signs of slowing in 2022
In the world of communications and networking, the year 2020 marked a turning point for communications service providers, as well as consumers and subscribers around the globe.
2020 was the year that fibre cemented itself as the preferred access technology of the future for a majority of operators. The catalyst for this strategic shift was the impact Covid-19 had on residential broadband network use rates, along with the dramatic increase in premium broadband subscribers around the world.
According to many operators around the world with cable, DSL, and fibre broadband networks, upstream peak traffic growth throughout 2020 increased more than 50 per cent, while downstream peak traffic growth increased 30 per cent. In the early days of lockdown, operators reported staggering 125 per cent increases in peak upstream and downstream growth, which ultimately leveled off as software adjustments were made to network platforms and new capacity in the form of line cards and upgraded CPE was added. 
Although the world is gradually returning to normal, with teleworkers moving slowly back into their offices, there is simply no turning back now for broadband subscribers who either upgraded or switched to an FTTH service. The near-symmetric speeds pushing 1Gb/s and beyond, the resulting elimination of buffering for streaming video, and the near-flawless performance of online and VR gaming, and video conference calls are more than enough to warrant holding on to their premium broadband.
As a result, we expect global FTTH subscribers to continue to expand on a global basis, with the highest growth (by percentage) to come from Europe, North America, and CALA, where fibre penetration rates remain below 50% for many countries in each region (Figure 1).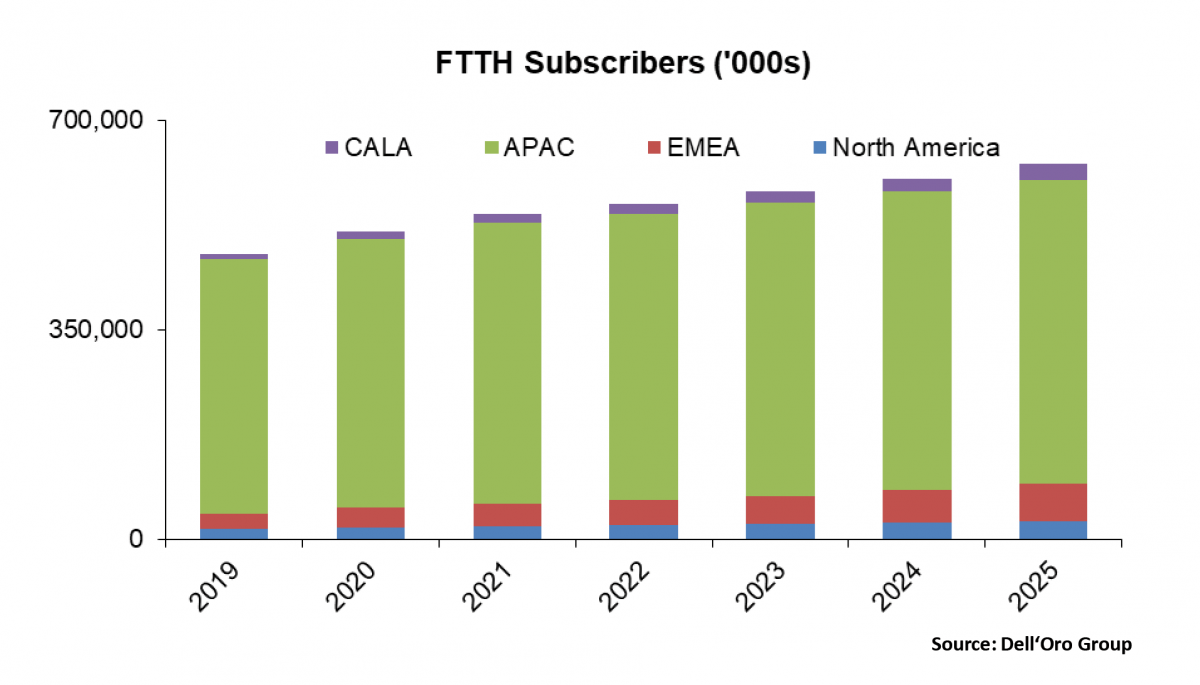 Figure 1: Global FTTH Subscribers by Region (Source: Dell'Oro Group)
A wide range of technologies
The fibre expansion in 2020, which saw total spending on PON equipment jump 8 per cent and is expected to have shown an even more substantial increase by the end of 2021, involves multiple technologies – from 1G EPON and 2.5G GPON to XG-PON and XGS-PON (Figure 2). While the clear trend among operators is to expand their fibre services using 10G technologies, there are still hundreds of operators who will continue to rely on 2.5G GPON as the workhorse for their fibre networks for years to come.
Figure 2: Global PON Equipment Revenue (Source: Dell'Oro Group)
The diversity in PON technology choices specifically reflects the fact that fibre networks are no longer being considered for just residential applications. Instead, the same fibre networks that deliver residential services are now also being used for business and wholesale access. Additionally, the global expansion of 5G networks and continued small cell densification are opening up opportunities for 10G technologies to be used in both mid-haul and backhaul applications.
For operators considering a fibre deployment or network expansion, the key decision points used to be 'how many homes can I pass?' and 'what percentage of those homes will become subscribers?' While those remain critical metrics, the ROI equation for fibre networks has become increasingly easier given the additional revenue potential from wholesale and business services, in addition to providing mid-haul and backhaul functions for a growing network of 5G small cells. The application and technology roadmap for PON networks and technologies has become much clearer, making it easier for operators to justify the initial construction and buildout costs of their fibre networks.
Adding more incentive for operators to expand their PON networks has been the growing commercial availability of combo cards and optics, which can support 2.5G GPON, XG-PON, or XGS-PON from the same platform. These multi-technology options allow operators with existing PON deployments to begin the process of upgrading their networks to 10G on a gradual basis, without having to do a flash cut of entire service areas. Instead, operators can continue to deliver 2.5G GPON services to the bulk of their residential subscribers, while allocating XGS-PON wavelengths to business or high-end residential subscribers. Operators can then spread out the costs of more expensive 10G ONTs across a longer period of time.
More importantly, combo cards and optics don't force operators to change any aspects of their existing ODN (Optical Distribution Network), allowing them to continue amortising those initial construction and equipment costs over a longer period of time. From feeder and distribution cables to ducts, poles, and splitters, the co-existence of multiple PON technologies and re-use of the existing ODN is critical for operators around the world.
Fibre everywhere
The global trend toward the deployment and expansion of fibre networks has never been clearer. What began in a handful of countries just a decade ago has proliferated to hundreds of countries and thousands of network operators globally. Fueled by new applications, new subscriber requirements, and new competition, operators clearly see their networks of today and tomorrow relying on fibre.
The roadmap for fibre technologies and use cases continues to expand, along with the knowledge and implementation of best practices. Those two trends alone will continue to provide operators with strong incentives to deploy fibre and future-proof their networks for decades to come.
Finally, network equipment vendors are expanding their product and service portfolios to become more comprehensive partners to fibre providers. From in-home networking equipment to ODN infrastructure and central office equipment, these suppliers are adding network design and consulting capabilities to help their service provider customers reduce the cost of deploying fibre networks and speed their time to market.
Jeff Heynen is responsible for the Broadband Access and Home Networking market research program at Dell'Oro Group