Can ocean cables go green?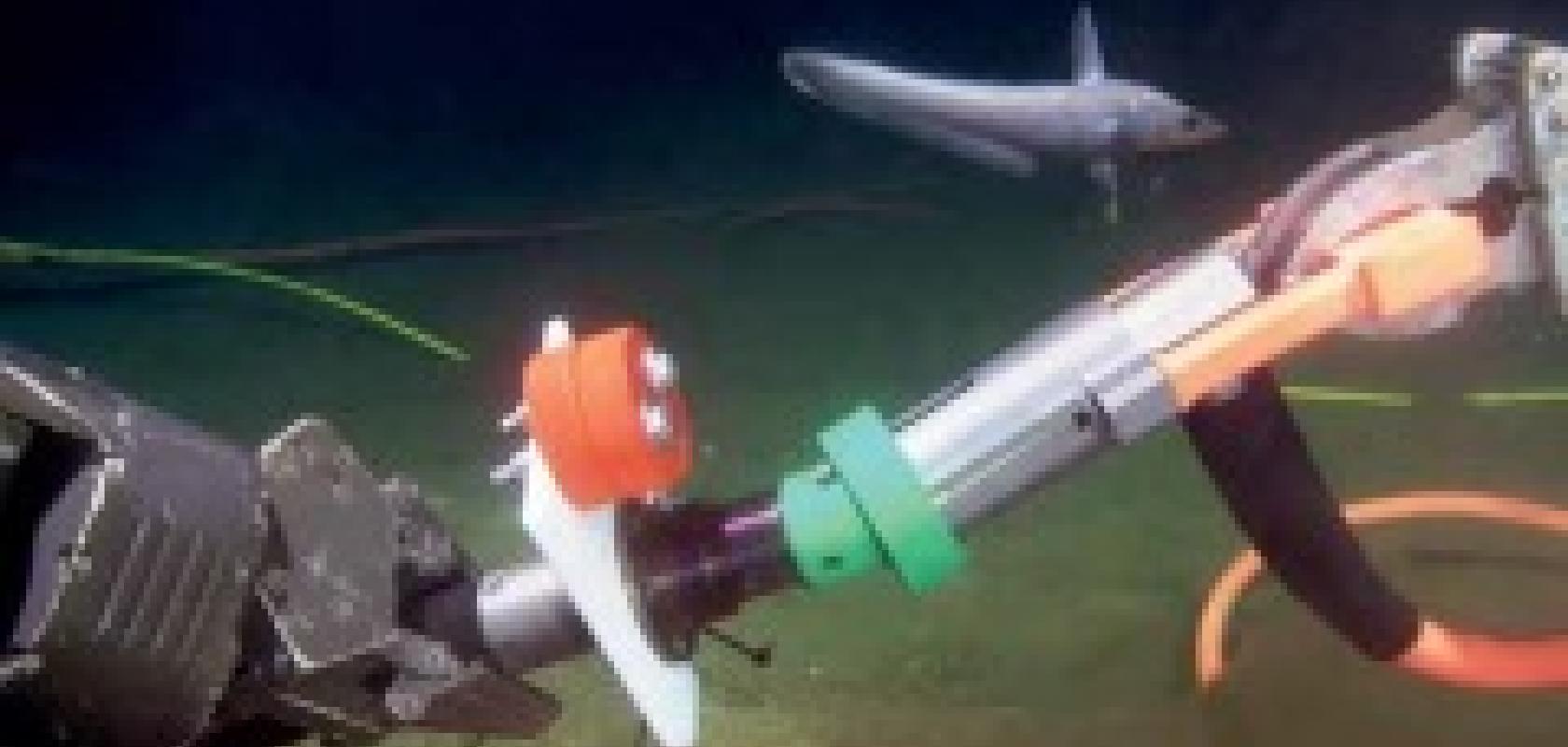 Far below the surface, fibre-optic cables criss-cross Earth's ocean floors, blind to the conditions – and the risks – in the cold and dark surrounding them. To channel data across the world reliably, these expensive submarine networks are designed to minimise the number of parts that add to bill-of-material costs and could fail. In this austere culture, until recently, the idea of adding sensors to monitor what's going on down there would have met with scorn. But now, driven by encouragement from scientists, the industry is seriously considering a previously unthinkable chimera: an Internet and telecommunication backbone with 'eyes' on it.
The idea has sprung principally from a 2010 letter to the journal Nature, written by University of Sydney climatologist and oceanographer Yuzhu 'John' You. That motivated a UN agency, the International Telecommunication Union (ITU), to organise a workshop in Rome in 2011 to explore using submarine cables in research. There, scientists made their case to their industrial counterparts.
'Measurements that could warn of tsunamis are taken around the oceans' edges, mainly the Pacific Ocean, and mainly with buoys,' said Chris Barnes from the University of Victoria, Canada. 'The oceans are the main driver of long-term climate change, but we know very little about ocean circulation and temperature changes in the deep ocean, as it's difficult to get down there. We'd love to have measurements in the deep ocean every 50 kilometres to improve our knowledge. There could be enormous payoffs for our kids and grandkids.'
In Rome, the scientists' enthusiasm was not well received by industry. 'There was some dispute,' Barnes explained. 'The companies had lawyers there, and they were concerned that this would affect their reliability and business case.' Nevertheless, there was still strong evidence supporting the idea, such as NEPTUNE Canada, the world's first regional cabled ocean observatory, which became operational in 2009 and which Barnes directed from 2001-2011: a research facility consisting of hundreds of sensors connected by submarine fibre-optic cables delivering interactive real-time data – such an example justified further discussions.
After a 2012 meeting, the ITU joined forces with two other UN agencies: the World Meteorological Organisation (WMO) and the Intergovernmental Oceanographic Commission of the United Nations Educational, Scientific and Cultural Organization (UNESCO/IOC). Together they formed a 'Green Cables' joint task force (JTF), and appointed Barnes the chairman.  
An even older precedent came from Japan, where earthquake and tsunami seismometers had been installed on NEC's submarine cables in 10 locations since 1979. 'Since the 2011 Great East Japan Earthquake, NEC has also deployed new technology to predict the intensity of an earthquake's secondary big wave and the height of the possible tsunami,' added Simon Webster, head of submarine networks at NEC Europe. 'NEC is now building submarine cable networks extending over 5,000km for improved coverage and accuracy.'
Packages of sensors to measure water temperature, pressure, and conductivity can also be installed with the repeaters deployed every 50-70 km to amplify optical signals in submarine cables. That would help scientists better understand climate change, Webster explained. 'It's important to ensure that the proximity of the repeaters does not disrupt the data being collected,' he added. 'Although a repeater's power consumption is only a few tens of watts, we're aiming to detect sea temperature variations measured in milliKelvin, so care must be taken in designing and locating the temperature sensors. The inclusion of sensors in the same mechanical housing as telecom repeaters may also cause concerns for cable owners whose principal purpose is to provide reliable telecommunication services, so both physical and functional separation of sensors from critical telecom elements may be required.'  
Peter Phibbs of Mallin Consultants in Vancouver, Canada, underlined that instrument choice also influences the feasibility of dual telecom/sensing usage. 'They have to handle being run across the stern of a cable ship and laid into the ocean,' he said. 'Once they're laid the chances are no-one will ever go and see them again. Cameras or any instruments that have a lifespan of months; it's doubtful whether they're worth putting on, and they'll pull too much power. To not impact reliability, you're restricted to a repeater-type power supply that's about 50W.'
By contrast, bandwidth considerations are comparatively unimportant, explained Phibbs, who managed the deployment of NEPTUNE Canada, is on JTF committees, and has authored several reports on green cables. 'NEPTUNE requires about 4 Gb/s from each cable, which is nothing. Submarine cables are now typically carrying 100x100-Gb/s waves on each fibre pair. The data from these instruments will probably be carried in an out-of-band channel, where the ability to transmit at 100 Gb/s drops off, but fairly high speed transmission is still possible.'
Discussions about such issues have gone a long way to persuading suppliers to offer 'Green Cables', Phibbs said. 'Cameras and active sonar are unfeasible, but you get a lot of benefit out of pressure transducers, accurate temperature, and some measurement of ground shaking. Industry has now said, "We can handle that package without significant impact to the telecom provider".'
Making a case
Companies such as Huawei Marine Networks (HMN), headquartered in Tianjin, China, are now financially supporting three reports into green cable viability being done under the ITU's auspices. 'We're one of the sponsors for the ITU working group looking at standardising sensor designs,' revealed Mike Constable, HMN's chief executive officer. 'It's an ideal forum for looking at how we're going to integrate these systems into all the various suppliers' repeaters or cables. Is it HMN's repeaters, or submerged plant, or the other players, like Alcatel-Lucent or TE SubCom? Everyone's looking for a design that doesn't interfere with the communications payload and provides the functionality that the end users want. We'd buy sensors as a package when we're required to by a system purchaser and then incorporate them into our design. What kind of sensors, how they work, the performance criteria, and the demands on those sensors; that's what the ITU would help to standardise.'
Yet obstacles still remain to deployment of dual sensing/telecom networks, even though they're now a serious consideration for submarine cable system suppliers. 'They're pretty confident that they can build it without impacting their customers,' Phibbs emphasised. 'But they're all now at the stage where they say, "If you really want to do this, you need to find someone with some money who's either prepared to build a demonstration system or an actual functional system that has these things on them". That's probably the bigger challenge; dealing with owners – the telecom companies – trying to work with them on why they would do it. It's harder to justify to them. They simply see problems.'
One potential issue arises in how such cables might be treated by the United Nations Convention on the Law of the Sea (UNCLOS). 'UNCLOS has very specific protection for telecommunication cables but not for science observations,' Phibbs said. 'There are concerns that by putting science instruments on you might remove your protection as a cable under UNCLOS. For the big things like trans-Pacific systems, it's not that big an issue because you've only got two ends landing, and if you pick your countries right they may be enthusiastic about having science systems on there because it gives data from their coast. But if you're going between island groups, criss-crossing exclusion zones, it could be a big issue.'
Barnes hopes that the ITU's recently-completed reports will help push through such concerns. 'We have done a study on functional requirements, another on the wet demonstrator and another on the market and business case,' he said. 'They will be the basis for gaining support for a wet demonstrator, which is going to cost a few million dollars. In the meantime, we'll be scoping out how we do this. We'll have a letter going out to industry and another to research observatories saying "Which of you might be interested?"'
Even before such a demonstration, two companies have already offered submarine telecom cables with the possibility of adding sensors, Barnes added. 'One is the SubPartners APX-East line that goes from Sydney to California. The other is Arctic Fibre, which is proposing a cable system to directly connect Tokyo and London without going through intermediary locations for the first time. This would go through the Bering Strait, around northern Alaska and the Canadian Arctic. Here's an opportunity to have environmental sensors deployed through an area that's going to experience the most dramatic change in the next few decades of anywhere in the world, the Arctic Ocean.'
Who pays?
Arctic Fibre put the cost of specific subsea branching units and power tails at $1.4-2.0 million per sensor location. The sensors would also get at least one 10G wavelength, costing $1.4 million up front plus an ongoing lease. While this is a small proportion of the overall $620 million cost of the Arctic Fibre project, it wasn't right for scientists. Consequently, the chance to integrate sensors into the main Arctic Fibre telecom cable has already been lost. The 'window of opportunity' closed in January 2014 due to manufacturing and engineering lead times, explained Doug Cunningham, the company's chief executive officer.
'Sensors would not represent a major revenue source to Arctic Fibre,' Cunningham said. 'We received no specific requests within the 2012-14 timeframe and accordingly are no longer able to provide sensor capability directly on our backbone. Since the original development of the network, it has become apparent that the most appropriate way to incorporate subsea research sensors into our network is to have third party-owned cables hub into the Arctic Fibre backbone at the nearest cable landing station. We continue to work with a number of research entities and government agencies for the provision of bandwidth at various landing points along our network.'
With estimates suggesting incorporating sensors into a backbone telecom cable could cost up to 5 per cent of the total project price, finding funds won't be trivial. Alongside the UNCLOS situation, both NEC and HMN highlight the need for a business case that's compelling both to cable owners and research funders. Constable, however, is optimistic that there is enough interest to justify investment in some circumstances. 
'I don't think there's going to be a business case on every system,' Constable warned. 'But for Pacific systems in particular, there has been a lot of interest in the scientific community in purchasing this data. They face big bills to keep their buoy system working, which isn't that effective. The key things are how much are they willing to pay and who are they? The benefit of integrating sensors into the telecom system is bigger footprints. You have more sensors in the water over a larger area, coupled with more systems in the water for a cheaper price, because you're actively investing in the infrastructure. But ultimately who should be responsible for collating this information and analysing it for the sake of humanity? If that's sovereign governments, they can build these systems as standalone. These systems have been built.'  
Webster, meanwhile, highlighted how valuable such data could be: 'Small, precise, reliable and inexpensive sensors can be installed on new or refurbished cable systems at modest cost. Many require little or no maintenance. Weigh that against the human and financial cost of natural and manmade disasters like earthquakes, tsunamis and climate change if action is not taken. There have been nearly a dozen major tsunamis over the last decade that have caused loss of life in the hundreds of thousands, destroyed billions of dollars of property and infrastructure and disrupted economic activity.
'We have an unprecedented opportunity to gather data on parameters such as water temperature at many points along new cable routes on the ocean floor, on a consistent and sustained basis. We need to find the right models for funding and operating hybrid systems such that the ultra-high reliability demanded by submarine cable owners is maintained. This needs to be supported by a commitment by future users – including academia, governments, NGOs and disaster response agencies – to subscribe to the new environmental data services in light of the huge benefits they will bring.'
Andy Extance is a freelance science journalist based in Exeter, UK