It may be a cog in the network but the packet-optical transport system (P-OTS), is now a point of convergence of several trends transforming the network, writes Roy Rubenstein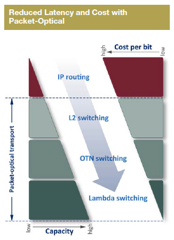 The single-box P-OTS originated as a way to help operators transition their networks from synchronous SONET/SDH traffic to asynchronous packet flows. It included SONET/SDH and packet switching, with optical transport an option (see box: A Brief History of P-OTS below).
Now SONET/SDH is declining whereas packet and optical continue to evolve, while operators want optimisation across the networking layers and be able to mix and match platforms controlled using software-defined networking (SDN). Little wonder, then, that the definition of P-OTS is becoming blurred.
'Opinions vary on exactly what constitutes a P-OTS,' says Andrew Schmitt, principal analyst, optical at Infonetics Research. Using input from service providers, Schmitt defines two P-OTS categories, based on where they are used in the network: metro-edge P-OTS and metro-regional P-OTS.
Vendors continue to add features to P-OTS, technologies like Carrier Ethernet 2.0 and connection-oriented Ethernet schemes like MPLS-TP, as well as optical transport network (OTN), coherent optical transmission and reconfigurable optical add-drop multiplexers (ROADMs).  
Sterling Perrin, senior analyst at Heavy Reading, highlights that with the decline in SONET/SDH deployments, POTS must evolve its packet technology dramatically or risk losing market share to competing platforms such as the Carrier Ethernet switch router.
Equipment makers agree that POTS must evolve, but argue this is happening. 'Six years ago maybe there was a lot of discussion whether you needed a packet-optimised platform; that debate is long gone,' says Manish Gulyani, vice president, product marketing for IP and optics at Alcatel-Lucent. 'The majority of the traffic, today and going forward, is packet-based.'  
Cyan, with its Z-Series P-OTS family, supports Carrier Ethernet services, and has packet and OTN switching. The Z-Series also has a non-blocking SONET/SDH cross-connect module that switches down to the STS-1 level. STS-1, at 51.84Mbit/s, is the elemental frame rate of SONET. The module supports SONET's OC-3 (155Mbit/s) to OC-192 (nearly 10Gbit/s) and ring and 1+1 protection schemes. 'Our philosophy is more 'cap and grow': support SONET/SDH transport but encourage migration to packet,' says Abel Tong, Cyan's director of solutions marketing.
Transmode says the emphasis of its POTS products is very much packet-based. 'When we define packet-optical, we define it as packet – the full traffic knowledge about how Ethernet and packets are being transported,' says Sten Nordell, CTO at Transmode. 'We have OTN grooming but not switching, but we don't refer to the OTN capability as being P-OTS-oriented.'
'We have had quite a lot of success going to our installed base and transitioning ageing SDH networks, some of which are way past their life expectancy,' says Dan Parsons, senior manager, product marketing at Ericsson. Ericsson's SPO 1400 is a mature platform, says Parsons, but supports Carrier Ethernet and MPLS-TP: 'The SPO 1400 is used for metro aggregation, metro access networks and mobile backhaul.'  
In the metro access network, SONET/SDH switching may be required in certain locations while others deliver SONET/SDH using a packet-only switch, along with circuit emulation. Circuit emulation enables a synchronous circuit to be carried over asynchronous packets. 'As you go towards the metro core, you encounter more use of OTN switching,' says Gil Epshtein, product marketing manager at ECI Telecom.
The varied requirements are reflected in ECI's platform portfolio. Its NPT P-OTS family include platforms with dual-core fabric for SONET/SDH and packet switching, and packet-only fabric. Meanwhile, ECI's Apollo P-OTS family supports packet and OTN switching, 100 Gigabit and ROADMs for metro regional networks. Apollo was also the first P-OTS platform to add layer-3 IP routing even though ECI has a carrier Ethernet switch router family.
Adding layer-3 packet support is something P-OTS vendors eschew, confining P-OTS to layer-2 networking only: Carrier Ethernet, and MPLS-TP, which is deemed to be layer 2.5. Connection-oriented protocols such as MPLS-TP are important as they help operators maintain transport attributes they are familiar with from TDM, namely resiliency, protection, and operations, administration, and management (OA&M).  
Tom Mock of Ciena notes that between 66 and 75 per cent of all services sold by large service providers do not require IP routing. This is a North American figure, he says, but it is likely to be similar elsewhere. 'Our view is: reserve IP routing for the services that require it and use a converged platform like P-OTS for the other services like Ethernet, storage or private line,' says Mock, Ciena's senior vice president, corporate communications.
IP routing, with its look-up and buffering memories and specialist packet-processing silicon, the reasoning goes, adds significantly to the port and hence the system cost.
But ECI argues there is a role for limited IP capability as packet requirements advance, even if it means that P-OTS and carrier Ethernet switch router platforms become increasingly similar. 'Transport vendors like ECI are adding packet capabilities, but not full-blown IP router capability,' says Epshtein.
Cisco Systems, a leading router player, is also adding IP functionality to P-OTS. Cisco says that operator thinking regarding P-OTS varies, depending on how their internal departments are organised. Operators traditionally have separate IP and transport groups, although increasingly the two are merging.
Mauro Macchi, Cisco's director in the EMEAR service provider business at Cisco, cites one large tier-1 operator with separate IP and transport departments. The operator copes with growing packet traffic using dense WDM to connect IP routers across locations. But the operator wants greater network convergence and has issued a request-for-quotation (RFQ). 'We are proposing the use of the NCS 4000 [P-OTS], where you have different layer-3 service cards depending on the functionality [needed],' says Macchi.
The NCS 4000, launched by Cisco in late 2013, has an 'agnostic' switch fabric that supports TDM and packet. The NCS 4000 family has three platforms, with the largest having a switching capacity of 3.2 Terabit. Moreover, multiple chassis can be combined to achieve 100 Terabit. Cisco offers two platform IP line cards: a fully fledged IP card and one with more limited IP capability suited to carrier Ethernet. Cisco's belief is that a layer-2 only P-OTS capability will, over time, prove insufficient.
Alcatel-Lucent, similarly, has IP edge and core routers, carrier Ethernet switch routers and P-OTS, but is not planning to add packet processing ASICs to its 1830 P-OTS. 'People want a packet transport platform that has the lowest cost-per-bit for the reach and the capacity they want in the metro,' says Gulyani. 'They are not looking for a highly engineered packet platform that does all the services.'
The various P-OTS approaches reflect differing requirements. Some large tier-1 service providers have significant legacy SONET/SDH running in their networks. 'In our network, there are well over 250,000 SONET network elements,' says Glenn Wellbrock, Verizon's director of optical transport network architecture and design. 'Some of those are very small but many are embedded in metro and regional networks.'
Verizon announced in April that it would deploy 100 gigabit in its metro, expanding the use of its Fujitsu FlashWave 9500 and the Coriant 7100 P-OTS platforms.
Wellbrock points out that while it sometimes uses P-OTS for its combined features, many times a single attribute will be used. For example, Verizon uses the FlashWave 9500, solely for its ROADM to 'move wavelengths around'. Elsewhere, the 9500 is used as a layer-1 aggregator, to terminate various SONET traffic on one side of the platform and transport the SONET payloads in OTN containers deeper into the network. A third 9500 is as a layer-2 aggregator, terminating and aggregated SONET alongside Ethernet streams into a 10-gigabit Ethernet or larger pipe, for transmission across the metro core to other P-OTS or edge-router platforms.      
Verizon has also issued a next-generation P-OTS request-for-proposal (RFP). 'The platform will use 100 gigabit and above, and support colourless, directionless, contentionless and flexible-grid ROADMs,' says Wellbrock. Traffic from its huge SONET installed base will be aggregated. 'This next-generation metro will terminate all of that at the edge central office,' says Wellbrock. 'We are stopping SONET from an infrastructure point of view and converting that over to OTN and Ethernet.'
Vendors will bid for the Verizon RFP using their metro-regional P-OTS designs. One example is Cisco's NCS 4000, another is Coriant's mTera platform launched in March. Verizon says other vendors will likely soon announce new metro-regional P-OTS.
Colt is another service provider adopting P-OTS, in this case Cyan's Z-Series, as part of a network overhaul. But Colt stresses the platform wasn't chosen for its P-OTS attributes, rather Cyan's SDN approach. Until now, vendors' proprietary platforms and software has forced Colt to upgrade its platforms every five to seven years. 'The cost of this approach is enormous,' says Mirko Voltolini, vice president of technology and architecture at Colt Technology Services. 'Not just in money but the time it takes to roll out a new platform.'
Colt has thus designed a 'modular multi-service platform' that separates the network components to simplify the introduction of different suppliers. Colt wants to be able to change a network element, for example customer-premise equipment, if a better, more economical one appears, without disrupting the overall platform.
To this aim, it has adopted Cyan's Blue Planet SDN platform. Cyan uses 'element adapters' that mediate between its SDN interface model and the interfaces of its vendor partners. 'Cyan [P-OTS] is a third-party piece of equipment to our own Blue Planet software in the same way as the other vendors' equipment are,' says Cyan's Tong.  
Colt's modular platform is already delivering the majority of its data networking and all-IP services. These includes carrier Ethernet point-to-point, hub and spoke and private networks services, as well as internet access, IP VPNs and VoIP IP-based services. As Cyan's Z-Series does not support IP, it is used along with Juniper and Alcatel-Lucent IP edge platforms. Meanwhile, Colt's legacy 20-year-old SDH network has been left alone, with the modular MSP built alongside it.
'If you look at the priorities of transport SDN, it is multi-layer optimisation and multi-vendor interoperability,' says Heavy Reading's Perrin. 'And then you have P-OTS that sits in the network, so it is affected, but it is just one piece of the overall product set that is in there.'
P-OTS does help simplify multi-layer optimisation due to the platform's integrated nature. 'On the surface it looks good, and Cyan is leading that charge with SDN software,' says Perrin. 'The problem with the big carriers is that they don't want anything proprietary and, in fact, they are going to insist that it is not.'  
'P-OTS is all about creating a programmable infrastructure,' says Ciena's Mock. Having packet, circuit and wavelength-based traffic management enables operators to do some multi-layer management but that is more to do with how the P-OTS is architected rather than any networking imperative, he says.
Cyan's emphasis is on SDN and software rather than P-OTS. But for other vendors, their SDN strategy depends on the breadth of their portfolio and the layers they span.       
Ciena entered a strategic agreement with Ericsson in February which includes joint SDN development. Ciena's SDN controller for its 6500 packet-optical platform addresses optical to layer 2, whereas Ericsson is focussed on layer 2 and layer 3. Now the two companies are collaborating to develop an SDN controller for all these layers. Parsons points out that Ericsson is working on all aspects of service provider SDN: 'The portion with Ciena is just one part.'
Transmode says it will offer a lower-level controller with its P-OTS platform. 'Someone else will have the higher level controller – layer 3 and above – that we will interoperate with,' says Nordell.
SDN's layer of software control, on top of a programmable infrastructure that P-OTS delivers, promises a world where applications will request particular network attributes. 'This is one thing that will really help service providers roll out services faster,' says Mock.
This is already Colt's experience. Before its modular network, it would take 30 to 45 days to fulfil a customer's request for a three-month-long Ethernet link, upgraded from 100 to 200Mbit/s. Now, such a request is fulfilled in seconds. Colt also estimates that it will halve its operational costs once the new network is fully deployed.  
Verizon's view is that, for SDN, there will be controllers associated with domains. One domain may be transport, another all-IP. Each domain will have a controller that can talk to individual vendors' controllers. That way, a specific vendor's portion of the network can be operated generically from above but in a vendor-specific way from below, allowing the operator to benefit from the specific engineering rules offered by each supplier. 'Is SDN coming along as fast as we want? No,' says Wellbrock.
The transport vendors are doing a great job of controlling their boxes and making that accessible via SDN, he says. But the interfaces specific to a vendor's platform, the ones that tap into the platform's features have not been extended. 'The frustrating part is that we have not made as much progress in extending the message set to support transport gear that we have for more generic hardware inside the data centre,' says Wellbrock.
Roy Rubenstein is editor of Gazettabyte.
www.gazettabyte.com