Recruiting and retaining great telecoms talent
Keely Portway reports on a recent webinar about how the telecoms sector is addressing the current shortage in skills, from recruitment through to keeping great candidates once they are on board
While chip shortages and supply chain issues have been big news over the past two years, one of the other major challenges affecting telecoms is the shortage of skilled staff throughout the supply chain.
In its recent report, Future of Work: The Global Talent Crunch, consulting firm Korn Ferry forecasts that by 2030, the deficit of skilled workers in the global technology, media and telecommunications sector will reach 4.3 million workers.
According to Emma Atkins, founder at specialist UK recruitment firm, FibrePeople, and chairperson of INCA's Labour & Skills Special Interest Group, in the UK alone, there's around 20,000 vacancies, stretching throughout both telecoms itself and the IT needed to support it. 'The trouble with telecoms in particular,' she said, 'is that it doesn't always fit in the right boxes on job sites, so it's hard to get a real grasp of the numbers, because some roles will fall under IT, some under construction, but the vacancy numbers are huge and they keep on growing.'
One of the things that Atkins has witnessed as a specialist recruiter for the fibre industry, is that it is currently a completely candidate-led market. 'The candidates can be selective at the moment about what they need from a job or where they want to go, so it's never been more important for employers to offer a great candidate journey and experience.'
Transferable skills
What is also evident is a significant drop in quality and relevance of applications coming in, even from just a year ago. 'The number that we would get, say, for a project manager role, was around 10-12 people, now we are getting one or two, so for an agency, it is much more about sourcing and attracting those people in from across different areas and working with clients that can see where there are transferable skills.'
The crucial factor here is the telecoms industry itself, and ensuring that people see it as an industry in which they would wish to work. 'People don't always think of it as an industry they wish to join. They might, on the engineering side, but when you look at other roles such as HR, project managers or quantity surveyors, for example, telecoms isn't necessarily the first port of call. What we are working on over the next 12 months is how to raise the brand of telecoms and how exciting a place it is to be. We're putting in the next communication networks that are going to be there for generations, and people can be a part of this no matter their role, because we need them.'
Another challenge is the number of people looking to change roles or change industries has reduced. 'Despite telecoms thriving right now and there being so many jobs, people are reluctant to change and I think that's partly covid-related and also, Brexit in the UK. In short, we need to bring people into the industry and also upskill the people we already have in the industry.'
Some of the solutions being investigated include local authority partnerships, apprenticeships, the armed forces covenant and career pathways within the companies looking to recruit. 'I think that will attract more people,' said Atkins, 'so they can see how they will progress. I think it's important people can see – as well as an upward career pathway – that they could move sideways into different roles and opportunities as well.'
Diversity is also crucial when it comes to bringing skilled people into telecoms roles, and Atkins was one of the founders of the UK Women in Fibre Initiative (WIFI), which aims to help close the gender gap in the industry. 'The average is around 14 per cent women in the industry across the board in the lower-paid jobs,' said Atkins, 'and it goes up to about 25 per cent in the more senior roles. To me, that's just crazy! Women have a lot to bring and companies are seeing that now.'
Policy overhaul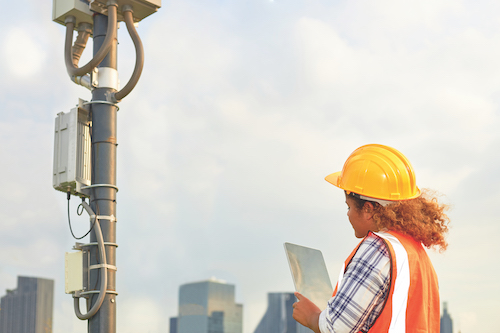 Image credit: JuPhotoStocker/Shutterstock.com
One piece of advice offered by Atkins is to look at company policies and make them more attractive to women. 'That, in turn, does benefit everyone else who works in those companies who can utilise those policies as well,' she said.
Another vital aspect of the recruitment process, said Atkins, is the candidate experience. 'This is where we can see people get lost in the pipeline,' she explained. 'It's important for companies to have an established recruitment process. Who is interviewing? How many interviews? When can candidates expect feedback? This needs to be in place so there are no surprises for the candidate half way through the process. It needs to be transparent and as seamless as possible because, if you don't have it, your competitor will, and that's where the candidate will end up going.'
The feedback Atkins mentioned is something that companies need to get right. 'CV feedback, even if it is a "no" is so important,' she said. 'You want to be able to give that to a candidate who has spent the time applying and getting to know the company, so they can learn from it, and it's just a polite thing to do.'
When it comes to a successful candidate, Atkins advises a strong onboarding policy is also put in place to cover all information they might need. For example, in today's more flexible working environment, a successful candidate would need to know if they are able to work from home, and if so, on which days and will they be provided with equipment and IT support? 'Whilst those candidates are in their notice period there are always going to be other companies recruiting for that same role,' she explained. 'Keeping people engaged and onboarding is key.'
A helping hand
A good example of a government scheme to help recruitment is the UK's Kickstart Scheme, which launched in 2020 to provide funding to employers to create jobs for 16 to 24 year olds on Universal Credit. UK wholesale network provider, FullFibre, is currently using the scheme to create vacancies for young people over a six-month placement, with 10 jobs open for applications across the company's four sites in Exeter, Ledbury, Telford and Derby. 
Successful applicants will benefit from comprehensive support and training to help strengthen their skill sets and put them at an advantage when applying for full-time roles in the future. Alongside this, they will be paid 100 per cent of the National Living Wage for 25 hours-per-week for a total of six months, with the potential of a full-time position after this six-month period. 
Angela Shek, resourcing co-ordinator at FullFibre, shared the company's experience. 'Employers need to be more adaptable in this new age, and that's where I think Kickstart really fits in, and we've been very excited to work in collaboration with Job Centres to bring the scheme to life. The individuals will get hands-on working experience and a personalised training plan with FullFibre. 
We completely believe that everyone is from all walks of life. They could be, say, a 16-year-old who maybe has quite minimal experience in the working industry, or someone who has done various jobs, so our training plan is catered to individuals.'
The Kickstart scheme is due to conclude in March this year, and more than 1,000 placements have been made so far. Shek said: 'We've seen quite a lot of benefits to the business, certainly from speaking to the general public, telecoms is not the first thing people think of and I believe that Kickstart is such a benefit in introducing individuals to the sector itself. It's all about investing in the next generation and bringing about a more diverse workforce.'
The scheme is of particular benefit to smaller or medium-sized businesses, according to Shek, particularly during more uncertain times, such as the pandemic. She said: 'It will help them assess whether they are able to support an extra head in the business and it is a good opportunity to bring someone in and trial that role to see if they have enough work to justify it, for example.'
In terms of where FullFibre is in the process, Shek highlighted that there are a number of warehouse and office roles across the company's regions, and that she has been working closely with Job Centres in Exeter, Ledbury, Telford and Derby, as well as attending Job Centre events. 'It's been extremely encouraging,' she enthused. 'We're based in Devon and have regions around the surrounding areas, so it could have been a bit disconnecting engaging with Job Centres in the further-away regions, but it was really lovely to have the opportunity to travel to the events to meet people at the local Job Centres, as well as their candidates.'
Endless opportunities
Shek revealed there was a great deal of enthusiasm from potential candidates, who asked lots of questions and were keen to know about the available opportunities at FullFibre and in the telecoms industry generally. 'That's what we'd like to get out there,' she said, 'the opportunities are limitless. While a lot of our entry roles are more administrative, we like to think these can lead to something much bigger, as they are roles in which people will be able to engage with different parts of the business.'
There are 10 candidates currently in the interview process. 'We are booking interviews in,' said Shek, 'and reviewing through the Job Centre, and it's been a very good experience that has made me think a little bit more about what we will do in the future.'
In terms of those future plans, the company will also be running apprenticeships and working in collaboration with other companies and local job centres to reskill talent. With the Kickstart scheme due to end in March, Shek's hopes are that the UK government will reconsider and extend the duration of the scheme. 'When we reach the end of the pandemic, we will still want to help young people by introducing them to all the great things about telecoms,' she said.
Looking at how companies can keep great employees on board once they have found them was Lori Lantz, chief people officer at not-for-profit innovation and research and development lab, CableLabs. She said: 'Recruitment strategies have to evolve as we learn about the values and expectations of our jobseekers. But just as critical is the need to evolve our strategies to retain talent.'
Talent trends
Lantz cited a recent LinkedIn study, 2022 Global Talent Trends, which looked at the reinvention of company culture. The report demonstrated something Lantz herself has seen as part of the day-to-day role: that company culture is one of the most important things in which job seekers today place value. 'The global average is 40 per cent of candidates who consider company culture a top priority,' she said.
The report also demonstrated that the best way to improve a company culture is to begin with professional development. 'It's interesting to me,' said Lantz, 'just how significantly professional development opportunities have always stood out as a top driver of employee engagement and retention. It was the case before the pandemic changed so many things about how we work, and it remains at the top of what people really want from their employee experience.'
As well as professional development, some of the other areas highlighted as key for investment to improve a company's culture include flexible work support, mental health and wellness, training managers to lead remote and hybrid teams, and of course, diversity and inclusion. In fact, the report detailed that work-life balance actually exceeds compensation and benefits when it comes to priorities for candidates picking a new job. 'So,' asked Lantz, 'how do we, as employers, meet this expectation to make employees feel seen as human beings first? Focusing on flexibility and wellbeing are great places to start.'
Lantz provided some tips to help make flexibility work for all parties. The first is to establish guidelines for how to treat remote workers. She said: 'At CableLabs, for example, we encourage everyone to join a Zoom meeting on their laptop, even if some people are in a room together and only one person is remote because it makes that remote person feel more included.'
The second piece of advice was to create a level playing field for all employees. 'This is really important,' she said, 'to prevent bias and the risk of overlooking employees who are remote by analysing data, looking at our promotions and raises to look for patterns that made them and ensure that remote workers are not being left behind.'
Keeping in touch
Thirdly, employee bonds should be strengthened using virtual events. Lantz continued: 'At CableLabs, when we sent everyone home at the start of the pandemic, we started a weekly virtual coffee break with Phil McKinney, our CEO. It's optional to attend and there is no agenda, and the conversation can range from industry updates to hobbies shared by employees, to the weather or pets, and after nearly two years, it remains a staff favourite.'
The fourth point was to have some senior leaders work from home. 'Senior leaders really have to walk the talk,' said Lantz, 'to demonstrate true support for flexible work arrangements.'
To fully maximise flexibility, some other tips Lantz shared included a focus on results rather than work hours; helping employees to set boundaries; saying goodbye to virtual meetings and providing flex time to front-line workers. This last point is particularly important considering so many people in our industry don't have office jobs, as Lantz explained: 'They need to be hands-on at certain times and places to do their work. But, as employers we can still look for ways to create flexibility for these workers by offering things like flexible work hours, job sharing, four-day work weeks and staggered shifts.'
Lantz closed by discussing the importance of wellbeing, offering some tips on how employers can ensure their employees feel cared for. Training managers to become empathetic leaders was a key point. 'We put a lot of expectations on our leaders to meet strategic goals and to deliver results, and what we need to understand is that the more our employees feel cared for and seen as whole human beings, the more they are willing to commit to the success of the team. We can invest in leadership training to help managers spot signs of burnout and offer support.'
Other tips included making mental health services easily available, using people analytics to identify problems, such as lack of breaks or longer hours, and turning employees into mental health allies. 'Everyone struggles at times,' Lantz concluded, 'and the last two years have been unusually difficult for so many people, for so many reasons, and it's important to give people the space to talk about that.'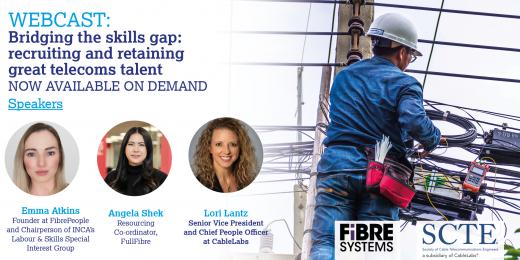 You can view the full webinar, hosted by Fibre Systems in association with SCTE, a subsidiary of CableLabs on-demand here